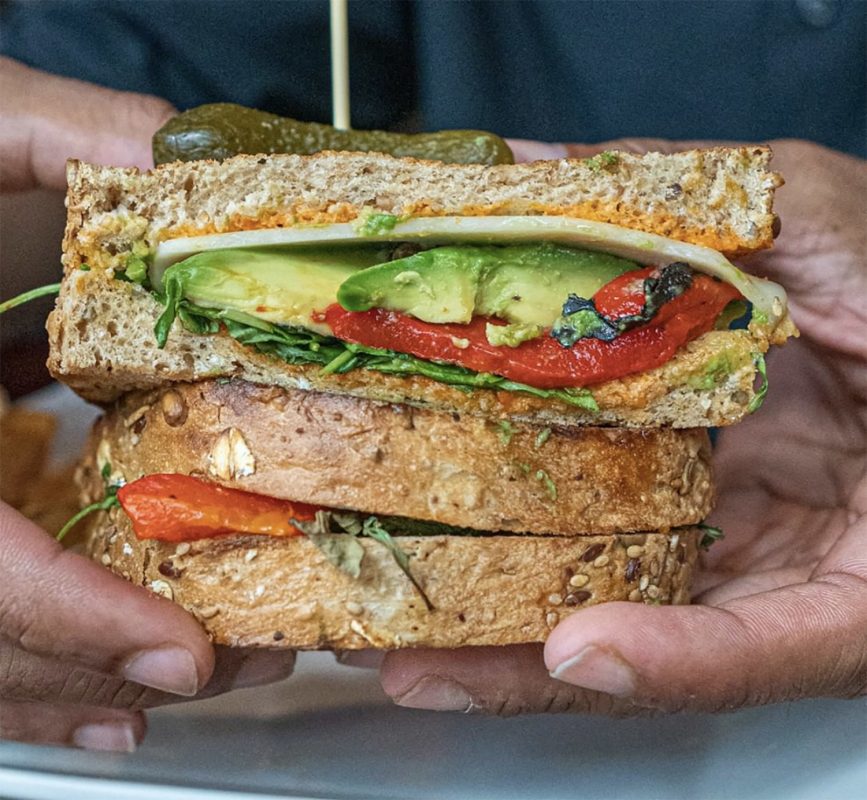 Busboys and Poets
COMING SOON
Busboys and Poets: The latest dining destination to join the scene in Howard County will be a spinoff of this Washington, D.C. favorite. The quasi-coffeehouse and bookstore operates seven locations surrounding the Capitol, and now, owner Andy Shallal is widening his footprint with a new two-story Columbia cafe slated to open next year. "I think we have a lot of people that live in the suburbs, who may work in the city, but want to kick back a bit before they go out," Shallal told the Washington Business Journal. "It's not practical to go home and come back. So we want to give them options where they are." The 400-seat gathering spot will be one of many retailers in Howard Hughes Corporation's massive mixed-use redevelopment project across from Merriweather Post Pavilion.
The Choptank: You might have noticed the glowing archway that now towers over the entrance to the south shed of Baltimore's historic Broadway Market in Fells Point. But that's certainly not all that's new and shiny about the property. After several years of planning and nine months of construction, Atlas Restaurant Group has transformed the 222-year-old building into classic Maryland crab house concept, The Choptank, which is slated to officially open to the public by the end of next week. Former Brewer's Art and Maggie's Farm chef Andrew Weinzirl will head up the kitchen, offering his own spin on classics like crab soup, pit beef sandwiches, boardwalk fries, and Eastern Shore fried chicken. Of course, hard shells will also be an important part of the hyper-local program. Curated by local designer Patrick Sutton, the renovated spot features light woods, a large centerpiece bar, and a massive outdoor patio equipped with lounge seating and recreational games.
NEWS
Local Spots Nominated by Bon Appetit: Earlier this week, we were delighted to see four Charm City restaurants named on yet another national list. Bon Appetit magazine has included local newcomers Le Comptoir du Vin, Fadensonnen, Larder, and Sophomore Coffee among the 50 Best New Restaurants in the country. In the piece, deputy editor Julia Kramer notes that she loved Socle—Lane Harlan's shared food-and-drink complex in Old Goucher that houses Fadensonnen, Larder, and Sophomore Coffee—so much, that she couldn't choose just one spot between the trio of like-minded businesses. She also challenges readers to "try and find a more charming French bistro and natural wine bar," than our own Le Comptoir du Vin in Station North. The list of 50 contenders will soon be narrowed down to 10 finalists and published on September 17.
EPICUREAN EVENTS
9/13: Well Crafted Kitchen's $1 Slice Party
A few years back, Well Crafted Kitchen celebrated the first anniversary of its brick-oven pizza truck by slinging $1 slices for friends and customers. Now, the owners are ringing in the one-year anniversary of their stall inside Union Collective by continuing that exact tradition. Stop by Union's outdoor beer garden on Friday night to indulge in $1 slices from 6-10 p.m. While you're at it, grab a pint from the taproom, and end the night on a sweet note with a signature scoop from The Charmery just down the hall.
ONGOING: The Helmand Offers Three Courses for $30
Throughout the past three decades, The Helmand owners Quayum and Pat Karzai have served their authentic Afghani dishes to tons of loyal patrons in Mt. Vernon. Many things have changed about the neighborhood since the grand opening in 1989, but the Karzais' signature recipes and commitment to hospitality have remained key components of the restaurant's ethos. Leading up its official 30-year anniversary on October 23, The Helmand will offer a special three-course menu for $30. Celebrate with classics like the banjan borani (pan-fried eggplant), mantwo (pastry filled with onions and beef) and kaddo borwani (baby pumpkin pan fried and baked in garlic and yogurt).
SHUT
Blaze Pizza: As the Inner Harbor dining scene has expanded with new destinations including Blackwall Hitch and Bon Fresco, it has also seen a number of concepts shutter recently. On the heels of Poke World's closure near Power Plant Live, Blaze Pizza has also closed its doors at 600 East Pratt Street. Fans of the DIY chain, which is known for its customizable pies that bake in a hearth oven in just three minutes, will be happy to hear that they can get their fix at a new Blaze location that opened in the Towson Commons development on York Road earlier this summer.
Canèla: Upper Fells Point locals were saddened to hear that this Mediterranean cafe and coffee shop had closed its doors last week. In a message posted to Facebook, co-owner Kfir Catalan explained that he and business partner Michele Mavias are closing the cafe to the public, but plan to remain open for private events for the time being. "This has been an amazing ride and we want to thank everyone for the support," the announcement reads. Fusing the owners' Italian and Israeli influences, Canèla offered standout sandwiches and a coffee program that quickly became a favorite among locals.