Dazzle Your Loved Ones with These Valentine's Day Recipes From Local Eateries
Four romantic recipes that will make you fall in love at first bite.
La Vie En Rose from Dutch Courage
It doesn't get any prettier than this cocktail designed by Dutch Courage owner Brendan Dorr. "I wanted to create a cocktail that represented Dutch Courage as a gin cocktail bar, and what's better than a martini?" says Dorr. "I took the classic martini recipe and put a oral spin on it."
INGREDIENTS
2 ounces Glendalough Rose Gin
.75 ounce Dolin Dry Vermouth
.25 ounce Tattersall Creme de Fleur 1 dash Peychaud's Bitters
1 dash Rose Water
DIRECTIONS
1. Stir all ingredients with ice.
2. Strain into a cocktail glass.
3. Garnish with lemon peel and surround with dried rose petals.
Serves 1.
Pretty in Pink: A pink-hued cocktail is perfect for your Valentine. The color represents compassion, nurturing, and love. It also signifies unconditional love and understanding. It's feminine, intimate, and for any romantic occasion, but especially Valentine's Day.
Raw Oysters with Beet Horseradish from Dylan's Oyster Cellar
"Our favorite way to eat oysters is dressed simply with prepared horseradish and lemon," says Dylan Salmon, co-owner of Dylan's Oyster Cellar. "For Valentine's Day, we thought that adding beets for a pop of deep red to the gray color of horseradish would put a sweet, earthy, and colorful twist on an otherwise drab but spicy condiment."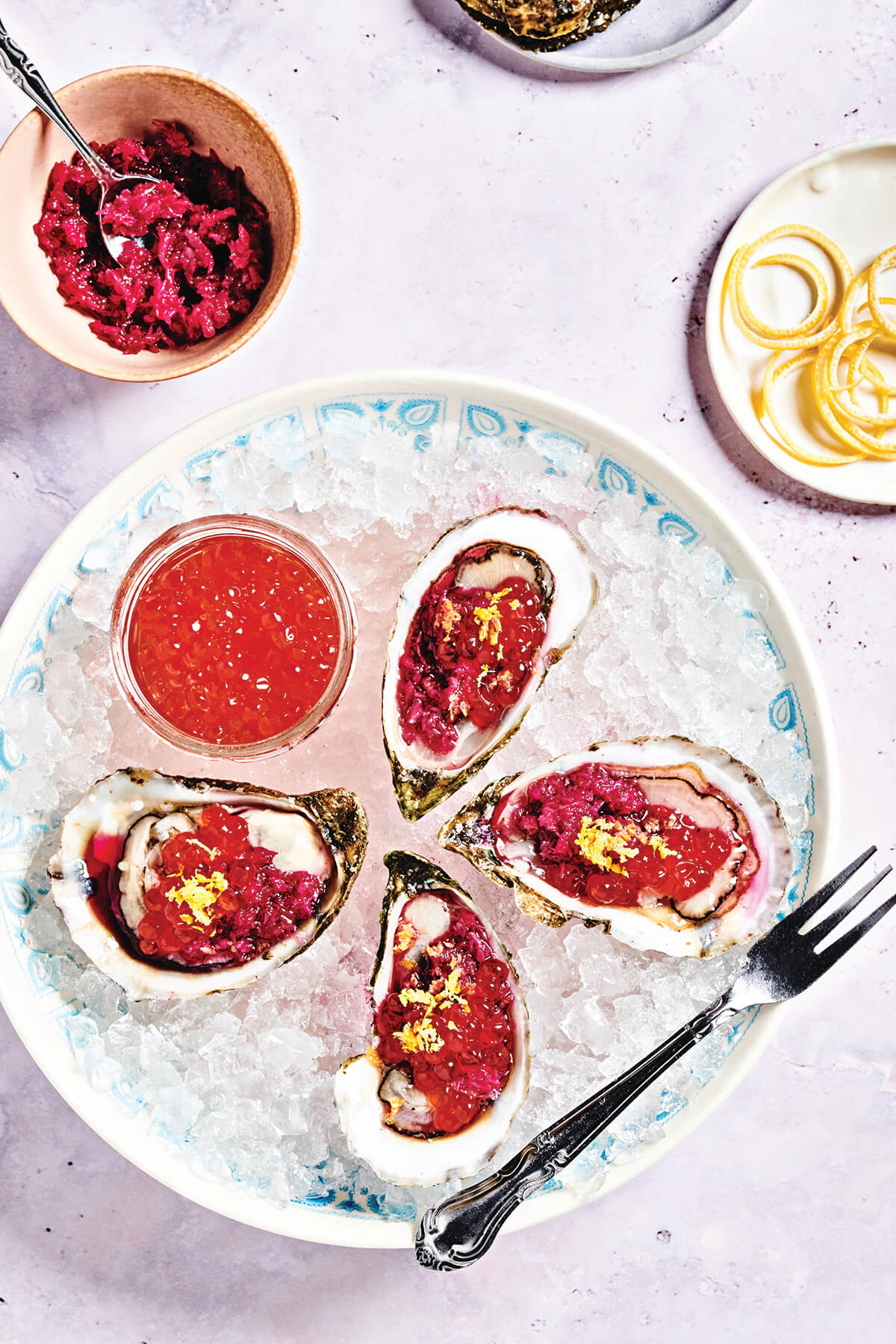 INGREDIENTS
Fresh horseradish root, at least 4 inches, peeled and cut into small cubes
15-ounce can cooked beets, drained
4 tablespoons white vinegar
1 teaspoon sugar
1 teaspoon salt
Fresh-shucked oysters (pick up available at Dylan's, of course.)
DIRECTIONS
1. Add horseradish chunks a little bit at a time into the feeding tube of your food processor.
2. Pulse several times, scraping down the sides if needed.
3. Add drained beets and pulse a few more times.
4. Add vinegar, sugar, and salt and process for 30 more seconds or so, until you get a nice finely textured consistency.
NOTE: Horseradish sauce will keep in a tightly sealed container in the fridge for three days, but it will lose heat over time. If you like it hot and zingy, eat it within a few hours after you prepare it.
WARNING: Do not breathe in too closely to freshly grated horseradish, as it is blindingly hot. Also, start with a tiny bit when you first taste to ensure you can stand the heat.
To freshly shucked, raw oysters, add 1⁄4 teaspoon of the beet horseradish and a dollop of salmon roe for color, texture, and ocean flavor. Finish by garnishing with a fresh grating of lemon zest.
Makes 2 cups. 
Chocolate Truffles with Powdered Strawberries from Cosima
Nothing says Valentine's Day like chocolate truffles. Though chocolate has long been believed to be an aphrodisiac—the emperor Montezuma was said to have consumed the cocoa bean in massive amounts to fuel his romantic trysts—science says otherwise. If chocolate has any effect on the libido, it's likely more psychological than physiological.
That said, this recipe from Cosima exectuive chef Anthony Franklin is sure to make your loved ones feel cherished. "I prefer to make these with my special someone in the early afternoon," says Franklin, "and enjoy these endorphin-releasing treats for dessert with a scoop of ice cream. Nothing is more convivial than waking up on Valentine's Day and playing with chocolate."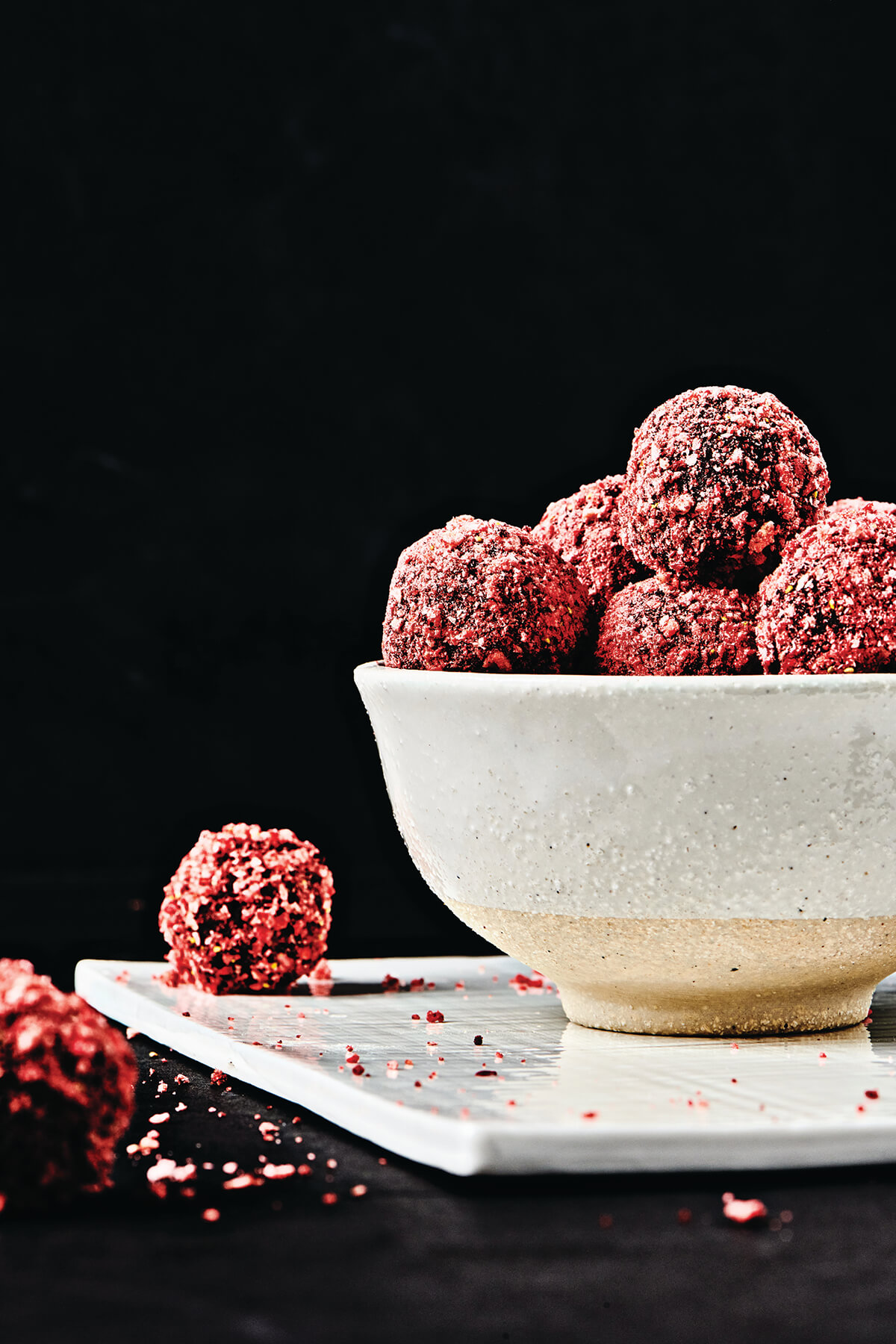 INGREDIENTS
8 ounces of pure chocolate
2⁄3 cup heavy cream
1 tablespoon unsalted butter
1⁄2 teaspoon vanilla extract
Strawberry powder
1⁄2 teaspoon sea salt
DIRECTIONS
1. Place chocolate in heat-resistant mixing bowl and set aside.
2. Heat heavy cream until it begins to simmer.
3. Once simmered, add butter and sea salt.
4. Pour hot liquid in the bowl of pure chocolate and allow cream to soften chocolate.
5. Add vanilla extract and mix ingredients until you achieve a smooth consistency.
6. Wrap bowl in plastic wrap and refrigerate for two hours.
7. Scoop out desired size of set truffle mix (a tablespoon works well), then roll into a ball.
8. Roll truffles into powered strawberry or desired toppings.
Serves 20-24. 
Fudgy Walnut Cookies from Citron
So many cookie recipes contain gluten, so this dense and delicious recipe for fudgy walnut cookies—by way of Citron's pastry chef Carlie King—is a particular treat. "My inspiration for this recipe was really just a good chocolate snack everyone without a nut allergy could enjoy," says King. "This is a great gluten-free cookie that everyone, including gluten eaters, really likes."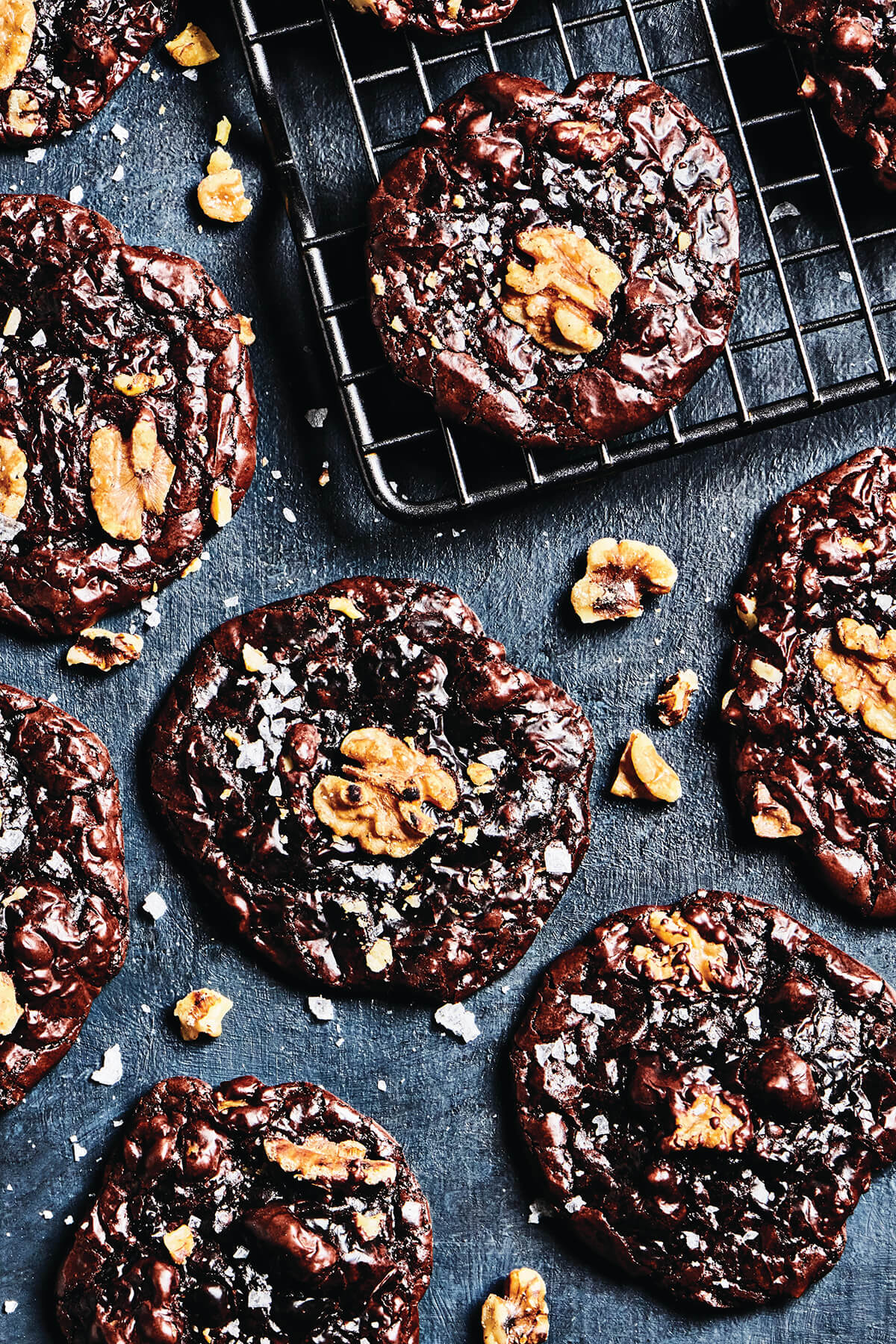 INGREDIENTS
4 1⁄4 cups confectioner's sugar
1 cup cocoa powder
2 1⁄8 cups walnuts, toasted and chopped
Pinch of salt
1 cup egg whites, pasteurized
DIRECTIONS
1. Sift confectioners' sugar and cocoa powder into a large bowl.
2. Mix cocoa powder mixture with walnuts and salt.
3. Pour in egg whites while mixing. (You can mix by hand or at a low speed with a mixer.)
4. Mix until just combined. (Do not over mix.)
5. Scoop dough with a 2-ounce cookie scoop onto a cookie sheet lined with parchment.
6. Bake at 350 Fahrenheit for five minutes.
7. Turn and bake for an additonal five minutes.