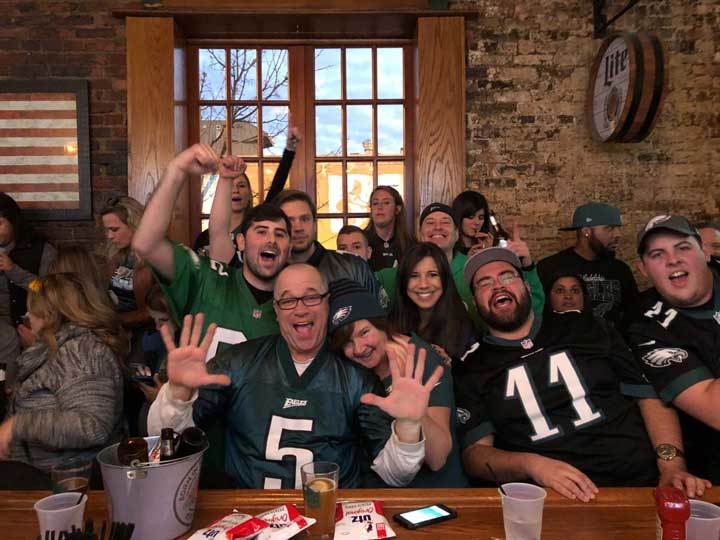 MaGerk's Pub and Grill
The story goes that one of the Dolaway boys was on a business trip in Baltimore for his father's scrap metal company when he took interest in a beat-up corner building for sale in Federal Hill. He called his brother and asked him how he felt about moving from Philadelphia to open a bar together, and by October 2000, they established MaGerk's Pub and Grill.
 
Eventually, the bar gained a reputation for being Philly-themed, both for its food and football, and expanded to three additional locations including one in Harford County and two in the Philadelphia suburbs.  
"We welcome new fans every year," said Sarah Clark, manager of MaGerk's in Federal Hill for 16 years. "There are people who have moved to Baltimore and hear that MaGerk's is the place to watch the Eagles game, so they show up alone and leave feeling like they've gained 100 new friends."
 
The bar will certainly be packed this Super Bowl Sunday as the Eagles battle it out in the championship game for the first time since 2004, and vie for the ultimate title for the first time in nearly 60 years.
 
"We're [really excited] to spend the day with the fans that have been coming in through the good times and the bad," Clark said. "We want it to be a great day shared by the people who love the game and the team."
 
MaGerk's will be featuring $15 buckets of Miller Lite and Eagles Bombs—green shooters mixed with Red Bull—to celebrate. The bar will also be serving pub grub including its famous Philly cheesesteaks—made with rolls delivered straight from Philadelphia—and its cheesesteak egg rolls. Seating will be available on a first-come, first-served basis.  
The staff is keeping the restaurant reservation-free because they want to leave the space open for regulars and provide a memorable experience for devoted fans.  
Regardless of the game's results on Sunday, MaGerk's will always be a proud supporter of the Philadelphia Eagles and promises to chant the team's fighting song even in the middle of July.  
The owners credit their success to the local community and deem their pub crowd as being one big and welcoming family. MaGerk's prides itself in giving Baltimore's growing number of Philadelphia transplants a sense of home.  
Clark recalls a number of regulars who come in on Sundays, including a Philly migrant who hesitantly showed up alone at the bar last year in an Eagles jersey and even a couple who got married at the restaurant last fall.  
"Seeing the way the Eagles have played this year and the momentum that's grown at this point has just been phenomenal," Clark said. "Their fans deserve this." 
For football fans spending their Super Bowl Sunday at home, Clark has shared the restaurant's original cheesesteak recipe, which has been a long-time staple on the menu. Although she highly recommends using a sub roll from Philadelphia, any open-faced one will do the trick.  
---
Recipe
The inside:

Chopped 8 oz. rib eye
Sliced onions (MaGerk's uses Vidalia onions)
Two slices of white American cheese
 
The outside:

An open-faced sub roll
Two slices of white American cheese
Start by sautéing the shaved rib eye and sliced onions until the meat is cooked and the flavors are combined nicely, then add two slices of white American cheese to the mixture until they are melted. While that is cooking, melt two more slices of American cheese on the open sub in a toaster oven, and once the meat is ready, place it inside of the roll and enjoy.