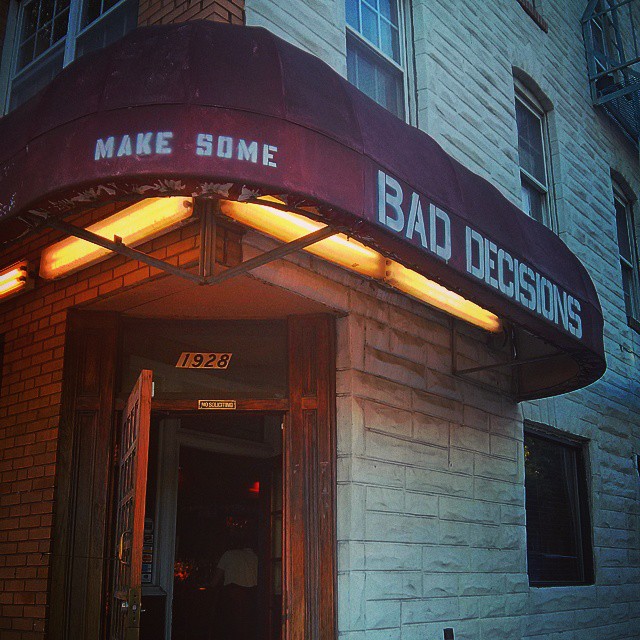 Flickr/Creative Commons
Now in its 10th year,
Esquire magazine's list of the Best Bars in America has been pretty kind to Baltimore—including both The Brewer's Art and Rye in years past. But 2015's list (which was narrowed down from thousands) features a bar a bit more under-the-radar: the corner watering hole Bad Decisions.
In the piece's introduction, David Wondrich and other editors explain that they've eschewed the speakeasy trend a bit. "This year we've got more bars than ever, but fewer speakeasy-style craft-cocktail bars," they write. "There's a reason for that. Ten years on, some of the people who were opening those geeky bars are older and mellower, and they're taking what they learned and ditching the bow ties and door policies and putting in a few draft lines and maybe a dartboard."
With that in mind, it's no wonder that Bad Decisions made the list. The bar, which we have given love to in
previous "Best of Baltimore" issues, has a thick book of innovative cocktail recipes developed by owner John Reusing and his staff. But there is zero pretense here. Most nights you'll find customers playing Jenga, snacking on bacon treats, or chatting up the bartenders (who are in T-shirts and certainly not bow ties). It's a neighborhood bar that just happens to have really, really great cocktails.
Here is what
Esquire had to say: "A corner tap—the former Island II Bar & Grill—taken over by people who know how to mix drinks if you know what to order, renamed (appropriately), and with all the flavored vodka and other such crap switched out for a whole bunch of different whiskeys, but with everything else pretty much the same. Unpretentious, low-key, and very, very dangerous to your sobriety."
As for Reusing, he said he knew that Wondrich had stopped in a few months ago while he was in town and then was further tipped off a couple of weeks ago when Esquire called to fact-check the story.
"This is by far the coolest award we've ever gotten," he says. "Just to be on this list with some of the most famous places in the country, the best cocktail bars in Manhattan and New Orleans, and to have someone of that caliber say you're doing a good job, it means a lot."
He says there won't initially be any parties to celebrate the news, as Bad Decisions is currently busy gearing up for Negroni Week, from June 1-7, where the bar will have a menu of various takes on the famous Italian cocktail—and $1 from each drink will benefit the Poe House.
Congrats to Reusing and the entire Bad Decisions team!