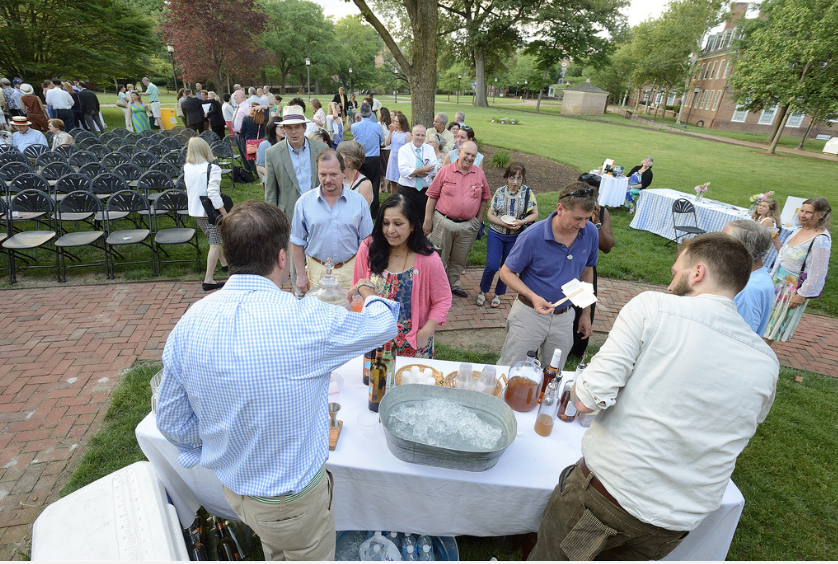 Courtest of Homewood Museum via Flickr
Last summer, six Johns Hopkins University archaeology students were conducting preservation work around the perimeter of the university's Homewood Museum when they unearthed an early 19th-century bottle of champagne.
A previous trenching project conducted in the 1980s, when Homewood was being restored into a museum, uncovered similar artifacts including wire cork cradles and bottlenecks dating back to the early 1800s—when Maryland's historic Carroll family inhabited the estate.
"What we were able to do is compare what was found in 2017 to what was found in 1980s," says Homewood's director and curator Dr. Julie Rose. "And there was a significant amount of material that spoke to sparkling wine consumption, commerce, and service at that time."
Suffice it to say, the Homewood team had plenty of inspiration for the theme of this year's Evening of Traditional Beverages—an annual summer event that explores the history behind classic spirits and cocktails.
In previous years, the outdoor program has taught attendees about everything from ciders and shrub cocktails to bourbon and rye. This time around, Homewood's 22nd annual event on Wednesday, June 13 at 6 p.m. will celebrate all things bubbly with a sampling of five sparkling wines and light bites by Woodberry Kitchen.
"It's this opportunity for people interested in history and Maryland's culture to be thinking about it in a different context," Rose says. "Drinking champagne at home or at a restaurant is great, but to consume sparkling wines in this setting of the historic house really elevates the experience in terms of how we are still so tied to our past."
Aside from the archaeological findings, Rose mentions that a survey of the wine cellar in the Homewood Museum revealed that the Carroll family had an extensive collection of French Champagne.
"It was very fashionable and relatively new for Americans at the time," Rose says. "Both Charles Carroll of Carrollton and his son, Charles Carroll of Homewood, had their formal education in France. So they were fluent in French and had an affinity for French culture. It makes a lot of sense that Champagne would be on their dining room table."
Some of the cellar findings will be on display for attendees at the event, which will feature remarks by Al Spoler of WYPR's "Cellar Notes" and sparkling beverages including Dibon NV Brut Reserve Cava, Bisol Jeio Prosecco, Roederer American sparkling wine, and the Albariño Pét-Nat from our own Old Westminster Winery (OWW).
"This particular albariño really captures the essence of what we're out to do," says OWW co-owner Drew Baker. "We grow the grape in our home vineyard, and it offers so much interest. Unlike a cabernet or sauvignon blanc that is made with grapes grown throughout the world, it isn't ubiquitous. Albariño is a little more niche."
Baker describes the pét-nat as one of the most ancient styles of sparkling wine. The process, which pre-dates champagne production by several hundred years, involves bottle-conditioning the wine so that it is naturally carbonated without adding any sugar or yeast. The historical element, says Baker, couples well with the academic nature of the event.
"It's kind of like what's old is new again," he says. "When consumers discover this style and understand how it's made, they quickly fall in love with it. People want to go back to their roots."
The annual event, located on the lush lawn outside of Homewood Museum, always adds a bit of education to after-work libation.
"We like to think of the event as sort of the unofficial kick-off to summer," Rose says. "There's been a clear interest to look at alcoholic beverages and all the history and culture that goes along with them."