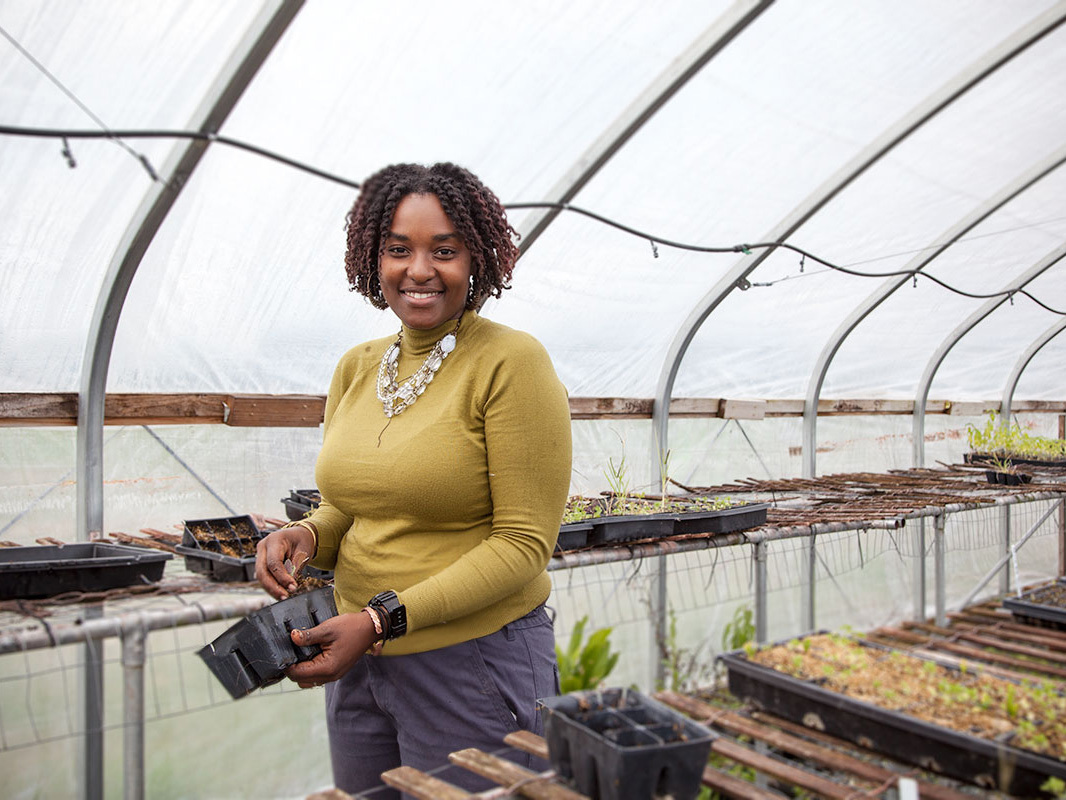 ©lisemetzger
When we hear the term "food desert," we tend to think of a dusty and isolated small town, not a neighborhood in a major U.S. city. But the USDA defines a food desert as a community of "at least 500 people and/or at least 33 percent of the census tract's population must reside more than one mile from a market or grocery store."
Baltimore's Greenmount West neighborhood falls into that category and residents Saché Jones and Myeasha Taylor of Two Moons Food Group were asked to come up with a solution.
"We were approached by the neighborhood association," Jones says. "This came from a very personal need for us to have a place to buy groceries and a way for us to get to residents in the community."
Partnering with local makerspace Open Works, the Two Moons Food Group put the plan in motion for the new Greenmount West community market. Beginning on June 4, Grow Market will make its debut in the Open Works parking lot at 1400 Greenmount Ave.
As part of the planning process, Jones and Taylor wanted to be sure this was something the community wanted, so the duo walked door-to-door to survey their neighbors.
"We wanted to move forward with the support of the community and not be yet another project that someone thought would be a good idea and didn't bother to ask," says Jones. "Our first question was, 'Do you even want a market?'"
Other questions on the survey covered shopping habits and frequency, as well as product preference. The results of the survey weren't surprising—residents wanted a grocery store within walking distance with quality produce.
Lacking the resources to build a grocery store, Jones and Taylor are doing the next best thing: a farmers' market. Both have experience with farming and planning, and sympathize with the problems of the neighborhood.
"We sometimes travel as long as 30 to 40 minutes to go to the grocery store that has the freshest produce," Jones explains. "The residents need markets that are going to meet those needs close by. We found people that can provide those things at the market."
At the Grow Market, customers will be able purchase fresh food including vegetables, fruits, dairy, breads, and coffee. There will also be prepared food from area chefs, as well as items from the local artists and makers at Open Works.
In an effort to assist customers receiving government assistance, all vendors will be required to accept EBT (electronic benefit transfer) for eligible products. Each vendor will be educated on which of their products are eligible to ensure that no resident is excluded from receiving quality goods.
Becoming a vendor at the Grow Market involves a careful selection process beginning with a questionnaire followed by an interview with Jones and Taylor. During the interview, the prospects must disclose how and where their products are grown, and how long they have been in business.
"We ask about their business: who they are as people, their goals, what they want to get out of the market," Jones explains.  "Do they have anything to contribute to the community besides their product?"
To date, the market has 10 vendors locked in with space for 13. Current vendors include a fresh farmer with organically grown produce, a ginger tea family business run by three brothers, and a local baker. The goal is to have at least 30 vendors that will rotate each week to give the customers variety. All of the current vendors are from Baltimore City or County, with some directly from the Greenmount West neighborhood.
"We are hoping to be as local as we can, but not just for the sake to say that we have local vendors," she says. "We want to highlight the vibrancy of our neighborhood."
The Grow Market is set to open on June 4 at 9 a.m.- 2 p.m. and will operate rain or shine every Sunday until November 19.
"We have a mission to be a people-centered marketplace that connects neighbors with local business," Jones says. "There's love here and we want to share that."