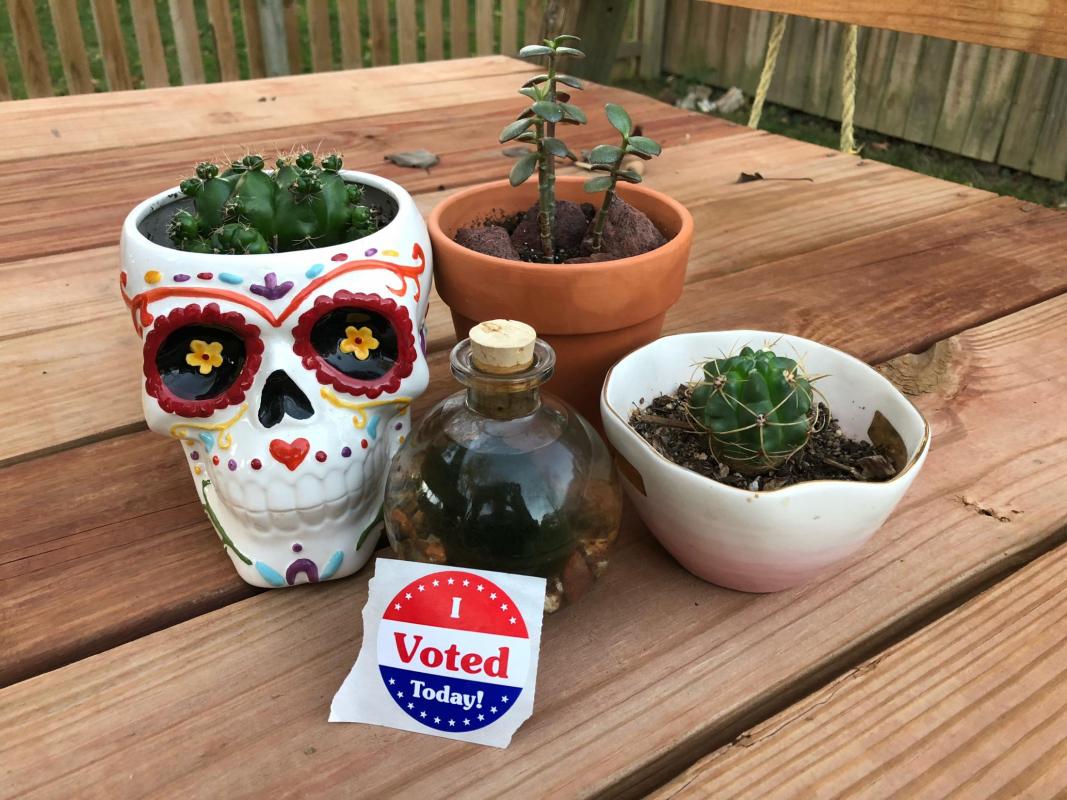 B. Willow is offering 20 percent off all greenery in its online store on Election Day. —Christine Jackson
In a recent survey conducted by the American Psychological Association, 68 percent of U.S. adults said that the 2020 Presidential Election is a significant source of stress in their lives. With so many crucial issues on the ballot this year, many are feeling uncertain about what the next four years could look like. Luckily, the local community is offering some great ways for voters to de-stress after heading to the polls. Here are some suggestions to help calm your nerves:
Make Bramble Baking Co.'s Mulled Wine Pear Crumble Pie
Whether you're kneading, rolling, or mixing, baking is a great way to blow off steam. Take your mind off of the polls (if only for a moment) by heading into the kitchen to make this fall-inspired dessert from farmers market favorite Bramble Baking Co. Owner Allie Smith will be providing the recipe—complete with tips and tricks for the perfect flaky crust—to anyone who emails her directly on Election Day. As Smith summed up in an Instagram post: "No strings, just a desire to share some tools during a challenging moment." 
Enjoy discounts at local restaurants with an "I Voted" sticker
After visiting your local polling place or ballot drop box, head to one of many local restaurants that are featuring discounts for those who have done their civic duty. In Hampden, Foraged will be offering dine-in guests 15 percent off of their entire check when they show proof of voting. Voters can also enjoy free cookies at Johnny's in Roland Park, a free cup of soup with the purchase of any entree at Felipe's Taqueria in Towson, and half-priced bottles of select wines at Gunther & Co. in Brewers Hill. 
Add to your indoor plant sanctuary with B. Willow's 20 percent-off sale
Nothing says zen like interior greenery. In fact, studies show that houseplants are known to boost your mood and increase overall productivity. To help voters take the edge off, owner Liz Vayda and her team at B. Willow are offering a 20 percent-off flash sale from 12-5 p.m. on Election Day. While the Remington shop is closed on Mondays and Tuesdays, the sale applies to all items available in the online store, including succulents, air plants, cacti, tropicals, and botanical designs. Just use the code "sweaterweather" and the discount will appear in your cart. B. Willow is also sending out $5 credits to anyone who direct messages @bwillowbmo with picture proof of voting. 
Fuel up with yam curry and rice from chef Krystal Mack
For those not feeling up to cooking on Election Day, Krystal Mack—the chef and culinary artist behind In Absence Of Studio—will be serving free cups of her signature yam curry and rice at Whitelock Community Farm in Reservoir Hill starting at 1 p.m. "Making soups, stews, and curries eases my anxiety, so I figured why not make a batch today to calm my nerves and share with folks," Mack wrote on Instagram. Stop by while supplies last to pick up a to-go kit that includes a scoop of jasmine rice and Mack's curry that combines purple yams, coconut milk, cilantro, basil, lime, and fresh sorrel and marigolds sourced from Whitelock.
Get some fresh air
Stepping away from the TV or social media scrolling is another way to alleviate political stress. Thankfully, Baltimore is home to tons of scenic spots that are great for putting your mind at ease—especially as the leaves begin to turn this time of year. Throw on a jacket and take a walk around your neighborhood, or check out this list of peaceful places to unwind—including Soldiers Delight, Quarry Lake, and Patapsco Valley State Park. 
"Wine" down with We See Us
Pour a glass of your favorite vino, kick off your shoes, and toast the end of election season at this virtual event from the organizers of We See Us—a Baltimore-born collective that empowers Black women and femmes. Register via Eventbrite and log on to Facebook Live from 8-10 p.m. to unwind with live music spun by DJ Crimson Cookies and a spoken word performance by Dr. Nae Phillips. 
Avoid screens and scrolling at Dutch Courage 
This Old Goucher bar—which has no television screens—is a perfect hideaway if you're hoping to retreat from election coverage. Grab a blanket, check your phone at the door, and enjoy cocktails and snacks on the outdoor patio while giving your mind a break from the news.