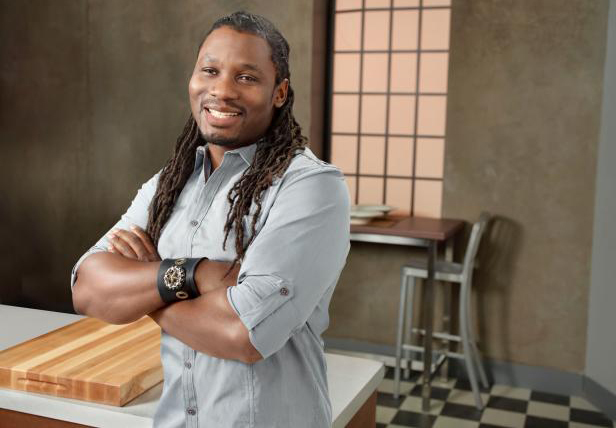 Courtesy of Food Network
When most new restaurants near a grand opening date, owners start sending out press releases, scheduling special events, and posting photos on social media to spread the word.
Chef Malcolm Mitchell, however, took a completely different approach when preparing to debut his new Gough Street gastropub last May.
"We literally just opened up the doors," Mitchell says. "At that point we didn't even have a Facebook page. People in the neighborhood started coming in and saying, 'Are you guys open? Can I get a beer?' and we said, 'Yeah, and we have food too!'"
Mitchell, a Columbia native who has previously appeared on Food Network's Beat Bobby Flay and Food Network Star, opened Ryder's in the former home of Cockey's in Upper Fells Point on May 18. He explains the reasoning behind the quiet opening by saying that he didn't want the community to be intimidated by a celebrity chef concept taking root in the neighborhood.
"The focus is the food," he says. "We wanted to see what the reaction was like without the residents knowing anything about me."
Mitchell realized his love for cooking after spending four years travelling the world in the Navy. He received an Advanced Culinary Arts degree from Stratford University in 2002, and has since bounced around the country, providing personal chef services and heading up kitchens everywhere from Los Angeles to Richmond, Virginia.
He started to become more involved in the local food scene last year—hosting pop-ups at Federal Hill spots Liv2Eat and Blue Agave—and jumped at the opportunity to revamp the former Cockey's space when he heard about it through the grapevine earlier this year.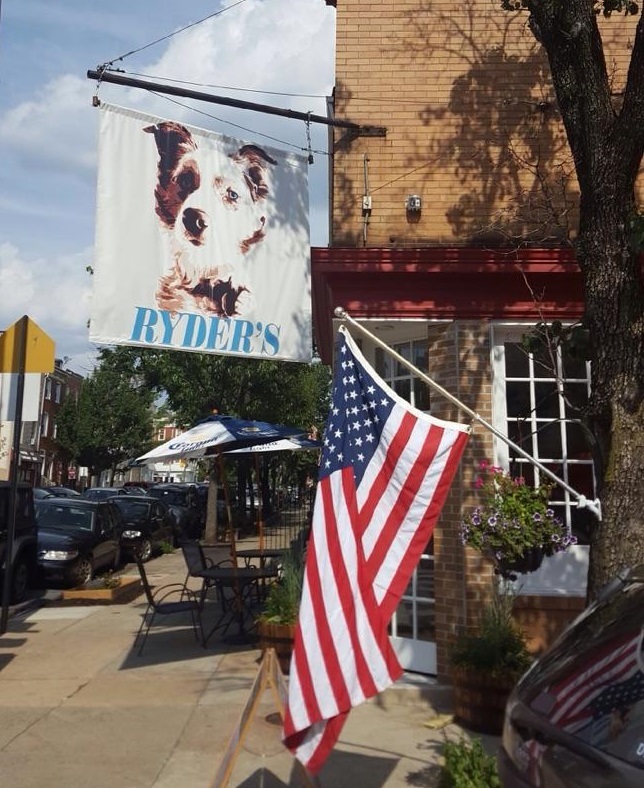 In a swift, two-week turnaround, Mitchell enhanced the old Cockey's interior by soundproofing the ceiling, renovating the bathrooms, replacing furniture and kitchen appliances, and adding a fresh coat of paint. Though the restaurant seats upwards of 50 people, the kitchen is a tight squeeze.
"It's the smallest kitchen in Baltimore," Mitchell says with a laugh. "House kitchens are bigger than this. But it's still got some really great food coming out of it."
The menu at Ryder's showcases Mitchell's fun take on gastropub fare, highlighting dishes such as tequila-braised short rib tacos, macaroni and cheese topped with Cheetos, peach glazed jerk chicken skewers, roasted beet salad with spiced pecans and a sherry maple vinaigrette, and bison burgers cooked in duck fat and topped with smoked gouda.
The beverage program features an array of beer and wine, and a cocktail menu with riffs on an Orange Crush and a classic whiskey smash.
"Food and beverage go hand in hand. You have to hit both marks," Mitchell says. "You can still be the corner bar and sling the Natty Bohs, but also have great food."
Mitchell says that opening the new spot has been an exciting homecoming experience for him, and that he hopes Ryder's (named after his landlord's dog) becomes a destination for Fells Point locals and visitors alike.
"We want it to appeal to the neighborhood first and foremost," he says. "But when people come to Baltimore and say, 'I don't want to go where the tourists go,' I want Ryder's to be that low-key neighborhood spot that comes to mind."