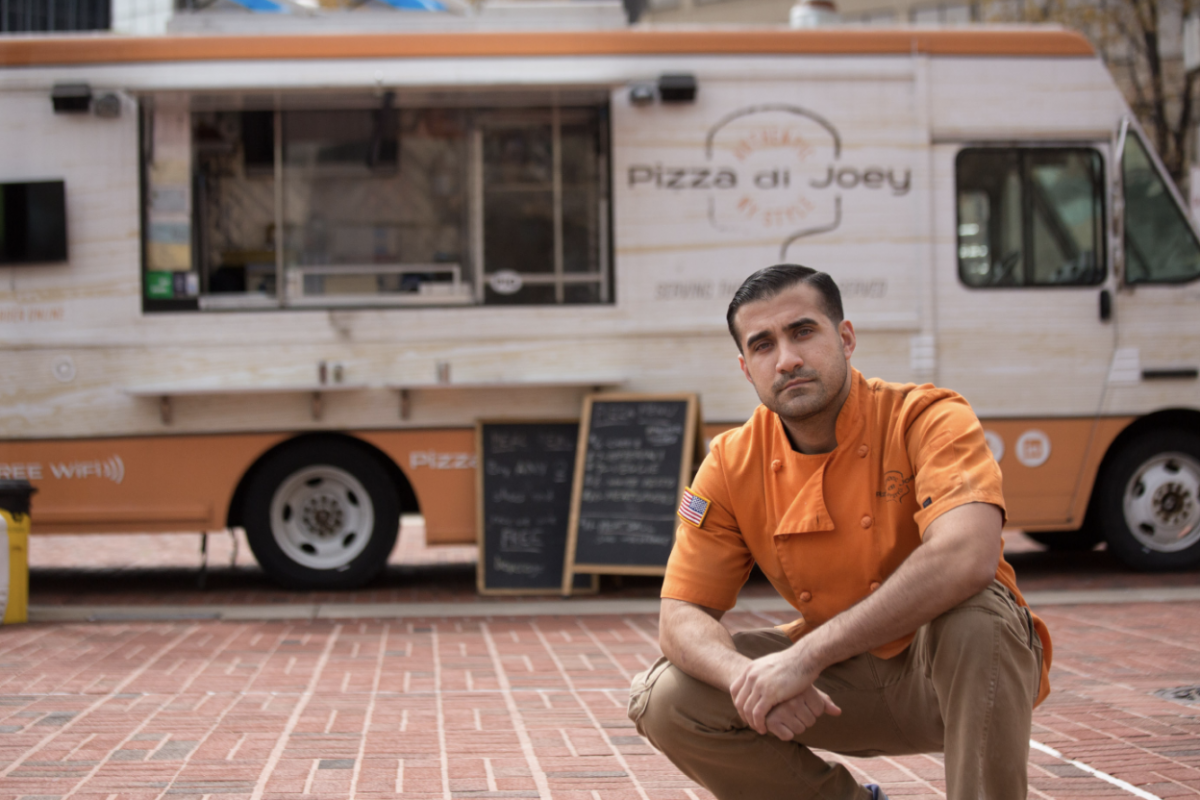 Courtesy of the Institute for Justice
Joey Vanoni has always had a knack for making pizza. As a kid growing up in New Jersey, he would frequent his neighborhood pizzerias, and later crafted his own brick-oven pies aboard submarines while on active duty in the Navy.
Now a Baltimore resident, Vanoni wants to continue that passion aboard his food truck Pizza di Joey. But he says that current Baltimore City legislation is prohibiting him from freely serving the community that he has called home for the past decade.
"I'm not asking for anybody to hand anything out to me," he says. "I'm just asking for the city government to get out of my way while I pull myself up by my own boot straps and earn an honest living."
A law enacted in 2014 bans mobile vendors from operating within 300 feet of brick-and- mortar businesses that sell a similar product or service. As a result of this—and given the abundance of other city businesses peddling pizza—Vanoni, along with Nikki McGowan of the MindGrub Cafe food truck, have teamed up with Arlington, Virginia-based nonprofit law firm Institute for Justice (IJ) to file a lawsuit against the city.
"Baltimore City is really picking and choosing the losers and winners in town here," Vanoni says. "They're saying that the brick-and mortar-businesses should be the winners and anybody who's on four to six wheels are going to be the losers."
The suit was filed in the Baltimore City Circuit Court over a year ago, and, earlier this week, Judge Yolanda Tanner denied both parties' motion for summary judgment—sending the case to trial on September 28. A pre-trial settlement hearing is scheduled for Friday, August 18, however IJ attorney Greg Reed says that the plaintiffs see no room for settlement.
"The only way that this case would be resolved prior to trial is if the mayor and city council repealed this patently unconstitutional law," Reed says. "These entrepreneurs have a constitutional right to vend in Baltimore City free from protectionist competitive laws like the 300-foot proximity ban, and they aren't going to give up for their rights to be free from such laws."
Reed explains the ban's "same or similar" provision by saying that there are certain locations that Pizza di Joey can operate, but MindGrub Cafe cannot solely because they sell different products. 
"The city creates this entirely unrealistic hypothetical in its argument that a pizza parlor is going to go out of business if Pizza di Joey parks within 300 feet of it," he says. "But not if a burger, taco, or pho truck parks in front of that very same pizza parlor. That's simply ridiculous. The success of any brick and mortar isn't about how close a mobile vendor is, it's about whether they're serving a good product and offering a good customer experience."
City solicitor Mark Dimenna declined to comment on the suit, explaining that his department has a policy of refraining from publicly discussing active litigation. For the city's part, Mayor Catherine Pugh attempted to alleviate the conflict back in April by establishing 10 designated food truck zones that all uphold the 300-foot rule.
The list of new zones targets many of the city's hospital and college campuses, but excludes other high foot traffic areas like Federal Hill, Fells Point, and Harbor East—neighborhoods which Vanoni says would significantly benefit his business to operate in.
"The new vending zones created by the mayor are entirely insufficient," Reed says. "They are not nearly enough to accommodate Baltimore's growing mobile vending industry. And they are rarely, if ever, located in places that would allow mobile vendors to actually reach their customers where their customers want to be reached."
Reed says that he is confident that IJ will be able to vindicate the rights of Vanoni and McGowan, along with other entrepreneurs facing these restrictions across the state.
"There's nothing less than the American dream at stake," he says. "At the end of the day, it's the people of Baltimore that should be choosing from whom they shop, not the city."