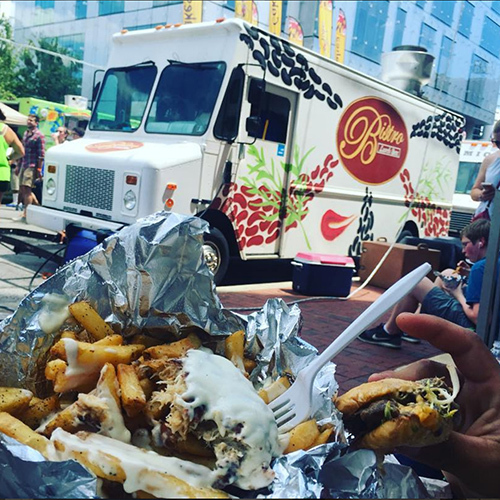 Photo courtesy of Baltimore Food Truck Week
Now, more recently than ever, burgeoning restaurant concepts have been trading out brick and mortar for headlights and windshield wipers, adding even more diversity to Baltimore's dining DNA.
So, it's only natural that these mobile meals get their very own event. From April 6-15, the second ever Food Truck Week will feature more than 50 different food trucks serving specials all around the city.
"What's amazing with food trucks is that they're small businesses that are opening their windows right there on the street, talking and connecting with other people," said Willy Dely, founder of Baltimore Food Truck Week. "That's the atmosphere Baltimore is about, and that's what makes it so great for food trucks."
The event will launch on Friday at 5 p.m. during Light City's Neighborhood Lights Festival, where various "chefs on wheels" will be serving fitting food truck specials in Pigtown, Brooklyn, Hollins Market, Remington, and Darley Park throughout the weekend.
Throughout the following week, several food trucks—including Wild Thyme Baltimore, Greek on the Street, GoGanics, and Pasta La Vista, Baby!—will rotate at various locations throughout the region, from Timonium in Baltimore County down to Severn in Anne Arundel County.
"You see restaurant week across the country as a promotion to help restaurants sustain revenue during slow periods of time," Dely said. "So the idea was to do something similar to really give the opportunity for food trucks to be in the spotlight and for people to be more aware about the industry."
He is most excited about the weather this time around considering last year's Food Truck Week took place in November at below freezing temperatures, but despite the early winter chill, he remembers seeing over 900 people show up to just a single event the first time around.
"The weather is definitely something that we are looking forward to for people to enjoy," Dely said. "With the spring coming up, people are going out, and I'm sure all the trucks will be busy."
As an employee in the restaurant industry for two decades, Dely says running a food truck demands additional effort that's not found in a standard brick and mortar shop, and that owners are operating out of a place of true passion. His ultimate goal is to see these small businesses thrive and grow in the years to come.
"It's been amazing because if you look back in 2010, we probably had around 10 to 12 food trucks in Baltimore," Dely said. "Now, there are over 100 food trucks licensed in the city. They are very passionate and talented in everything they do."