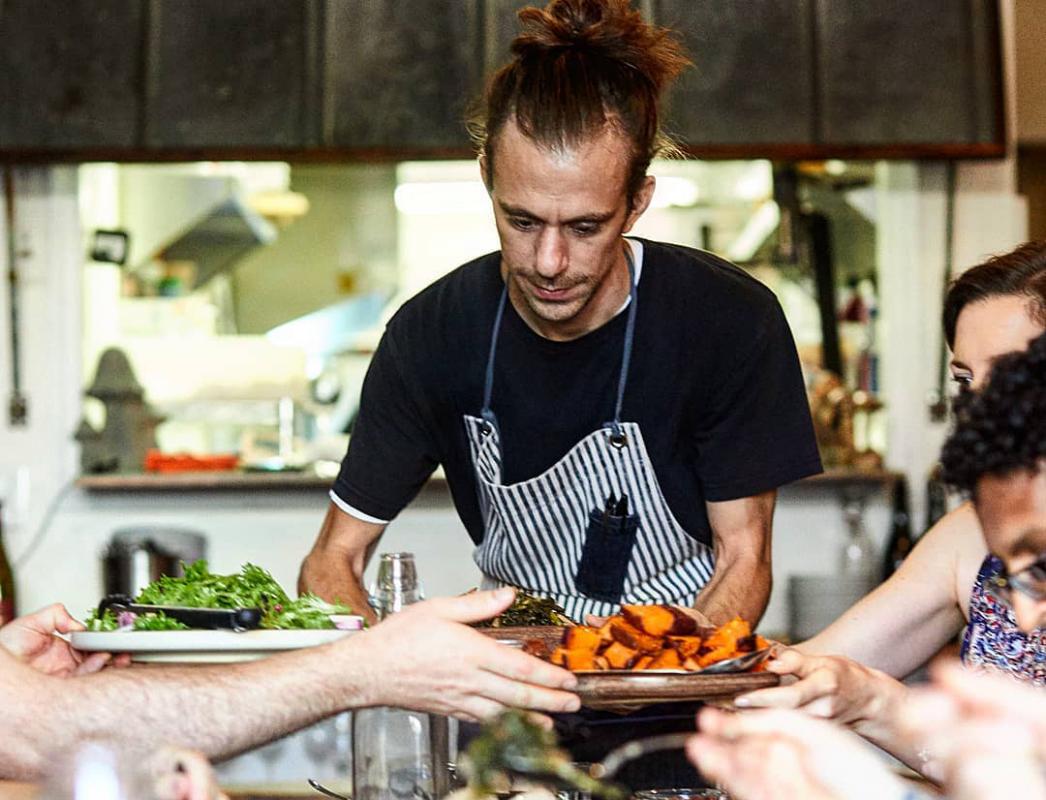 Chef/owner Chris Amendola serves his seasonal dishes at Foraged. —Foraged via Facebook
Good news for fans of chef Chris Amendola's Foraged in Hampden. The locavore restaurant is moving into new and improved digs at the old Orto space in Station North.
The final evening of service at the current Foraged location on Chestnut Avenue will be on Saturday, November 6. Once Amendola wraps up in Hampden, he and his team will focus on setting up shop in Station North, with the goal of opening in late November.
"I've always loved that neighborhood and location," Amendola says, "and I'm super excited to be neighbors with heavy hitters like Tapas Teatro and Alma Cocina Latina."
The new dining room will have 65 seats with room for 10 to sit at the bar, while the Hampden restaurant only sat 26 inside and 12 outside.
"I've been looking for a new space for some time now," Amendola says. "We've outgrown our space and I really wanted to be able to grow the company and expand."
As the restaurant's name implies, diners can look forward to an ever-changing roster of dishes spotlighting seasonal ingredients that Amendola—a certified mushroom forager—finds himself. Some of his greatest hits since opening Foraged in 2017 have included bowls of earthy mushroom stew topped with a poached egg, fried oysters with pickled radish relish and basil purée, half chicken with roasted root vegetables, and the signature chocolate chip cookies topped with salt harvested from the Chesapeake Bay.
Though the concept will stick to Amendola's farm-to-fork philosophy, there are some new changes on the horizon in the new space. As part of the expansion, Amendola is looking forward to having a full bar program for the first time. (The Hampden space only served wine.)
"We will have a bar program that's similar to the food program and incorporate wild edibles, spices, and fruits," he says.
As with the Hamdpen spot, there will be a living wall that includes sweet alyssum, lucky plum, and sorrel.
Aside from joining the neighborhood, Amendola—a local industry veteran who got his start at now-closed spots including Fleet Street Kitchen and Waterfront Kitchen—is also looking forward to retaining as much of his current staff as possible in the transition.
He says he feels grateful to be starting this new chapter.
"When we first got shut down on March 15, 2020—I will never forget that day," he says. "I really thought that was going to be it. Thankfully, I'm blessed with a great team and regulars in the neighborhood who helped pull us through. We will always be indebted."