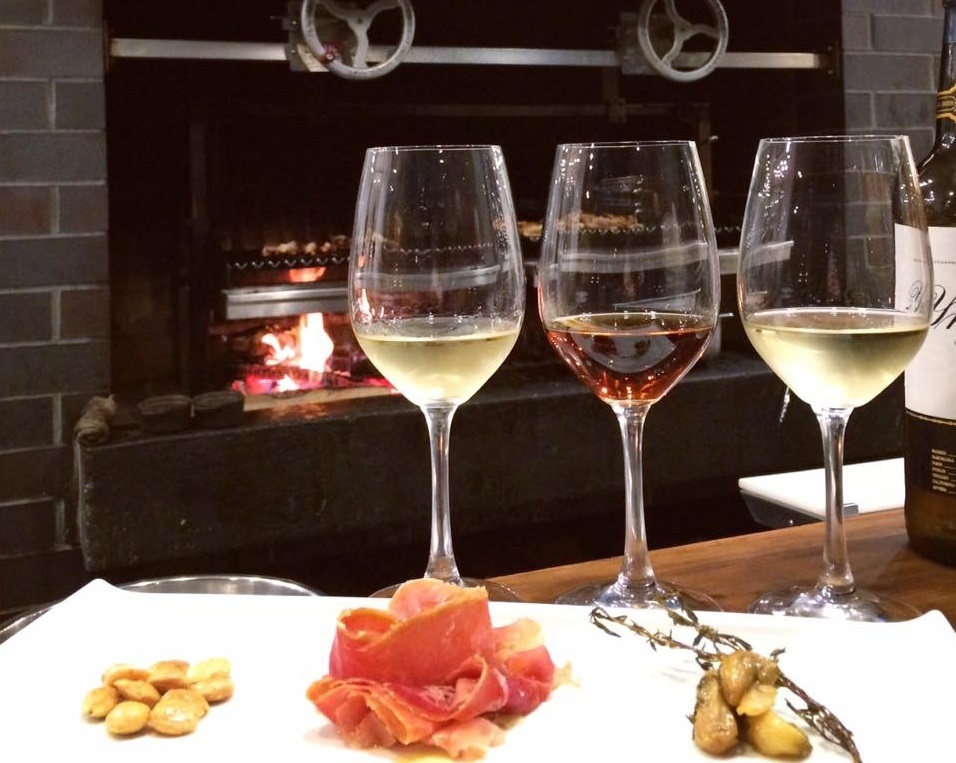 Courtesy of La Cuchara
No fine-dining experience is complete without top-notch wine pairings, and four Charm City restaurants recently received some noteworthy attention for their vino varieties.
In its annual list released last week, Wine Enthusiast magazine named Hampden hotspots La Cuchara and Woodberry Kitchen among the top 100 wine programs in the country. The World of Fine Wine also published its 2016 picks last week, awarding Foreman Wolf restaurants Charleston and Cinghiale top-tier ratings.
While La Cuchara is still in its infancy (the restaurant celebrated its one-year anniversary in April), its Basque-inspired vibe has already racked up significant esteem from local outlets, as well as national services like OpenTable. Listed alongside 17 other spots in the "New & Noteworthy" category, Wine Enthusiast praises La Cuchara for its regional wines and tasting flights of champagne and sherry.
"In any good pairing, the wine needs to taste like an ingredient in the dish," says La Cuchara's advanced sommelier Greg Schwab, one of only two local professionals to earn the prestigious title by the Court of Master Sommeliers. "The most important thing that wine can do is make the food taste better."
La Cuchara's wine selection rotates weekly, including tons of French and Spanish varieties from regions as far as Burgundy and Bordeaux. Schwab says that his main focus in curating the list is making it feel inclusive for novice wine lovers and oenophiles alike.
"We want to create a 'wine amusement park' that diners can explore and get involved with, rather than a museum of fine wines," he says. "I'm really humbled by the level of skill our whole team has here, and we always want to make sure that the same amount of effort going into the food and service is followed through in the wine program."
Spike Gjerde's flagship restaurant Woodberry Kitchen was also given love by Wine Enthusiast, which called its collection of pours from Maryland and Virginia a "point of pride."
Charleston and Cinghiale also received bragging rights last week, as both establishments were given superior ratings in The World of Fine Wine's annual roundup of the best programs across the globe.
Based in London, the quarterly publication honors upwards of 800 international spots, ranking them based on depth, interest, and quality of wine. Charleston and Cinghiale were the only Maryland restaurants to be recognized this year, and each scored three stars—the highest rating that critics award.
"Our overall mission is to please our guests and share our sense of discovery," says Tony Foreman, co-owner of Foreman Wolf Restaurant Group, who is a sommelier himself. "One of my greatest joys is working with our chief sommelier Lindsay Willey in discovering new wines that are evolving in expressive ways."
Charleston was applauded by The World of Fine Wine for its menu of Lowcountry cuisine with wine pairings built in, and reviewers described Cinghiale's variety of Italian labels as "an award-winning list that brings the world's largest wine-making country to existence."
Schwab, who is excited to continue to highlight La Cuchara's program by hosting regular wine dinners at the restaurant, sees all of the attention as a win for the entire community.
"The dining scene here has definitely been changing and rising to a level of competition with other top-tier cities in the country." Schwab says. "We're happy to provide support for that kind of conviction."