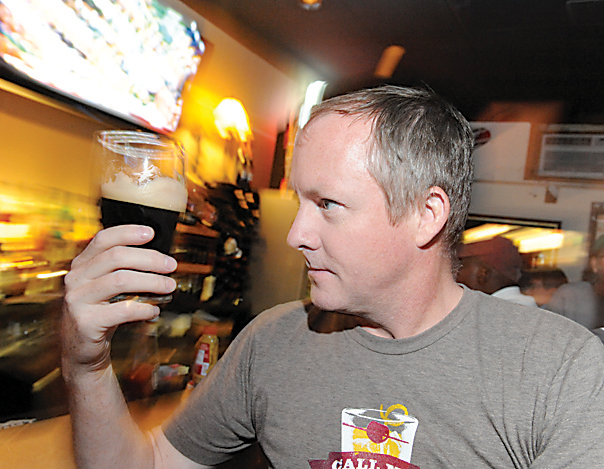 Jim Burger
[Update: Belvedere Square will be hosting a tribute to Nelson Carey this Friday, August 1 from 6-9 p.m., which is during the already scheduled Summer Sounds concert. Carey's fellow merchants will each cook up a special version of his favorite food, the frankfurter, that customers can enjoy in exchange for a suggested $5 donation to a new fund to help finance the college education of his daughter, Paige.
Friends and family can also make make a donation online at the concert or on their own at http://www.gofundme.com/Nelson-Carey. Donations will be accepted throughout the month of August. As the press release stated: "It seems only appropriate that Nelson's memory, his love of food and wine, as well as his generosity to customers and colleagues, be honored at the Square which he helped grow and thrive—and where he, in turn, achieved his dream for a business that would be a gathering place for the community."]
Nelson Carey, the owner of Grand Cru, died of a heart attack at just 50 years old last night.
Carey, who is survived by his wife and daughter, was a constant presence at the Belvedere Square wine shop—always taking his time to chat with customers and, according to employees, created a family atmosphere at Grand Cru.
We profiled Carey in the December 2012 issue of Baltimore magazine, where contributing writer Jim Burger went out for a beer with his friend to nearby Swallow at the Hollow. Here is what Burger wrote about the experience:
"Though located practically next door, the two businesses can't be more dissimilar. The Cru is noted for its 45 wines by the glass, an even greater selection of bottles, and exotic draft beers. The Swallow is an institution, albeit a shot-and-a-beer institution. That's the way Carey likes it: 'I come here because it's different. I come here to relax, and I don't want to go drink at the same place I'm walking away from.'

But there is a visceral attraction as well. Four generations of his family have lived within three blocks of here. 'I consider myself worldly and well-traveled, and yet I keep coming back.' Two contrasting bars 170 paces apart, and Nelson Carey is at home in either."
Our condolences to the family, friends, and employees of Nelson Carey.