Graul's Market Celebrates 100 Years
The independent merchant has long been an essential part of Maryland.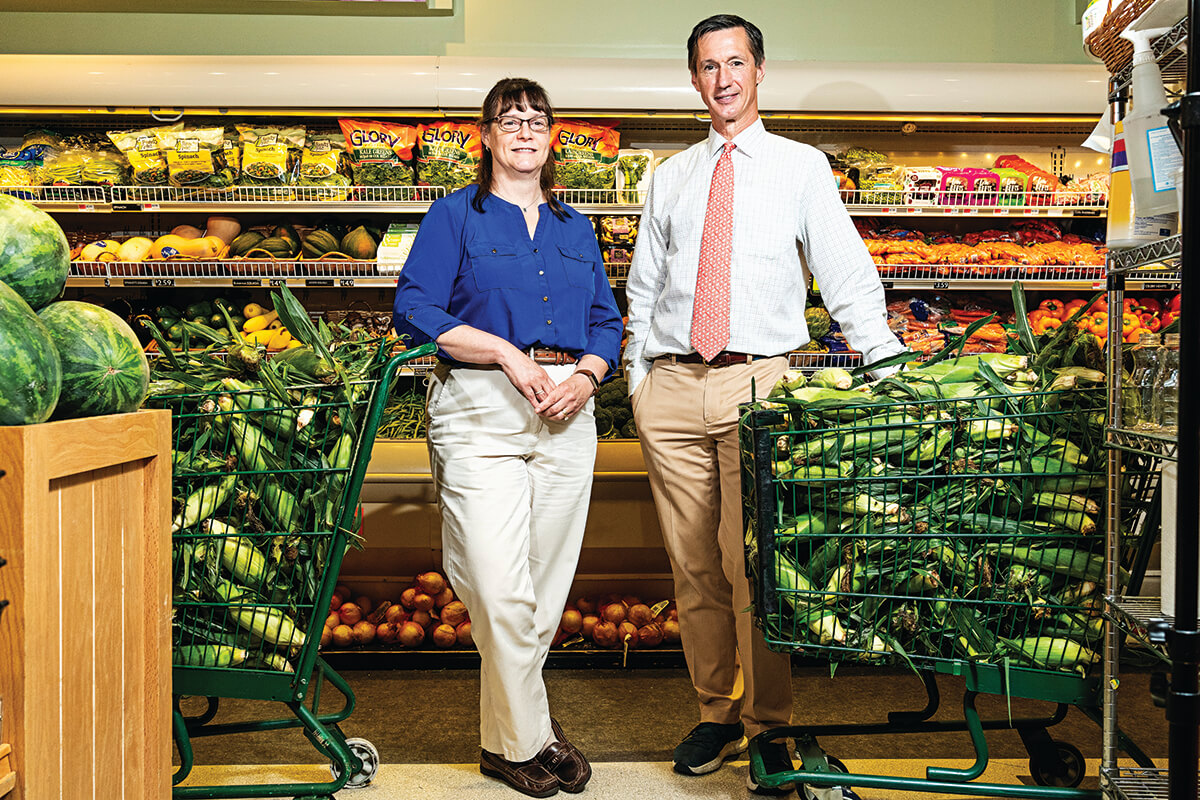 At the height of the coronavirus pandemic, as most Marylanders were following Governor Larry Hogan's mid-March stay-at-home mandate for all but essential businesses, Dennis Graul, his younger sister, Kate Poffenberger, and their staff of some 200 were stocking shelves, baking cakes, ordering from suppliers, and cheerfully ringing up customers at the Graul's Markets in Ruxton and May's Chapel.
Similar scenes were playing out across four additional locations of Graul's owned by fellow family members in Hereford, Annapolis, St. Michaels, and Cape St. Claire. In other words, as most of the state was shut down, at Graul's, it was just another day at the office. Then again, as the classic supermarket marks a century of business in 2020, this independent merchant has long been an essential part of Maryland.
The exact 100th anniversary date is not known, says Dennis, who co-owns the Ruxton location with Kate and is the sole owner of the May's Chapel store. "No one wrote down the date back then," he says. "They just went to work and did what they did." And today, as the markets celebrate this milestone, that's still the case. Although there was a time when "blue laws" banned business activity on Sundays, these days the stores are practically 24/7 operations. "The last person leaves at nine at night, and the baker is back by three in the morning," says Dennis. "We are open 361 days a year, minus Thanksgiving, Christmas, New Year's, and Easter."
In many towns, small grocers are still the cornerstone of "village" life, places where it's not uncommon for cashiers, seafood sellers, deli workers, and people like Bob Fitzpatrick—who is celebrating his 50th year of employment at Graul's—to toil until retirement.
"I started when I was 16," says Fitzpatrick, now 66, who manages the stores on Taylor Avenue and Cape St. Claire Road in Annapolis. "I came to bag groceries and mop the floors and help customers out to their cars with their groceries. I went from there to stocking and ordering and becoming a department head at stores. It's just so friendly here. You can get a loaf of bread anywhere, but you can't get the 'Hi, how are you?'"
Now, more than ever, in the era of COVID-19, people crave that kind of friendly, throwback feel and a sense of contact and connection as much as they need milk or eggs. When everything else seems askew, Graul's has become a beacon for Baltimoreans that provides a sense of normalcy—and, when the stay- at-home mandate was in effect, it was also one of the few places that remained in stock with in-demand items like flour and yeast.
"YOU CAN GET A LOAF OF BREAD ANYWHERE, BUT YOU CAN'T GET THE 'HI, HOW ARE YOU?'"
"Countless customers have pulled me aside in the store," says Dennis, as he walks the market floor talking to customers and arranging the items just so—a bag of in-house popcorn here, a bunch of bananas there. "They were just so appreciative of us and the service we provide. And not only that we have what they need but that we were willing to be here and take the risk when the pandemic seemed so scary and we were going to work seven days a week. People said, 'The world had literally shut down and you guys never blinked.' I think that was one of the most rewarding things I can remember. For me, it's a culmination of our life's work."
And while the Grauls certainly never set out to profit from a global crisis, the pandemic has led to at least a 30 percent growth in revenue at the six locations (as well as the company's three bottle shops) when normal good growth is in the low single digits. "There has been a tremendous, tremendous increase in sales," says Dennis. "This is extraordinary. Things will revert to the mean one day, but, in the meantime, hopefully we're getting some new customers who will stick around long term."
Of course, veteran customers such as former Maryland Public Television host Rhea Feikin have long appreciated the market's charms. "I lived not far from the Ruxton store when I was raising my children and family," Feikin says. "And I went to Graul's all the time. Everyone was always friendly, and they got to know my name. It's just a really pleasant place to shop."
It's that family feel that customers come back to again and again—and for good reason. Dennis and Kate, along with their relatives at the other stores, are the fourth generation of Grauls to run the family business, which started, ironically, at the end of the Spanish flu pandemic in 1920. Kate and Dennis's first cousin, Bryan, the baby of the family at age 39, runs the two Annapolis stores, as well as the Hereford location, which was built in 1979 to look like a barn. Another first cousin, John Evans, runs the newest outlet in St. Michaels.
For as long as they can remember, the family members have all worked in the business. "Dennis and I worked in the store ever since we were very young," says Kate. "We lived on Old Court Road and on Saturday mornings, our grocery manager would stop and pick us up, so we didn't have to go in as early as our parents. My husband laughs at me because we never watched Saturday morning cartoons—we were working."
"WE'D DELIVER TO PEOPLE'S HOUSES AND THEY'D LEAVE A KEY UNDER THE DOORMAT."
"It was fun to work in the store when I was a kid," recalls Dennis. "When I was less than 10, I'd go around and fill up whatever was selling, and milk was really popular. In the St. Claire store, they'd make doughnuts and put them on the sheet pans on top of the bakery counter and I had a liberal employee consumption policy. Every time I'd go to fill the milk, I'd eat a doughnut. By the end of the day, I'd eaten two dozen." Bryan puts it like this: "The store was my parent's babysitter," he says with a laugh.
The first full-scale store selling packaged goods, as well as both prepared and fresh foods, stood at the corner of Monument and Streeper streets in East Baltimore. Dennis and Kate's father, Harold Jr., along with his three siblings, lived above the store on Monument Street, which was founded by their great grandfather, Fred, a German immigrant who came to America after World War I, when he first opened several meat markets in Baltimore with his wife, Esther, and his brother, Harry, in the 1920s. By 1958, their son, Harold Sr., and his wife, Mary, moved with their four children, Harold Jr., Tom, Susie, and Fred to open a Graul's in Cape St. Claire in Annapolis. Eventually, each of the children, all of whom worked in the business at a young age, opened spin-off locations.
"I started working at the store on Monument Street in elementary school," says Harold Jr., who opened the Ruxton location in 1973. And he never stopped. Back when the now 76-year-old Harold Jr. was in community college, he recalls, "I used to leave the house at 11 every other night, get off at 10 in the morning and then have the day off in between. I'd get back from market at 6 or 7 in the morning, and then work in the store all day. Back then, it was not uncommon to work 12- to 14-hour days, seven days a week. By the time I was 18, I worked full-time."
At that time, it was also not uncommon for Harold and his siblings to make deliveries when no one was home. "We'd deliver to people's houses and they would leave a key under the doormat," he recalls. "We'd put the cold stuff in the fridge and freezer and leave the deposit for their glass soda and milk bottles. Customers knew who you were, and they trusted you. It was a much simpler time." Harold Jr. and Tom would also visit customers—many of whom were neighbors in their Baltimore rowhomes—to make their shopping lists, go back to the store to fill the orders, and then deliver them later that day. On Thanksgiving, the duo also went to the farm in Westminster to hand-pick the turkeys while the birds were still alive. (These days, they sell 1,000 turkeys at each location.)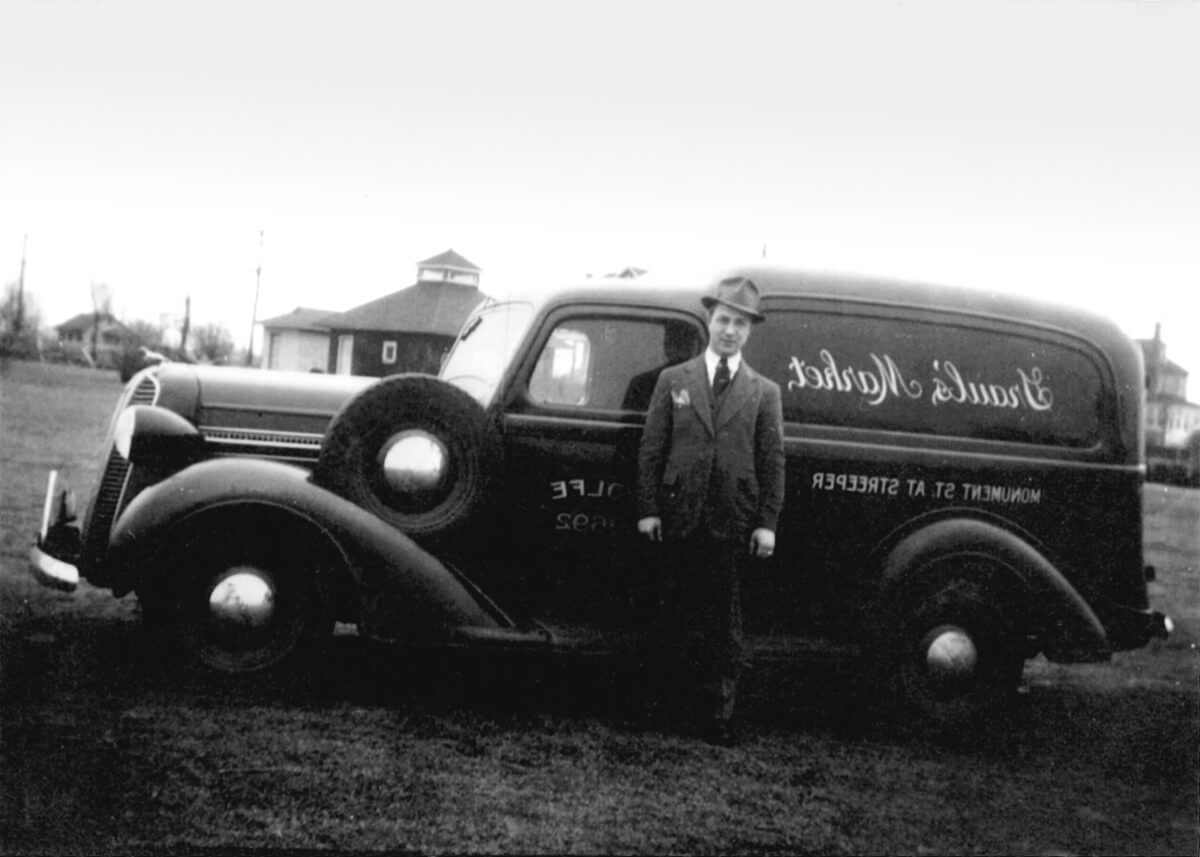 In Maryland itself, a few independent supermarkets, including Eddie's of Roland Park and Green Valley Marketplace in Howard and Anne Arundel counties, are the last of their kind. Graul's is the only independent market in the state with more than a handful of locations. "There are only a couple of us left that are truly independent supermarket owners in the state," says Dennis. "Maryland has rolled itself up to be a chain-store town. Giant is owned by a company in the Netherlands. Weiss is this huge conglomerate. Shoppers is a regional conglomerate."
While supermarket trends have followed the bigger-is-better model, and delivery services via Instacart and Amazon Prime are getting a share of the market in Maryland, many consumers still prefer the smaller, more manageable markets whose motto is: "We'd rather be good than big."
Pikesville resident Sharon Bass and her husband, WJZ-TV news anchor Marty Bass, have been shopping at the store for decades. "I'm not one to go to a Giant or a Shoppers for my fish and meat," she says. "I like a small store and Graul's is so personable. Everyone recognizes Marty, but they also know me there whether he's standing next to me or not."
But it was the scratch-made cakes (and their delightful decorations courtesy of Dennis and Kate's mother, Juanita, a self-taught cake artist) that first got Sharon Bass in the door. "When I got married and moved to Baltimore, everyone told me about Graul's and the cakes," she says. "For my daughter Savannah's first birthday, she got a Graul's cake. For her 16th, 18th, and 21st birthdays, she got a Graul's cake, and then, when she got engaged, we flew with a Graul's cake from Baltimore to Tuscaloosa to Birmingham—and Graul's made her wedding cake. Graul's is such a staple."
The chicken salad, of which the market sells 200 pounds a day per location, and other homemade family recipes also set the stores apart from the competition. "Our coleslaw was our grandmother's recipe," says Dennis. "Until not that long ago, the recipe was written on a 3-by-5 card."
There are also recipes created by market employees, including a hot milk cake and an oatmeal cake with walnuts, coconut, and caramel. And then there's the emphasis on made-in-Maryland products—including Woot! Granola, Mouth Party Caramels, Fisher's Popcorn, Taharka Brothers Ice Cream—and a stellar seafood department with local crab and live lobster. ("We had a customer come in and buy live lobsters. When they called to order them, they asked us if they needed to bring a leash for the lobsters," cracks Kate, whose nickname is "Cake" for her ability to ice like her mother.)
While the supermarket business has always been somewhat recession-proof, the pandemic has forced consumers to become reacquainted with their home kitchens—and, in turn, back to the market for provisions.
"In the world of our parents' generation, people used to cook at home like people are doing right now," says Dennis one early June day. "You'd go out to dinner occasionally. It was a treat—and then over the years, we've evolved to a population that ordered in and ate out a lot. We've watched the reinvention of America in the last few months. People are not going to go back to dinner out five, six nights a week—that's not going to become the norm any time soon."
Eating out, he says, will take on a new meaning. "My prediction is that in the next year, the idea of going out to dinner with friends is going to be, 'Your back porch or mine,' and that's going to be the vibe of the future."