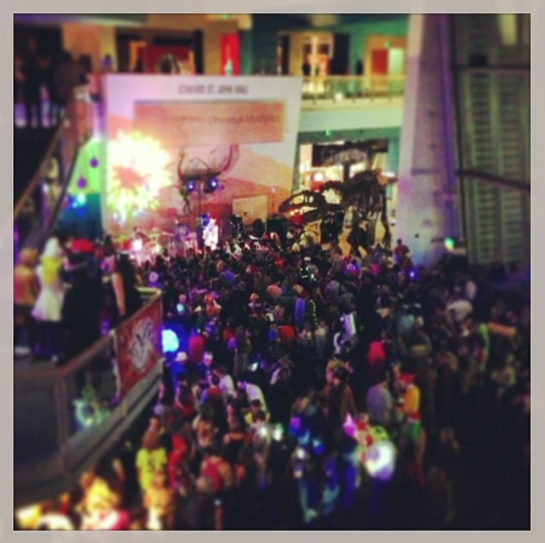 Halloween was kicked off a little bit early this year with the Hallow's Eve party on Saturday night at the Maryland Science Center. The craft beer party/costume ball/live music event made me wonder why the Science Center doesn't host more concerts because it makes an awesome venue.
There were five stages of live music: the main stage complete with a T. Rex display (featuring Psycho Killers and Cris Jacobs and Kenny Liner's New Mistake), the rooftop stage (with bluegrass bands Cara Kelly & the Tell Tale and The Manly Deeds), the planetarium that featured five different DJs, the cafeteria where they were live broadcasting WTMD's Dirty Soul Party, and the IMAX theater that was showing movies with a soundtrack performed by Deltanine.
Besides the myriad options of live music on hand, $5 drink tickets also bought you access to some of the best local craft beer from Union Craft Brewing, Flying Dog Brewery, Stillwater Artisanal Ales, and The Brewer's Art. There were the usual options from the breweries, but they also debuted Black Market Baby, a hoppy black ale and Baltimore Beer Week collaboration between all four brewhouses.
This was in addition to all of the fun, interactive displays at the Maryland Science Center, including admission to their current "Mummies of the World" exhibition—doesn't get much spookier than that. Some of our favorite costumes we spotted included many crazy Ace Venturas, an impeccable Beetlejuice, a deviled egg, a Walter White or two, and even a whacky inflatable flailing arm man. All the fun also had a serious benefit—event proceeds went to the music education nonprofit Believe in Music.
Next Thursday, the Science Center will also be hosting a class called "Science on Tap: Beer-ology 101," where those 21 and over can learn about various beer styles and the scientific roles ingredients play in the brewing process from Fordham and Dominion Brewing Co. representative Casey Hollingsworth. Tickets are $45 and available at marylandsciencecenter.org.