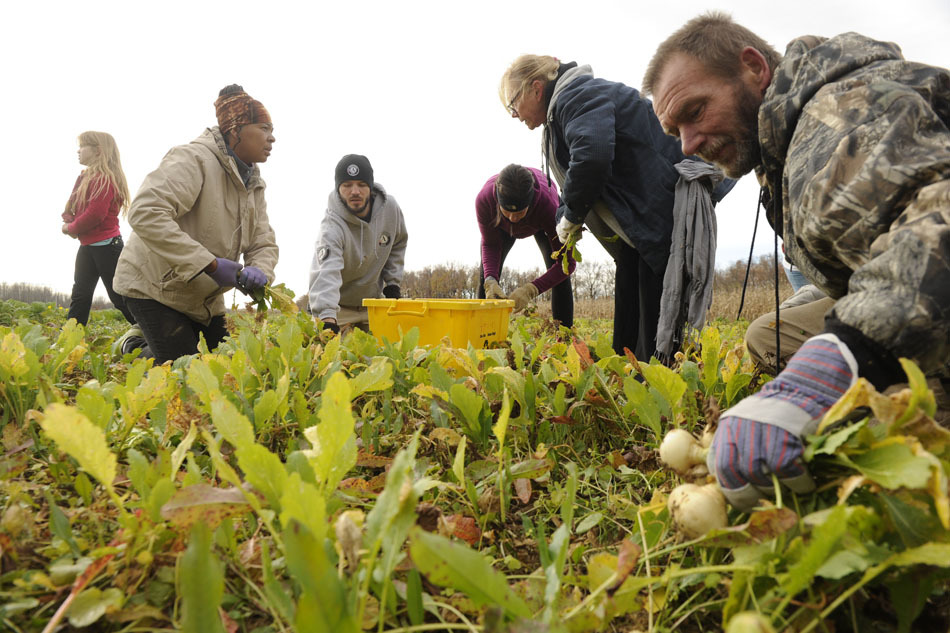 Photography by Colby Ware
Having spearheaded the revitalization of old industrial properties like Canton's Can Company and Woodberry's Clipper Mill, Cross Street Partners co-founder William Struever knows a thing or two about bringing life to local landmarks.
Fittingly, the real-estate mogul has taken over the centuries-old A. Hoen & Co. Lithograph Building—best known for printing some of the earliest National Geographic maps—in East Baltimore and plans to transform the site into a mixed-use development offering production facilities, office space, and a café.
Though construction won't begin until the first quarter of 2017, Cross Street Partners is kick starting its efforts by launching a new community initiative this weekend.
The Hoen & Co. Farmers' Market, a project aimed toward restoring food access in the Collington Square neighborhood, will debut on Sunday, August 14 from 10 a.m.-2 p.m. in the parking lot of the old lithograph building on the 2100 block of East Biddle Street.
"We have this large space at our disposal, so we wanted to find a way to activate what has been a vacant building for 35 years," says Adam Rhoades-Brown, Cross Street Partners' development project manager for Hoen & Co. "Having something that is ultra-local and walkable for the people who live in the neighborhood is really important."
This weekend's launch will highlight unique arrangements from urban agriculture champion Walker Marsh of Tha Flower Factory, eats from new R. House tenant Stall 11 (think steamed buns filled with bean curd, teriyaki mushrooms, or miso caramel and toasted coconut), and an array of local fruits and vegetables from Gather Baltimore—a Hamilton-based food justice organization that collects surplus produce and distributes it to under-served residents.
"It's nuts how much food is always leftover from farms and farmers' markets," says Gather Baltimore founder Arthur Morgan. "We still have a lot of work ahead of us, but there are a lot of good people in Baltimore doing big things for those who don't have access to it."
At the farmers' market, Gather Baltimore's produce will be sold in five-pound grab bags for $1 or mix-and-match bags at 50 cents per pound.
Rhoades-Brown says that, because all of the vendors are social-impact driven, it helps the market to serve its greater purpose.
"It's all a part of the broader vision that we have for Hoen & Co.," he says. "Businesses that have a socially-minded focus are exactly the kind of tenants that we're trying to attract to the project."
Slated to premiere in 2018, the revamped 75,000-square-foot factory—a joint effort between Cross Street and City Life Builders—will eventually be an anchor development providing job-training programs, community space, and retail destinations.
Though the opening lineup will start out small, the goal is for the market to gain a larger following as the Hoen & Co. project progresses. This weekend's pop-up will serve as a test to see if the concept catches on with the community. While the market finds its footing, Cross Street Partners hopes to continue organizing other engagement programs, such as transforming a vacant lot nearby into a community garden.
"One thing that has really impressed me is the buy-in from all of the different organizations that are excited about doing something to make a difference," Rhoades-Brown says. "It's been great to have that kind of interest in setting something like this up."
To learn more about urban farming, pick up a copy of our August issue, on newsstands now.