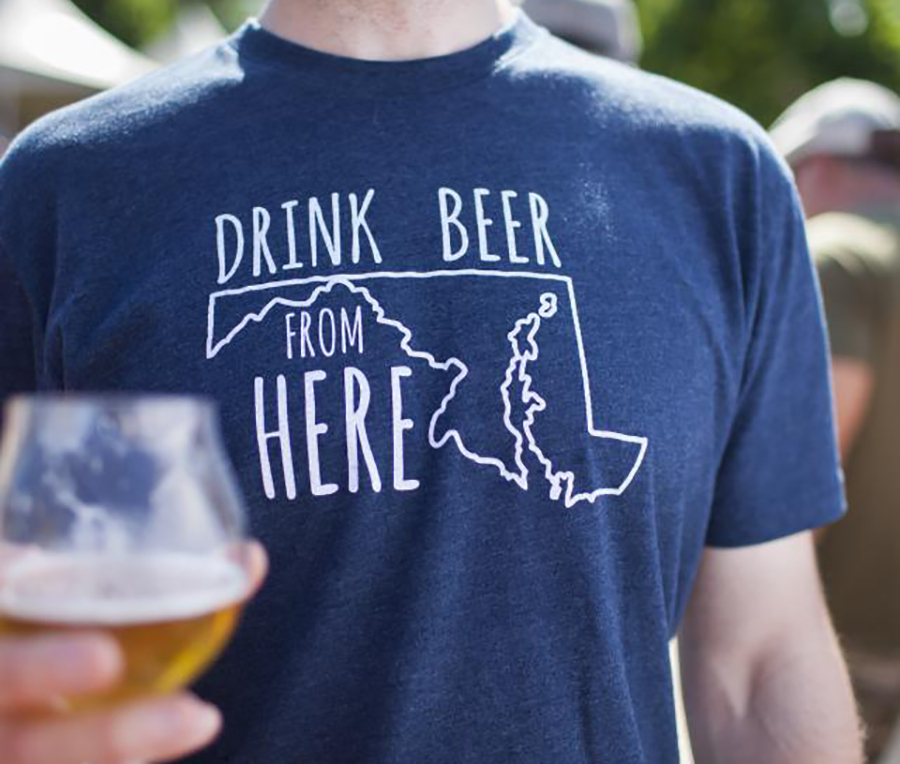 In many respects, Maryland beer is more progressive than ever. Recently, Gov. Larry Hogan officially dedicated an entire month to the local craft beer movement, honoring its positive effects on tourism, commerce, and community innovation.
But, in light of Guinness' decision to settle in Baltimore County, legislative action has forced the state's thriving beer businesses to "take one step forward and two steps back," according to the Brewers Association of Maryland (BAM).
A bill that was passed by the House of Delegates last week ups the cap on production for all local breweries (which will bode particularly well for the famed Irish beer house), but with the caveat of limiting hours of taproom operation and hindering contract brewing—a practice that has helped many local outlets including Diamondback, Full Tilt, and Monument City get off of the ground.
BAM president Ben Savage says that the implications of the bill, HB 1283, could be extremely detrimental in its current form.
"We're at a point now where the restrictions that are added to this bill outweigh the benefits that they're proposing," says Savage, who also serves as chief marketing officer of Flying Dog Brewery. "If we can't get it amended to the point where we think it's an overall good piece of legislation, we would probably advise not to pass it at all."
Tension began to build last month, when officials at Diageo—Guinness' global production arm—announced plans to build a brewery for the multi-billion dollar company in Relay, a small town just outside of Halethorpe.
Slated to open this fall, the production facility would be Guinness' first in the United States in 63 years and feature a retail store, taproom, and warehouse with packaging operations.
From the beginning, the project was contingent on the General Assembly's approval of a new type of liquor license that would be more conducive to the massive amounts of production that such a large-scale facility requires. Currently, the cap on how much beer can be sold on the premises at breweries throughout the state is 500 barrels per year, but Guinness would need that number to increase to 5,000.
A boost in on-site sales is something that BAM has been working toward for many years. When Guinness came into the picture, the organization partnered with Diageo to introduce a new Senate bill, SB 1172, which would ensure a level playing field for all Maryland breweries.
But BAM's work hit a low point last week, when the House of Delegates unanimously passed HB 1283—which raises the maximum amount of beer a brewery can sell in its taproom to 2,000 barrels, but significantly restricts hours for visitation.
Savage says that it's difficult to make sense of how the legislation passed, especially because there were other proposed bills—including the one that BAM and Diageo worked on together—that seemed to be more beneficial to all parties involved.
"I'm as shocked as anyone," he says. "There's a brewery in every district that is represented in Annapolis. My only sense is that people maybe weren't as forthcoming as to whether or not the Brewer's Association was really involved in the development of this bill. There was an assumption that we were, and we weren't. That part is very discouraging."
The latest bill takes into account the viewpoints of Maryland State Licensed Beverage Association (MSLBA), which represents surrounding bars and wholesalers who would face competition from taprooms that have a heavy focus on retail. Steven Wise, legal counsel for the MSLBA, could not be reached for comment.
A wholesaler did write an anonymous editorial to Naptown Pint this week, saying that lobbying groups have forced them to be less-than-ideal partners for brewers. The bill also throws a curveball at the "three-tier" regulation system, which was instituted post-Prohibition and limits breweries to manufacturing, wholesalers to distributing, and bars to selling alcohol.
"We love existing within the three-tier system," Savage says. "We wouldn't be in business without our wholesale or our retail partners. But it's not a sacred structured piece of regulation that is untouchable. Every state has a different version. All we're asking is that the Maryland version be a little less restrictive so that we can allow our breweries to thrive."
<p "="">Under the new legislation, Class 5 breweries would need to close at 9 p.m. on weekdays and 10 p.m. on Fridays and Saturdays. Savage says that this not only restricts patrons from visiting local tasting rooms, but it also has the potential to require staff layoffs throughout the entire industry.
"Our brewery has become a popular destination for the community during the late afternoon and evenings, and this bill fundamentally changes the rules on us without our input," said Union Craft Brewing co-founder Adam Benesch, in a statement from BAM. "It will change our ability to have reasonable public hours at the brewery, which will cause us to potentially lay off 5-10 employees."
Additionally, another provision of the bill restricts taprooms to only sell beer produced at an adjoining production facility. This presents conflict for small startups that contract out of larger incubators, such as Peabody Heights Brewery in Waverly, with the intention of selling their brands at taprooms off-site. It would also have an effect on collaborative brews.
"We invested over $3 million in this brewery, created 12 jobs, brought a world-renowned brewmaster to Baltimore, and now produce beer for startup breweries throughout Maryland," said Peabody Heights owner Dick O' Keefe. "The bill as drafted hurts us and closes the doors for our startup clients."
Moving forward, BAM is encouraging craft beer lovers to contact their senators and urge them to amend the bill. Savage says that a committee meeting to discuss BAM's proposed revisions could happen as early as this week, and the organization is expecting a large turnout from its members to voice their concerns.
Though the future of Maryland's taprooms and production policies is still up in the air, Savage is hopeful that the union will remain resilient.
"There's no doubt we'll get through this," he says. "You can take Diageo and all of the specific breweries out of it, at the end of the day, this is a bad bill. We can no longer perpetuate legislation that hurts Maryland businesses."