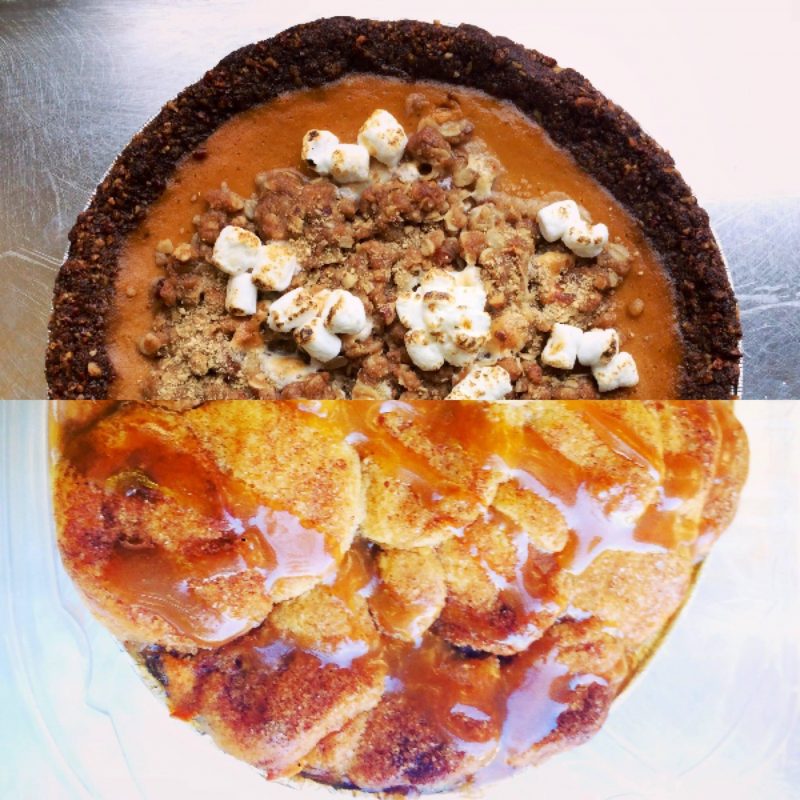 Courtesy of PieCycle
While most families opt for the traditional home cooked feast on Turkey Day, there's something about the idea of no cleanup that makes dining out sound so appealing. Whether you're planning on making a reservation to enjoy your holiday meal at a local restaurant, or just in search of a few pre-ordered sides to complete it at home, here are some of your options.
DINING IN:
Cunningham's Café and Bakery: The expansive holiday catering menu at this Towson farm-to-fork spot lists everything from turkey and vegetables to fresh-baked breads and pies. Items available for pickup November 24-25 include roasted whole turkey or chicken, hand-carved honey ham, crab cakes, cider-brined pork loin, cauliflower gratin, apple and chestnut stuffing, pumpkin soup, and lemon meringue pie with candied cranberries. 1 Olympic Place, Towson, 410-339-7730, *Orders must be placed 72 hours in advance.
La Cuchara: Ditch the boring dinner rolls this year and check out the specialty loaves now available for pickup at La Cuchara. Head baker Carrie Goltra's seasonal varieties include smoked pumpernickel, toasted black sesame sourdough, classic French-style baguettes, and grano cosecha made with spent grain, poppy seed, and wildflower honey. All breads are available for purchase at the host stand during restaurant hours, and cost $5-6 per loaf. 3600 Clipper Mill Road, 443-708-3838
Mission BBQ: This local staple, known for its mouthwatering meats, is offering slow-smoked turkeys that feed an army of 15-20 people for $49. Additionally, Mission BBQ's signature "Pick-Up Packs," which allow hosts to mix and match meats with sides like macaroni and cheese and bacon green beans, are also available for carry out throughout the holiday season. Multiple locations including 3701 Boston St., 410-870-7300. *Turkey orders for pickup on 11/25 must be placed by 11/21
PieCycle: Pie princess Krystal Mack has been pleasing palates all over town with her signature ice-pops, pies, and cookies, which she peddles on her seven-speed dessert bike. For Thanksgiving, Mack will be taking custom orders for her Caramel Apple Snickerdoodle Cobbler and her sweet potato pie with brown butter pecan crust and marshmallow graham topping. *Orders can be placed via email, visit PieCycle's Facebook page for more information.
Whole Foods Market: If you're trying to remain somewhat health-conscious for the holiday, or in search of vegan options, Whole Foods is your best bet. Local stores in Harbor East and Mt. Washington offer organic turkeys, vegetables, and side dishes along with vegan mashed potatoes, sweet potatoes, pumpkin curry soup, and multigrain stuffing. All orders can be placed online for in-store pickup. Multiple locations including 1001 Fleet St., 410-528-1640
DINING OUT:
Langermann's: Nothing says tradition like Southern-style comfort food, and this Low Country restaurant is going all out for the holiday with a special three-course menu of made-to-order items in addition to a full buffet. Guests can order dishes like crab soup, fried turkey, pineapple-glazed ham, seared salmon, and Smith Island pumpkin layer cake, while simultaneously filling their plates with stewed green beans, candied yams, creamy heirloom grits, and cornbread stuffing at the buffet. 2400 Boston St., 410-534-3287, $18-35
The Milton Inn: What better way to celebrate our country's history than by spending Thanksgiving inside this charming 275-year-old field house. The elegant restaurant will be offering both a prix-fixe and an a la carte menu, featuring classics like hand-carved white and dark turkey, sweet potato mousse, onion and celery stuffing, and cornbread. If you're not a turkey lover, additional a la carte offerings will include braised beef short ribs, roasted duck, filet mignon, and grilled rack of lamb. To ensure a sweet finish, dessert dishes will range from pumpkin and apple pie to chocolate macadamia nut torte and bourbon vanilla crème brûlée. 14833 York Road, Sparks, 410-771-4366, $34-58
The Rowhouse Grille: With its dim lighting and exposed brick, the ambience at this multi-level Federal Hill haunt makes it a great place to indulge in a late-autumn feast. Rowhouse will offer two meals on Thanksgiving Day, including a breakfast buffet starting at 8 a.m. (which sounds like an ideal "Dranksgiving" hangover cure to us) and dinner at 4 p.m. The buffet will feature scrambled eggs, breakfast meats, bagels, toast, and sausage gravy, while the dinner menu will highlight your choice of ham or turkey paired with mashed potatoes, bacon-balsamic Brussels sprouts, green bean casserole, and stuffing. 1400 Light St., 443-438-7289, $20-25
Waterfront Kitchen: Snag a seat with a waterfront view at this (aptly named) Fells Point restaurant to enjoy a family-style meal prepared by executive chef Chris Amendola. In keeping with its seed-to-plate mantra, from 12-7 p.m. Waterfront Kitchen will offer locally sourced non-GMO turkey along with roasted butternut squash, deviled eggs, braised greens, mashed potatoes, and roasted carrots with carrot butter. 1417 Thames St., 410-681-5310, $15-65
Wit & Wisdom: Cozy up near the fireplace in the dining room at this fancy tavern inside the Four Seasons Baltimore to indulge in chef Zack Mills' three-course feast with optional wine pairings. Highlights will include duck confit and acorn squash risotto, oysters Rockefeller, a turkey plate with gravy and cranberry sauce, roasted monkfish, pumpkin cornbread, Brussels sprouts, and butternut squash. 200 International Dr., 410-576-5800, $40-125