Alma's Irena Stein Shares Recipes From New Arepa Cookbook
Due out July 18, the book is the first in the world to highlight the Venezuelan corn cakes stuffed with myriad fillings.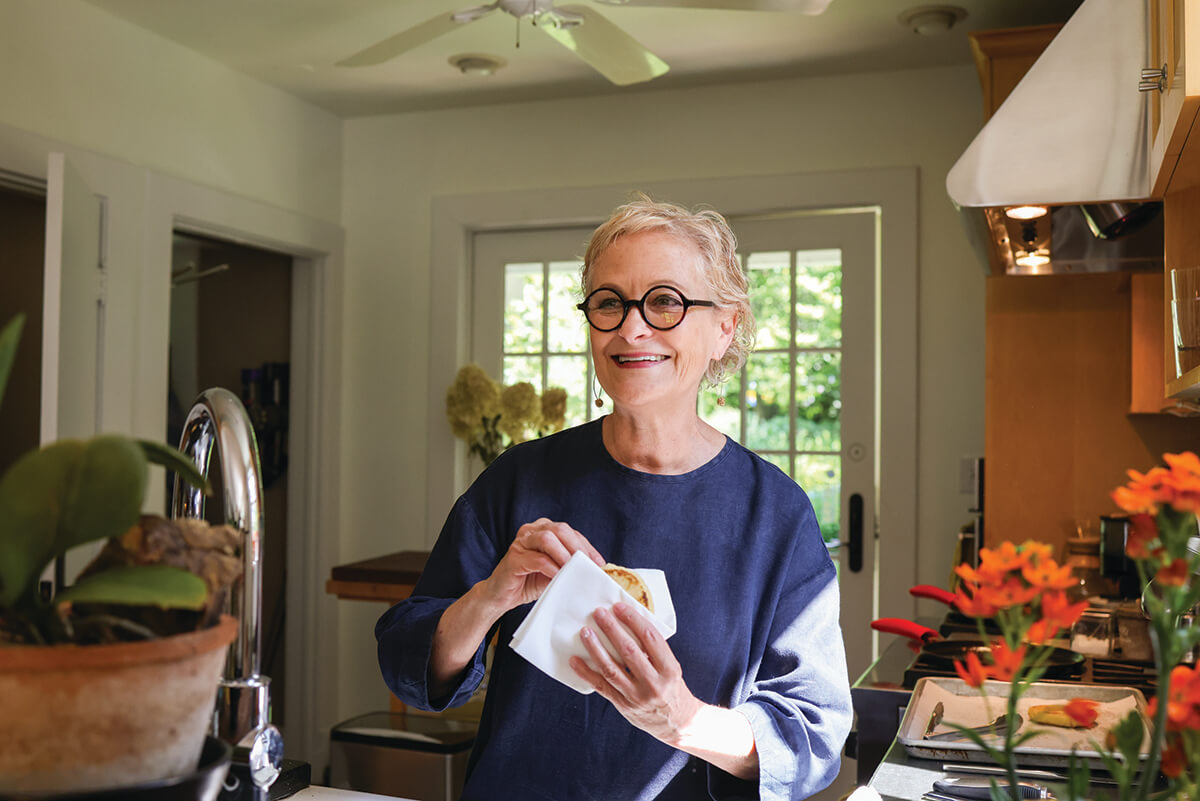 In 2017, Alma Cocina Latina owner Irena Stein was meeting with her then-chef Enrique Limardo and a Venezuelan food distributor when an idea began marinating.
"He and Enrique were talking about doing 'a little something' with arepa recipes," recalls Stein, pictured above. "I said, 'Let's not do a little thing, why don't we do a big thing?'"
After the meeting, she did some online research to see what coverage already existed on this popular sandwich-like street food of her home country, and she was surprised to learn that the staple Venezuelan corn cakes, stuffed with myriad fillings, dating as far back as 1,000 B.C., had never exclusively been the star of their own cookbook.
And while her colleagues never did jump on the bandwagon, Stein knew she had stumbled onto something, especially as many millions of Venezuelans were immigrating to other countries—and bringing their culture with them.
After the usual round of publishing rejections faced by first-time writers, Stein landed her first cookbook deal with Ryland Peters & Small, a Britain-based publisher, thanks in part to an introduction by Baltimore plant-enthusiast-turned-author Hilton Carter, whom they also represent.
Five years in the making, Arepa: Classic and Contemporary Recipes for Venezuela's Daily Bread will be released worldwide on July 18 and distributed across the country by Simon & Schuster. Featuring 50 arepa recipes, from pickled octopus and clam with heart-of-palm salsa to lamb cutlets with yogurt and mint (as well as a few appetizer and dessert recipes from current Alma chef, David Zamudio), it's the first cookbook of its kind the world over.  (Ahead of its debut, the book has already received national praise—topping Food & Wine's recent list of the The Best New Summer Cookbooks.)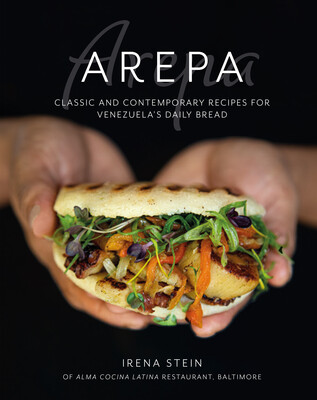 Writing the book was also a global labor of love. Stein's publisher was based in London. She hired Venezuelan chef Eduardo Egui, who moved to Barcelona while developing the book's dishes. Her test kitchen was a friend's house in Caracas. Not to mention a Spanish translator, based in Miami, who pored over the recipes several times. Photographed entirely by Stein with her own Canon camera, the book introduces her beloved cuisine to the world.
"My memories are my maternal grandmother, Cimodocea de las Mercedes, making arepas," she says. "She made basic arepas with cheese, but as is the custom, we also ate them with whatever was leftover—chicken, lettuce, tomato, cilantro."
Fittingly, Stein and her husband, Mark Demshak, will open an arepa bar in Station North, just next door to Alma, shortly after the book is published. And while arepas are long gone from the menu at Alma, the appetite for them looms large.
As local poet and Alma fan Kondwani Fidel writes in the book: "Some foods speak to the soul in ways that words cannot. The arepa is one of them."
Below, Stein shares two recipes from the book—a simple and delicious cheese arepa, as well as one stuffed with crab salad and yogurt sauce.
AREPA: THE BASIC RECIPE
Receta de la arepa
Makes six arepas
Ingredients:
⋅ 720 ml (24 fl oz/ 3 cups) water, at room temperature
⋅ 2 tbsp vegetable oil
⋅ 2 tsp salt
⋅ A pinch of sugar (optional)
⋅ 350 g (12 oz/ 2½ cups) Harina P.A.N. pre-cooked white maize flour (cornmeal)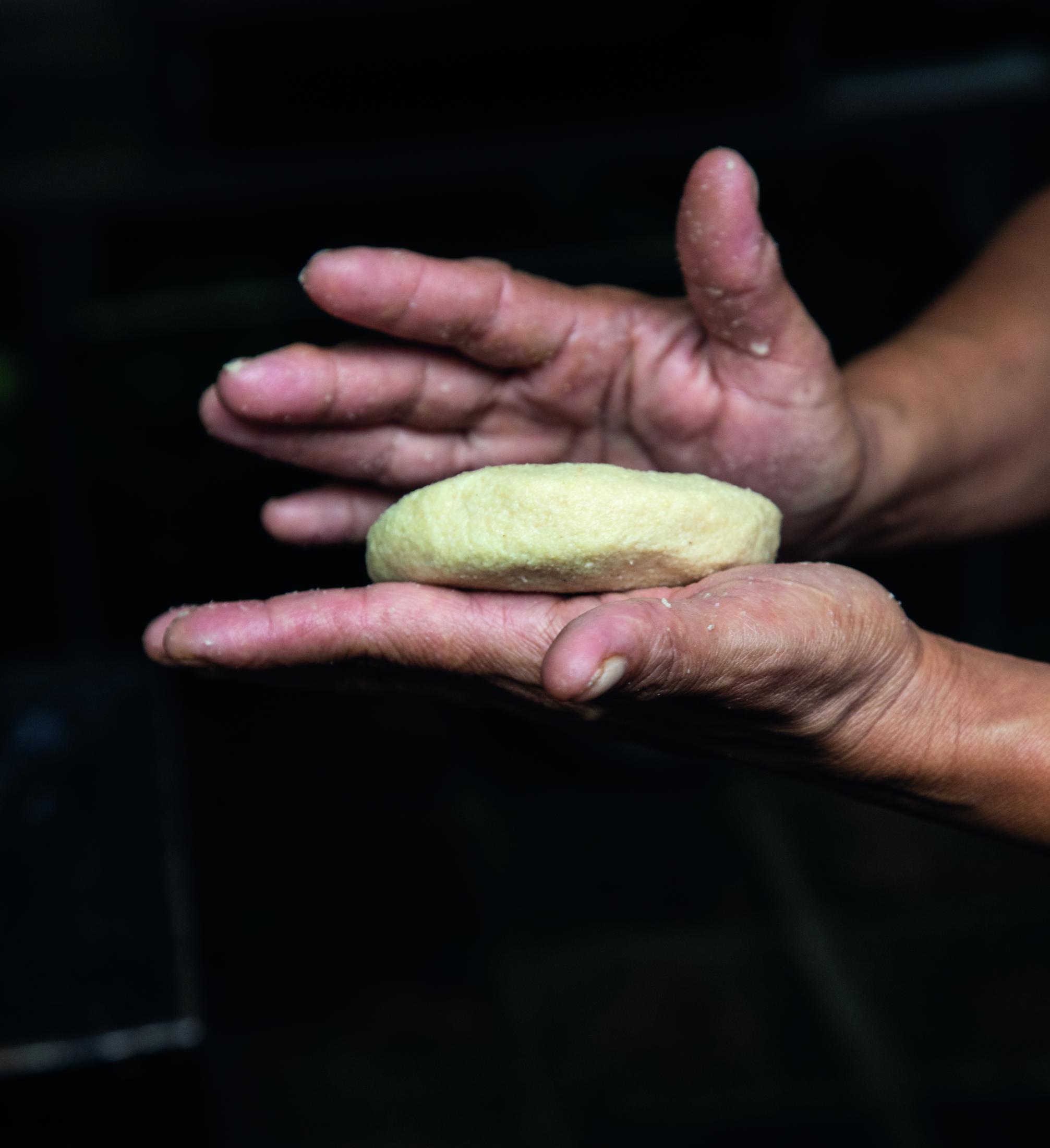 Instructions:
In a large mixing bowl or bowl of an electric mixer, combine the water, oil, salt and sugar (if using). Slowly add the Harina P.A.N. pre-cooked maize flour (cornmeal) and mix the dough with your hands or electric mixer on medium speed for at least 10 minutes. The dough must be worked for a full 10 minutes to prevent the arepas from cracking when cooked. Once mixed, the dough should be free of lumps and soft to the touch.
Wet a paper towel or clean dish towel and wring out well. Cover the dough and let it sit for 10 minutes.
Preheat the oven to 230°C (450°F/Gas 8) and line a baking sheet with parchment paper.
Oil your hands. Pull off 170 g (6 oz.) of dough and form it into a ball. Flatten the ball with your hands, pressing down to form an 11-cm (4-inch) disc that is 2.5 cm (1-inch) thick. Transfer the arepas to the prepared baking sheet and cover with the damp towel. Repeat with the rest of the dough to make 6 arepas, oiling your hands before forming each disc.
Heat a griddle pan over a medium heat and brush the pan with oil. Working in batches, put the arepas on the pan and cook for 5 minutes on each side or until lightly golden. Return the cooked arepas to the lined baking sheet.
Once griddled, put all the arepas directly on the rack of the hot oven. Bake the arepas for 20 minutes, flipping them after 10 minutes. The arepas are cooked when they have puffed up a bit, are brown in spots, and sound hollow when tapped.
Holding a hot arepa with a clean dish towel, cut three quarters of the way through using a serrated knife. Scoop out some of the soft insides to make room for the filling, leaving the crispy top of the arepa and a little of the soft inner. Add your choice of filling and serve immediately.
To Make Cheese Arepa:
Split open an arepa and scoop out some of the soft insides to make room for the filling. Spread both sides of the arepa with butter, then fill with grated (shredded) aged hard cheese (queso de año) and close the arepa.
AREPA WITH CRAB SALAD, TOMATOES AND YOGURT SAUCE
Arepa de ensalada de cangrejo, tomate, salsa de yogurt
Makes six arepas
Ingredients:
For the arepas:
⋅ 1 quantity of basic arepa dough* (see above)
For the crab salad:
⋅ 300 g (10½ oz/2 cups) fresh crab meat (do not use frozen)
⋅ 80 g (2¾ oz/1 cup) finely diced red onion
⋅ 60 g (2 oz/½ cup) finely diced celery
⋅ 20 g (¾ oz/1 tbsp) finely diced sweet red bell pepper
⋅ 2 tbsp finely chopped chives
⋅ 2 tbsp mayonnaise
⋅ 4 tbsp fresh lime juice
⋅ Tabasco red pepper sauce, to taste (optional)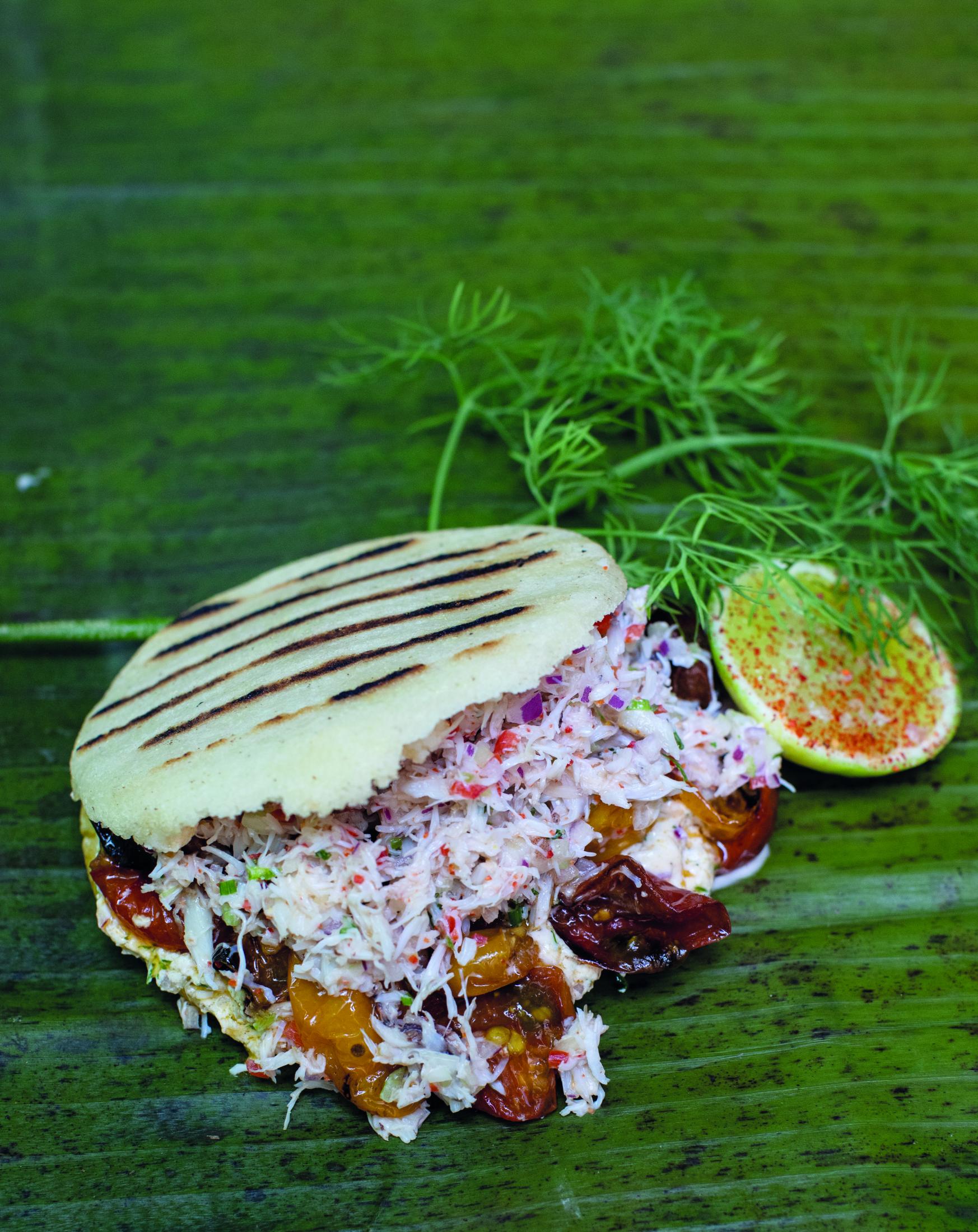 For the roasted tomatoes:
⋅ 400 g (14 oz/2⅔ cups) cherry tomatoes
⋅ 3 tbsp olive oil
⋅ 2 tsp finely diced garlic
⋅ ½ tsp sugar
⋅ 1 tsp salt
⋅ A pinch of black pepper
For the yogurt sauce:
⋅ 240 g (8½ oz/1 cup) strained Greek yogurt
⋅ 50 g (1¾ oz/¼ cup) coarsely grated (shredded) cucumber
⋅ 30 g (1 oz/2 tbsp) finely diced white onion
⋅ 1 tbsp olive oil
⋅ 1 tbsp fresh lime juice
⋅ 1 tbsp Sriracha hot sauce
⋅ 1 tsp finely chopped dill
⋅ 2 tsp salt
Instructions:
To make the roasted tomatoes, preheat the oven to 180°C (350°F/Gas 4). Halve the cherry tomatoes and mix them with all the other ingredients in a bowl. Spread the tomatoes over a baking sheet and roast in the hot oven until they start to dehydrate and turn golden around the edges. Remove from the over and set aside.
To make the sauce, place the yogurt in a muslin cloth and squeeze out as much liquid as possible until it has the consistency of cream cheese. Place the grated (shredded) cucumber in a paper towel and squeeze out as much liquid as possible. Place the strained yogurt and cucumber in a bowl and mix together with all the remaining ingredients. Chill in the fridge until ready to serve.
Following the basic arepa instructions above, shape the dough into 6 arepas and cook them just before serving.
To make the salad, pat dry the crab meat with paper towels. Combine the crab meat with all the diced vegetables and herbs in a bowl. Add the mayonnaise and lime juice to taste. You can also add a couple of dashes of Tabasco red pepper sauce, if you prefer a little spice.
Split open the arepas and scoop out some of their soft insides to make room for the filling. Lay the roasted tomatoes on the bottom half, then add spoonfuls of the crab salad. Drizzle over the yogurt sauce. Serve with lime halves dusted with cayenne pepper for squeezing over.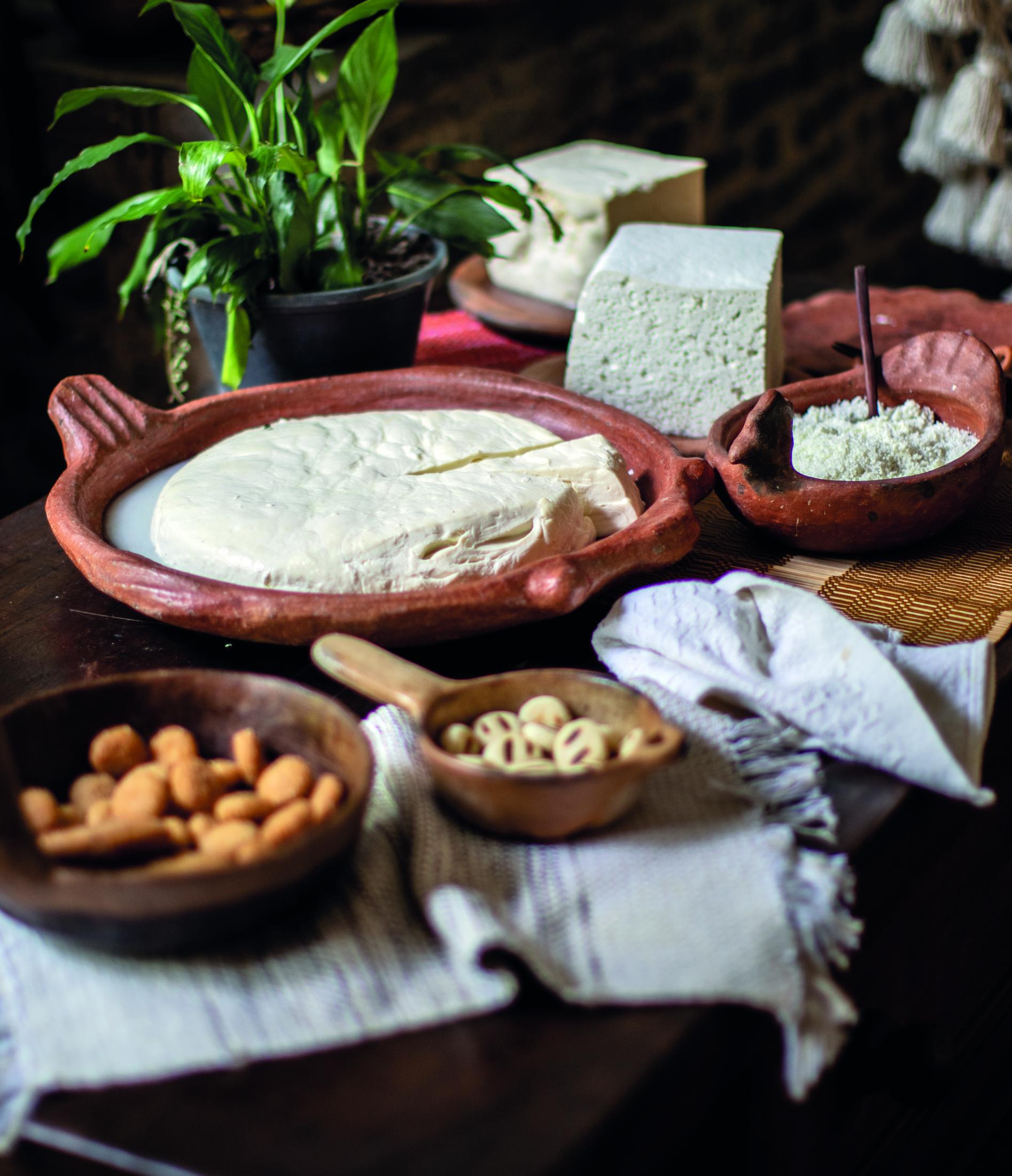 Stein's Helpful Hints: 
⋅ For best results it is essential to use Harina P.A.N. pre-cooked maize flour (cornmeal), which is made by cooking, drying and then grinding corn kernels. Each arepa recipe in this book has been tested using Harina P.A.N. and no other brand will yield the same results.
⋅ An arepa needs to be eaten as soon as it comes off the griddle, out of the oven or from the fryer. If you wait more than 15 minutes to serve an arepa once it has been cooked, its texture and taste are far less desirable.
⋅ To prep ahead, shape the dough and griddle the arepas. Leave to cool on a baking sheet. To chill, tightly wrap the entire baking sheet in clingfilm (plastic wrap) to prevent the arepas drying out. Store in the fridge for up to 2 days. To freeze, tightly wrap the griddled arepas in clingfilm (plastic wrap) with parchment paper between them to prevent sticking together. Store in the freezer in an airtight container.
⋅ When needed, thaw the arepas if frozen and bake in a hot oven as usual.