The Great Indoors
Hilton Carter thinks you should buy a plant.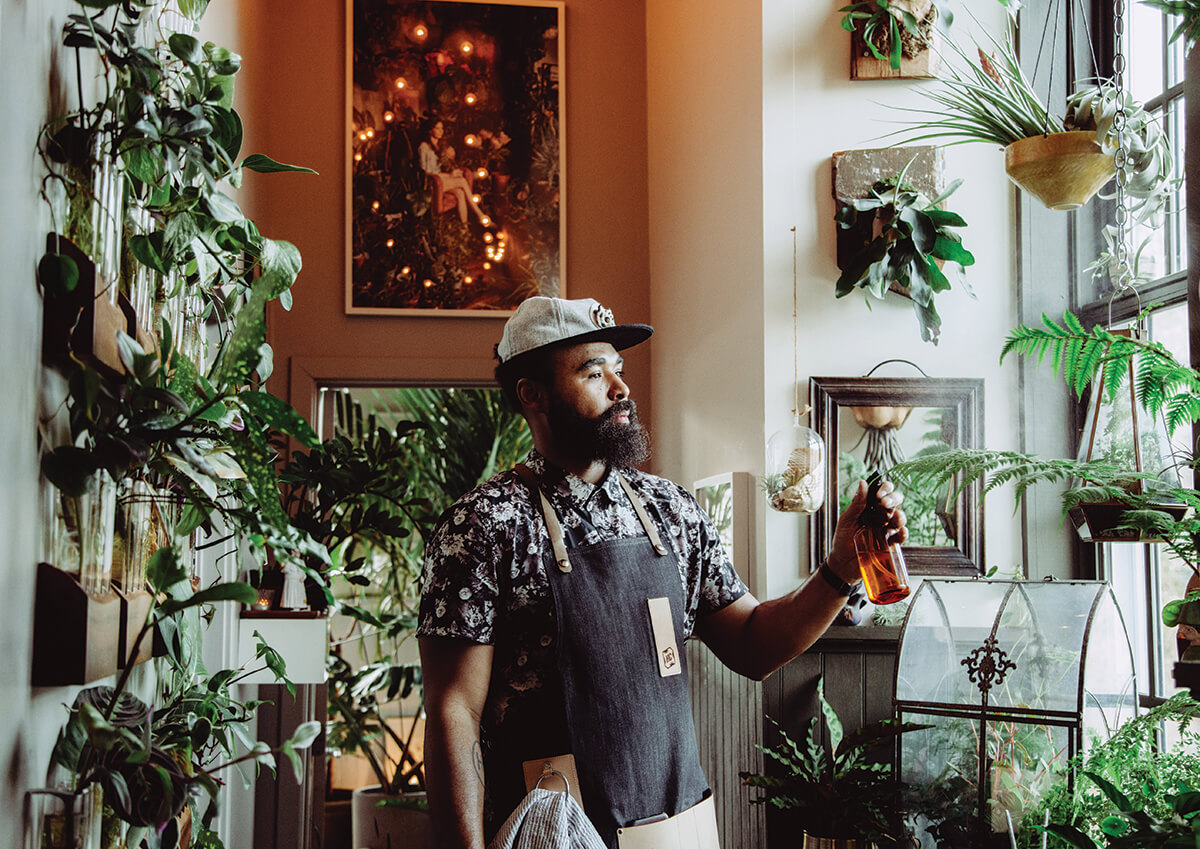 In keeping with his totally surreal and dazzling life, it's apt that the last person Hilton Carter hugged—aside from his wife—was Food Network icon Rachael Ray. You know, one of those pre-lockdown hugs when you could wrap your arms around someone and really lean into it. Carter was in New York City in early March promoting his book Wild Interiors: Beautiful Plants on The Rachael Ray Show.
The train ride from Baltimore's Penn Station that early Wednesday morning had been eerily empty, his first real indication that this COVID-19 thing was getting serious, and Ray's producers informed him when he arrived that there would be no studio audience. So Carter acted as the lone non-staff audience member until Ray called him down for his segment. "What? Is this The Price is Right?" he joked at the time. He and Ray talked about self-watering hacks and using pencil shavings to keep bugs off plants. After the show, he boarded the train back to Baltimore and has only ventured out of Maryland once since.
But Carter—with his familiar scraggly beard, hip hats, and easy-going style—has been doing a lot more than just watering his 250 (give or take) plants these past 11 months. He and his wife, Fiona Vismans, a dentist, bought—and are renovating—their first home, they created a tight-knit pod of friends to survive quarantine, and Carter wrote his third book. "I had nowhere to go," laughs Carter. "I figured I should spend it making a book—with a few breaks to puzzle."
Carter and his publishers realized that while many special events were canceled and businesses suffered this past year, plant ownership exploded. Some folks got pandemic puppies, others ended up with a fiddle-leaf fig or philodendron. "For me, it's a beautiful thing to see," says Carter—who has almost half a million followers on Instagram. "There was a time when I was the oddball in the group. Now, it's a normal way of living—bringing the greenery into your space."
Maybe it's the need to bring the outside in. Maybe it's the satisfaction of keeping something alive during such a dire time. It's that, says Carter, and more. "Plants make you step away from the noise and craziness," he says. That's one of the ideas behind his new book, out this spring—Wild Creations: Inspiring Projects to Create Plus Plant Care Tips & Styling Ideas for Your Own Wild Interior.
"I think Hilton resonates with so many people because he has a fresh, contemporary take on houseplants," says Cindy Richards, his publisher with Ryland Peters & Small and CICO Books. "He is different than most dry horticulturalists who will tell you the best plants to grow but don't tell you how to live and love your plants or how to integrate them into your life. In Hilton's world, you become a plant parent."
Carter takes that role as plant guardian seriously, and the book is his chance to teach so others don't stumble. Carter's knowledge came about organically (as it were) over time. He visited plant shops, asked questions, and listened. A friend's mom was into the fact that this 30-something suddenly liked plants, and she taught him about propagation—the process of growing new plants from the cuttings of other plant parts. But it was mostly trial and error, says Carter. The idea is "not to shame people or to make them feel bad but to give them a peek into the indoor jungle that I built and the lessons that I learned."
That's the way Carter does life, too. "Everything I've come to know is through being a child of this city," he says. Carter—born at Johns Hopkins Hospital in 1979—grew up around drugs and violence. "I didn't see much of an escape from that."
But his childhood was also filled with happy memories of cartoons, cereal, lots of cousins, and friends. "When I was in it, I never thought about how negative it was," he says. "It didn't seem bad to me until I got a taste of what other kid's childhoods were like." A severe stutter also meant Carter spent a lot of his formative years keeping quiet and avoiding any sort of public speaking in class. "It made me uncomfortable and killed my confidence," he remembers. His family moved to Essex when he was 10, which changed the direction of his life.
"It was my first time having a relationship with white people and seeing how white people lived," he says. "And it was the first time I learned there is a course after dinner called dessert." Carter played football for the Middle River Renegades and made a lot of friends. The kids liked that he was different—and artistic.

"PLANTS MAKE YOU STEP AWAY FROM THE NOISE AND THE CRAZINESS."
"From the first day I can remember I wanted to be an artist," says Carter. "Tears would come out of my eyes if I couldn't figure out something to draw."
He would sketch caricatures of his grandma—rollers in her hair, wearing a muu- muu, a cigarette in her hand. "I'm sure my grandmother was like, 'I hate these drawings,'" he laughs. But she indulged him and slowly his confidence grew. He would run around the neighborhood with friends—always home by the time the streetlights came on—and started to notice girls. Approaching girls was tricky because of his stutter, but he would practice his opening line over and over until the words "would fall right out of my mouth." He joined art clubs and took classes at the local community college before enrolling at Carver Center for Arts and Technology's visual art program.
"I loved painting and telling a story," he says. He would produce big self-portraits, but in a classical Renaissance style. By the time he was accepted to MICA, his stutter was all but gone. "I felt comfortable in my skin and kept challenging myself." He graduated in 2002 and was selected by his class to be the student speaker at commencement.
After college, Carter moved to California to attend grad school for film—an artform he saw as the next natural step in visual storytelling. He learned all the different parts of filmmaking—directing, cinematography, even craft services—but what really stuck out for him was production design. He loved the idea that the set was telling a bigger story. "It was an additional character," he says. In 2011, a freelance film project took him to Glen Mills, Pennsylvania, and someone suggested he check out Terrain, a shop and restaurant—owned by Anthropologie—that merged the idea of house and garden.
"I walked into the garden cafe and was blown away," says Carter. "There was something in that space that felt so right." It was the plants. They were hanging from every surface—the ceiling, the walls, on the tables. It was a lightbulb moment for Carter. "If I ever have the means, I'm going to start bringing plants in," he thought.
Three years later, when Carter moved to New Orleans for work and his apartment in the French Quarter offered a big, sun-soaked space, he purchased a five-foot tall fiddle-leaf fig tree from Harold's Plants on Press Street. "I didn't know what I was doing, but I'd say it was transformative," he says. He named the plant Frank and brought him home with him when he moved back to Baltimore in 2015. "He'd like a little more light," says Carter of the now 14-foot beast. "But he's still loving life."
And so is Carter. A big part of that is because of Vismans, whom Carter married in 2018. The two met when she knocked on his door to tell him his loud music was making her adjacent apartment vibrate. It was a classic meet cute—as they went from adversaries to sweethearts. The two eventually eloped to Tulum for a private cenote ceremony in the jungle.
Five months later, they gathered at Heron Room with 120 friends and family and celebrated again with lots of cacti and ferns from Carter's personal collection and tacos and margaritas from Clavel. "There hasn't been a better spouse or partner," says Carter.
Writing a book while quarantined actually sounds like a great plan. But in Carter's case, when your tome is supposed to be full of visual how-tos and collaborations with other creative types, COVID proved to be challenging. Carter was able to reach inside his small pandemic bubble and tap Jamie Campbell Bynum, co-founder of Shine Creative TV and Homesy House interior design studio, as the project's assistant stylist. ("I felt like Kamala when Joe asked her to be his vice president," jokes Bynum.)
Everything they did was photographed in either Carter's house and studio or at Bynum's home. It wasn't quite the soaring spaces that Carter had envisioned, but the limitations ended up being an inspiration. "Not everyone has eight-by-four foot windows in their homes," says Carter. So using different rooms—bedrooms, bathrooms—they created projects that were also practical for small spaces or ones with little-to-no light source.
"Hilton's a natural, super-gifted stylist and artist with a keen vision and unwavering work ethic," says Bynum, whose husband, Drury, designed the cover of the book. "He gets up super early and works his ass off, non-stop all day. He responds and speaks to his social media followers in a way that they truly feel part of his world—and his world is green and jungly and kind and alive. I think people really sense his genuine love for plants."
That unpretentiousness seems to be Carter's special sauce. He's been interviewed by Newsweek, The Washington Post, The New York Times, Dwell, and Essence magazine. He's been featured on HGTV and Apartment Therapy, LA Magazine, Cup of Jo, and countless other blogs. He's a genuine, nice guy and in demand. He has managed to take a "side hustle"—as he calls it—and turn it into a real job with sponsorships, a strong voice in the plant world, and opportunities that are endless. In short, he's made plant ownership sexy. But he wants more.
"You have to say it to the universe," Carter says. So he says it out loud: Maybe a Netflix travel show where he visits beautiful green spaces. Maybe a line of Hilton Carter home goods? "If I'm not on a TV show, if I haven't collaborated with a really big brand, if my name isn't on the pot that you have your plant in—I haven't done my job."
"I'M JUST A KID FROM BALTIMORE WHO'S HAD THESE OPPORTUNITIES COME MY WAY."
Right now, Carter is focused on his book, even if he doesn't get to bounce around to independent bookstores promoting it. Instead, he'll keep hosting Zoom workshops like "Propagating Plants with Hilton Carter"—sponsored by Airbnb. The small classes give him a chance to meet each student and get to know them.
One class—on a Friday afternoon—included participants from Singapore, Scotland, and Brazil. He noticed one woman's eyes getting bigger and bigger with each introduction. Finally, when it was her turn, she told Carter, "I'm from Catonsville. I just thought it would be a bunch of people from Baltimore." Carter laughs at the memory.
"The way her expression was—that's how I am every moment of my life," he says, "I'm just a kid from Baltimore who's had these opportunities come my way, and I am just so blown away by how exciting and unbelievable it all is."