'Cue Ball
Baltimore goes whole hog on the barbecue trend.
The nine-foot long, five-foot tall fiberglass pig isn't quite visible from space, but you can't miss it from York Road. Next comes that smell. As you approach Andy Nelson's Southern Pit Barbecue, the alluring aroma of hickory smoke fires neurons in your brain that remind you: Not much is tastier than smoked meat. Around 11:30 in the morning, the ritual begins. As they have for 33 years, men and women, old folks and young, black and white, regulars and newbies, flock to Baltimore's first purveyor of bona-fide barbecue for pulled pork, ribs, chicken, and brisket that's been in the smoker since before most of them rolled out of bed. They're drawn by the flavor, sure, but also by the romanticism of a form of food preparation that's been around almost as long as mankind.
"There's something about cooking with fire; it's primal," says David Newman, who owns the new Blue Pit BBQ and Whiskey Bar in Hampden with his wife, Cara. "It's an American thing, one of our true native cuisines."
Although Andy Nelson's is ground zero for Baltimore barbecue, in recent years, the area's smoking scene has exploded. From take-out joints like Big Bad Wolf's House of Barbeque to locally owned restaurants like HarborQue and Midtown BBQ & Brew, chains like Maryland-based Mission BBQ, and food trucks like The Smoking Swine, carnivores have more places than ever to feed their smoke fix.
It's a bad time to be a pig near Baltimore.
"While there is some very noticeable blue smoke rising above Baltimore, it doesn't currently get its due in the bigger barbecue coverage around the country," says Roy Slicker, president of the National Barbecue Association. "Of course, neither do other places outside Texas and the South. Baltimore has some fabulous barbecue places, and several others are doing a great job spreading the word about our shared passion for great barbecue."
Let's dig in, shall we?
Barbecue has been around since man first stuck an animal on a stick and held it over a fire. Speak with Andy Nelson Sr. for a few minutes about the art of 'cue, and you'll start wondering if he was at that first feast.
"I learned the trade from my father, who had a barbecue place in Athens, AL, called the Hoggly Woggly," says the former Baltimore Colt, who, at 81, still works—and eats barbecue—nearly every day. "When I came here it was the [pit] beef, and I liked that. It's a good product. But it's not like a pit with a big hickory fire."
In the strictest sense of the term, barbecue is a form of cooking in which burning wood creates smoke to indirectly heat meat at a low temperature, over a very long period of time. Low and slow, as the saying goes.
For most of its humble barbecue life, Baltimore has been known for pit beef, an entirely local—and delicious—form of cooking meat (historically not done in a pit, but on a grill over charcoal) that barbecue enthusiasts insist isn't barbecue at all. To call it such, some purists sneer, is akin to describing canned tuna as sushi.
"I absolutely love pit beef, but it's not barbecue," says Drew Pumphrey, owner/operator of The Smoking Swine. "Some people also try to pass off meat that's been in a crock pot for a long time then topped with sauce as barbecue, but it's not. Unless your meat is smoked, you're not making barbecue."
At Chaps Pit Beef, owner Bob Creager has been serving one of the juiciest versions of Baltimore's homegrown grilling tradition since 1987. He uses both wood and sauce to differentiate his pit beef, but in a decidedly nontraditional barbecue way.
The steel grill in the back of the beef hut on Pulaski Highway is heated with chemical-free wood charcoal. Massive hunks of bottom-round flat are grilled at 500 to 600 degrees for about two hours, before being sliced thin and cooked to order. Sandwiches usually are topped with Chaps' tiger sauce, which is some kind of combination of horseradish and mayonnaise. Voilà! Barbecue, Baltimore-style. Or is it?
It's a bad time to be a pig near Baltimore.
"When you talk to the barbecue aficionados, the competition people, they say it's not even close to barbecue, which really doesn't bother me," says the easygoing Creager, who worked seven days a week, 15 hours a day for about 15 years to get the restaurant up and running. "I never called it barbecue, I called it pit beef. I've gotten messages on Facebook, on Twitter, on Instagram, from the so-called experts, nasty messages that I should be ashamed of myself for calling it barbecue. Most of the time, I ignore it, but after a while, I started responding, saying, 'Dude, I called it 'pit beef.' Guy Fieri called it barbecue, so call him and give him a hard time.'"
Fieri is the spike-haired, goateed star of the Food Network's Diners, Drive-Ins, and Dives. After he visited Chaps in 2008, Creager's business jumped 30 percent. The Travel Channel soon followed, bringing even bigger crowds. On a busy Saturday, Chaps grills up to 40 of those roughly 25-pound pieces of beef. But Chaps isn't the only game in town. Jake's Grill in Cockeysville, The Bull Pen in Dundalk, and Charcoal Grill in Parkville, to name a few, are other tasty options.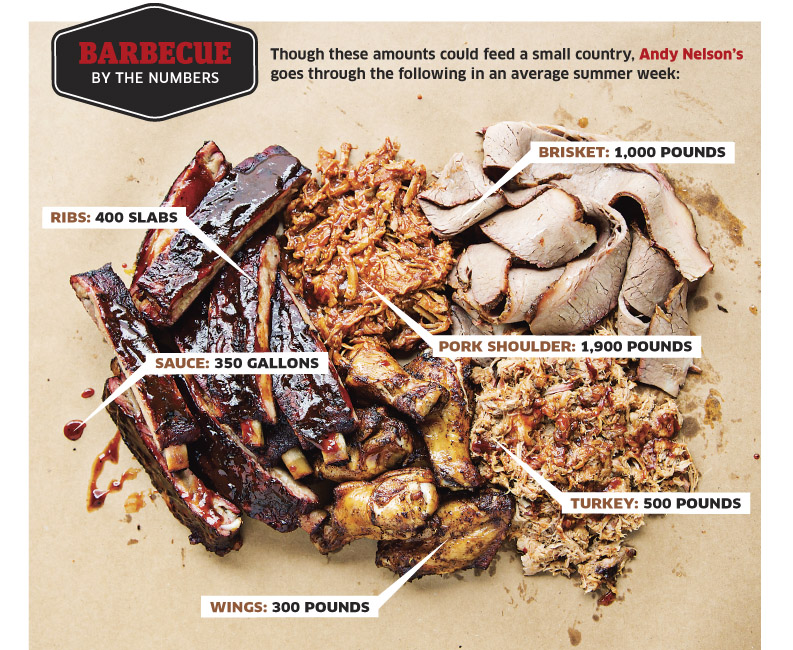 Of course, if you're at Camden Yards, Boog's could be calling. Even Andy Nelson's serves pit beef, but they smoke it. Let's not get started. . . .
"There's seven billion people on the planet, and I'll bet you one billion of those people have something in their yard that they cook on that they call a barbecue," Slicker says. "It isn't necessarily a smoker always, sometimes it's a grill. We like to say in the barbecue association, 'If you're doing direct or indirect heat, you're in our family.'"
Baltimore has its fair share of barbecue traditionalists. Using hickory, Rick Smith, co-owner of Big Bad Wolf's on Harford Road, smokes his brisket for about seven hours. Andy Nelson's pork shoulder stays in the smoker for 17 hours, at 225 degrees. Pumphrey puts his meat in an electric smoker (an apparatus purists deride, he admits) the night before his truck hits the road, and at his new place, Blue Pit's Newman plans to use local mulberry wood for his pork and post oak for his Zeke's coffee-rubbed brisket. ("I'm stealing from all around the country and calling it Hampden Barbecue," he says.)
There are four major barbecue regions in the U.S.: Texas, the Carolinas, Kansas City, and Memphis. (A fifth hub is emerging on the central coast of California, where Santa Maria-style beef tri-tip barbecuing is becoming popular.)
"When you talk about regions, a lot of people think that they're doing their meats differently," says Slicker, who owns Slick's Que Co. in Bend, OR. "For the most part, everybody has the same meats. The flavor profiles come in two forms, the use of wood and the use of sauces."


Barbecue may never have been as ingrained in the social fabric of life in Baltimore as it is in, say, Birmingham, but it's gaining such steam, or should we say smoke, here that on August 8 and 9, 30,000 people are expected to "meat" in Bel Air for the annual MD State BBQ Bash. At last year's event, 62 competitive 'cue teams throughout the country battled for more than $12,000 in prize money. Hess Barbeque Catering sold 1,800 pounds of pork, which weighed 4,000 pounds before it was cooked.
"Baltimore's scene is small, but growing quickly," Pumphrey says. "We're almost one state too far north to be considered true southern barbecue people. But everything I've tasted that's come out of Baltimore is nothing to turn your nose up at."
Barbecue is a culture unto itself.
Aside from staples like pulled pork, chicken, turkey, and ribs (both the smaller, fattier baby backs and St. Louis-style cut spare ribs are prevalent around town), Baltimore barbecue lovers can find beef ribs at Big Bad Wolf's, brisket tips at Andy Nelson's, and an array of free-range, locally sourced beef barbecue at Midtown in Mt. Vernon. Co-owner Tony Harrison makes homemade kielbasas and wild boar sausage, butchers whole cows twice a month, and hangs his beef for three weeks.
Try doing that in your backyard or basement.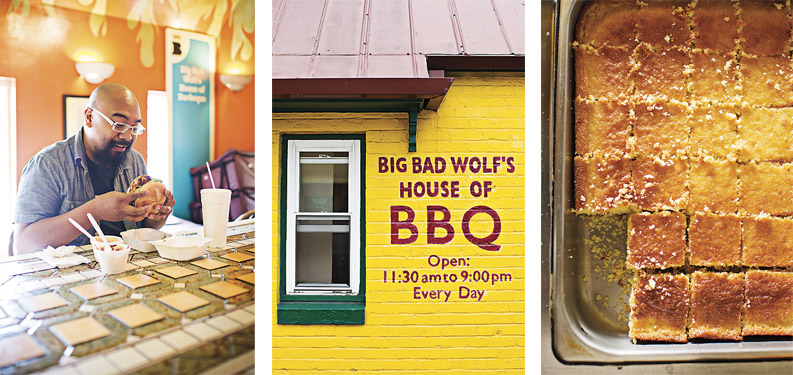 Next, he dry rubs the meat for 24 hours, smokes it, then—gasp—throws it on the grill?
"I finish everything on the grill because I love that little crust that forms," he says. "I know they'd want to hang me from a high pole in South Carolina, but I love it."
In a way that pizza, hamburger, or say, cheesecake connoisseurs could never imagine, barbecue is a culture unto itself. So-called "'Cuetourism" draws thousands of visitors to the tiny town of Lockhart, the barbecue capital of Texas. For years after their meals, people speak with mouths watering about the ribs they ate at Rendezvous in Memphis, or the burnt ends (brisket trimmings) at Arthur Bryant's in Kansas City. 'Cueheads fire up smokers at college football tailgates, and competitive teams vie for very real cash, prestige, and trophies at national competitions.
"People love barbecue for several reasons," says Slicker, who ought to know. He travels 25,000 miles each year crisscrossing the country, trying as much barbecue as he can. "First, it's all about the camaraderie. There's nothing like standing around the smoker or grill with family and friends enjoying each other's company. It's about unplugging and really connecting.
"I also think barbecue is appealing because of the science," he continues. "Whether you're obsessed with creating the perfect rub or sauce, or finally perfecting your pork recipe, people love the marriage of science and art. Last, I think people appreciate the variety. From pork to chicken to beef and game, not to mention fruits and veggies, you can grill or barbecue most anything. There truly is something for everyone, and that makes for an automatic party." In other words, barbecue is the ultimate egalitarian food.
Back at Andy Nelson's, two older women enjoy brisket in the little red building with the big pink pig perched on the roof. Between each bite, they carefully place their sandwiches down with two hands, and pause to chew. The conversation is light, their smiles wide. Two cops stop in for ribs to go. An older gentleman, a regular, swings by to pick up his standard order, smoked turkey. A family of six takes a picnic table outside and dives into seemingly everything on the menu. Such disparate people, all drawn together by the sultry seduction of smoking meat. Hungry yet?
---
Can't get enough Barbecue?
Check out our web exclusive gallery of additional images below that will be sure to make your mouth water.