Review: Despite New Ownership, James Joyce is Still a Classic
The Irish pub in Harbor East has always had—and thankfully maintains—an old-world authenticity.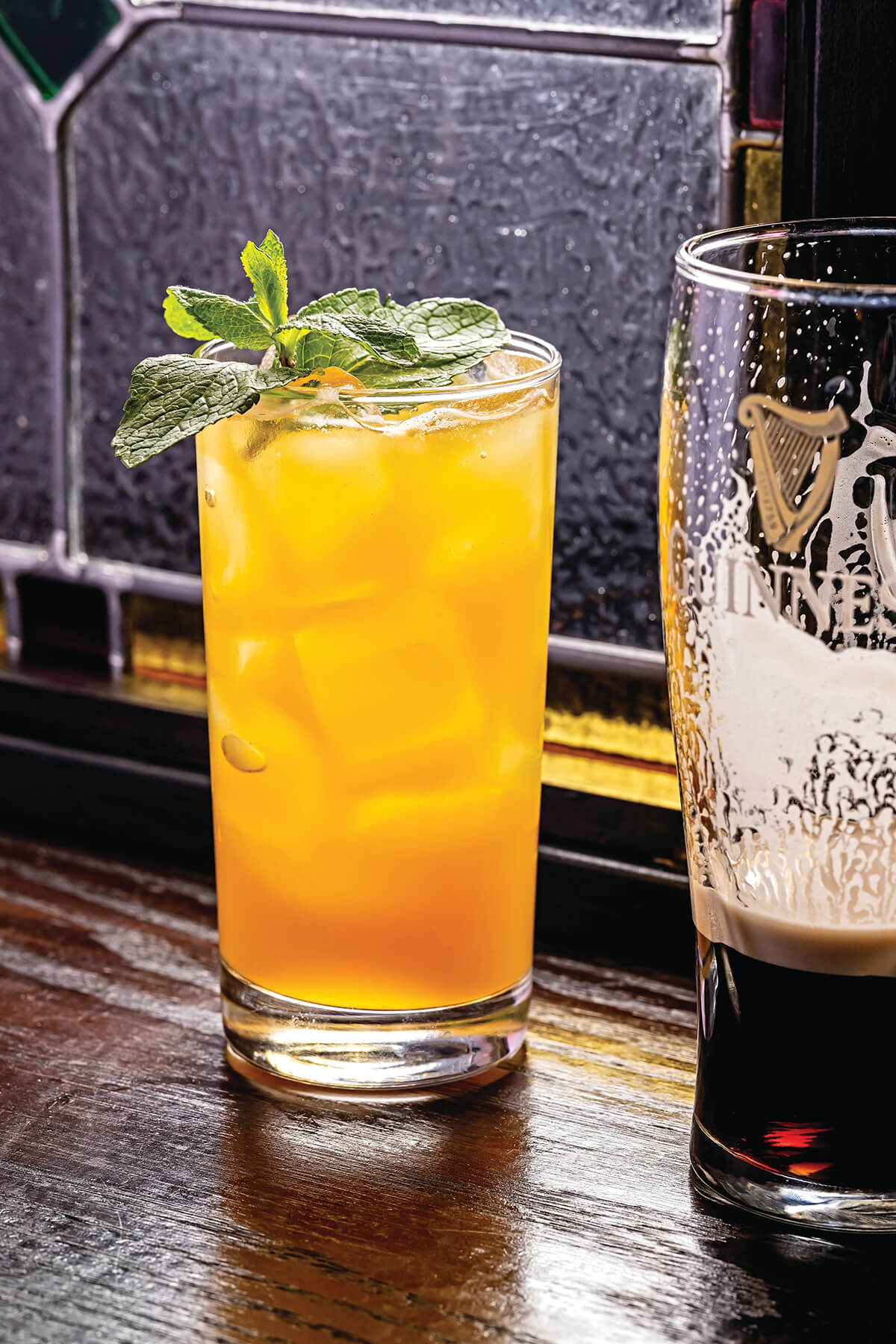 The most remarkable thing about the new James Joyce is how similar it is to the old one. And for that, we raise a pint.
When the bar opened in 2002, it was among Harbor East's first tenants. As the area around it developed, many of the retail neighbors who moved in were national chains, yet the Irish pub managed to keep its old-world authenticity. That's among the reasons it stung when it closed its doors in 2020. When word came last year that the Atlas Restaurant Group planned to reopen it, some were skeptical. The company has a reputation for flash, and nothing at James Joyce is particularly shiny. After all, it's an authentic pub.
Dark wood is the material of choice here. The long, winding bar was built in a warehouse in Ireland and shipped to Baltimore. As were the original tables and chairs, many of which remain, says general manager Seamus Kelly. He worked at the old iteration from 2005 to 2017 and returned to run the place for its new owners, who kept the original design—and that magnificent wooden bar—intact.
"It captures everything that a true Irish bar would back home," says Kelly, who should know. He's from Cavan, about 90 minutes northwest of Dublin. "You have that sense of warmth and calm and comfort. A lot of the times bars nowadays are more modern and chic,
shall we say. An Irish bar is supposed to be the opposite. It's not supposed to be in your face, it's supposed to be more subtle and have a more relaxed aesthetic."
James Joyce always had—and thankfully maintains—that feel. Atlas did make some needed upgrades, like painting, replacing some fixtures, and updating the bathrooms. But almost everything else stayed as it was. The clientele remains a mixture of locals and tourists from the nearby hotels. Live music echoes throughout the pub a few days a week.
An extensive drink list is highlighted by dozens of Irish whiskies, as well as Scotches, bourbons, ryes, and other varieties from around the world. Draught beer includes Irish staples like Guinness, Harp, Kilkenny Irish Cream Ale, Smithwick's Red, and Magners cider. Locals include Diamondback and Union. The signature cocktail is the Heaventree, made with Jameson, green chartreuse, apple, honey, and ginger. Tangy and refreshing, it's available on the happy hour menu for $7.
The menu is a mixture of traditional favorites and this-side-of-the-pond bar food. Appetizers range from a Scotch egg to fried cheese curds to steamed shellfish, and sandwiches include burgers, a roast beef dip, and, curiously, a foot-long chili dog. For true Irish classics look to the entrees, which include Irish bacon and cabbage, bangers and mash, fish and chips, along with the requisite crab cakes. The best bet is the shepherd's pie, made with lamb shoulder and packed with carrots, peas, and topped with potatoes.
"It's definitely the most traditional thing on the menu," Kelly says.
When Kelly came to America to work at James Joyce, he only planned to stay a year. But once he got to Baltimore—and the bar—he didn't want to leave.
We know just how he feels.