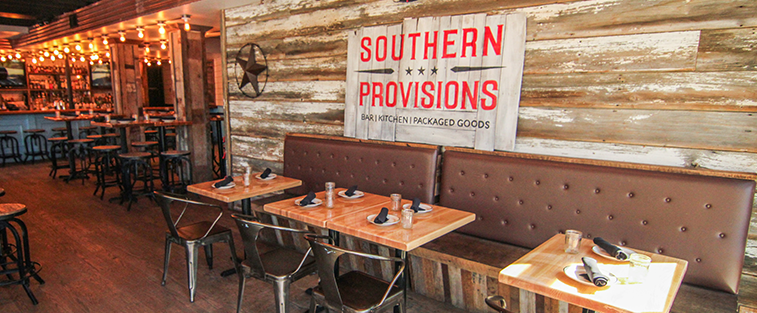 Photography by Erik Thorsvik
As the longtime home of JD's Smokehouse, the venue for a short-lived Smoking Swine pop-up, and most recently, the yearlong residence of Jokers N' Thieves, the corner property at 3000 O'Donnell Street in Canton Square has been a revolving door the past few years.
Now under new ownership, the space recently debuted as Southern Provisions—a Lowcountry restaurant that emphasizes smoked meats, live music, and a sizable selection of bourbon and whiskey.
Although the Southern Provisions concept doesn't differ drastically from the restaurant's previous inhabitants, general manager Larry Romanowicz says that significant upgrades have been in the works since new owner Matthew Lasinsky (who also owns Blue Agave in Federal Hill) took charge in December 2015.
"We're still Southern inspired, still trying to offer the same great service, the place just needed a few tweaks," Romanowicz says. "Jokers N' Thieves didn't feel like the kind of name that could really connect with the neighborhood, so we wanted to change it to something a little more inviting."
In addition to the name change, the transition has allowed executive chef Anthony Eppolite, formerly of Mackey's Bayside Bar and Grill in Ocean City, to enhance the menu. Top Chef alumna Jesse Sandlin, longtime executive chef at Jokers N' Thieves, recently moved on to serve as director of culinary operations at Mama's Group.
While old Jokers favorites—like caramel-bacon popcorn and pimento mac and cheese spring rolls—will still be offered, the revamped menu now includes additions such as a Cajun chicken chopped salad, cedar-wrapped salmon with candied beets and a red pepper coulis, and the new signature Meat Sweats entree—a massive platter featuring a half rack of ribs, one pound of smoked brisket, a quarter pound of crispy pork belly, sliced Andouille sausage, six wings, and two sides.
"We've only been open for a few days, but the look on people's faces when you bring out this sheet pan full of food has been priceless," Romanowicz says. "With the menu we kept a lot of things that we noticed people in the neighborhood really loved, and slowly eliminated things that didn't sell as well."
The rebrand also highlights changes that have been made to the space itself. While the interior design (think rustic woods, bare bulb lighting, and pops of sky blue) hasn't been altered, the front bar area now boasts three garage-style doors that can be opened to create more of an open-air vibe during the spring and summer months.
Lasinsky has also renovated the second-floor dining area, replacing the ceiling and lighting to reveal exposed beams and give the space more of an industrial feel.
Romanowicz says that the transition also coincides with the launch of the restaurant's new weekday happy hour, and that plans to improve the brunch menu are a priority.
"We just want people to know that we're a part of the square as much as anybody else," he says. "Our new slogan is, 'You're just a friend we haven't met yet.' We want people to come in and really feel like they're a part of the family."