Kitchen Safari
Yak, python, bear: Chef Bernard Dehaene at Corner BYOB gives Baltimoreans a taste of the wild.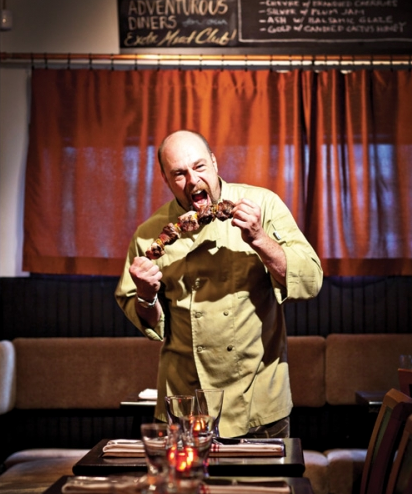 When chef Bernard Dehaene held a "Flintstone Dinner" at his restaurant Zot in Philadelphia, he served guests such rarities as lion and Thai waterbugs, all the while dressed as the cartoon character Fred Flintstone. For his first Exotic Meat Club meal at Corner BYOB in Hampden, he may just don a loincloth, he says—or something in a leopard print. He hasn't decided.
Both the dress and the type of food reflect the Belgian-born chef's sense of fun and his creative flair in the kitchen—these days a four-burner, one-oven galley at Corner. His appetite for offerings like yak (with its lean beef texture) and python (prepared like calamari) is understandable. After all, this is a man who grew up on horse meat and wild rabbit in his native Brussels and, at age 15, persuaded his parents to let him become a chef.
They were horrified. "All chefs are drunkards," they worried, but eventually they succumbed to their son's wishes, allowing him to apprentice at a local restaurant.
Dehaene, now 45, started at the bottom, cleaning the kitchen and answering to the whims of a strict, demanding chef. Old-school European chefs aren't known for being touchy-feely, so when Dehaene forgot to turn on the oven one day, he learned a hard lesson. The chef handcuffed him to the oven and left him there overnight. "I never forgot again," he says, smiling and shaking his head at the distant memory.
On a recent afternoon, Dehaene—balding, jovial, and dressed in a black shirt and olive-green chef's pants with beige clog-like shoes—sits at a table at the Corner, the 36-seat, boxcar-sized restaurant owned by his longtime friend Cecille Fenix, reminiscing about the past and pondering the present. He's found his niche at Corner, which opened in March, serving Continental cuisine with Belgian leanings, including his penchant for exotic foods like wild boar (a roast pork flavor) and kangaroo (like a sweet filet mignon).
Fenix stresses that the meats the restaurant serves are legal. "Anything endangered is not going on the menu," she says. "It's not a very good selling point."
Fenix and Dehaene also contend that the animals are humanely raised on farms before being slaughtered. While some Baltimore restaurants have been picketed in the past for serving foie gras—usually served as pâté made with goose liver from birds fed to enlarge that organ—animal-rights groups haven't targeted Corner for that dish or other wild-game creations.
"We do business with legalized goods," Dehaene says. "They have better things to do than picket a restaurant that is doing something to beautify the neighborhood—and it's customer demand."
The adventurous restaurant may seem a little over the top for Hampden, where low-key eateries are more familiar. (In fact, the spot was a greasy spoon for years.) But think again.
Just the other day, a diner called the restaurant requesting calf's brains. The chef ordered 10 pounds of calf's brains for a weekend special, serving them with fried-green tomatoes and an arugula salad. By that Sunday, they were gone.
This isn't Dehaene's first go-round in Baltimore. He landed in the U.S. in 1985, eventually working at Café des Artistes in Mt. Washington in the '90s (at the same time, Woodberry Kitchen chef Spike Gjerde was a pastry chef there) before opening his own restaurant, Mannequin Pis, in 1999 in Olney.
He was finally able to prepare his homeland cuisine at the restaurant, which drew critical praise almost immediately. And even though he couldn't get his favorite ingredient, horse meat, in the U.S., he found a substitute—kangaroo. "It's similar to horse meat but doesn't have that gamey flavor," he says.
That was just the beginning. Soon, the chef was adding wild boar, antelope, black bear, ostrich, and other unusual meats to the menu. There was a bit of a culinary learning curve, though.
His first lion preparation was pretty much a disaster, says Fenix, who met Dehaene at Mannequin Pis. "It was tough," she admits, still grimacing at the thought of trying to chew the meat. These days, the chef uses a sous-vide method, cooking the loin of lion for 24 hours at 57 degrees, then pan-searing the steaks for a crusty exterior and moist interior.
On this day, as Dehaene shares his thoughts, he jumps up occasionally to accept various deliveries. He's giddy with excitement as he presents a newly received, shimmery white slab of sweetbreads and a packet of tiny speckled quail eggs. This mind is quickly determining what to do with his goldmine.
First, he'll soak the sweetbreads in buttermilk, he says. After that, his eyes get dreamy with plans. Each day at 4:30 p.m., Dehaene sits down with his staff and finalizes the specials of the day. With their input, including that of his sous chef Zeke "Paulus" Altenbrend, he'll come up with dishes like his recent skewers with five different meats: bison, kangaroo, duck, rib-eye, and lamb (the meats can vary). One preparation includes marinating the meats before threading the skewers and grilling the meat. The dish was another sellout, he shares.
Dehaene orders much of his specialty foods from purveyors like Best Game in Town in Arnold and Pasture to Plate, which bills itself as "the chef's connection to the farm."
Brian Shrago, a national sales manager for the Cicero, IL-based Pasture to Plate, says the interest in sustainably raised products has grown greatly in the last three to five years. "It's been increasing tenfold as far as high-end restaurants that are a little more involved in where their food is from and what they are serving to customers," he says. He's also seeing this trend in mid-level eateries, too.
The economy, though, has impacted exotic game and its farmers, Shrago continues, resulting in less supply and higher prices to the chefs. While Pasture to Plate offers buffalo, wild boar, ostrich, llama, and the occasional bear to its clients, it does not sell lion meat.
"We tend to stay away from it," Shrago says. "There are ethical issues."
Lion is not a regular item on Corner's menu, but Fenix points out that the meat the restaurant purchases "for regulatory purposes has to be USDA [United States Department of Agriculture] approved and processed by someone certified."
Chef Dehaene maintains that he's just cooking what diners want. "It's the customer who comes to me and asks if I can do partridge, grouse," he says. "They know my cooking. Any challenge, we welcome."
Timid eaters should not freak out. The Corner's regular menu is filled with well-known foods and flavors like crispy salmon, seafood salad, grilled rib-eye steak, and mussels. "It's 30 years of cooking all the things I want to create," Dehaene says of his food. "There are endless possibilities."
The world of a chef is never easy with its long hours and high demands. Before helming Corner, Dehaene was hitting his stride at Mannequin Pis with his attention-getting cuisine when he was slammed with a heart attack. He was 38.
He was stressed out trying to win a fourth star for the restaurant, he says. There was only one solution. He sold the restaurant. "I accomplished what I wanted to do," he asserts. He spent the next couple of years sailing, deep-sea diving, and motorcycling across America before being pulled back to the restaurant world like a child to a favorite toy.
While promoting Belgian beer for a company, he ended up in Philadelphia. Before long, Dehaene found a space in the city and opened up Zot, which also garnered positive reviews for its numerous mussel preparations and hundreds of beers.
Craig LaBan, the Philadelphia Inquirer's restaurant critic, wrote in a review: "Order up a charcuterie plate and any pot of the 30 or so different kinds of beer-steamed mussels to begin . . . and the scene is set for a splendid meal."
Again, success was fleeting. The restaurant closed in 2009 after Dehaene and a partner ended their business relationship. Next stop: Baltimore or, actually, Hampden.
Fenix and Dehaene almost set up shop in Mt. Vernon before discovering The Avenue space and signing a 10-year lease. "The moment I got in here, I felt like this was it," the chef says.
He'd like to one day have a rooftop deck at Corner and to open a specialty shop with items like hams and cheeses. "There's always so much more to do," he says.
While the cuisine at Corner has received kudos—The Sun's restaurant reviewer Richard Gorelick gave it 3½ stars—there have been complaints about the restaurant's extra charges for using credit cards and take-home containers and for the confusing corkage fees.
"People think we're nickel and diming them," Dehaene acknowledges. But he stands by the policies, citing replacement costs for items like wine glasses, finding precious storage space for the containers, and for the price of simply running a business. "We try to give the best products at the best price for minimal profit," he insists.
Meanwhile, the restaurant's fans are lining up to be part of the Exotic Meat Club with more than 200 e-mails received so far. "We're trying to brainstorm what the program should entail," Fenix says.
She and Dehaene are hoping to have the first dinner in September, two to three weeks after Labor Day. They're contemplating having a yearly membership fee, a portion of which would benefit a farm or other food-related business. The charge could also include a memento, perhaps an engraved knife to bring to the carnivore dinner, Dehaene says. The restaurant will send out e-vites when the details are decided.
For now, Dehane continues to offer Baltimoreans an epicurean opportunity to try foods they may not have experienced. "We're not a restaurant for everyone," he acknowledges.
But the confident chef is ready for feedback. "My kitchen is open for praise or hell," he says. "If there's anything we can get the customer, we do."