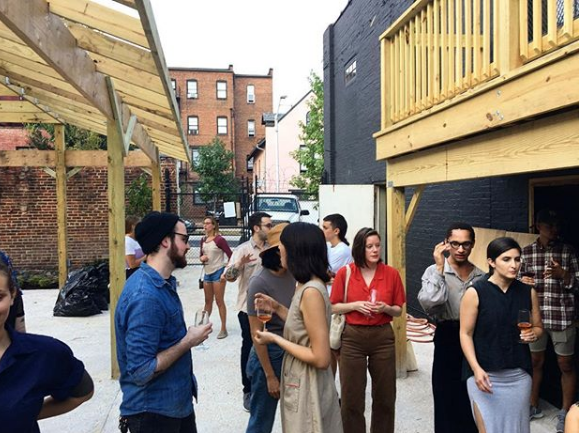 This isn't the first time Lane Harlan has been a trailblazer in Baltimore. Back before it was trendy, she and her now-husband Matthew Pierce opened cocktail bar W.C. Harlan in Remington before the thought of ordering Old Fashioneds and Fernet Branca was commonplace. And, of course, a couple of years later, they followed just down the street with Clavel and introduced Baltimore to the world of mezcal and Sinaloan cuisine.
Now, they are making new waves in the nearby neighborhood of Old Goucher with Socle at 2223 Maryland Avenue, a complex that consists of three small businesses and an artist residency. The first of those businesses—and the true baby for Harlan and Pierce—is Fadensonnen, a beer garden and natural wine and sake bar that is opening to the public this Friday.
"Back in 2014, before we ever set our sights on opening Clavel, we started looking at properties in Old Goucher to realize our dream of opening a small-scale beer garden," Harlan says. "After being unable to find a building with enough outdoor space, we moved on to Clavel and kept the vision of Fadensonnen alive in our minds. Two years later, we found the perfect location—an old carriage house facing an open-air courtyard just two blocks from our other businesses."
For those curious about the name, Fadensonnen is the title of a German poem published in 1968 by Paul Celan and translates into English as "threadsuns," which gives a nod to both the style of the beer garden and its open-air concept.
The 148-seat courtyard will include a sustainable keg program pouring wild ciders, natural wines, unpasteurized sake, and beer on draft with selections from Union Craft Brewing, Graft Cider, Old Westminster Winery, and Hex Ferments as well as many wines from around the world. Guests will also be able to access a bottle shop to select wine to enjoy at the bar or take home.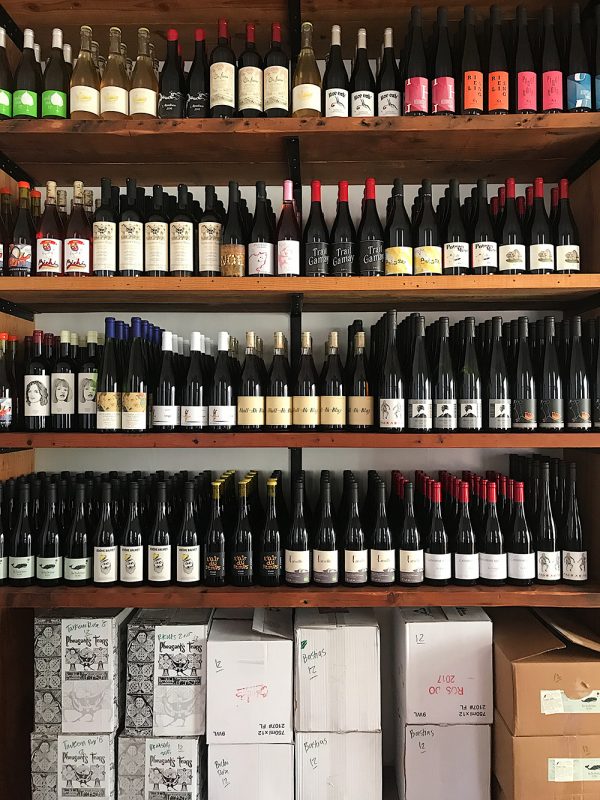 Harlan is particularly excited to introduce locals to the concept of natural wine, which is farmed biodynamically or organically without the use of harsh chemicals in the vineyard.
"The wine is produced without additives following a low interventionist philosophy," she explains. "Fermentation occurs with indigenous yeasts and there is no fining or sterile filtering of the wine resulting in a real 'living wine.'"
Up the stairs and through the carriage house is an intimate 35-seat wine bar (with original exposed ceiling beams and dark, charred wood throughout) that will specialize in more natural wine and Japanese sake. The menu will rotate frequently to reflect the nature of small-scale sake microbreweries.
Other concepts to look forward to in the Socle complex will be Larder, a cafe from Chef Helena del Pesco, who honed her culinary skills in San Francisco and places like Mexico City and Tel Aviv. She'll be working closely with local farmers to create seasonal lunch options including hearty snap pea salads and slow-cooked shepherd's pie.
The third business will be the subterranean Sophomore Coffee, run by Ann Travers Fortune and Kris Fulton (formerly of Lamill Coffee in the Four Seasons Hotel Baltimore). Their menu will focus on coffees roasted by Toby's Estate in Brooklyn, New York, as well as a selection of teas and light fare.
"We are a creative nexus of people who recognize that the things we consume to nourish ourselves are a key part of our daily rhythm," Harlan says, "one that pulses with the bright flavors of farm-grown produce, the wild notes of natural wine, and the complexity of meticulously roasted coffee beans."
For now, just Fadensonnen will open at 3 W. 23rd Street to the public on Friday, with the courtyard staying open until midnight and the upstairs bar closing at 1 a.m.