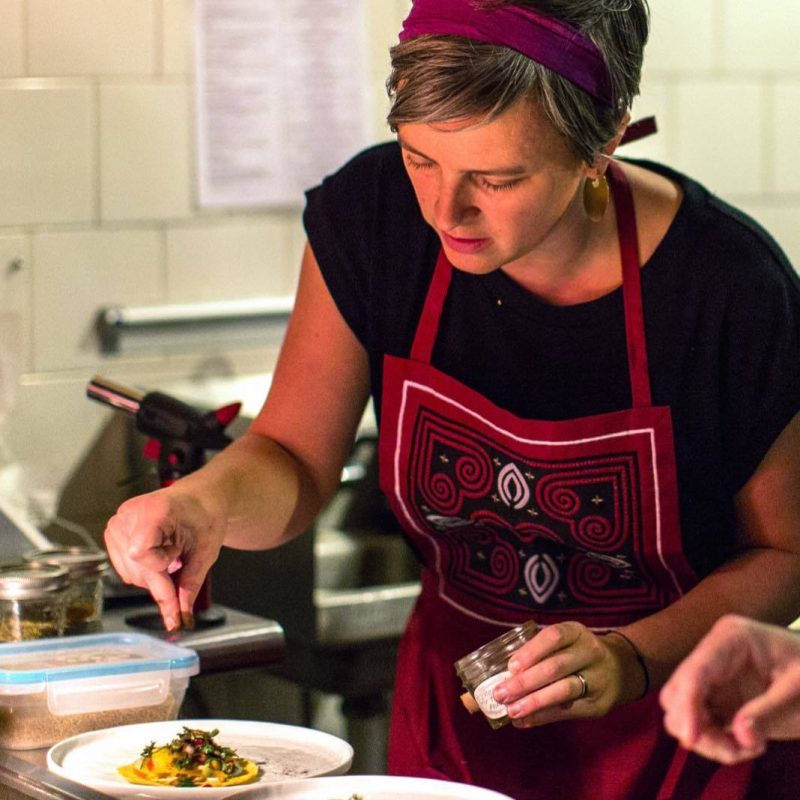 Photography by Justin Tsucalas
When chef Helena del Pesco, owner of the new Larder in Old Goucher, arrived here after years of living in the San Francisco Bay area, she was surprised by the farms she found. "I was expecting it to be a challenge coming from a place where there's such a big scene around small organic farms, but there are a lot more small farms here than I expected," she says.
In trading the San Francisco Bay for the Chesapeake Bay, del Pesco has found new ways to challenge herself. "There's not as much abundance year-round and you have to find ways to preserve things," she says. "But those constraints can bring out more creativity and that's been really fun."
I know you came from California a few years ago. What brought you to Baltimore?
My husband and I moved here three years ago from San Francisco after traveling for a year. We wanted to be closer to his family—they are in Delaware. My first ever trip to Baltimore was to go to an event that Hex Ferments was hosting. Owner Meaghan and I had gone to art school together in Minneapolis and I started working at Hex while living in Northern Maryland and commuting down to Baltimore. I fell in love with Baltimore and the food scene here. We did a pop up before we even moved here, and it sold out within 24 hours.
I know that Lane Harlan approached you about the idea of sharing a courtyard when she opened Fadensonnen.
Lane and I really clicked in terms of our sensibility and our interests. We have spent a lot of time in Oaxaca and Mexico City, and I could tell that she was very passionate about mezcal and took it seriously. She also has a poetry background, so we both have this crossover between food and art.
Originally, I was going to potentially be the chef for the wine bar at Fadensonnen, but when she realized that there was going to be additional space on the property, she approached me and Kris [Fulton, the owner of Sophomore Coffee]. We're all collaborators now. We make the pâtes and pickles and marmalades for Fadensonnen and we make the pastries for Sophomore Coffee.
How did you become a chef?
I have a background in art. I went to undergrad at the Minneapolis College of Art and Design and have a graduate degree from UC Berkley for fine art. I became a chef because I was already working with food as part of performance events and as an artist, I was making ceramics and textiles and objects incorporated into those meals. My thesis project led up to 8- to 10-year-olds running a restaurant for a day. They made all of the plates and silverware and ceramics and made menus out of silkscreen. And they made ravioli with the fillings you'd expect from 8- to 10-year-olds. My favorite was a burrito ravioli.
So how did you go from an artist's studio to restaurants?
I had worked in restaurants for a very long time–more front of the house as a server. I've always loved food and worked for really fantastic chefs in San Francisco, who shared not only their techniques but their sourcing of ingredients and working closely with farmers. I've always loved plants. I garden. I have some background in making folk medicine from plants. As an artist, I felt limited with what I could do in the space of a gallery or a museum—there were lots of restrictions in terms of bringing living things and food into those spaces.
I love the creative process of cooking for others. It's very immediate and ephemeral. You make it—and then it's gone. That appeals to me and also it appeals to me in terms of a footprint. In art school, I'd produce all of this stuff. Maybe someone buys it, or it goes into a storage unit or gets throw away. The object can feel like a burden. With cooking, I love how immediate it is.
What was it like to work at the famed Chez Panisse?
I did work at Chez Panisse as a stage. It was more like a brief stint. My good friend Jerome Waag was the head chef there. The people who work in that kitchen are very intuitive, very elegant. It's obvious that they know the ingredients really well and treat the ingredients with so much respect and do things minimally to make those things shine. I've worked in more formal kitchens like Arzak in San Sebastian, Spain. The kitchen is very theatrical, very elaborate like paper thin layers of potatoes in vegetable dyes. There's so much process and it's incredible.
Has this informed your farm-to-table leaning Larder?
I'm more drawn to the Chez Panisse style—showing off what the plant has to offer. I also worked [in the San Francisco area] at Camino and Bar Agricole. Those two places had a strong farm-to-table ethos that became how I thought about food, how I think about seasons and getting to know what a farmer's strengths are and building a menu and the products that you know are available. I'm not a hard-core locavore. I get my citrus from California and olive oil from Italy, but it's all in the service of preparing a menu that is based on what's here.
Did you do any R&D before opening Larder?
I spent the first two years getting to know the local farms and doing farm visits. Getting to know what other people in the area are doing and how could we fill a need. I think lunch is challenging for a farm-to-table restaurant. It's challenging to keep the prices low enough.
Has anything about the food scene here surprised you?
Finding Clavel and just realizing that there's really good Mexican food to be had in Baltimore was a great surprise. At one point, good Mexican food on the East Coast was pretty tough to find. I've been really impressed with how supportive the food scene is—how supportive people are of each other, of sharing resources and giving advice. One thing I miss the most in San Francisco is some of the Asian flavors, the Thai, the Japanese—there's not as much variety with that.
Any menu items you want to highlight?
The frittata is on the menu to keep things consistent, but it will change with the season. We can change the flavor profile with the seasons. It's a comfort food that won't put you to sleep easily. We started out doing nettles in the beginning that's a lovely spring delicacy super good for you. The chicken salad is very approachable, but it's made with tahini instead of mayonnaise. The menu is approachable menu with little twist that make it more interesting or delicious.
What's your elevator pitch for people coming to visit Larder?
We're trying to provide the overall element of food being delicious and also that you leave feeling good, not weighed down, that it feels good in the body and that the space is pleasant, so that it's a total experience and service, of course, adds to that and it all feels very personal.