Three Local Chefs Share Their Favorite Summer Recipes
We promise you can recreate them—we did!
Summery Salad w/ Champagne Vinaigrette
Jerry Trice, Gunther & Co.
Who doesn't love a great salad, especially when the temperatures soar? This salad features a veritable garden of seasonal vegetables and pairs perfectly with grilled shrimp or Maryland lump crabmeat. Think of it as an effortless main course.
INGREDIENTS
8 ounces green beans
2 ears of corn
8 slices of bacon, roughly chopped
1⁄2 cucumber, English or Kirby
1⁄8 red onion, small
1-2 heirloom tomatoes
2 heads Bibb lettuce
1⁄4 ounce fresh chives
4 ounces chèvre, room temperature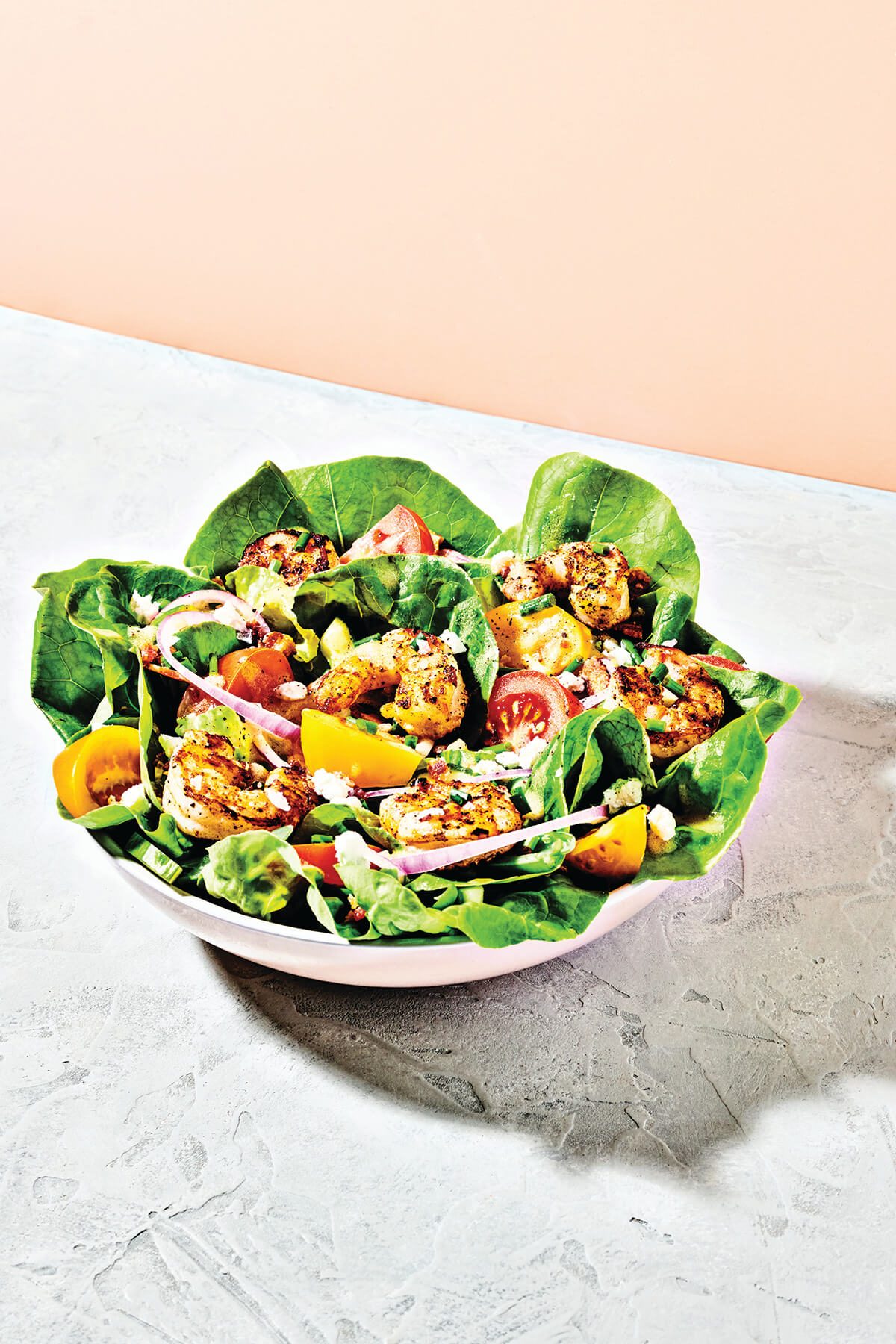 DIRECTIONS
1. Blanch green beans in heavily salted boiling water for 4-5 minutes. Shock in ice water bath.
2. Repeat with corn on the cob. Once chilled remove from water.
3. Dry corn and cut from cob.
4. Towel dry green beans and cut to 1-inch lengths. Render chopped bacon over medium heat until crispy and drain on paper towels. Halve cucumber, remove seeds and cut into 1⁄4-inch half moons. Slice onion. Quarter tomatoes into wedges, season with salt and pepper. Cut chives into 1⁄4-inch lengths.
FOR CHAMPAGNE VINAIGRETTE
Add 1 diced shallot and 1⁄2 cup Champagne vinegar to bowl. Season with salt and black pepper. Allow to macerate for 30 minutes. Strain vinegar from shallots into blender. Reserve shallots. Add 11⁄2 tbsp. Dijon to vinegar and blend. Slowly add 11⁄2 cups canola oil to emulsify. Set aside. Add reserved shallots and salt and pepper, as needed.
Serves four.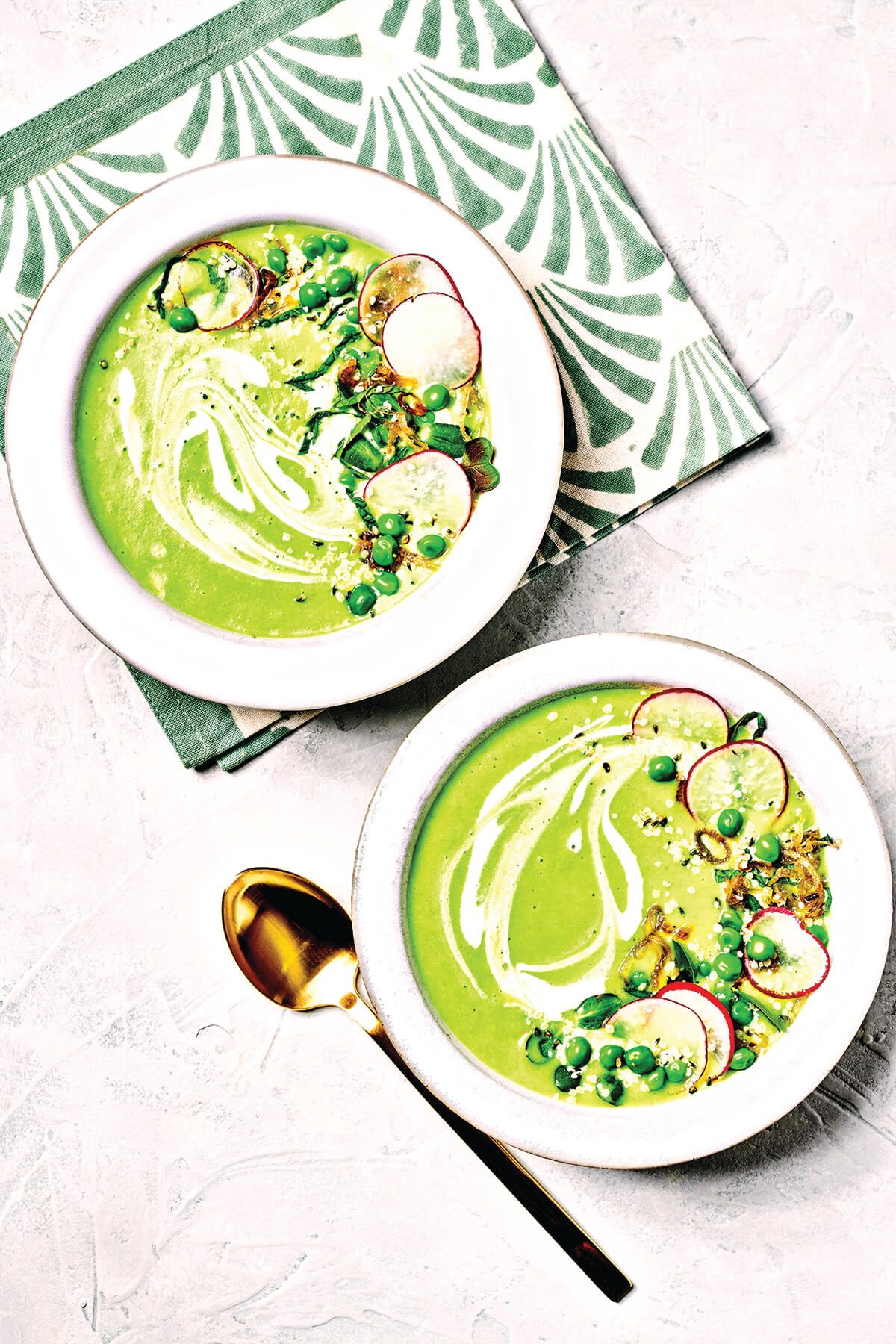 Pea Soup w/Crème Fraîche
Ashish Alfred, Duck Duck Goose
Nothing says summer like this gorgeous green soup. "I love this recipe for a few reasons, but mainly because its a dead simple stunner—the little black dress of soups in my opinion," says Alfred. "It's important to take your time so you get that beautiful bright green color and taste, taste, taste."
INGREDIENTS
2 tablespoons olive oil
3 tablespoons unsalted butter
3 shallots, thinly sliced
2 cloves garlic, chopped white parts of a large leek, sliced thinly
2 medium Idaho potatoes peeled and diced small (hold these in a bowl of water until you're ready to use them
or they'll turn brown)
4 1⁄2 cups vegetable stock (low-sodium or unsalted)
1 pound frozen peas
Kosher salt and white pepper
DIRECTIONS
1. Blanch peas in rapidy boiling water just until the turn bright green and then immediately strain them and put them into a bowl of ice water. It's important to have your strainer and the ice water ready before hand.
2. Add the oil, butter, shallots and garlic to a large saucepan and sauté over low heat for 6-7 minutes until the shallots and garlic are soft.
3. Add the leek, cook for an additional
3 minutes before adding diced potatoes and sautéing for 7-8 minutes.
4. Add stock and increase heat to medium, cook until potatoes are tender.
5. Add blanched peas, simmer for
2 minutes, turn off heat and season with salt and white pepper.
6. Blend everything in pot until its smooth (add a few ice cubes as you're blending, it will help hold the color) and then pass it through a fine mesh sieve.
7. Add salt and pepper to taste.
To serve: Ladle the soup into bowls and spoon over whipped crème fraîche. Serves eight.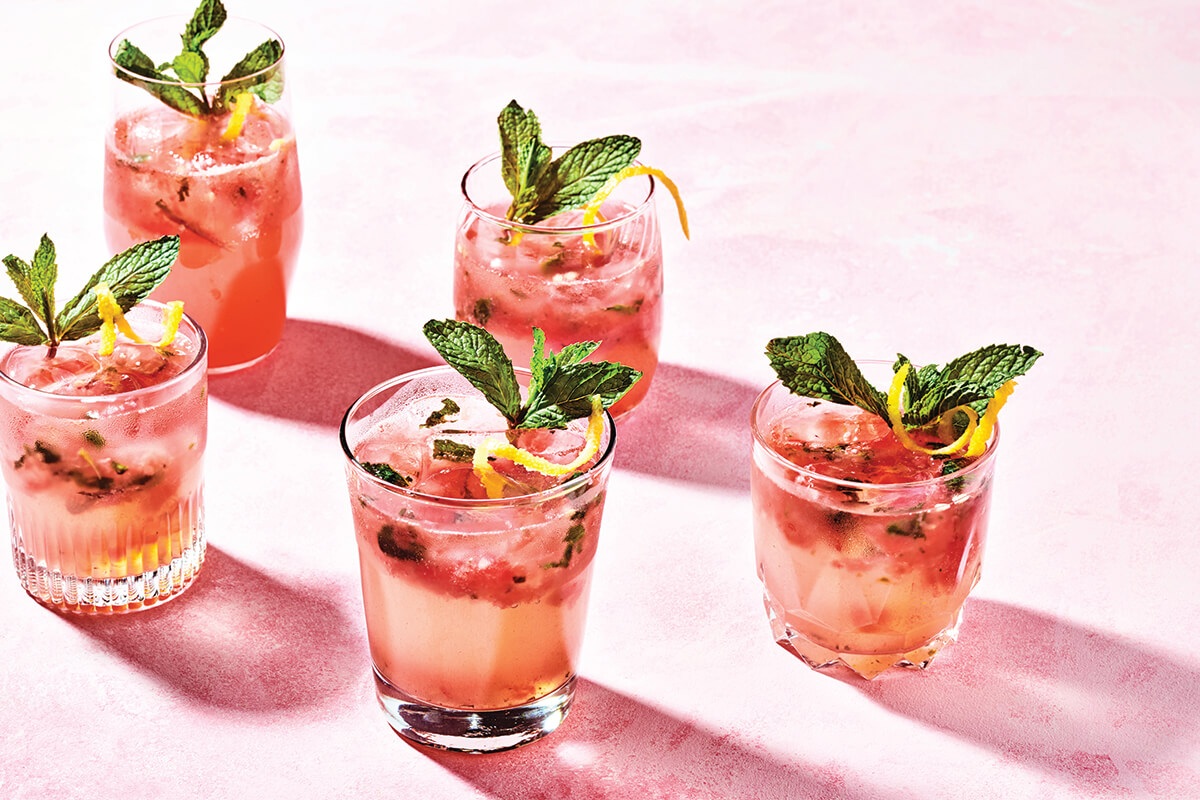 Zero-Proof Watermelon Crush
Ashish Alfred, Duck Duck Goose
As a sober chef, Ashish Alred is always looking for ways to create alcohol-free drinks that are as enticing as any boozy cocktail. This watermelon crush is juicy, thirst-quenching, and oh-so-easy on the eyes. Be sure to buy a seedless watermelon to make your job easier. Cheers!
INGREDIENTS
5 one-inch "chunks" of watermelon
4 ounces Seedlip citrus
1 ounce simple syrup
7-8 mint leaves
1 ounce lemon juice
Ginger beer
1 sprig of mint for garnish
DIRECTIONS
1. Cut watermelon into chunks.
2. Muddle watermelon and mint in shaker.
3. Add everything but the ginger beer.
4. Stir well.
5. Pour the mixture so its just a little over halfway up your glass.
6. Top with ice and a little ginger beer.
7. Garnish with the mint sprig.
8. Enjoy!
Cuban Flan with Blueberry Reduction
Jerry Pellegrino, Schola
Chef Jerry Pellegrino says he's obsessed with making—and eating—this Cuban flan. "It differs from the Spanish version by adding cream cheese to the custard," he says. "This makes it a little bit more dense but also much more forgiving in the oven. Garnish with some fruit and a dollop of whipped cream and it's a lovely summertime dessert."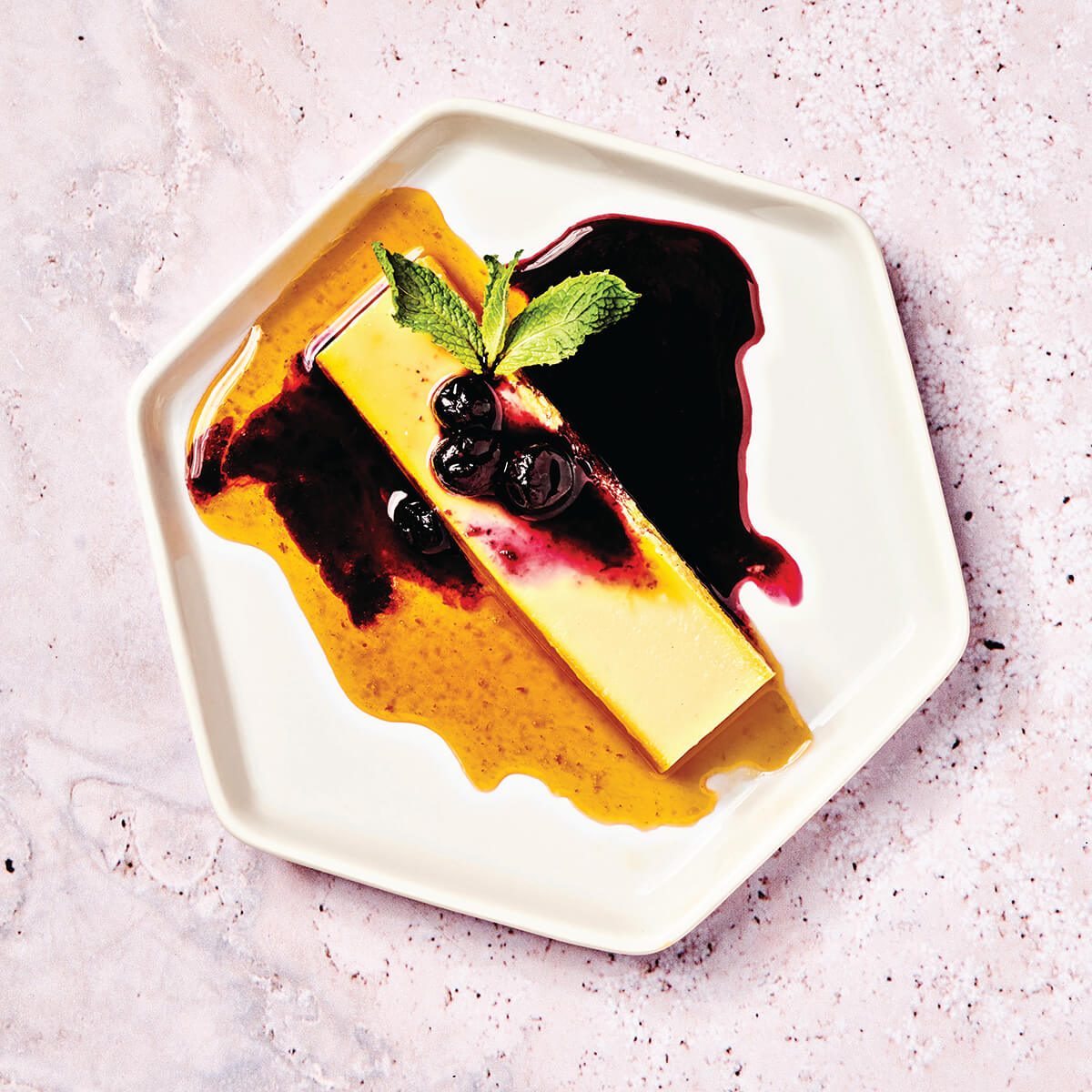 INGREDIENTS
3⁄4 cup sugar
1 8-ounce cream cheese bar
6 eggs
1 14-ounce can sweetened condensed milk
1 12-ounce can evaporated milk
1 teaspoon vanilla extract
Dash of cinnamon
1⁄4 teaspoon salt
DIRECTIONS
1. In a saucepan, set over medium heat, caramelize sugar until golden brown and quickly pour into a 9-inch cake pan, making sure it covers the bottom. Let cool.
2. In a large bowl, soften cream cheese with the back of a large slotted spoon until creamy and smooth.
3. Mix in eggs, one at a time. Wait until well combined before adding an additional egg. When mixture thins, you can switch over to a whisk. Whisk in remaining ingredients and pour into cake pan.
4. Set the an in a water bath and bake in a 350 Farenheit oven until set in the center but still jiggly, about 40 minutes.
5. Remove from oven and remove from water bath. Cool to room temperature.
6. Run a knife around the edge of the an. Place a large plate over the an and carefully invert the cake pan allowing the an to drop onto the plate.
7. Garnish with your favorite fruits, a mint sprig, or whipped cream.
FOR TOPPING
Bring one cup of frozen blueberries, 1-2 tbsp. sugar, and 1⁄4 cup of water to boil. As soon as it boils, turn to low heat and simmer. Reduce until sauce thickens, about 10 minutes. Drizzle across flan. Serves eight.