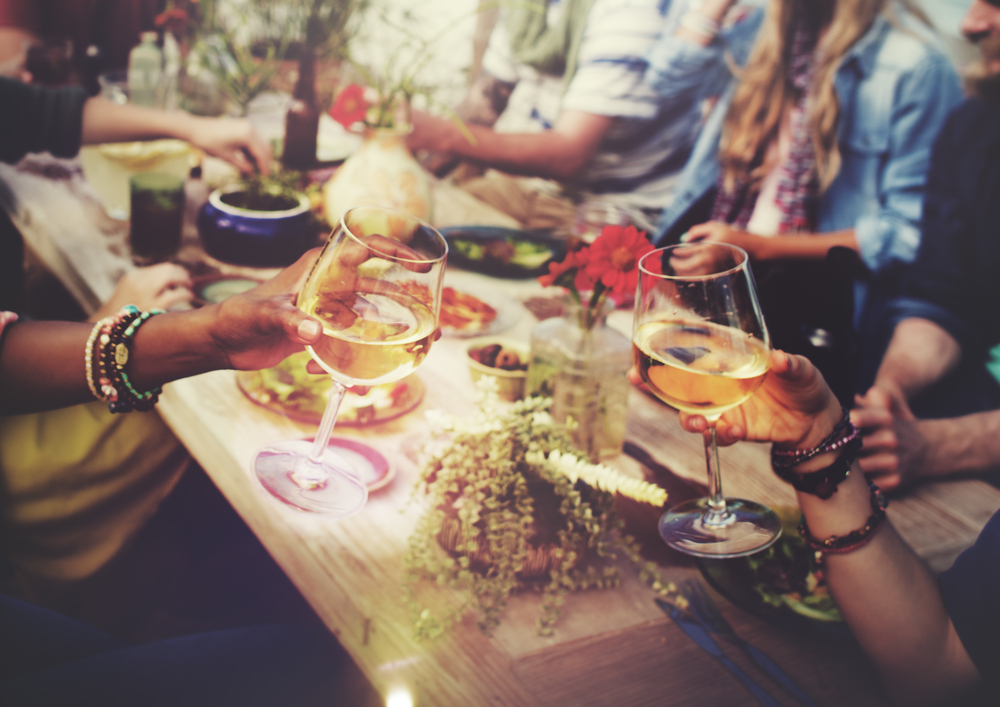 Shutterstock
Although every family's holiday habits differ, there's no denying that food is always a common thread. Whether you're accustomed to baking gingerbread cookies while tuning in to A Christmas Story, roasting plantains and lighting the kinara, or frying up potato pancakes and wagering chocolate coins in a heated game of dreidel, each culture has its own set of eats and drinks that define the season. As the holidays officially kick into gear, we asked a few local chefs to share their family's favorite recipes and the stories behind what make the dishes so special.
---
NATALE NOSHES
Judging by their strong presence in the Little Italy community, one might think that Christmastime for Germano Fabiani and Cyd Wolf would be all about the pasta and Prosecco.
But, in actuality, the husband-and-wife team behind Germano's Piattini uniquely fuses Fabiani's Italian-Catholic customs with Wolf's Jewish heritage during the holiday season.
The duo, along with their daughters Alessandra and Francesca, habitually light the Hanukkah candles in the days leading up to Dec. 25, but also indulge in a Tuscan feast complete with meat, fish, and pasta on Christmas Day.
"We do Christmas in a big way," Wolf says. "Germano cooks and we invite all of our friends and family. Our girls understand the difference between religion and tradition. It's not about eight presents or one day full of presents. It's all about the spirit of giving and caring about each other."
Although Germano's will be closed on Christmas Day, executive chef Dimos Kolouas (formerly of Cava Mezze) will be adding a special red wine rib roast dish—which serves as a nod to Fabiani's upbringing in Tuscany—to the menu this month in honor of the holiday.
"You start by cooking the onion, celery, and carrots, roast the meat on the side, and eventually combine it all together," Fabiani says. "I left Italy 40 years ago, but, of course, the brasato still evokes memories of those Christmas dinners."
Adds Kolouas: "With the red wine, it's really hearty and warm, which is what makes it such a great dish for the winter."
Brasato Natalizio al Nipozzano at Germano's Piattini: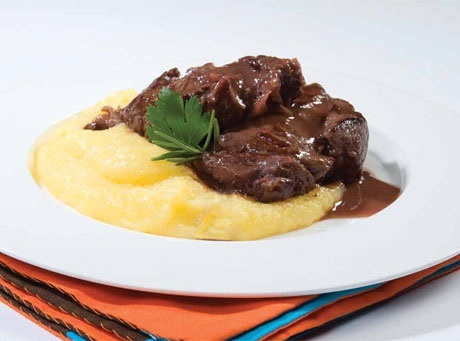 Ingredients
1 beef rib, approximately 5 pounds
Salt and pepper to taste
1 large onion, chopped
2 celery stalks, chopped
2 small carrots, cut into ¼-inch cubes
3 tablespoons olive oil
½ bottle red wine chianti
2 cups tomato purée
1 tablespoon tomato paste
3 tablespoons water
3 tablespoon flour
Directions
Season the roast beef with salt and pepper and place in a large roasting pan over medium heat.
Braise the meat, turning it over to brown all sides. In another pan, fry the onion, celery and carrots in olive oil until soft. When soft, add the onion, celery, carrots and wine to the roast beef pan, and lower the heat.
Next, add in the tomato purée and tomato paste, stirring the ingredients to make a sauce.
Cover the roasting pan and slow cook for two hours. Make sure the meat and sauce do not dry out by adding a few tablespoons of water often.
After about 2½ hours, when the meat is very tender, remove and set aside. Keep the sauce in the pan covered. In another saucepan, combine the flour and water, mixing well. When heated, add the flour mixture to the saucepan. Mix well to produce a thick gravy. Slice the beef and pour gravy on top before serving.

Serves: 4
---
THE WHOLE ENCHILADA
Despite running one of the hottest breakfast spots in town, Blue Moon Café owner/executive chef Sarah Simington isn't afraid to admit that she's a bit picky when it comes to the most important meal of the day.
"Here's the irony of my life: I own a breakfast restaurant, my world revolves around eggs, and I don't like them," she says. "I'm also not a big fan of poultry. So while most people make turkey and ham this time of year, my mom and I always make enchiladas."
Simington, a self-proclaimed lover of Mexican food, says that each Christmas spent with her mom, Sherri, always involves a big batch of enchiladas and ritual screenings of Gone with the Wind.
She also notes that, aside from the enchiladas being easy to make, an added perk is that they are an ideal dish to serve during any time of day. The breakfast version—which will be featured on the menu at Blue Moon Café and Simington's recently debuted spinoff Blue Moon Too—is topped with two over-medium eggs.
Over the years, Simington and her mom have perfected the recipe, which fuses slightly fried tortillas (sourced from Blue Moon Café's Fells Point neighbor Tortilleria Sinaloa) with tomato paste, cheddar cheese, and a blend of spices.
"I love the vibrancy of the egg yolk and the bright rosiness of the sauce itself with the thickness of the cheese," Simington says. "Christmas is all about relaxing. It's great that you can make a big batch of enchiladas and still be able to hang out and watch movies and not put a lot of pressure on yourself."
Breakfast Enchiladas at Blue Moon Café and Blue Moon Too:
Ingredients
1 28-oz. can of tomato sauce
1 6-oz. can of tomato paste
2 oz. chili powder
1 oz. cayenne pepper
½ oz. paprika
1 oz. granulated garlic
3 corn tortillas
1 tablespoon butter
4 cups cheddar cheese
2 eggs
1 cup sour cream
1 raw onion
1 tomato
Directions
To make the sauce, combine tomato sauce, tomato paste, chili powder, cayenne pepper, paprika, and granulated garlic in large pot and let simmer over medium heat for about two hours.
Heat butter in saucepan and lightly fry corn tortillas.
Roll up tortillas with a generous amount of cheddar cheese and place on a microwave safe plate.
Top enchiladas with ladles of sauce and heat in microwave for 45 seconds.
Then top with dollops of sour cream, raw onions, diced tomatoes, and two eggs cooked any style.
---
LATKE LOVE
Perfecting the art of a crispy Hanukkah latke becomes a bit of a hot-button issue in Josh Hershkovitz's family this time of year.
"This has become a family debate," says Hershkovitz, co-owner and executive chef of Hersh's Pizza and Drinks, with a laugh. "Growing up, my mother would use grated potatoes and make latkes more like a potato pancake. But my wife's father makes the more shredded kind. The more I've grown as a chef, the more I've realized that you're going to have a much crispier latke if you shred the potato, so I've kind of adopted his method."
Hershkovitz's signature recipe, which routinely sells out at his Riverside restaurant during the eight nights of Hanukkah, puts a gourmet spin on the fried treat by topping it with house-made crème fraiche, smoked trout, and trout roe.
"I grew up eating latkes with applesauce so they were always sweet and tangy," he says. "But smoked fish and pancakes is such an Eastern European tradition, so I thought I'd put the crispy potato and the creamy, salty, smoked fish all together on the plate. It's a great combination. I'd put fish roe on everything if I could."
Looking back, Hershkovitz says that some of his favorite Hanukkah memories involve eating latkes with his family.
"I remember my sister and I would always get our hands hit with the spatula because we'd eat the latkes as soon as they would come out of the pan," he recalls. "Now my kids love celebrating all of the holidays. We cook a lot in our house, and food is a great way to pass down all of the traditions."
---
Potato Latkes with Crème Fraiche, Smoked Trout, and Trout Roe at Hersh's: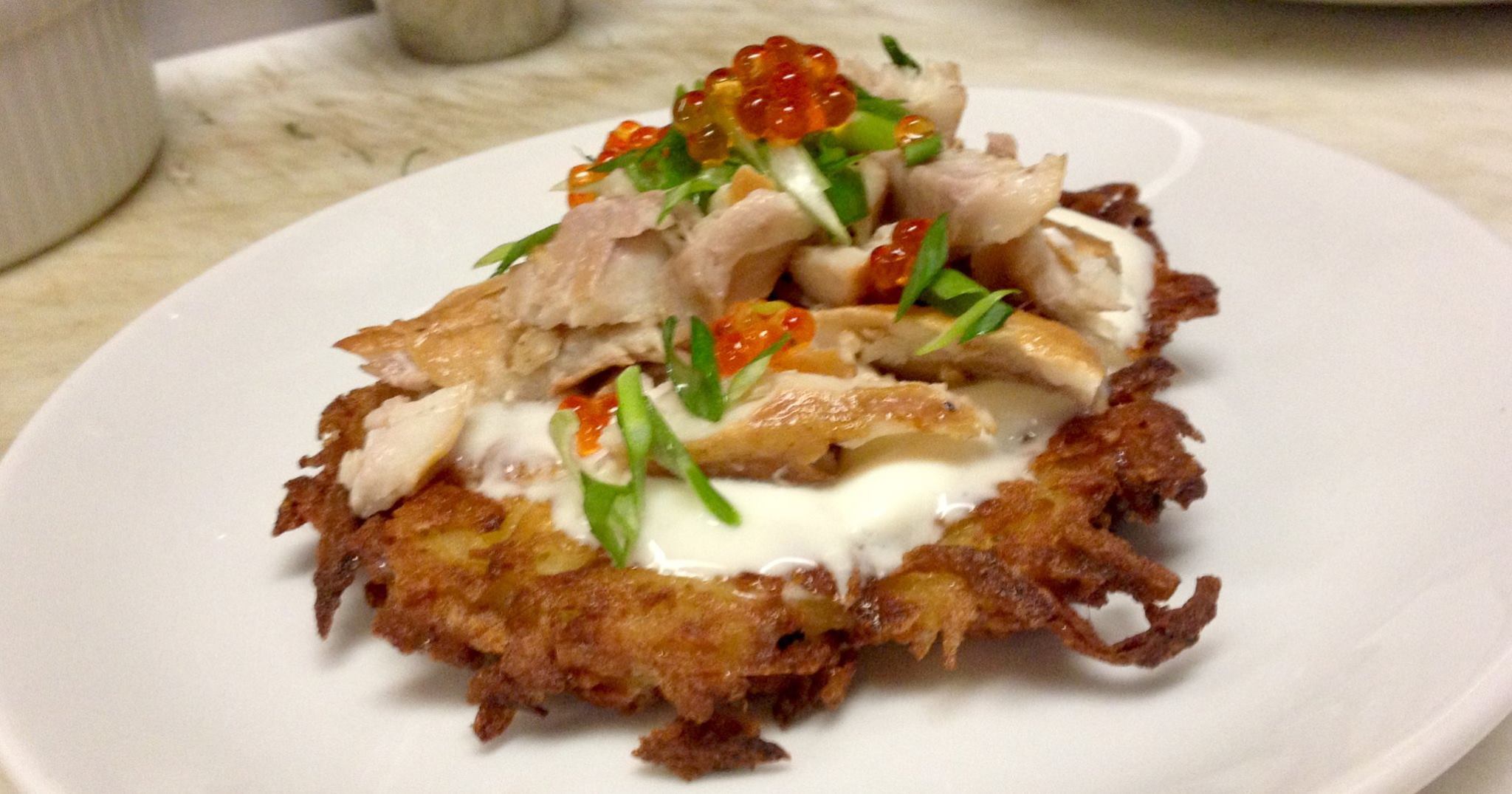 Ingredients
6 large russet potatoes, peeled and soaked in cold water
Canola oil for pan frying
6 large eggs, beaten
2 teaspoons Kosher salt (and more for salting to taste)
2 cups creme fraiche
3 smoked trout fillets
3 large shallots, finely diced
Small tin of trout roe
Directions
Shred the potatoes. Soak the shredded potatoes in water, and rinse several times until the drained water runs clear (Which indicates that most or all of the extraneous starch is gone.)Drain the potatoes and wring them out in a towel. You want them to be very dry.While drying the potatoes, heat large non-stick skillet with about 1/8 inch of canola oil. Over medium-high heat, heat the oil until it sizzles when flicked with a drop of water.
Place the potatoes in a large bowl. Stir in the eggs and 2 teaspoons of salt.
When the oil is ready, scoop ¼ cup of the potato mixture, pack the mixture into the cup, then carefully turn out into the hot oil. Flatten the potato mound with a spatula. The latke should be about 3 inches in diameter.
Repeat as many times as your skillet will allow without crowding the latkes, making sure to leave space for flipping.
Fry on one side until golden brown, about 3-4 minutes, then flip and fry until the same color on the other side.
Remove latkes to a paper towel-lined plate and sprinkle with salt to taste.
Repeat until all of the batter is used up, adding oil as needed to keep the level consistent. (Remember not to add oil to the pan while the latkes cook. This will make the oil temperature drop, resulting in oily latkes.)
Flake the smoked trout and fold into the creme fraiche.
Once the latkes are done frying, plate them as you would like and top each with a generous dollop of the smoked trout creme fraiche.
Garnish with diced shallots and trout roe.


Yields 12-15 latkes

MULL OVER

What once started as an idea to heat up guests at an outdoor party in the dead of winter has now become Boordy Vineyards' signature Spiced Wassail, a local mulled wine perfect for holiday entertaining.

"It was completely serendipitous," says Rob Deford, owner and president of Glen Arm winery Boordy Vineyards. "We didn't have any heat, so it was really meant to warm people up and make them forget they were freezing. The taste and the smell were so seductive that, when people were leaving, they asked for a bottle to take with them, but we didn't have any. It just was something we did on a whim."

This was back in 1980, and Boordy has been making the wassail steadily ever since. In what Deford describes as "a patient process," the hearty red wine is fused with citrus, cloves, cinnamon, and ginger, and served warm.

"Any book will tell you what goes into a mulled wine, but the proportions are critical," Deford says. "The way the spices interact and the duration of the process have been worked on for years. What's great about the wassail is the balance of the acidity with just a little bitterness."

Deford notes that the Spiced Wassail, which is a part of the winery's new Sweetland Cellars line of festive sweet blends, pairs well with holiday fare such as glazed ham, savory hors d'oeuvres, and desserts.

"The wassail represents everything good about the holiday season," Deford says. "When you really think about wine's gift to us, it's that it relaxes us before we even drink it."