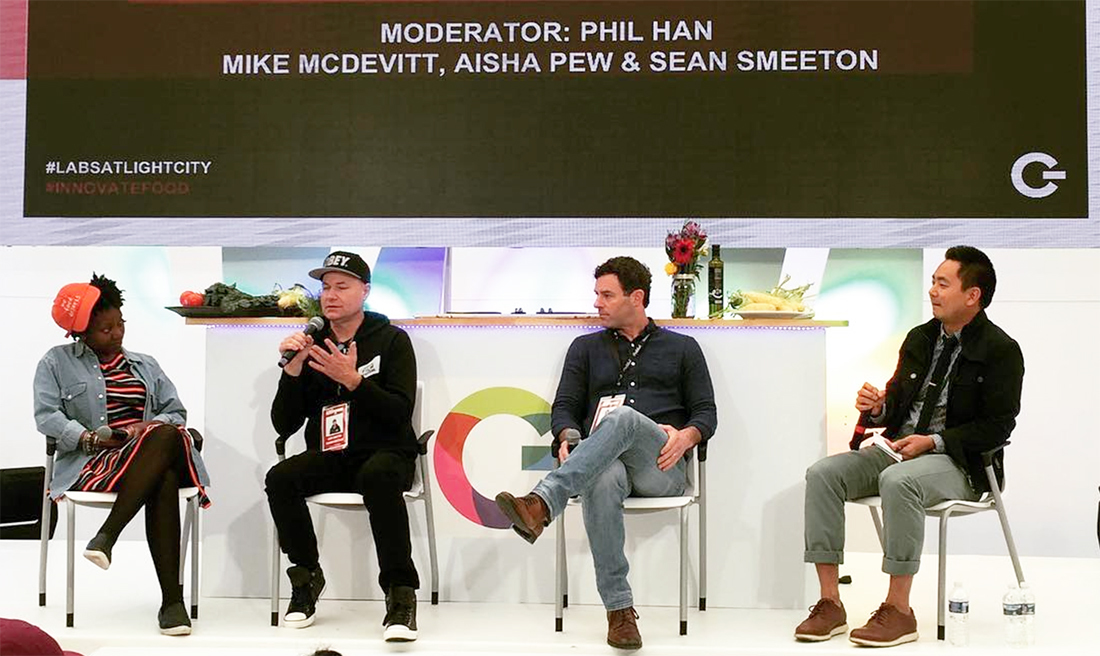 Courtesy of Labs@LightCity via Instagram
"Innovation isn't only among the famous," Light City steering committee chair Jamie McDonald said during her opening remarks at FoodLab, which was held at the Columbus Center on Saturday, April 8. "It happens in Baltimore neighborhoods every day."
The last in a string of conferences held in conjunction with the weeklong light festival highlighted many moving presentations by visiting speakers, but perhaps some of the most compelling conversations were sparked by leaders from right in our backyard, who continue to use food as a tool for unification.
A panel discussion moderated by Dooby's owner Phil Han brought together Dovecote Cafe co-owner Aisha Pew, Taharka Bros. founder Sean Smeeton, and Terra's Kitchen CEO Mike McDevitt to share their perspectives on using a food business to make a greater impact on the community.
Pew, who opened the 630-square-foot cafe in Reservoir Hill last year, addressed the necessity of reviving the neighborhood—one of the city's designated food deserts that lack access to quality grocery stores and dining establishments.
"My partner and I have a fear that Baltimore is on the precipice of becoming Brooklyn or Oakland," said Pew, a Brooklyn native herself. "What we're really focused on is how to have a different conversation around gentrification by uniting the community."
In an effort to redefine the neighborhood, Pew has used the cafe as an outlet to spearhead initiatives like a free pop-up produce stand, baking groups for kids, and events that celebrate the local arts and culinary scenes.
Looking ahead, Pew is hoping to convert one of the neighborhood's vacant liquor stores into a space that combines a traditional sit-down restaurant with a general store selling spices and produce. A public hearing for the project is scheduled for April 25.
"What makes a neighborhood seem dangerous is when you don't know who you reside next to," she said. "So what we did to turn that on its head during our first month in business was we just gave away free coffee. We sat and had conversations and got to know people, and truly allowed them to get to know us."
Yet another example of a small business making an outspread impact is Taharka Bros., the Hampden-based ice cream purveyor that uses its product as a conversation starter.
"We're in the business of social change, and ice cream is just our vehicle," Smeeton said, mentioning its signature flavors that oftentimes have a deeper meaning. (A variety inspired by D. Watkins' memoir The Cook Up that was released last summer fuses ingredients like apples as a nod to knowledge and education, and pecans to represent planting seeds of self-discovery.)
Taharka—which originated as a nonprofit organization in 2010 and eventually transformed into a for-profit business—provides opportunities for the city's youth by employing a staff comprised of young adults.
"These young guys are victims of society," Smeeton says. "We wanted to use the company to make a change so that that they don't have these problems."
Though local meal prep service Terra's Kitchen is mostly web-based, McDevitt says that he doesn't let that become a barrier in making face-to-face connections. The company—which is headquartered in Canton—continues to partner with local growers and businesses like Tessemae's and Ceremony Coffee Roasters to raise a general awareness of made-in-Baltimore products.
"This city has a strong desire to become something great," says McDevitt, who moved to Baltimore from New York City in 2002. "It gave me so much, and I owe it back ten-fold."