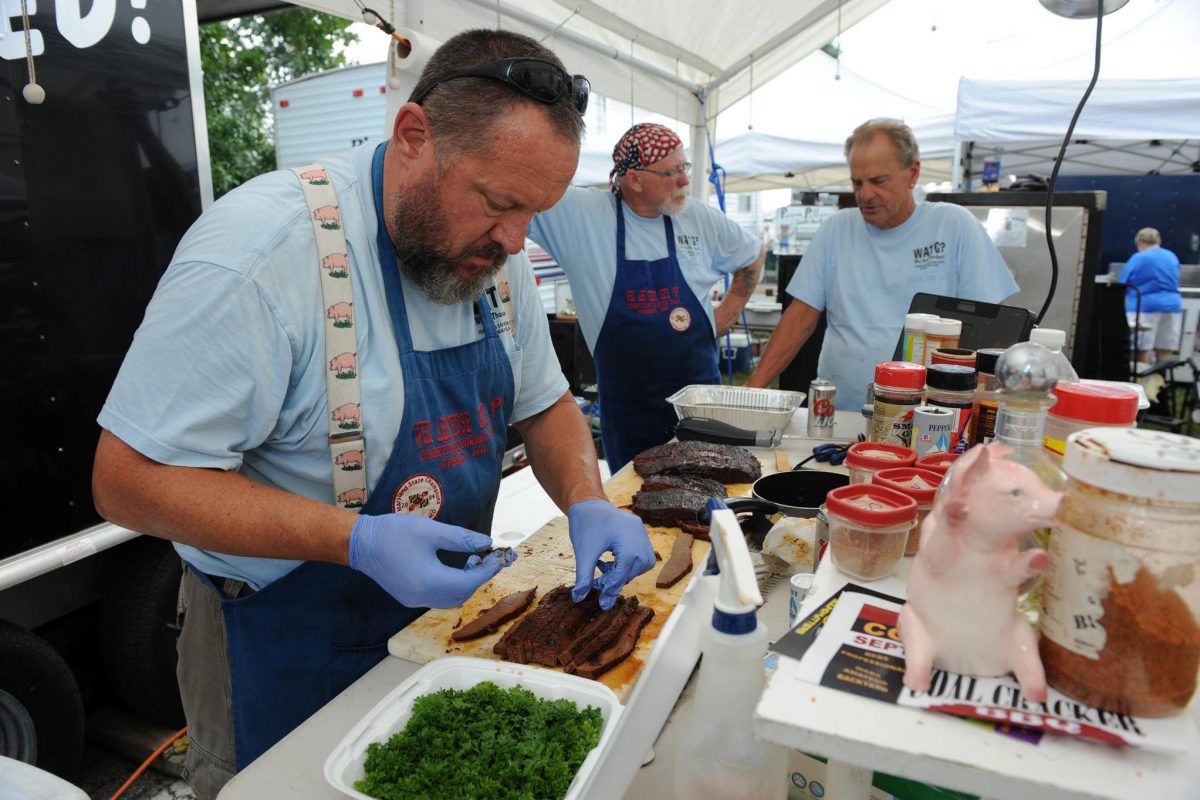 Courtesy of MD State BBQ Bash
As a showcase for some of the baddest barbecue buffs from across the Mid-Atlantic, the Maryland State BBQ Bash has been habitually dubbed Harford County's best event.
Now celebrating its 14th run, the free festival boasts two barbecue competitions, live music, arts and crafts exhibits, and, of course, plenty of fingerlickin' fare. This year's bash is taking over downtown Bel Air August 14 and 15 at the corner of Thomas and Bond streets.
"The event is part of an entire culture of foodies and barbecue gurus," says Christine McPherson, executive director for the Bel Air Downtown Alliance. "It's moved up from just being an ordinary event to being more of a tradition and an expectation."
Grill masters hailing from as far as Georgia and the Carolinas are heading to Maryland this weekend in hopes of collecting up to $12,500 in cash prizes and advancing to larger contests throughout the country. Officially sanctioned by the Kansas City Barbecue Society (KCBS), the competition invites teams to submit dishes in four categories—pork, chicken, ribs, and brisket—to be rated by a panel of 60 judges.
"It's interesting to see all of the competitors put their final dishes in Styrofoam containers and make the walk to the judges like their offering them to the gods," McPherson says. "It's a unique picture that always puts a smile on your face."
Amateur competitors will also be getting in on the action by serving up their best rib recipes in the Maryland State Tailgate Challenge—a Friday night cook-off originally established by the bash's founder Craig Ward.
"Within the first couple of years, [Ward] recognized that the community really wanted to get involved and the Tailgate Challenge became a way for us to reach out," says Roman Davidyuk, promotions director for the Bel Air Downtown Alliance. "It's become a great kick-off for the official competition."
McPherson says that the annual event usually brings in around 30,000 spectators, who are invited to peruse the work of local craft exhibitors, rub elbows with barbecue big-wigs (like BBQ Pitmasters personality Tuffy Stone), chow down on smoky classics from a variety of vendors, and hang out in the beer garden while sipping local beer from DuClaw Brewing Company.
The weekend's live music lineup will feature the sounds of Southern rock trio The Cadillac Three and Nashville folk band Liz Cooper and the Stampede. While scouting talent for this year's festival, organizers were pleasantly surprised to discover that Cooper herself is a Harford County native.
"We're all really excited to welcome her back to Bel Air," McPherson says.
Also new this year, Visit Harford, the county's recently established nonprofit, has been named as the bash's title sponsor, and McPherson says, understands what Bel Air is all about.
"We're still a small town, but the event really captures us," McPherson says. "We love food, arts, and the community."