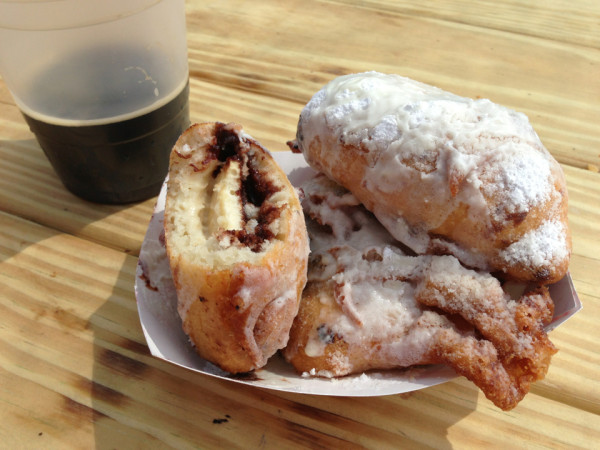 @CDoulbeIPA
Each year, the Maryland State Fair (Aug. 22-Sept. 1) serves as a wonderful reminder that the summer isn't over just yet. One of the most essential components of the entire fair experience is grabbing some of the best treats that the state has to offer, and this year the choices are endless.
"You can go to all corners of the fair for whatever tickles your taste buds," says the fair's publicist Edie Bernier.
Here are some of the top foods to look out for while visiting this year's fair, deep-fried and otherwise.
Food: Deep-fried Berger cookies
Description: Baltimore's original DeBaufre Bakery cookie dipped in funnel cake batter and deep-fried.
Why it's a must-try: "They're deep-fried Oreos, but with a Baltimore twist," says James Ingram, the creator of this new confection.
Food: Yogurt peach sundaes
Description: A hearty bowlful of nonfat soft-serve frozen yogurt topped with locally grown peach slices and whipped cream.
Why it's a must-try: Whether you're trying to remain somewhat health conscious at this year's fair, or just looking for a refreshing sweet treat, this fan-favorite is your best bet.
"I've never really been a real yogurt fan but these are just that good!" says Stan Dabkowski, director of this year's Maryland Foods Pavilion located across from Cow Palace. "We have board members who are at the fair all week who stop by to get one every day."
Food: Giant corn fritter
Description: Fresh locally grown corn cut into small chunks, dipped in batter, and deep-fried.
Why it's a must-try: This snack's brief trial run at last year's state fair had customers constantly coming back for more. If you missed it last year, be sure to give it a try.
Food: Deep-fried cream cheese larva
Description: Larvettes, cream cheese, and Mexican spices rolled into a ball, batter-dipped, and deep-fried.
Why it's a must-try: As skeptical as you may be about this intriguing concoction, its creator Brian Shenkman assures that the taste of the edible worms are masked in the powerful flavor of the fried cream cheese. Shenkman developed the idea for this fascinating food as a feature for an upcoming episode of Carnival Eats airing on the Cooking Channel Sept. 15. "By the time you're 30, you've already eaten 20 bugs in your sleep anyway," Shenkman says. If you're feeling adventurous, why not eat some on purpose?
Food: Grilled cheese sandwich
Description: A traditional grilled cheese sandwich with locally grown tomato slices.
Why it's a must-try: Sampling this sophisticated sandwich, found in the Maryland Foods Pavilion, will allow you to taste the freshest tomatoes that our state has to offer combined with everyone's favorite toasty sandwich.
Food: Nostalgic candy
Description: All of your favorite candy from back in the day like circus peanuts, purple violets, and wax bottles, that you won't find anywhere in stores.
Why it's a must-try: These sweet treats definitely live up to their name. One taste of your favorite nostalgic candy will place you back into your old childhood hangouts where you're sweet tooth began to develop.