Old Vine State
At long last, the Maryland wine industry is crushing it.
Maryland is known for a lot of things. There's the proverbial "crab cakes and football." (Thanks, Wedding Crashers!) Or maybe black-eyed Susans and Chesapeake Bay sunsets come to mind. But wine has never been our state's claim to fame. And, to some, this has always been a little puzzling. 
With its America-in-miniature status and proliferation of microclimates, Maryland's geography and topography have always seemed suitable for grape-growing. After all, similar East Coast locations have been able to make a go of it. Just to the north, New York's Finger Lakes region gets a ton of vino visitors, and our neighbor to the south may soon change its slogan to "Virginia is for wine lovers." 
Somehow though, despite a history of viticulture that dates back to the earliest European settlers, Maryland's wine industry has, ahem, withered on the vine.
But with an infusion of new vineyards—and technology spurring innovation at older ones—the time finally seems ripe for the state's wine industry. Could it be true? Is the state's wine industry finally coming of age.
"There are some wonderful changes happening," says Kevin Atticks, executive director of the Maryland Wineries Association. "There are the new ones that have come on the scene that have just stormed the gates and they're great right from the start. And then you've got our older wineries, who are completely retooling because of the new guys."
A recent Daily Meal story ranking 101 of the best wineries in the country put Old Westminster Winery at No. 87, and a Wine Enthusiast article from this past April said "the Maryland wine industry is ready for prime time." This is evident in not only the improved quality of the wines (Maryland wines are winning golds and double golds in worldwide competitions), but also the quantity of vineyards (now up to 88 and counting from just 14 in 2003).  
"Central Maryland sits along the Catoctin Mountains and a parallel ridge to the east, where the moderate climate and longer growing seasons favor Bordeaux-style red blends," wrote Wine Enthusiast's Dave McIntyre. "The other cluster [of growers] is located along the Chesapeake Bay, where the land is flatter and sandier. . . . Here, high-acid red varieties like Barbera do well."
As Atticks noted, credit for the sudden fruitfulness goes to a new generation of ambitious winemakers who are rethinking what a winery can be. The old way of thinking was that a vineyard was something you inherited, a place you grew up. Maybe, if you were the enterprising sort, you added a tasting room, booked a few cover bands, and threw a wine festival one weekend during harvest season. Now, new spots throughout the region are setting themselves apart by establishing grower co-ops and recruiting winemakers from California and South Africa, a concept that used to be unfathomable.
"The learning curve is gone now," Atticks says. "You can hire a winemaker that knows exactly what to do and your first vintage can be phenomenal."
And like a rising tide, these newbies are lifting up some of the older boats. New generations are taking over at established operations and then traveling around the world to do extensive research or literally digging up their old vines and replanting. The focus has become less on events and more on recruiting club members to enjoy high-quality products.
In addition, wineries and vineyards are embracing new technologies and their agricultural applications in pursuit of the perfect pour. For instance, drones can help winemakers map things like airflow and temperature gradation to find that ideal plot of land.
"We've gone beyond scratching the surface, and now we're getting much more into the details," Atticks says. "New technology can really help map soil specifically and, 10 years ago, not many people were thinking about that."
All the effort is paying off.
"We're starting to see a new level of respect from the trade—from restaurants and retailers who up until now weren't as interested in having local wine," Atticks says. "And we have certain producers up to the task. They're not just trying to make the best wine in Maryland. They're trying to make the best wine in the world."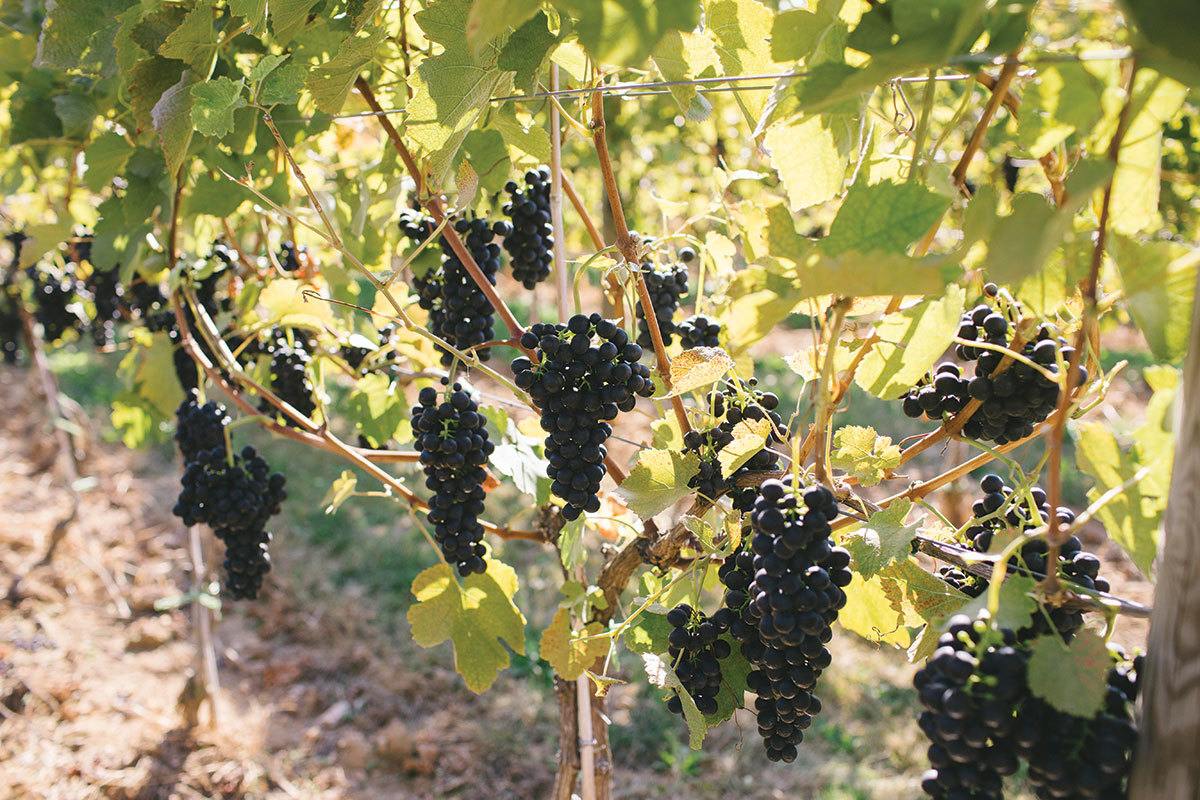 But don't just take his word for it—get out there and swirl and sip for yourself. While it's impossible to visit all of the wineries in the state in one afternoon (though we gave it our best college try), we've narrowed it down to some standouts, both brand new and tried and true, that are helping to put Maryland wine on the map.
Just 40 miles northwest of Baltimore is Old Westminster Winery (1550 Old Westminster Rd., Westminster, 410-881-4656), which has been making major waves in national publications, as well as with local wine connoisseurs. In 2009, the Baker family decided the best way to preserve their farmland off of Route 27 was to start a vineyard. Two years later they planted 7,600 grape vines, including cabernet franc, syrah, chardonnay, and albariño. Now the winery is producing 30,000 bottles of wine a year—with half of those grapes grown at home and the other half from other vineyards around the state. Careful soil studying and sampling has led to some of the best wines in the state. 
Old Westminster's mission is to revive old European styles of wine and its Petillant Naturel series, including a crisp syrah rosé blend, is a standout. Though much of OWW's attention is paid to its 1,500-member wine club, there are also events every weekend at its on-site tasting room with live music and food from local favorites such as Ekiben and Well Crafted Pizza. 
Just down the road is Black Ankle Vineyards (14463 Black Ankle Rd., Mount Airy, 301-829-3338), which has taken advantage of its history and geography—sitting at the foot of the Appalachian Mountains with rocky soil and regular breezes—while innovating every step of the way. Every grape is grown on the farm, where composting and solar energy are priorities. Since 2010, the winery has been holding blind tastings against other syrah varietals from around the world, and the practice has kept it on its game. For proof, sip its Bordeaux-style blend, Crumbling Rock, which is soft and rich with dark fruits.
Nearby is one of the granddaddies of the Maryland wine scene, Linganore Winecellars (13601 Glissans Mill Rd., Mount Airy, 301-831-5889), whose grapes were first planted more than 40 years ago. But Linganore is not simply stuck in the past. Second-generation winemaker Anthony Aellen is always innovating and, most recently, his daughter Melissa traveled the world to study winemaking and got her degree in viticulture and enology from Cornell University. Experience the Aellen family expertise with sips of the double gold-winning Reserve Chambourcin, a medium-bodied red with notes of black cherry, spice, and dark chocolate. 
If you've drunk a little too much in the area, make a night of it and spend time in historic Mount Airy. Just outside of the center of town, housed in an 1890s brick schoolhouse, is Brick Ridge Restaurant (6212 Ridge Rd., Mount Airy, 301-829-8191) serving Southern-inspired entrees like shrimp and grits with bacon and smoked tomato compote. Catch a few Z's at the Victorian Bed and Breakfast (103 N. Main St., Mount Airy, 410-259-1272), a turn-of-the-last-century home with Airbnb services, a wraparound porch, and beautiful landscaping.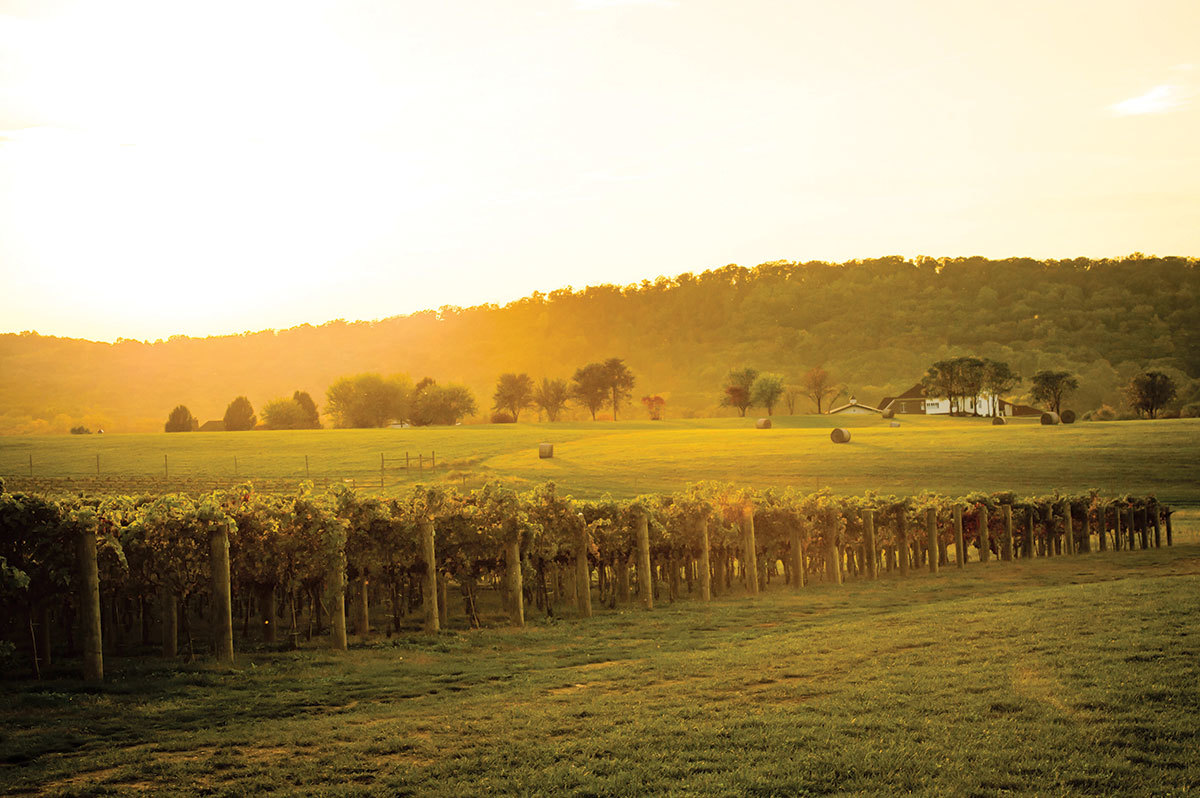 A little farther west, past Frederick, is Big Cork Vineyards (4236 Main St., Rohrersville, 301-302-8032), a standout in Maryland wine, which opened its tasting room in early 2015 and boasts quite the view of the winery's 100 acres of vineyards and farmland. 
Big Cork has become well-respected in the industry thanks in large part to winemaker Dave Collins, who perfected his skills in Virginia. Collins has found that the cabernet franc grape is a great match for the cool, well-drained soil of Washington County. 
A bit closer to Baltimore is the popular Boordy Vineyards (12820 Long Green Pike, Hydes, 410-592-5015), which has been making wine on-site for nearly 40 years. But Boordy's Deford family isn't a slave to tradition. Over the past decade, they have overhauled their crop, ripping up nearly every root and branch and then replanting.
The move followed consultation with wine experts who advised the family to update their root stock, plant their vines closer together, and provide better temperature and quality controls during fermentation. The results of the nearly $3 million rebuilding project—which also included a new winemaking house with new fermentation tanks—have been revolutionary for Boordy, earning the label a new level of respect from restaurants and retailers. In fact, Boordy's 2015 Landmark Series Albariño won Best in Show at the 2016 Maryland Governor's Cup, and its Cabernet Franc Reserve 2014 won double gold at the 2017 San Francisco Wine Competition.
Visit Boordy on Saturdays in the fall for wine tours and live music, and tack on a dinner date at the nearby McFaul's IronHorse Tavern (2260 Cromwell Bridge Rd., Parkville, 410-828-1625) or an ice cream nightcap at Prigel Family Creamery (4852 Long Green Rd., Glen Arm, 410-510-7488).
Central Maryland isn't the only place to find great wine. The northeast region is making a name for itself, too. One example is Chateau Bu-De Winery & Vineyard (237 Bohemia Manor Farm Ln., Chesapeake City, 410-885-2500) in Cecil County. Owner Brenda Dedrick transplanted 14,000 grapevines here from Trappe, added 19,000 more, and just opened a massive tasting room. With help from South African-born winemaker Jacques van der Vyver, Bu-De is becoming known for its dry wines like the estate sauvignon blanc with notes of lychee and tropical fruits.
Just down the street, a newcomer on the scene is Broken Spoke Vineyard & Winery (942 Glebe Rd., Earleville, 302-547-6022), which opened this summer and has already earned a double gold in the Maryland Comptroller's Cup for its vidal blanc.
If you get hungry (or sleepy), seek shelter and sustenance a half an hour south at Crow Farm (12441 Vansants Corner Rd., Kennedyville, 302-304-0551), a third-generation working farm that now provides wine, grass-fed beef, and a farm-stay bed and breakfast. Having recently brought in winemaker Michael Zollo from California, Crow is getting creative with New World varieties, including a sparkling vidal blanc and its 2016 barbera rosé, which won Best in Class at Maryland Governor's Cup. But perhaps the best part about a night at Crow is that, along with breakfast in the morning, guests can feed farm animals during their stay.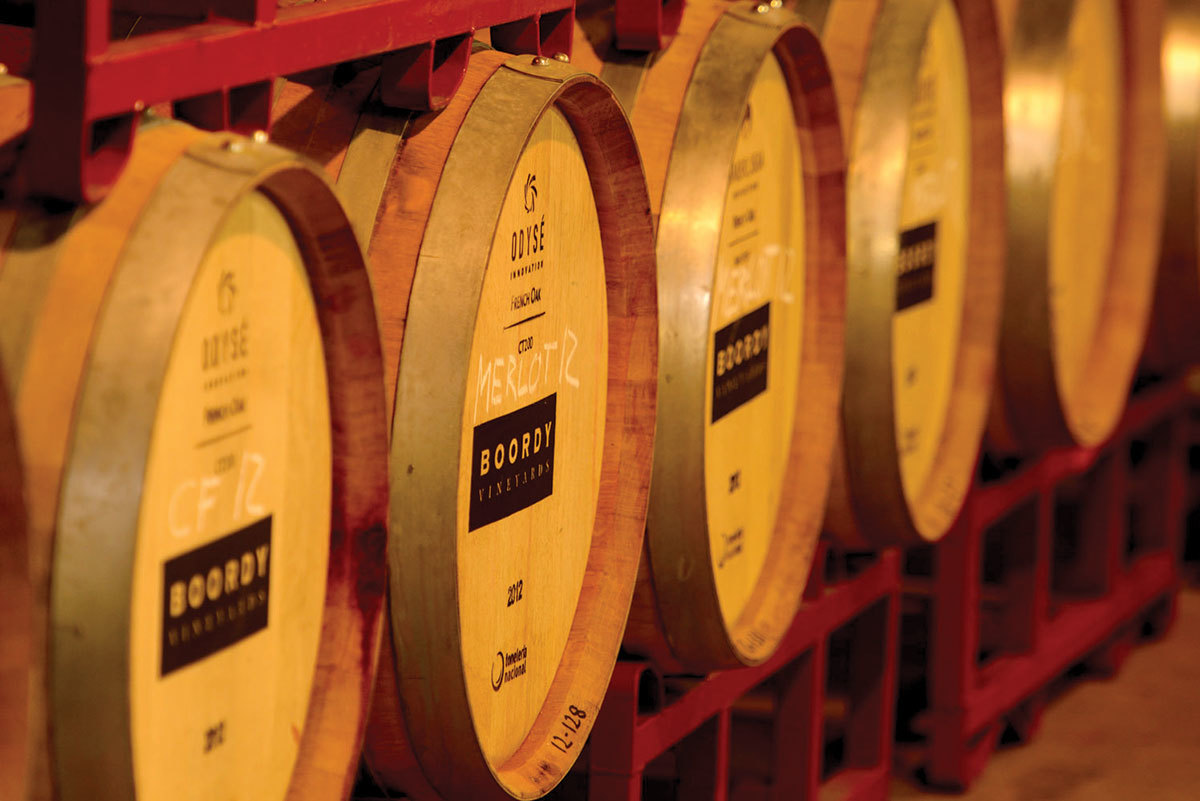 And while location is key for wine, there are a couple of outliers using innovation and technology to make wine off of the typical trails. Port of Leonardtown Winery (23190 Newtowne Neck Rd., Leonardtown, 301-690-2192) is a grower co-op (purported to be only the second of its kind in the U.S.), which includes 12 vineyards exclusively from Southern Maryland. This is an extreme challenge for winemaker Lauren Zimmerman, who studied in Canada, as she has to work around weather hurdles. But she must be perfecting the science because five of POL's wines—a port style and four reds—took home awards at this year's International East Meets West Competition in Santa Rosa, California.
While you're in Leonardtown, explore the area by visiting Leonardtown Wharf Park (22510 Washington St., Leonardtown 301-475-9791) for kayak rentals. Then fill up at places such as Asian-fusion restaurant Jessie's Kitchen (22845C Washington St., Leonardtown, 301-997-0888) for ramen and dumplings or The Front Porch (22770 Washington St., Leonardtown, 301-997-1009) for Southern classics like chicken and waffles. Stay the night at the picturesque Olde Breton Inn (21890 Society Hill Rd., Leonardtown, 301-475-2699) with stunning views of St. Clements Bay and the Potomac River.
Right across the bay from Port of Leonardtown is another vintner thinking outside the box—Bordeleau Vineyards & Winery (3155 Noble Farm Rd., Eden, 410-677-3334). Just off of Route 13, its location makes it a good pit stop on the way to the beach, or you can make a weekend of it and drop your bags at The Washington Inn & Tavern (11747 Somerset Ave., Princess Anne, 443-399-3353) in the quaint nearby town of Princess Anne. Stop in at the roadside Beach to Bay Seafood Eatery (12138 Carol Ln., Princess Anne, 410-651-5400) to dine on fried oyster sandwiches, or get a sandwich and fries to-go for a picnic lunch before you head to the winery.
Bordeleau's Tom Shelton, who has been making wine since 2006, blends reds across different vintages, or years. Some labels have lot numbers, which refer to the total number of wine batches bottled of that variety. That creativity led Bordeleau to become the first Eastern Shore winery to win Maryland Governor's Cup Best in Show honors back in 2014 with its cabernet sauvignon amarone. One of the few wineries in the U.S. that can be visited by boat, Bordeleau continues to defy all logic and produce award-winning wines from grapes that are grown just eight feet above sea level.
It's this rule-bending approach that will distinguish Maryland wine in the next several years, Atticks says. While many regions have a "state grape," this is something that Maryland simply doesn't plan on doing.
"Let's not box ourselves in," he says. "Southern Maryland can grow great things, but it's not cab sav or chardonnay. I just had a sparkling vignole from Linganore, which would never be a state wine, but it was dreamy. I want to see what we can grow without any limitations."