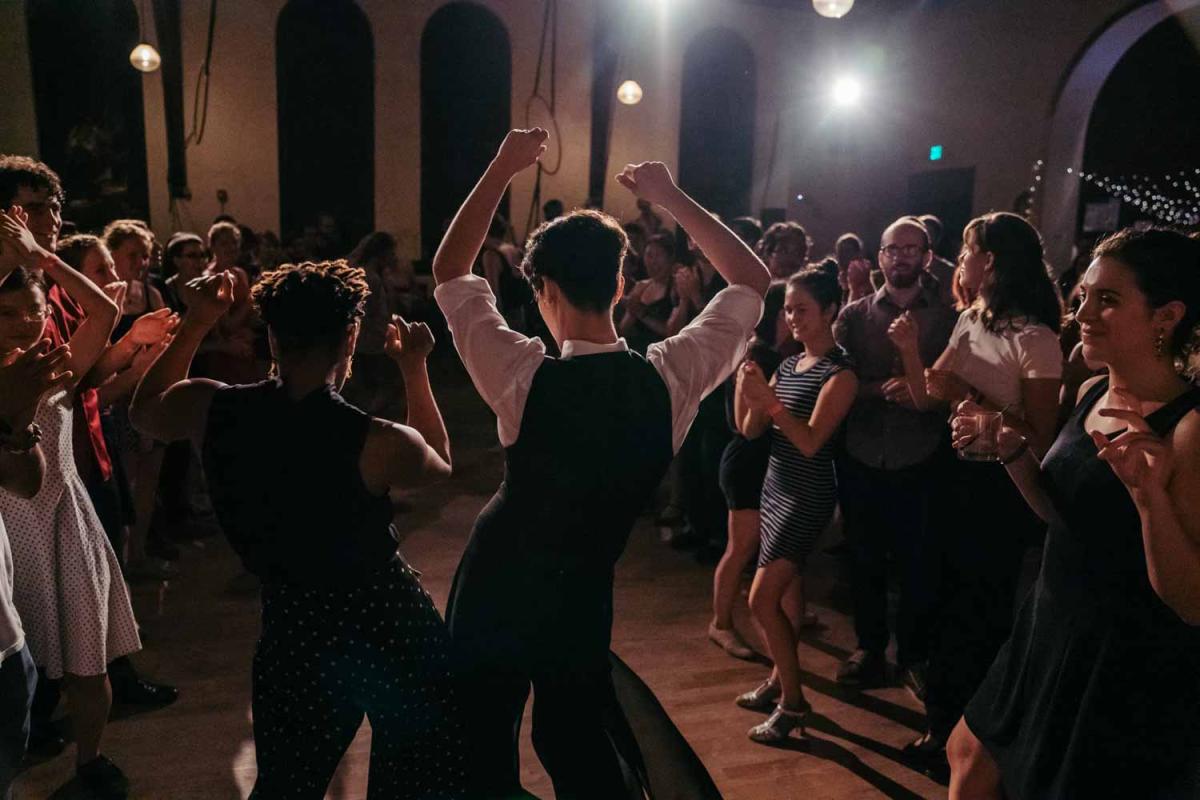 —Photography by Jerry Almonte
In the 12 years since Sarah Sullivan and Michael Seguin opened Mobtown Ballroom in Pigtown, the refurbished 1800s church has drawn in droves with its niche dance programming, including everything from square dance and swing dance to honky tonk, Lindy Hop, and circus arts.
Due to ongoing differences with their landlord, the owners decided not to renew their lease this year, and Mobtown's 12th anniversary party on September 22—which featured Meschiya Lake & the Little Big Horns, the same New Orleans jazz and blues band that performed the night it opened—also served as its last hurrah in Pigtown.
"We built the floor there ourselves, with volunteers," Sullivan says, "and a bunch of them were there dancing on the floor on that last night."
Now, some of the same volunteers who were there in the beginning have returned to help lay the sprung wood floor at Mobtown's new home at North Avenue Market in Station North, where the owners are expected to launch the Mobtown Ballroom and Cafe in early December.
Taking over the former home of Red Emma's and Secret Sauce Co.'s burger joint and arcade, Mobtown's next iteration will, of course, carry on the ballroom's partner dance programming and act as a regular home for groups like Baltimore Square Dance and Baltimore Honky Tonk. But it will also introduce an all-day food and drink program, as well as additional live concerts, readings, burlesque performances, and drag shows.
Sullivan sees the new venue as a "third space," referring to the concept of a gathering place separate from the workplace or the home. 
"We really aimed at making Mobtown the kind of place where you could show up multiple times a week and try on different versions of yourself, or meet people that you wouldn't meet otherwise," she says. "[Eventually,] our hope is that we're open the majority of the time. You can go and park yourself there all day if you want to, and hopefully, develop a relationship with the staff and other people who go."
To start out, the cafe—helmed by Jake Cornman, who previously handled food service at all of Mobtown's pop-ups—will be open 7 a.m. to 3 p.m. six days per week, offering coffee sourced by Station North neighbor Black Acres Roastery, as well as breakfast, sandwiches, salads, and soups. For evening events, expect scratch-made fare like "Ribwiches," Frito Pie, and fried pickles, along with a full bar and cocktail program led by longtime Mobtown bartender Dave Cavalier.
The move was made possible with the help of Central Baltimore Partnership (CBP) and developer John Renner, whose teams continue to spearhead the revitalization of North Avenue Market by recruiting local businesses and providing them economic assistance. The hope is that the 94-year-old building, which was once home to more than 200 vendors and a bowling alley in its heyday, will once again thrive as a hub for arts, entertainment, and shopping. 
"It feels like a really good coalescence of a lot of things," Sullivan says on teaming up with CBP, which first contacted Mobtown with the idea for it to move to the designated Arts and Entertainment District. "There's so many people that we already work with in that neighborhood, and so many cool things going on there. It's a space that in our younger years, Michael and I hung out in all the time. I did my homework at Red Emma's, so it feels good to be stewards of that space in particular."
As excited as she is to get up and running in the new digs, understandably, Sullivan says it was difficult to say goodbye to Mobtown's cherished starter space, where she spent more than half of her adult life. 
"No one has ever given birth in there, but we have had people get married, get engaged, meet their partners, break up with their partners," she recalls. "We've literally had the stuff of life happen in that building.
"Change can be hard," she continues, "because you don't know what you're moving towards. You only know what you're moving from, but it might end up that there's so much more on the other side of this."