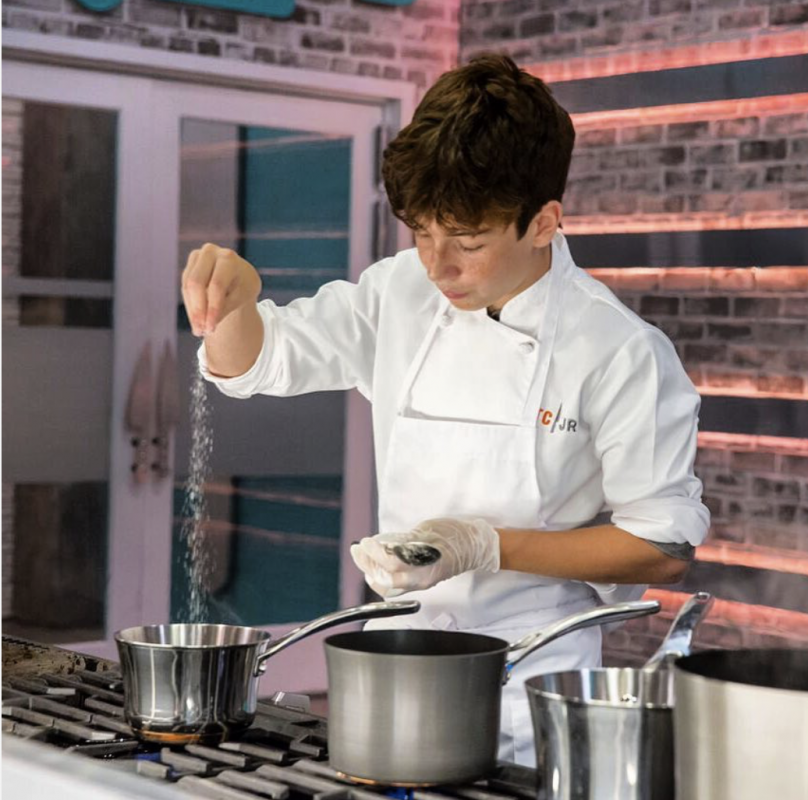 Courtesy of Universal Kids
Owen Pereira knew how to prepare full meals for himself by the time he was 5 years old, so when it came time for him to enroll in cooking classes as part of his school's curriculum, the lessons were a breeze.
"Those classes were more like practice for me," says Pereira, 14, now an eighth grader at the Baltimore Montessori Public Charter School. "I pretty much learned all of the basics from watching my mom in the kitchen, and then kind of taught myself the rest."
The Mt. Washington prodigy—who mentions culinary idols like James Beard Award winners Thomas Keller and Daniel Humm—decided to put his skills to the test in 2016, when he auditioned and was chosen to compete on an episode of Food Network's Chopped Junior. His appearance on that show later caught the attention of NBC's Universal Kids, and the network invited Pereira to audition for the first season of Top Chef Junior in the spring of 2017.
Pereira stood out in a group of more than 200 teen applicants across the country, and was ultimately picked as one of the top 12 to compete for a $50,000 prize on the spinoff of Bravo's long-running series Top Chef.
"I was really surprised that I made it that far," says Pereira, who is now among the top three finalists on the show—which filmed in Los Angeles last summer and airs Fridays at 8 p.m. on Universal Kids. "I pretty much skyrocketed from there."    
A loyal Top Chef fan, (he notes Maryland's own Bryan and Michael Voltaggio as some of his all-time favorite competitors), Pereira had an idea of what to expect once filming began. The junior iteration mirrors the original version, with each episode featuring challenges that force competitors to whip up dishes with specific parameters while crunched for time.
So far, Pereira has impressed judges—including host Curtis Stone, MasterChef's Graham Eliot, Emeril Lagasse, and the Voltaggio brothers—with his creative dishes like Philly cheesesteak nachos, battered coconut shrimp, and an elevated fish and chips.
"I knew Top Chef was legit, so I expected Top Chef Junior to be also," Pereira says. "There were no pauses. Even if our mics fell out or we got injured, the clock didn't stop under any circumstances. We were shooting six days per week, almost eight hours per day. And sometimes we would be sitting in the interview room for up to four hours at a time."
While he admits that the process was sometimes exhausting, Pereira says he also had a lot of fun meeting celebrity chefs and making friends with some of the other teens. In fact, he and fellow contestant Henry Wieser of Illinois have big plans to open a restaurant together.
"Our cooking styles are really similar," Pereira says, adding that both chefs are passionate about local sourcing, and take a modern approach to classic French techniques. The duo plans to launch their own pop-up in Chicago next month, and Pereira hopes to bring it to Baltimore this summer.
Locally, Pereira looks up to Charm City greats including chefs Doug Wetzel and John Shields of Gertrude's at the Baltimore Museum of Art, and our own James Beard Award-winning sustainability champion Spike Gjerde. He names Gjerde's Remington meat mecca Parts & Labor as his favorite local spot—estimating that he visits the restaurant's butcher shop once every two weeks.
"It was great representing Baltimore on the show," he says. "I didn't get a chance to cook any true Baltimore foods like lake trout sandwiches or crab cakes, but I tried my best to represent the city as best as I could."
Looking ahead, Pereira is dreaming big. He wants to open his first restaurant by the time he's 18, make the World's 50 Best Restaurants List by the time he turns 20, and win two Michelin stars. Culinary school, however, isn't part of the plan.
"It's kind of ambitious," he says. "But culinary school happens way too late. I don't have the patience to wait until I'm 18 for my career to actually take off."