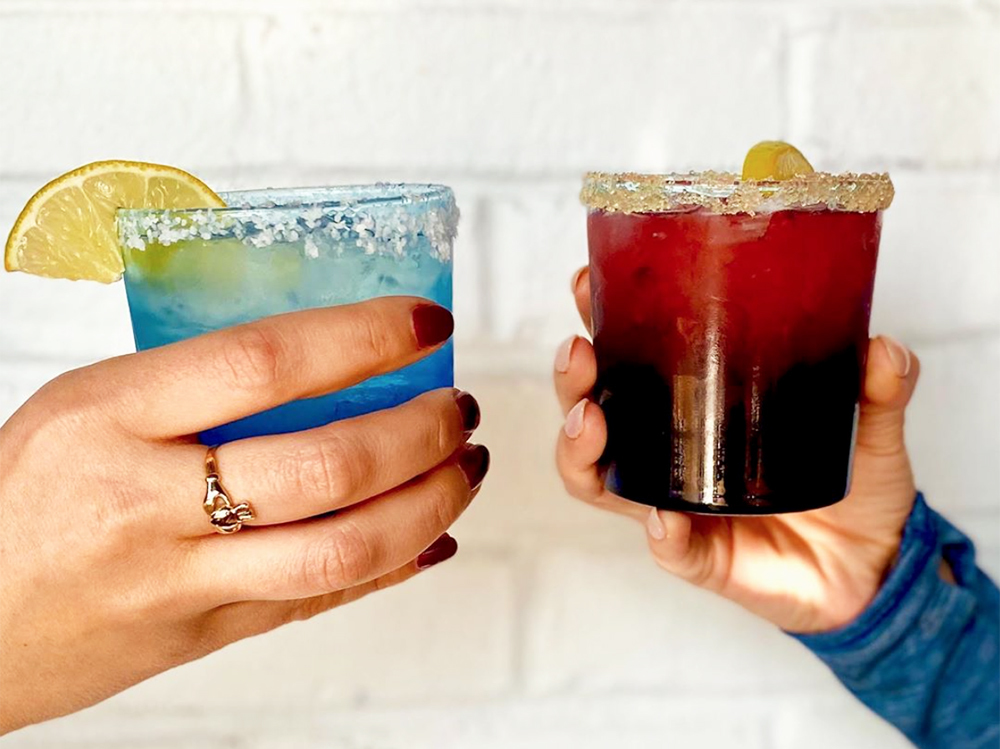 Although National Margarita Day falls at the end of February, it's never too cold to enjoy a cocktail. There's no easier way to celebrate on Saturday, February 22 than by enjoying one frozen, flavored, or on the rocks. Baltimore bars ranging from popular hangouts to hidden gems are getting creative with new margarita menu items, and they are offering tons of specials to celebrate. Whether you identify as a tequila connoisseur or a newbie, hit the town on Saturday and indulge in the discounted offerings.
Banditos Bar and Kitchen: This Federal Hill go-to will be featuring happy hour pricing from 12-6 p.m. on Saturday, offering $6 margaritas. With flavors including the "Dita Rita," "Mezcalita," pineapple, strawberry, and spicy, there are plenty of options to enjoy the tequila-filled day. 1118 S Charles St.
Barcocina: This popular Fells Point hangout will be serving $5 margaritas all week, and highlighting a different daily flavor to celebrate the boozy holiday. Take in the harbor views and enjoy standard sips like the house margarita, spiced-orange, smoky, or "Margarita en Fuego" topped with a jalapeño-infused foam. Friday's special will be the "Barcopiña," made with Espolon reposado tequila muddled in pineapple and basil. Saturday will feature the "Bianca in Oaxaca" with Illegal mezcal and aperol, and the week will end with "Mia's Tropical Margarita" made with pineapple Don Julio tequila, peach schnapps, malibu, and pineapple juice. that will That last one will take you straight to the beach. 1629 Thames St.
Blue Agave: Federal Hill's Blue Agave is a favorite for happy hours, girls-night out, day drinking, or grabbing tacos. This Saturday, enjoy $2 off all of the tequila drinks—ranging from pomegranate to red pepper—all day long. Pro tip: If you're feeling adventurous, split the "Agave Shipwreck," a 42-oz. frozen house margarita with blue curaçao in one giant glass, between your group. 1032 Light St.
Clavel: Highlighting cuisine inspired by Oaxaca, Mexico, this Remington favorite boasts strung lights, handmade corn and flour tortillas, house-grown ingredients, and tons of margaritas. This National Margarita Day, enjoy $4 off all margaritas during happy hour and see if spicy or bitter fits your palette. 225 W 23rd St.
Holy Frijoles: All day on Saturday Holy Frijoles on the Avenue in Hampden will be serving $5 house and $6 flavored margaritas including the "Velvet Hammer," "Cucumber," "Multiball," and "Jalapeño" varieties. The "Dos Amigos Margarita," a mini house margarita pitcher with a Coronita bottle added, will be discounted at $10. 908 W 36th St.
La Calle: Modern Mexican cantina La Calle will be serving its famous house and tamarind margaritas for $5 from 4-11 p.m. on Saturday. If you haven't tried out this downtown spot yet, La Calle boasts cuisine that uses local Maryland and indigenous Mexican ingredients. 10 S St.
Lee's Pint and Shell: National Margarita Day isn't only being celebrated at cantinas on Saturday—Lee's Pint and Shell in Canton is also getting in on the festivities. Known for its American and seafood menu, Lee's encourages you to drink the day away with $4 margaritas all day long. 2844 Hudson St.
Nacho Mama's: Both the Canton and Towson locations of this Mexican cantina will be featuring major food and drink specials all day on Saturday. Don't miss the house "Graceland" margarita for $5 and the famous hubcap margs for $15. If premium is more your style, the spot will be taking $2 off premium margaritas and $5 off premium hubcaps, as well as serving $10 top shelf margaritas. Try something new with the mango-habanero for $8 or the watermelon margarita for $9. Pair all of the drinks with $6 happy hour nachos or a $8 fiesta dip. Two locations including 2907 O'Donnell St.
Papi's Tacos: Papi's Tacos in Fells Point and Hampden will be featuring its "Dos Manos House Margarita" for $10 all day on Saturday. This 20-oz. margarita is made with house tequila, Olmeca Altos Blanco, and organic margarita mix. It is available on the rocks or frozen, and with flavors and floaters for an additional charge. Two locations including 1703 Aliceanna St.
Woody's Cantina: Woody's Cantina in Fells Point will be doing beat-the-clock house margaritas starting at $4 at 10 a.m. The price increases by $1 each hour, so be sure to get there early to make the most of the deal. Margarita Jell-O Shots will also be available, as well as standard menu items. 821 S Broadway.