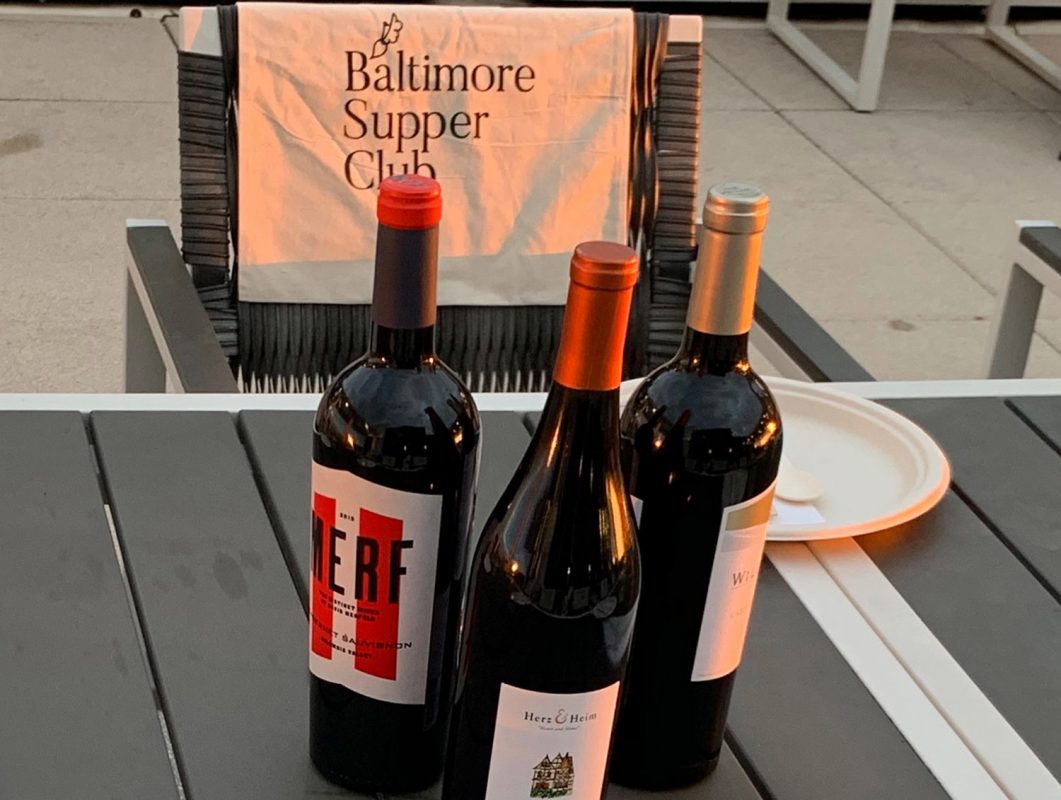 Evan Greenberg
Upon returning from a Burmese dining experience in Washington, D.C., Kylie Perrotti was feeling inspired. While enjoying the food cooked by two Burmese women, there was a palpable sense of community.
A recent New York transplant, Perrotti has a passion for all things food and for building connections online. She runs a recipe blog and is an active member of the Baltimore subreddit.
She started to think about how an operation similar to her experience in D.C.—but encompassing food of all kinds—might work in Baltimore. After putting out feelers and receiving abundant interest on her Bolton Hill neighborhood Facebook page, as well the subreddit, the Baltimore Supper Club was born.
"I was overwhelmed," Perrotti says of the reception towards the club. "I sensed it would fill a need."
That presumption came to a head this past Saturday, as the club held its first official event on the rooftop of Robert Eastabrooks's Hanover apartment building. Eastabrooks quickly reached out to Perrotti when he saw her posts, as he himself had been considering a similar idea, and the two connected. Attendees were encouraged to cook their favorite dish or a recipe that means something to them. Twenty-four people came, a number much higher than its organizers were expecting.
"Food has always been this beautiful bridge that connects cultures to one another," says Eastabrooks, who has professional cooking experience. "We want to tell the story of the people of Baltimore."
Members hope the future is bright for the club, which has its own Facebook page and plans for further events. Eastabrooks envisions partnering with local chefs and hosting dinners, holding events at communal spaces like R. House, and even elevating the dining experience to a three to four course buy-in meal. As it grows, founders hope that the club can build its own network where participants share recipes, cooking tips, and food experiences.
On a recent summer night, that is exactly what they did. From Perrotti's harissa mac and cheese to a raved-about olive tapenade, there was a diverse array of food on display. Among those attendance was Stephan Hanley. He and his girlfriend live in Baltimore, and when he saw posts on a Bolton Hill Facebook page, he figured it'd be a good way to get to know new people. Like most people in attendance, the couple went in to the experience not knowing anyone else who would be there.
"It's a good social experience," Hanley says. "We talked about how neighborhoods are changing. It's good to see people from different areas and backgrounds having a positive perspective."
The gathering was just the beginning of a community bound together by food and an inclination toward spontaneity. With members who are up for anything, the club can take on many different shapes and provide varied experiences.
"I never would have done this without the help of the Internet," says attendee Koby Samuel, a student at UMBC. "There's a good and bad side to it and I'm happy that this is one of the good sides, where you can meet new people in your area. It's a weird connecting force."
Samuel says he was a bit apprehensive to fully embrace and commit to something foreign. There's vulnerability in sharing something you've made with others, but at the Baltimore Supper Club's first meeting, any nervous energy was quickly abated. People who had been strangers at the beginning of the night made connections about their upbringing, neighborhoods, and common interests.
"We want to make friends," Eastabrooks says. "There's a lot of people moving to Baltimore where this is their first Baltimore experience. I want to pay it forward."