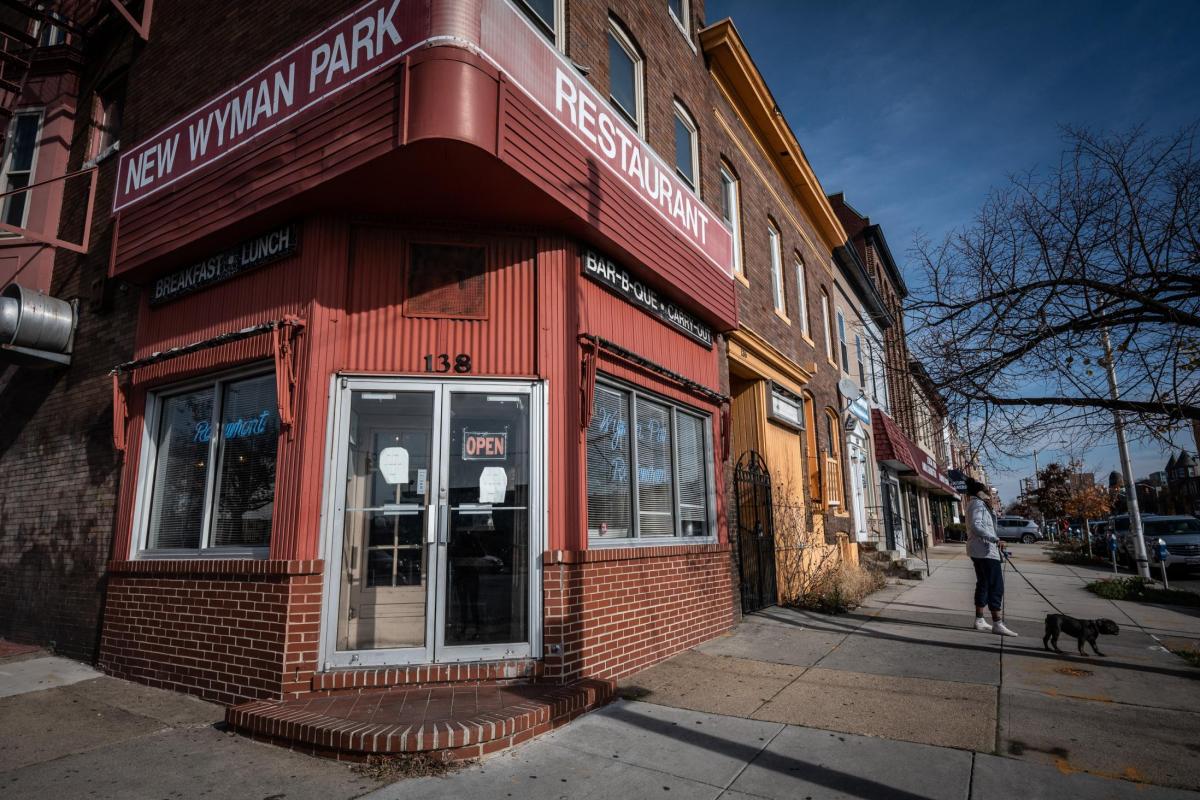 The North Baltimore landmark served its last meals on Nov. 25. —Photography by Jennifer Bishop
It's an accolade of the highest caliber and, the way people eat these days, one you don't hear much anymore: "They made the best pea soup of anyone next to my mother…"
"They" refers to the generations of cooks at the New Wyman Park Restaurant, late of 25th and Howard Streets. Mom is Audrey Soutiere Cimino, the 75-year-old mother of B. Thomas Rinaldi, pea soup connoisseur.
Rinaldi ate his last bowls of pea soup at the Wyman Park diner—a Baltimore landmark since the eve of World War II—before it closed for good the day before Thanksgiving.
"Their pea soup was yummy, stick to your ribs—thick with bits of ham," said Rinaldi, known to friends as Tommy. "Not everyone likes peas so they didn't always have it, but when they did I would get extra helpings and take some home."
Rinaldi began going to the Wyman diner as a kid in the 1970s when his father, Dr. Robert T. Rinaldi, was assistant superintendent of Baltimore City Public Schools. Back then, school headquarters was a few blocks east of the diner on 25th Street.
It was the kind of place, said one of the many longtime customers who stopped in for goodbye and one last meal, where you could eavesdrop on three disgraced alumni of the Maryland General Assembly breaking bread in one of the narrow diner's eight booths.
The kind of place where you could stand front-to-back and shoulder-to-shoulder with bus drivers, auto mechanics, school teachers, clerks at the neighborhood locksmith, and DJs from WYPR from 6 a.m. to 3 p.m., six days a week.
"It was a great place to run into a who's who of Baltimore," said Rinaldi, recently retired from the Baltimore City Department of Social Services. "Judges, power lawyers, [and artists], all having cutting edge conversations about politics, sports, jurisprudence, and public policy."
All complete with news-of-the-day schtick, with cooks cracking eggs and cracking wise at the grill behind a counter with nine deco swivel stools. The most legendary cook of recent memory was Bruce Purnell, who said he worked the grill for the past 17 years and didn't see the price of an omelette go up more than a buck or so in that time.
Said Remington resident Lynda Gomeringer, who began patronizing the diner when she moved to the neighborhood in 2005: "Listening to Bruce expound on the world and hit zingers out of the park was delicious."
Purnell was so charismatic that local poet Shirley Brewer wrote an ode to him: "His Royal Grillness." "A spatula instead of a scepter, a king without a crown," wrote Brewer. "…the menu sizzles, heads of lettuce ready to roll…hey sugar loaf, you want coffee in your cream?"
To see the show up close, you just squeezed in sideways at the counter when the place was packed, which was often. It was a six-day-a-week drama worthy of a soundtrack by Tom Waits.
"You could get a bacon sandwich—not a BLT, just bacon," said Steve E. Estes, an artist living nearby.
Adds Lynne Heneson, a longtime customer: "My father owned a drugstore at Charles and 25th, it's now a junk shop. When he was trying to lose weight he'd order a plain burger with no bun every day for lunch. And it worked!"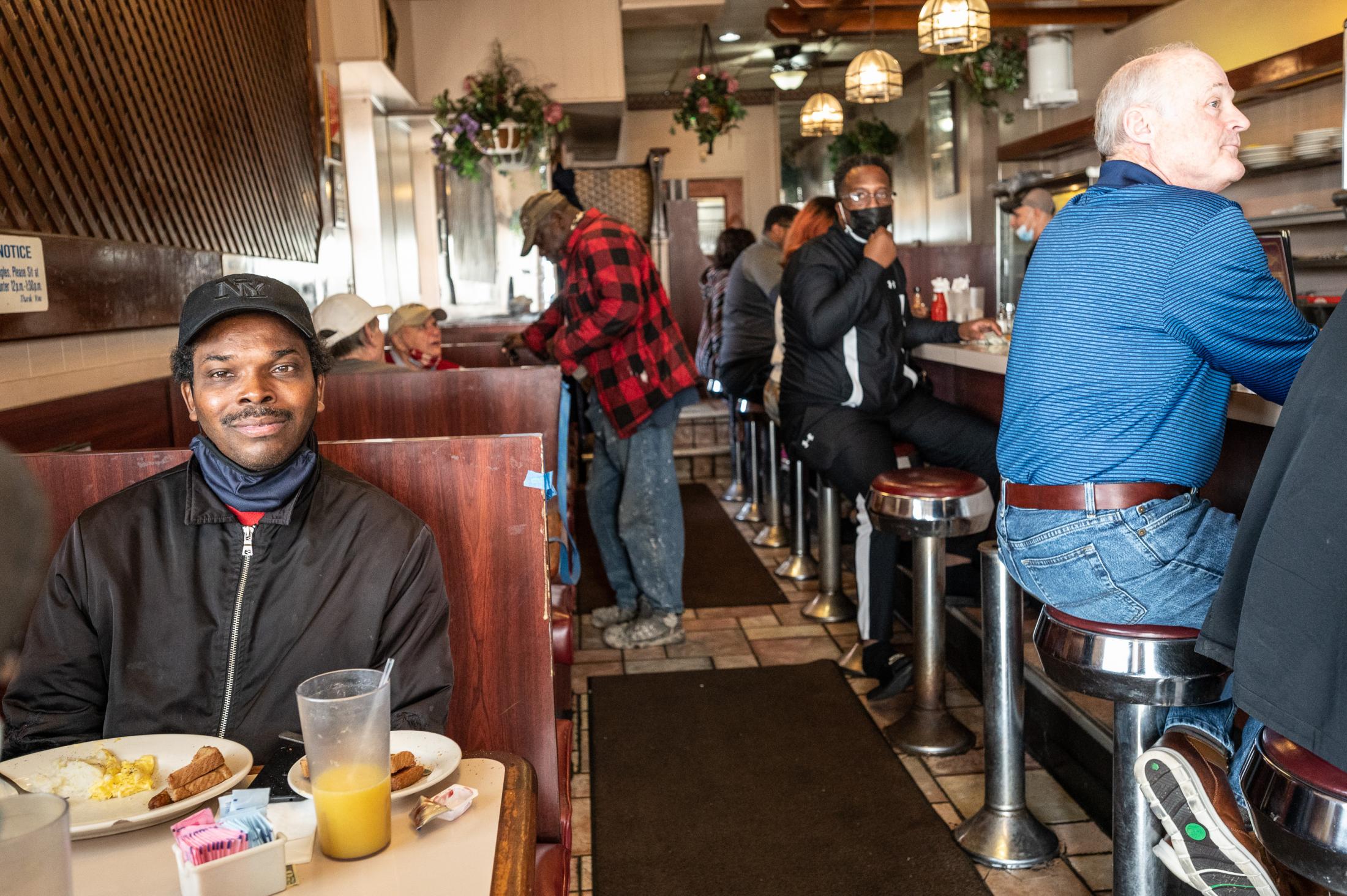 The diner dates back to 1939, when it was founded along a streetcar line as the Wyman Park Restaurant by Michael Nikoludis and the former Mary Gianoulis—Greek immigrants who arrived separately from the island of Chios about the time of the First World War.
Through three different owners, all Greek or Greek-American, business was brisk, as it was right up to the end.
"My mom would come home from Eastern High School when she was about 13, put her books on the back steps leading upstairs where they lived, and help out in the restaurant," said Michele Andriotis Tsonis, granddaughter of the founders. "My grandparents had a red-headed waitress for years who didn't take no stuff from anybody. If she saw a regular crossing 25th Street, she'd have their coffee waiting the way they like it when they walked in the door."
After the Nikoludis family left in 1982, they sold to the late Michael J. Fochios, whose father, Nicholas, had worked alongside the original owners. Nick had married one of Nikoludis' daughters, Evelyn. The other Nikoludis daughter, Eva, was Michele Tsonis' mother.
"So many of [my grandparents'] grandchildren and cousins worked there," adds Tsonis, a longtime Lutherville resident who has been absent from the diner for many years. "I remember heaping plates of roast turkey with mashed potatoes and gravy."
Ah, that classic brown diner gravy, which oldtimers used to say was delivered to Greek restaurants throughout Baltimore—from the long gone Crown Steak House at Eastern Avenue and Newkirk Street to the still percolating Sip & Bite in Canton—by tanker trucks. Gravy on turkey, on french fries, on roast beef.
"On meatloaf," enthused musician Robert J. Friedman, who not only stopped in for a final meal on the last day but brought his daughters along to experience a historic event. "Meatloaf, green beans, mashed potatoes, lots of gravy—always the gravy!" said Friedman, a veteran Baltimore musician known as "Beefalo Bob."
Friedman's daughters, Julianne, 20, and Sarah, 16, he said, "took home leftovers and loved the crazy finality of the last day. I thanked the crew for all their years of excellent work and left a big tip. It was a heartbreaker."
The guy who locked up for the last time on November 25—after posing for photos with customers who would have talked him out of it if they could—is Spiro Conits, 55. Conits took over the restaurant with his late father in 1989, christening the joint "New Wyman Park Restaurant."
The decision to sell, Conits said, was not related to the COVID-19 pandemic. He's simply ready, he said, not to do much of anything at all.
A resident of Dulaney Valley and graduate of Towson High School, Conits was both willing to answer questions while not having much to say regarding the new owner of the business. It is believed that the location will remain an eatery of some sort and that it will not be operated by Greeks.
Regulars, who fear that the days of split pea soup and open-faced roast beef sandwiches are gone for good from the corner, will have to wait to see what will take its place.
"I spent many hours at the counter, always an egg sandwich and a cup of coffee," said Jerome C. Gray, a Baltimore architect and watercolor artist. "Only a few places left in town like it. Whether it was a politician or just somebody who needed a bite while trying to get from Point A to Point B. No pretense and no posing. Just a joint."
John Brothers ate his last meal at the New Wyman—two eggs sunny side up with toast—the day before it closed.
"What made this place so special is the same [secret] sauce that makes Baltimore special," he said. "I just felt extra-Baltimore there. Good people, all the time."