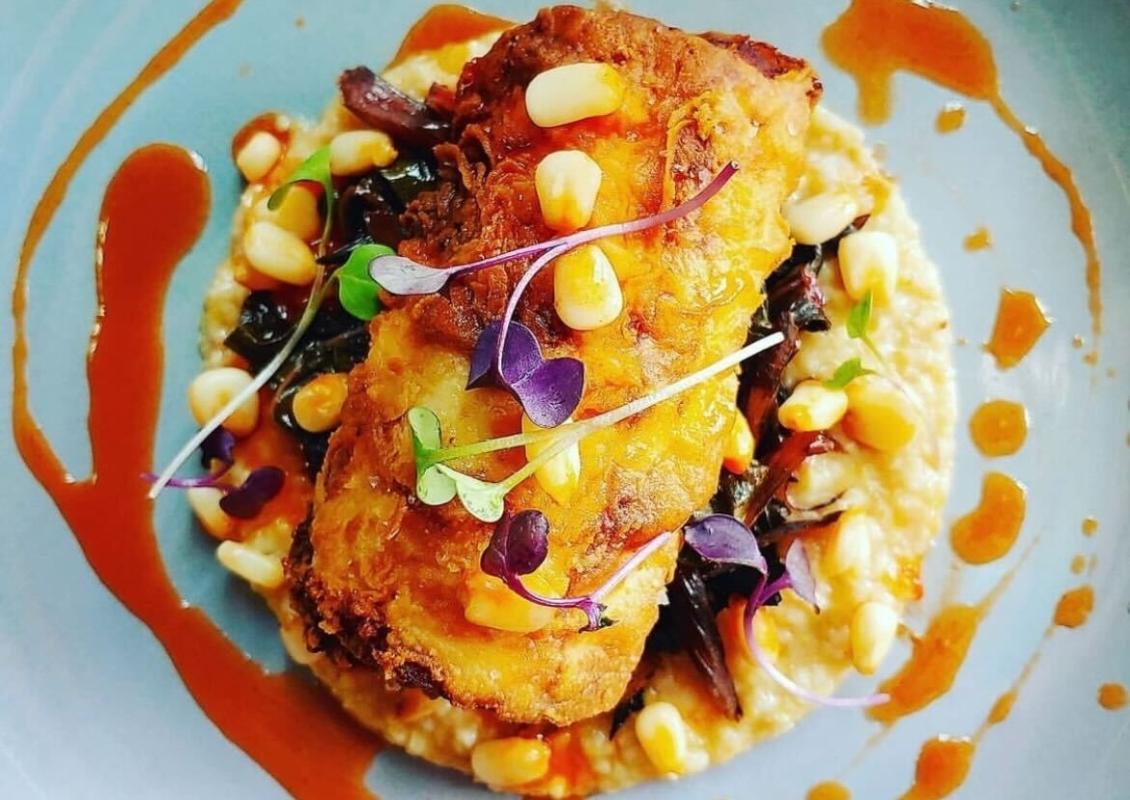 One of chef Zack Mills' many chicken-fried snakehead iterations—this one over miso brown butter grits—at True Chesapeake Oyster Co. —Zack Mills via Instagram
I cast my fishing line along some sunken tree trunks near a small island at the Loch Raven Reservoir. If you're traveling southwest across the Dulaney Valley Bridge, you can spot it on the right, poking out near the shore. As I reeled in my spinnerbait, I felt a brief tug and figured the hook had caught a submerged branch. On my second cast, something huge attacked my bait with an explosive bite. I reeled it in closer, staring in disbelief at the fish's peculiar head as it breached the surface. 
"Get the net!" I yelled to my brother, Skeet, who was fly-fishing behind me. "I've got a snakehead!"
I cheered as he scooped up the ferocious fish and brought it to the shore, never expecting to catch one so far northwest. As I worked the hook from its toothy mouth with a pair of pliers, a realization struck me: If there is a snakehead this big and this far into Loch Raven, they must be all over the reservoir. And, if they are becoming more invasive, should we be eating them?
The Maryland Department of Natural Resources (DNR) says yes. 
This year marks two decades since the first snakehead was discovered in Maryland at a pond in Crofton. Since then, they've become increasingly easier to catch, having settled into major waterways connected to the Bay, including the Potomac, Patuxent, and Susquehanna rivers, among others, according to the DNR. They originate from Asia and Africa, and while there are a few species that have made a home in the U.S., Maryland's only genre is the Northern Snakehead—which has patterned skin that resembles a python, eyes near the front and top of the head, and long dorsal and anal fins.
Although there are various opinions on snakeheads, the DNR, experts, and many anglers share common concerns regarding how they might impact our ecosystem. As a top predator with a big appetite, the main worry is that snakeheads could outcompete, displace, and over-consume native fish. Female snakeheads can reproduce several times a year, rearing 40,000 to 100,000 eggs at a time. They even use a special organ to breathe air, allowing them to live in water with low oxygen content and survive on land for several days, as long as they stay damp.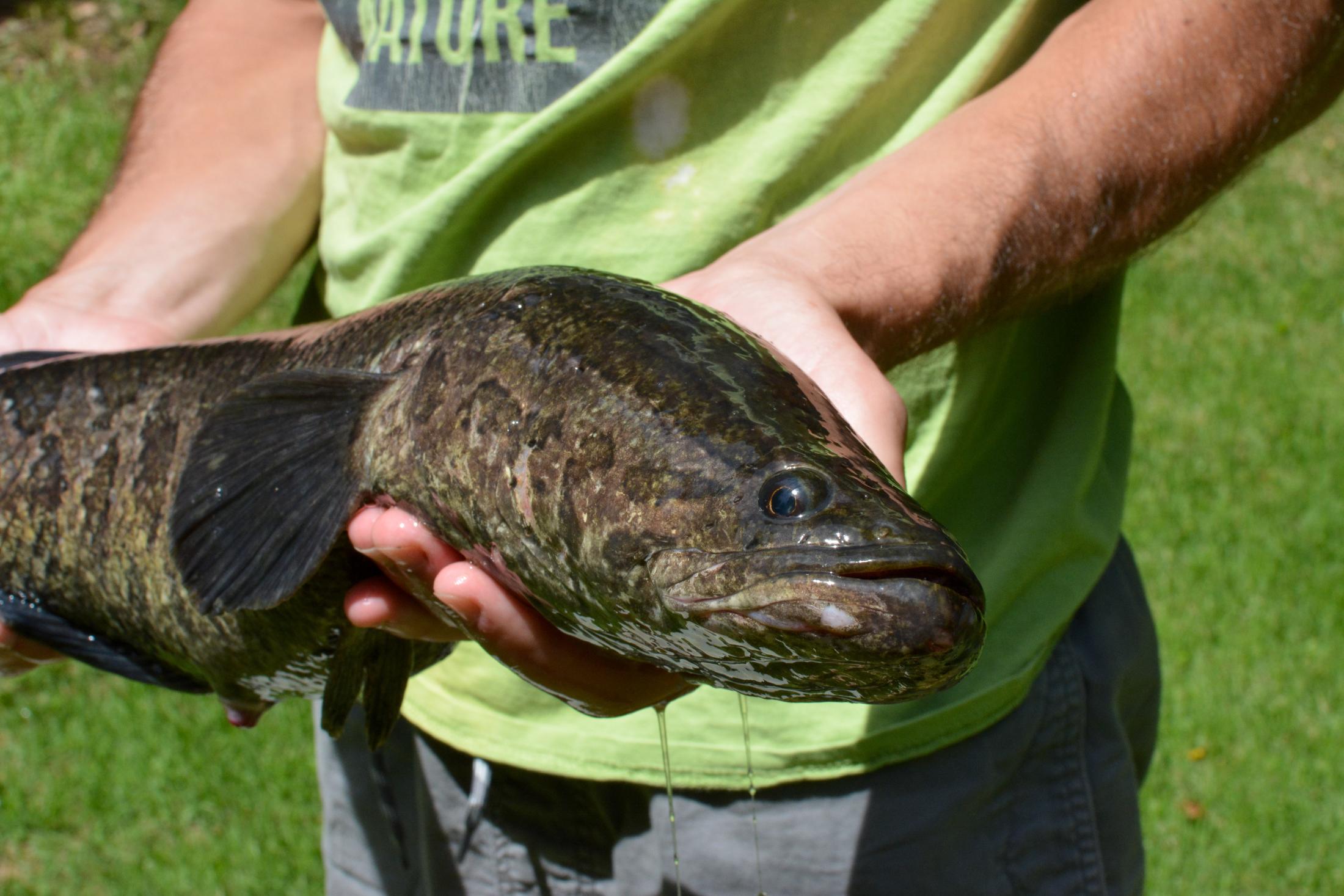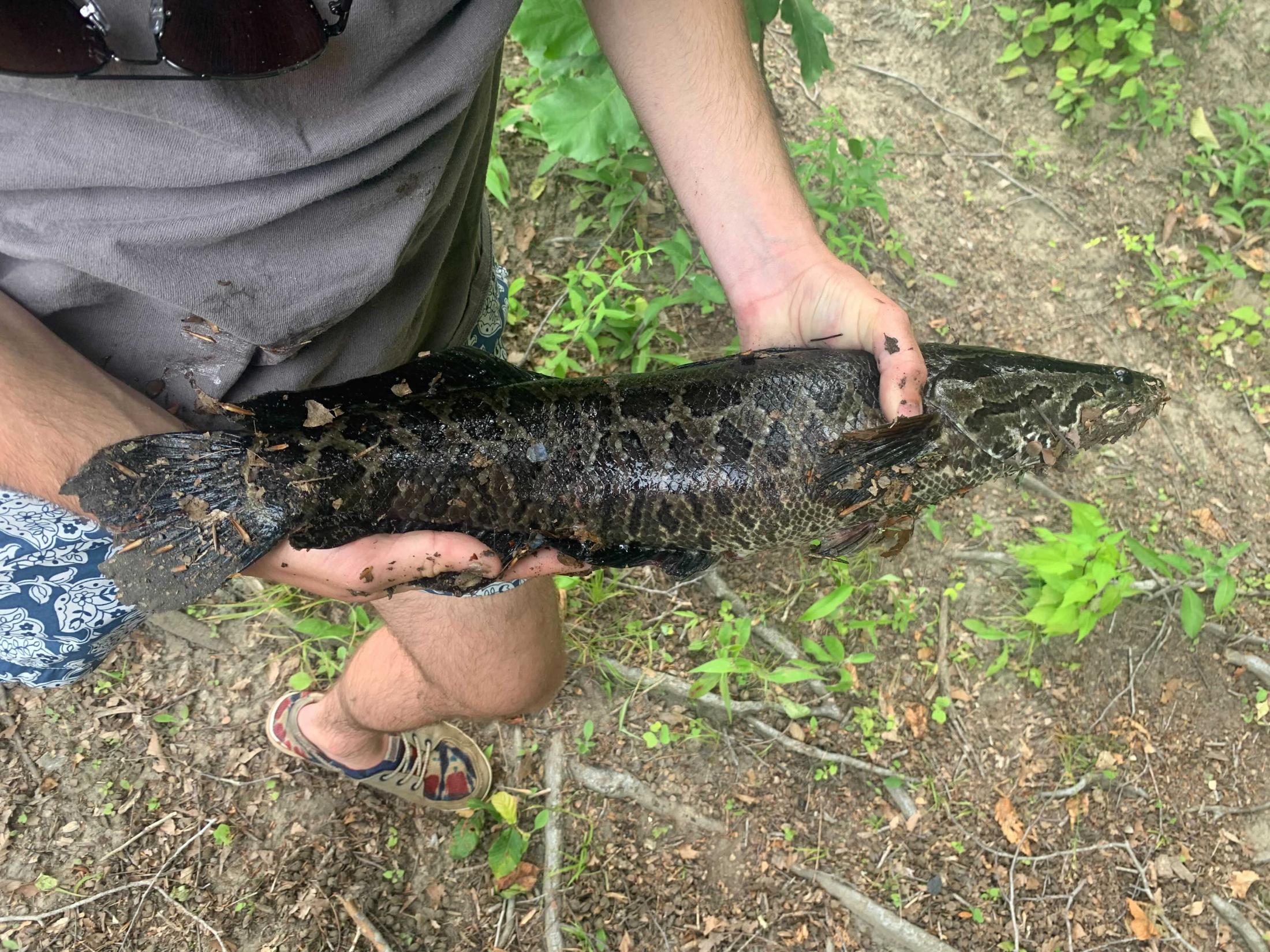 "Snakeheads are just fish that don't belong in North America," says Joseph Love, a DNR program manager with freshwater fisheries who works with snakeheads. "Are there impacts? Of course. They're a top predator. Are they going to eat away all of the species in the Chesapeake Bay? No. Are they causing extinctions? No. But they're an invasive fish that we're trying to manage in the Bay."
In attempts to mitigate the fish's prolific spread, the DNR has promoted its reporting, capture, and harvest—even recently starting a program where anglers can win money for catching tagged snakeheads, which could help the DNR track their populations, according to The Washington Post. Advertising snakeheads as something to eat has been at the core of the DNR's efforts, and they've even published videos to guide people through targeting and fileting the fish.
The star of one of those videos is watermen Caz Kenny, perhaps the state's most prominent advocate for fishing snakeheads and the co-founder of Blackwater's Edge—a local group dedicated to educating people about snakeheads that has its own Facebook page and podcast. (The group also hosts frequent snakehead fishing tournaments, the most recent being one that was held in Annapolis on July 30.) Kenny remembers catching his first three snakeheads in Dorchester County near the Blackwater National Wildlife Refuge in 2009. Since then, he says he has noticed a major decline in certain native populations at his home on the Eastern Shore.
"You couldn't stand on my pier at night 10 years ago and hear us talk to one another," Kenny says. "Today, you walk out there and you're lucky to hear four or five frogs chirping in the whole branch."
A 2019 study from the U.S. Fish and Wildlife service and the DNR found that out of 21 species of fish in the Blackwater River watershed, 17 species saw population declines ranging from 30-97 percent when compared to a 2006-2007 survey that was conducted before snakeheads were introduced there. 
For that reason, as the DNR suggests, one of the best ways to curb the snakehead's impact on other Chesapeake Bay wildlife is to eat it. 
"The nice thing about invasive species is they're like the one protein you should be cooking," says chef Zack Mills of True Chesapeake Oyster Co. in Hampden, specifically mentioning snakehead and blue catfish. "[It's like] if you're eating farm-raised oysters—you're recycling the shells and you're actually restoring the environment and doing good. It's the same with cooking invasive species. The more of these bad boys we pull out of the water, the better the water's going to do."
Snakeheads bear a pink and white meat that can be cooked in any number of ways. Mills describes the taste as having a mild flavor with a texture that is not as firm as rockfish, but not as lean as halibut. Chad Wells, executive chef at Walker's Tap and Table in Howard County, describes the meat as much less oily than rockfish, and agrees its consistency is much more lean and loose. Younger and smaller snakeheads actually tend to have leaner flesh, yield a higher percentage of meat, and often taste better, compared to full grown ones, Wells adds.
Mills has had a snakehead dish on the menu at his Hampden restaurant since opening in 2019. He typically chicken-fries the fish, soaking it in buttermilk and battering it in flour before frying. He purposefully uses the familiar recipe to make the otherwise unfamiliar fish more approachable to diners looking to expand their horizons. 
"It sells really well," says Mills, an Anne Arundel County native known for his expertise in regional cuisine. "If we keep it on the menu through the fall and availability gets spotty, we'll actually sell out on some days." 
As the DNR suggests, one of the best ways to curb the snakehead's impact on other Chesapeake Bay wildlife is to eat it. 
Though Wells doesn't currently serve snakehead at Walker's Tap and Table, he says he was the first person in the country to legally serve it in 2012. His snakehead recipes—which he offered when he previously helmed the kitchen at Alewife before it closed downtown in 2018—were even featured on TV shows including Diners, Drive-Ins, and Dives and Bizarre Foods. Much like Mills, Wells has been known to serve snakeheads through approachable recipes that are tailored to his cooking style. He's used snakehead in fish tacos, fried it to make fish and chips, and also created a Southwest-style snakehead cake (similar to a crab cake or coddie) served over a corn and bacon salad with an avocado and dill puree, according to WYPR. 
"I was like, well, if they're a problem and they're expanding, why aren't we eating them?" Wells says. 
Besides cooking snakeheads, he is also an avid fisherman who enjoys catching them himself: "I don't believe in killing a living thing just for the sake of killing it," he says. "I believe in taking what you're given as an ingredient with purpose. I believe in responsible harvest with all living things."
Kenny of Blackwater's Edge, who sells whole snakehead at his seafood restaurant The Crab Stand in Parkton, says he personally eats the fish three to four times per week. Among his favorite recipes is fried snakehead. To make it, he cuts his filets into strips or nuggets and batters them in a mixture of House Audrey seafood seasoning, stone ground white flour, a teaspoon of chicken seasoning, and half of a teaspoon of Old Bay. 
Kenny also follows his crab cake recipe to make snakehead cakes. He broils whole, skin-on filets, then breaks up the meat by hand before combining it with crushed up saltines and Ritz crackers. After that, he forms the mixture into cakes and pan-fries them in olive oil. 
"If you like jumbo lump crab meat, then you'll love snakehead," Kenny says. "That's my trademark line. If I can get you to try it one time, you'll eat it for the rest of your life."
Also of note: Eddie Bramble, who co-founded Blackwater's Edge with Kenny and fellow angler Gary Smith, sells a "Cheese-Snake" sub at his post-hunt hangout Woolford Store in Dorchester County. 
"If I can get you to try it one time, you'll eat it for the rest of your life," says Kenny.
So what if you're not an angler, but want to prepare them at home? Stephanie Pazzaglia, a business development manager at Maryland's own seafood wholesaler and distributor J.J. McDonnell & Co., says that snakeheads are usually only available fresh in the spring and summer, though J.J. McDonnell freezes and refreshes them for the winter months.
But it's not the easiest product to push. Pazzaglia says the media and the public have given snakeheads a negative reputation over the years by describing them as "Frankenfish." Many curious customers get turned off by the fish's name, which is why, in the past, J.J. McDonnell called on the FDA to allow them to refer to the fish as "Chesapeake Channa," a play on its scientific name. 
"If there weren't people wary about it, I think that it would actually be more expensive," Pazzaglia says, "because it is a very good tasting fish."
If people can get past the unattractive exterior, the overall hope is that it can lead to a more sustainable future. 
"I think that snakehead is kind of the sexy poster child for invasive species," Wells says. "To a lot of people, it's their Bigfoot."