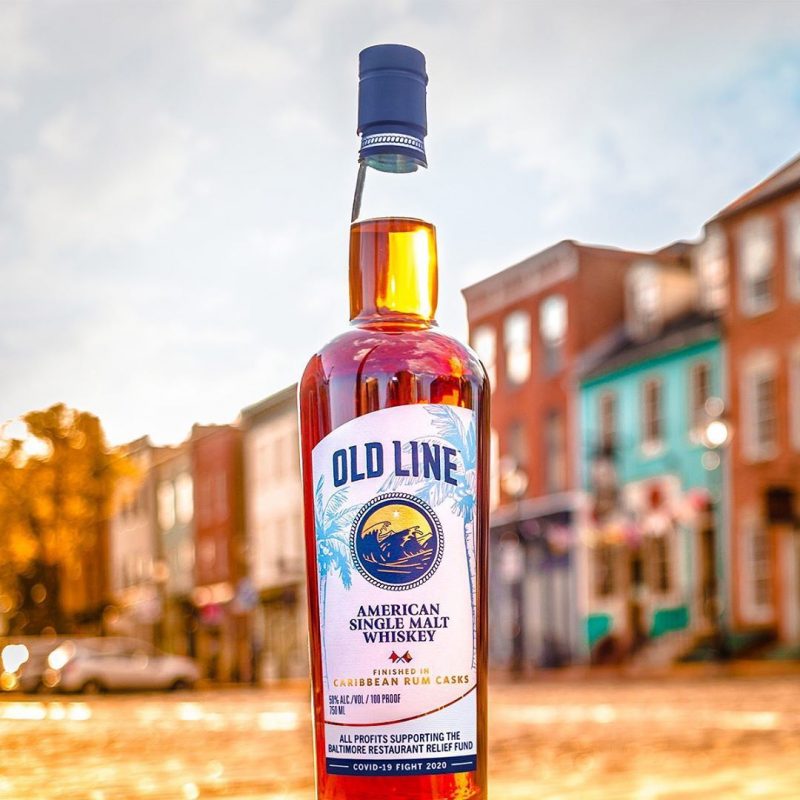 Mark McLaughlin and Arch Watkins have been friends since they flew planes in the Navy. They decided to dive into the spirits industry in 2014, when they both realized how dissatisfied they were with their civilian careers after discharge. McLaughlin and Watkins co-founded, and now co-own, Old Line Spirits in Highlandtown, living by its motto, "bold stories, bold spirits."
When asked why they chose to explore spirits of all alcoholic beverage options, McLaughlin says it was all sparked by intrigue: "Spirits are fun and romantic," he says. "It's the idea of putting something in a barrel and having to wait for years to get it out."
Fast forward to today: Old Line is launching a new iteration of its award-winning American Single Malt Whiskey finished in the distillery's own Caribbean rum casks—a new and exciting category in the whiskey industry. "It's an unrepresented category in the U.S., so it's a great category for us to capitalize on as a company," McLaughlin says.
Aside from making a rum-finished whiskey that perfectly combines Old Line's two signature products, what makes the launch truly special is that 100 percent of all proceeds will be donated to the Baltimore Restaurant Relief Fund, which is devoted to rebuilding the local restaurant and hospitality industry in response to COVID-19. With all restaurants being forced to close their dining rooms and solely operate under pickup and delivery service, thousands of workers have been left either unemployed or underemployed.
When asked why Old Line chose to give back to its fellow industry workers, McLaughlin's answer was simple: "These are people that really support us when they're working, and we want to support them in these trying times."
But that's not all that Old Line has done to give back to the community. The distillery is now operating solely as a hand sanitizer production facility, bottling almost 9,000 gallons each week. Old Line is donating as much as it can to those on the front lines, and selling the rest at a discounted price. As a part of a co-op with several Maryland and Washington, D.C. distilleries, the team hopes to continue production on a larger scale.
"We're working to provide a critical need," McLaughlin says. "As long as the need continues, that's what we intend to do to keep our employees working."
The new American Single Malt finished in the rum casks is first aged in virgin American oak barrels, so the spirit can soak up the flavor and color of the barrel to its full strength. After aging is concluded, the whiskey is barrel-finished—a trend that is increasing in popularity in the spirits industry. In this process, the whiskey is transferred from the virgin oak into barrels that previously held Old Line's blend of aged Caribbean rum. The final product is strong and dark in color, with notes of vanilla and caramel.
Bottles are available for curbside pickup at the distillery starting today. Customers can place their orders online, and swing by Wednesday through Friday between 3 and 7 p.m., and on Saturday from 12 to 6 p.m. Talk about treating yourself for a good cause.