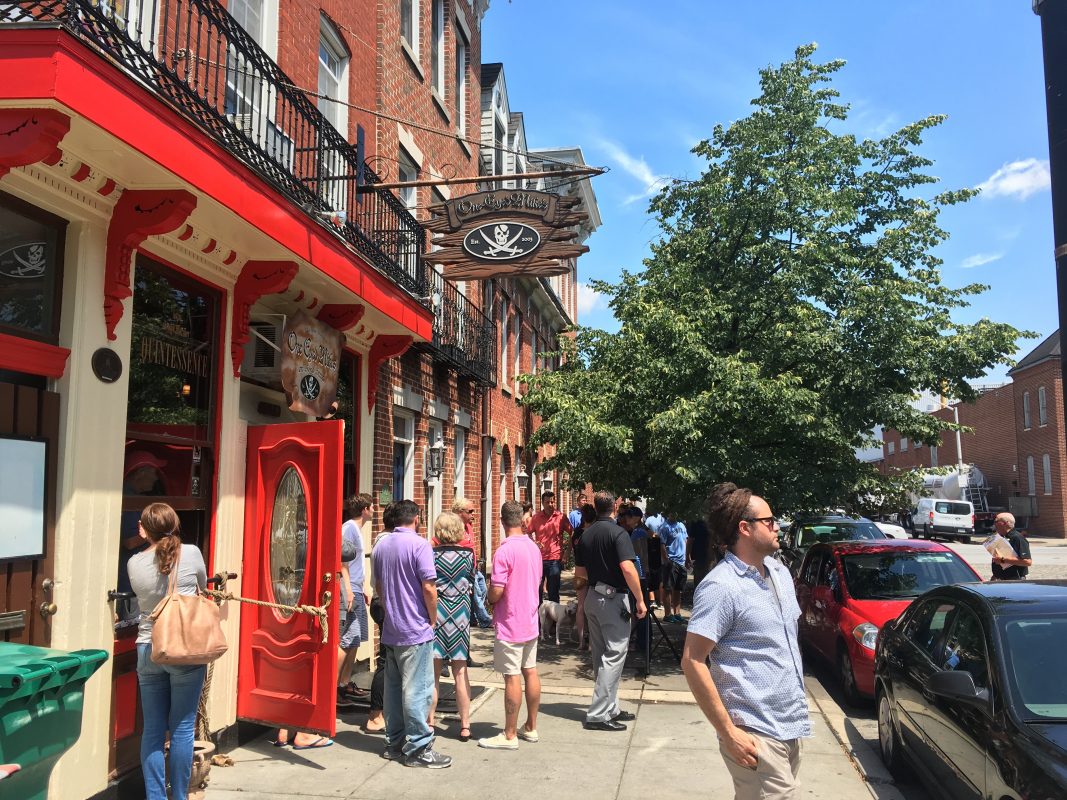 Photography by Jess Mayhugh
Mixed emotions occupied a crowd upwards of 70 people, who gathered at an auction outside of One-Eyed Mike's this morning where the Fells Point institution was sold for $1.25 million.
Baltimore-based Ashland Auction Group started the bidding at $900,000, and the property was ultimately sold to Towson locals Akbar Vaiya, 29, and his mother, Susan Hormozi, whose plan is to keep the One-Eyed Mike's concept alive.
"One of the things I'm really touched by is seeing the outpouring of support from the community," Hormozi said. "People are so emotional about the place, but that's what really makes me feel good about the decision we just made."
Vaiya, a Le Cordon Bleu-trained chef who has previously worked at Fazzini's Taverna and Cunningham's in Towson, hopes to shadow One-Eyed Mike's owner Mike Maraziti in the coming weeks to learn more about the business.
Jamie Hubbard, who ran One-Eyed Mike's with Maraziti before they opened sister-restaurant Lobo in 2014, says that Vaiya has visited the bar a few times in the last week, and plans to continue its signature Grand Marnier Club, which has more than 2,600 members.
"We're very excited for the new owner, and we think that they have a wonderful opportunity to continue the legacy of One-Eyed Mike's," said Ashland auctioneer Adam Shpritz. "Hopefully the community will support them the same way they supported the previous owner."
Buyers and neighborhood locals alike were onsite for the sale, filled with bittersweet emotions about the transition of the Bond Street staple. Though Mariziti declined to make a public statement, he took to Facebook yesterday to share his thoughts about moving on after 13 years in business.
"I can say with all my heart that this has been the best run a person could hope for," Mariziti wrote. "No idea what tomorrow will bring, but at the end of the day, I would never have been able to pull it off without all of you who have supported me."