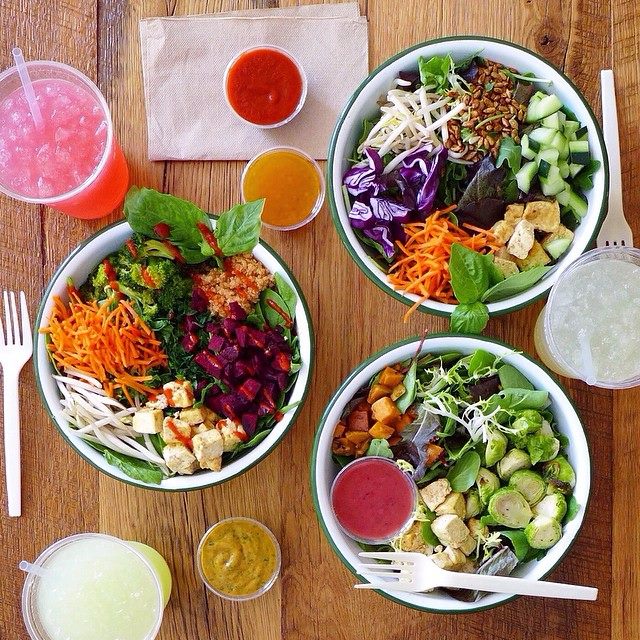 Courtesy of Sweetgreen
Despite recent events of the past few weeks, the dining scene is alive and well in Charm City. From grand openings to buzzed-about works in progress, here are all of the latest foodie happenings.

OPEN:
Harmony Bakery: Owners Don and Renee Gorman opened the doors to this charming 10-seat shop in Hampden late last month. Highlights of the entirely gluten-free menu include sweet and savory bites like apple crisp, donuts, madeleine cookies, pizza, and chickpea tarts. 3446 Chestnut Ave., 410-235-2870.
La Cuchara: Partake in the of-the-moment sip-and-bite trend with the Basque-inspired bites at this new spot in Woodberry's Meadow Mill Complex. The focus is on pinxtos (two-bite tasting dishes) and made-for-sharing tapas plates. 3600 Clipper Mill Road, 443-708-3838.
Nando's Peri-Peri: Get a taste of South Africa by way of Harbor East at this chain that opened next door to Hyatt Place hotel in Harbor East last week. Fittingly, the restaurant got its start in Johannesburg, and has since expanded with multiple locations throughout Maryland, Washington, D.C., and Virginia. Some of the South African-Portuguese fusion fare includes flame-grilled chicken, stuffed pita sandwiches, and grilled corn and butternut squash. 1300 Fleet St., 443-681-5181.
Smashburger: Fast-casual burger joints seem to be making their mark on Charm City, and the newest one celebrated its debut in Fells Point last week. In addition to its signature seared-to-perfection burgers, the Denver-based chain also offers chicken sandwiches, salads, haystack onion rings, and handspun milkshakes. 616 S. Broadway, 443-992-4919.
COMING SOON:
Alchemy Elements: Fans of Alchemy, located on the Avenue in Hampden, will be happy to hear that owners Debi and Michael Matessa are planning to open an expanded spinoff at the Bel Air Town Center. Slated to make its debut in September, Alchemy Elements will showcase the same New American flair as its sister-restaurant, while adding amenities like al fresco dining and a full bar. Baltimore Pike, Bel Air, 410-494-4860.
Cosima: Donna's co-owners Alan Hirsch and Donna Crivello recently announced that they have broken ground on this new Southern-Italian-inspired project in Hampden's Mill No. 1 development. The owners estimate that the new spot should be up and running this fall. 3000 Falls Road.
CuVino: Be on the lookout for this doctor's office-turned-trattoria that will soon be getting the ball rolling in Timonium. Slated to open later this month, the menu will feature glasses of vino, pizza, classic Italian dishes, and gelato. 61 E. Padonia Road, Timonium.
Dinosaur BBQ: Our mouths have been watering in anticipation of this barbecue joint's arrival for a while now, and it looks like all of the finger-licking eats will finally be available in Fells Point starting this summer. The New York-based chain highlights classics like sliced brisket, smoked chicken, and house-made sausage. 1401 Fleet Street.
Sweetgreen: This D-I-Y salad bar is all the rage in Washington, D.C., and—having snagged the last of the Hyatt Place hotel's 13,000 ft. retail space—it's officially headed our way. No word yet on when the trendy eatery will open, but for a taste of what's to come, be sure to grab some sustainable snacks while jamming to headliners Kendrick Lamar and Calvin Harris at Sweetgreen's Sweetlife Festival May 30-31. 1300 Fleet Street.
CH-CH-CHANGES:
Bottega: Other than its elegant Tuscan fare, the defining trait of this 20-seat space in Station North is its coziness. But come Memorial Day, Bottega will be moving to a larger home in Hampden with more room to breathe. Although the address of the new space has yet to be confirmed, sources tell us that it will accommodate 70 guests, and a portion of the restaurant will remain BYOB. 443-708-5709
Waterstone Bar & Grille: Under new ownership, changes are underway for this Mediterranean spot in Mt. Vernon. In addition to serving breakfast and lunch and making its own in-house roasted coffee, owner Shawn Singh is planning on changing the restaurant's name to Bistro 311 later this month. The menu will also see changes, transforming from Mediterranean fare to South Asian-inspired small plates. 311 W. Madison St., 410-225-7475.