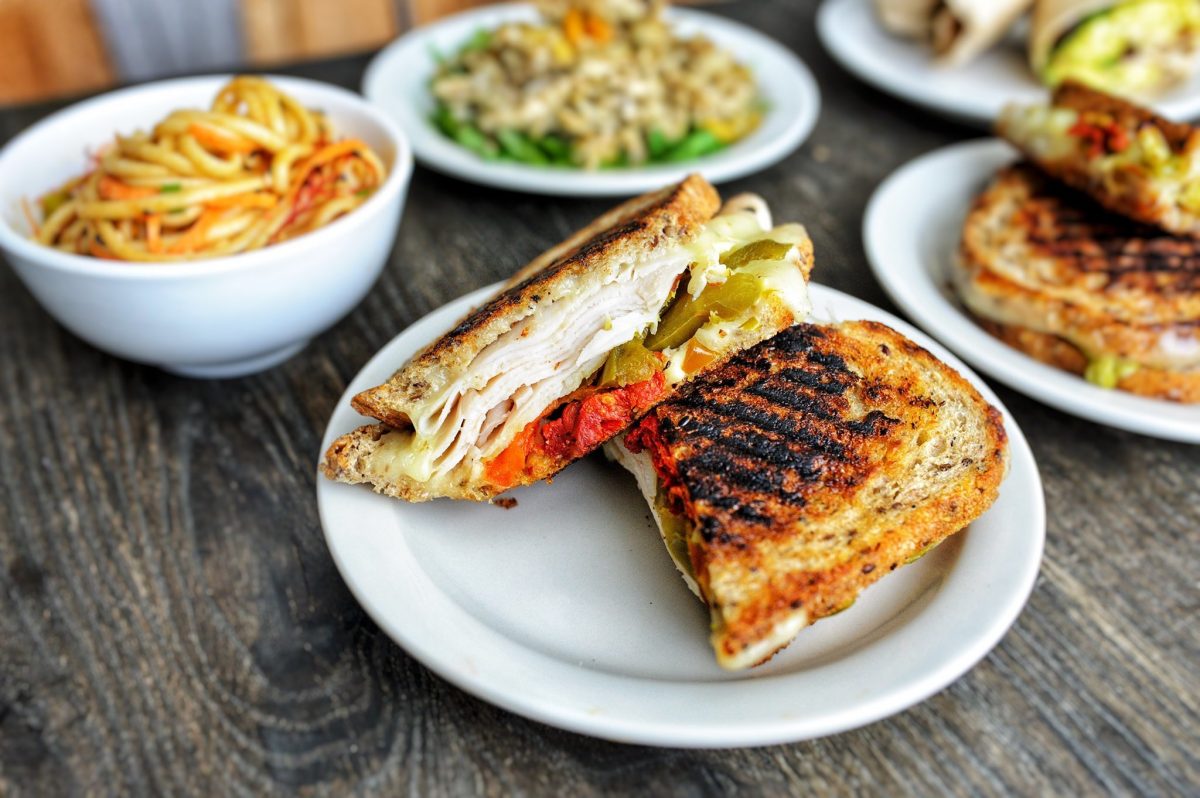 Courtesy of Baby's on Fire
OPEN
Baby's on Fire: The husband-and-wife owners behind Mt. Vernon's record store cafe have taken their love of vinyl to a whole other level. After months of planning, David and Shirlé Koslowski—along with their partner, Michael Bowen, the former co-owner of the Ottobar—have opened a second location inside The Sound Garden in Fells Point. "We're beyond ecstatic to be joining the Fells Point community and to bring them the love we've already been giving to Mt. Vernon," David says. "Coffee shops and bars are all about community, and now with the opening of the Fells Point location, we have a space for that during the day and night." Housed in the store's old vinyl room, the cafe offers Stumptown Coffee and espresso drinks throughout the day, and craft beer and wine in the evening. After flipping through the bins, head into the cafe to read the liner notes over a pastry, sandwich, wrap, or hearty bowl of soup.
COMING SOON
The Manor: Robert Gay and Joshua Persing—the duo who previously operated G.A.Y. Lounge in the Mt. Vernon building that is now The Civil—are breathing new life into yet another one of the neighborhood's historic spaces. In the coming months, they will transform the mansion that previously housed The Elephant, which closed for good amid drawn-out financial issues last spring, into a new dining-and-entertainment concept called The Manor. Alongside a selection of worldly cuisine, the spot will highlight EDM and house music, weekend entertainment, and routine drag brunches.
NEWS
Sally O's: Two weeks ago, Highlandtown locals were saddened by the news that owner Shannon Cassidy would be closing beloved neighborhood hangout The Laughing Pint after 13 years. In her announcement, Cassidy assured patrons that she would be leaving the bar in "wonderful hands." This week, it was announced that those hands belong to industry veteran Jesse Sandlin—a Top Chef alum who most recently has been heading up the kitchen at The Outpost American Tavern in Riverside. Sandlin is currently renovating the bar and hopes to reopen it as Sally O's in February. "It's been a dream of mine for a very long time to own my own place," she said in a post to Facebook. "I'm happy that I'm able to do so in my home neighborhood." Stay tuned for updates.
EPICUREAN EVENTS
11/21: Beaujolais Day at Chez Hugo
Head to Chez Hugo Bistro to celebrate Beaujolais Day—the third Thursday in November tradition that debuts a special red wine made with grapes from the Beaujolais region of France—with French-born chef Steve Monnier. Throughout the evening, diners will enjoy complimentary glasses of the early vintage release of Pierre-Marie Chermette Domaine du Vissoux's Beaujolais Nouveau. Plus, other selections from the fifth-generation grower will be served, and there will also be bottles for sale for guests who wish to add to their own cellars at home.
11/24: Vegan Thanksgiving Pop-Up
Join vegan vlogger Antonio Simpson, more fondly known as The Vegan Mechanic, at this Thanksgiving pop-up that will be 100-percent vegan friendly. Head to The Greener Kitchen in Pigtown for meatless spins on classic smoked ham, deep-fried turkey, and baked macaroni and cheese. The $20 feast also includes Old Bay cajun green beans, garlic mashed potatoes, and fried Caribbean cabbage.
SHUT
Il Palio: This pizza-and-pasta spot inside the Foundry Row development in Owings Mills has closed its doors for good. A sign posted to the front door last week indicated that the restaurant's final night of service was Thursday, November 14. "To the loyal customers we have proudly served, we thank you for your patronage, but regret to inform you that we are closing Il Palio," wrote Kevin Gudejko, director of operations for restaurant group Mainstreet Ventures. Since opening in June 2018, the dining destination became known for its rustic Italian fare including Neapolitan pizzas, bountiful chopped salads, and tableside fettuccini alfredo tossed in wheel of imported parmigiano reggiano.