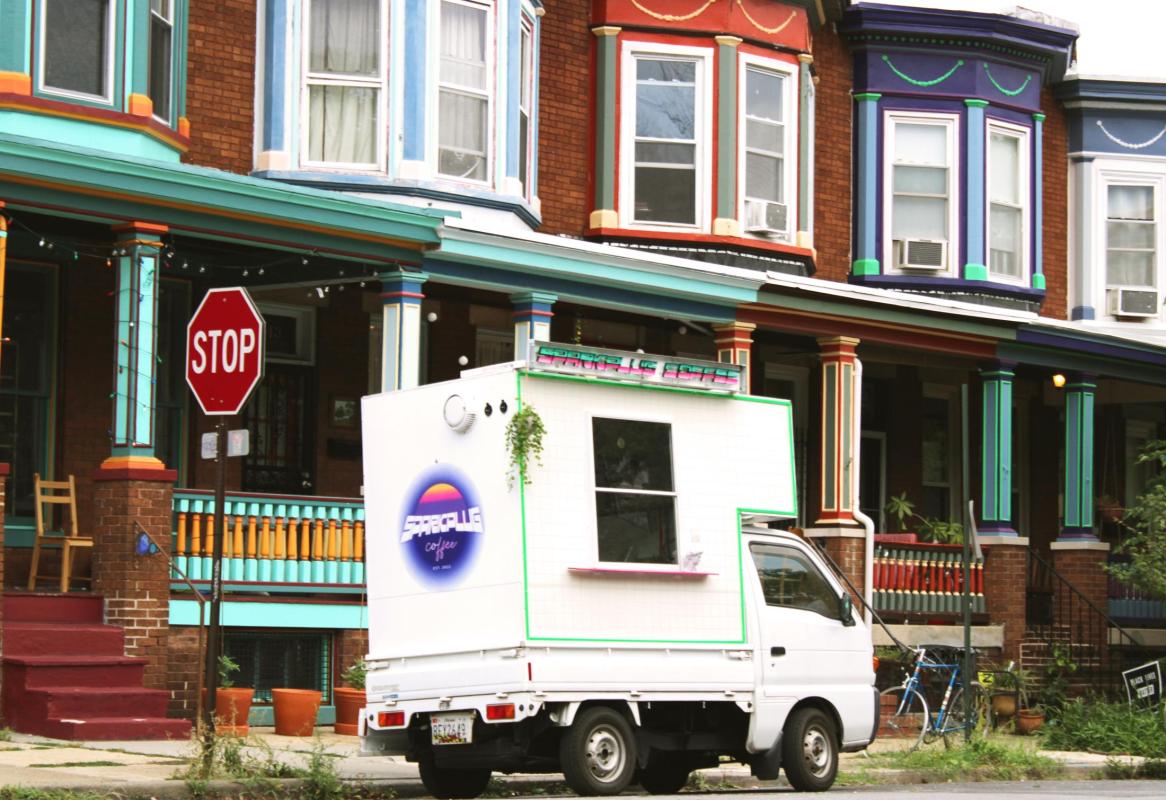 Sparkplug Coffee recently hit the streets selling cold brew with beans sourced from Rise Up Roasters. —Courtesy of Tony Levero
OPEN
Sparkplug Coffee: Maybe you've seen this 1995 Suzuki Carry—retrofitted into a mobile coffee truck—parked by Patterson Park on a recent Saturday morning. Stick-on subway tiles cover the front, while a vapor wave-inspired sign lets you know that this is Sparkplug Coffee. The new concept comes from Tony Levero and his father, Tony Levero Sr. Patrons who happen to spot the truck at the park or at brewery events (you can keep up with its whereabouts on Instagram) can expect cold-brewed cups of joe with beans sourced from Rise Up Coffee Roasters on the Eastern Shore. 
The concept came to be when Levero Sr. mentioned to his son that he wanted to start a food truck of some kind, and the two both love coffee. Levero also previously lived in South Korea for five years, where he often saw kei trucks (which is what his 1995 Suzuki Carry is). "It's a pretty common work vehicle there, and you see people turn them into some really cool food trucks," he says. "We put two and two together and thought this cute little vehicle was the perfect size for selling coffee."
It took a few months for the vehicle to be imported from Japan, and the renovations since then have been completely DIY. "We built everything, from the welding to the floors to the design," Levero says. "My wife, [Heeyeon Kim's] background is in fine arts, so everything you see in terms of design and the logo, that's all her."
Levero adds that he and his dad are currently working on building up the menu, and they're chatting with local purveyors to hopefully offer wholesale baked goods. They have an espresso machine, but it proved futile to use during these hot summer months ("it was melting all of our ice and making life pretty tough," he quips), so expect them to reintroduce espresso lattes in the fall. The truck is also available for private catering or events.
"We very much want it to be an Instagrammable type of experience," Levero says, "and a lot of our customers are millennials or Gen Z, so we want to evoke that nostalgia of, you know, a mall food court—the artificial palm trees, the neon signs, the white square tiles. [That feeling of] you just got the new Britney Spears CD, or your parents are taking you by the Blockbuster on the way home—it's a good night. That's kind of the kind of vibe we're going for."
The Wurst Bar: A speakeasy is now open in Fed Hill. Located upstairs at Crossbar Der Biergarten, The Wurst Bar offers a bevy of classic cocktails like a French 75, an Aperol spritz, a negroni, and a sazerac. The menu also includes a selection of Champagne cocktails and amaros, plus a (very) limited selection of beer and wine. According to the Baltimore Business Journal, the concept comes from Kevin Curley, owner of local sandwich chain RegionAle. He told the paper that he wanted the speakeasy "to feel totally different from Crossbar." The new spot is open Fridays and Saturdays from 4 p.m.-1 a.m. and Thursdays and Sundays from 4 p.m.-midnight.
EPICUREAN EVENTS
8/20: Wilde Thyme Presents: A Garden Dinner
The end of summer means "a beautiful bounty is in store," says Wilde Thyme chef Kiah Gibian. For the occasion, the local food truck and catering company is hosting a garden dinner outside in the medicine garden at newly opened Our Time Kitchen in Old Goucher this Saturday. Gibian—who founded Our Time Kitchen with chef Catina Smith—will use seasonal ingredients to craft a four-course, pescatarian meal. Look out for dishes such as Thai-basil herb butter grilled trout, a grilled summer fruit salad with toasted tahini dressing, and a lemongrass and elderberry granita. The event is BYOB, but a ticket includes a complimentary cocktail. All can be enjoyed in the garden with Our Time's stunning mural as a backdrop.
8/20: Le Monade's Ice Cream Pop-Up
We were so happy to share news of The Stand by Le Monde's opening last month in Mount Vernon. If you haven't stopped by yet, this Saturday is the time. In honor of National Lemonade Day, the shop is celebrating with its first pop-up. From 11 a.m.-7 p.m., owner Carleen Goodridge will be serving up her craft lemonades all day, and Sydney's Ice Creams will be on site with macaron ice cream sandwiches, eclairs, and sorbet. For a special happy hour from 5-7 p.m. only, patrons can expect bites from Goodridge's Liberian concept Cōl Bōl. 
8/25: The Wine Collective's Vermútino Bash
Baltimore's favorite (and only) urban winery turns two this summer. To celebrate, The Wine Collective in Hampden has released two new bubblies: an artisanal spritzer in a can that's a ready-to-drink Spanish version of an Aperol spritz, and a pét-nat (short for "pétillant naturel," which is a French term that roughly translates to "naturally sparkling"). The winery is also hosting a Vermútino Bash on Thursday, August 25, from 6-9 p.m. The ticketed event will be a celebration of all things vermouth and bubbles and include complimentary food, wine, and music by Neil Nines.
8/28: An Evening with Tank at BLK Swan
Harbor East restaurant BLK Swan and Grammy-nominated artist Tank will host a listening party on Sunday, August 28, to celebrate the singer's new album, R&B Money. Attendees can see Tank perform while enjoying a four-course dinner curated by executive chef Saon Brice. Expect dishes like Korean barbecue cauliflower, fire-roasted lamb chops, shrimp scampi, grilled beef tenderloin, and fried Oreo beignets for dessert. Tickets start at $125.
SHUT
Bartenders Pub: Boston Street hangout Bartenders Pub announced August 2 that it would be closed for the day, but, sadly, the closure ended up being permanent. On August 12, the sports bar wrote on Facebook: "We love you. We'll miss you on the reg. We thank you. Cheers." The spot has long been a go-to watering hole for Canton locals, as well as a gathering place to down drafts and enjoy housemade pizzas while cheering on the Terps, Ravens, and Orioles. There's no word yet on what will become of the bar.