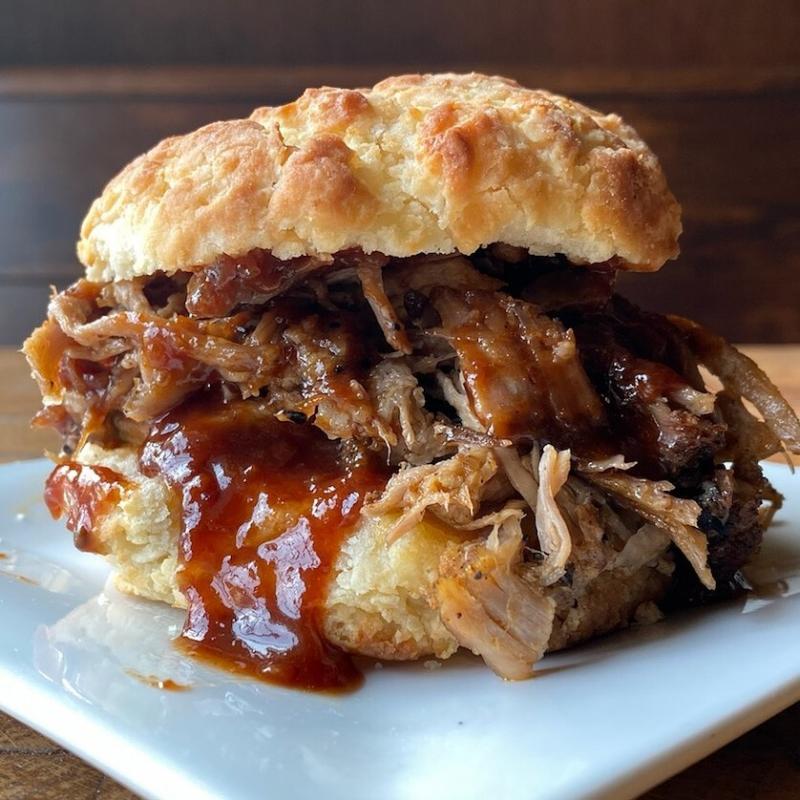 —Courtesy of Blacksauce Kitchen
REOPENING REPORT
Blacksauce Kitchen: Joining the list of heartwarming restaurant comebacks we've seen in the past year is the reopening of this comfort food kitchen in Remington. After chef Damian Mosley's homebase for preparing his famous smoked meats, biscuits, and side dishes sadly suffered a fire four years ago, the community continued to rally around Blacksauce by visiting its stand at the Waverly Farmers Market and placing parking lot pickup orders. Now, locals can snag the dishes directly from the spot's 29th Street home—which has officially reopened for Thursday and Saturday to-go service. "The thing I've been looking forward to the most is really being here, embedded in a space," Mosley said in a video announcement posted to Instagram, "a space that's our own." Stop by this week to officially welcome the team back to the neighborhood and enjoy offerings such as lamb ribs in peach mustard barbecue sauce, a smoked shiitake melt on griddled brioche, smoked cheddar hushpuppies with tomato jam, chicken sausage biscuit sandwiches, and sweet potato ginger bread pudding. 
The Manor Restaurant & Ultralounge: This buzzy lounge was only open for one month before the COVID crisis hit. After taking a year off, The Manor has made its return in the former home of the storied Brass Elephant in Mt. Vernon. The reopening also marks the debut of a new menu by veteran chef Mark Davis, a Baltimore International Culinary School grad whose current lineup includes short rib croquettes, fried oysters with lemon-thyme aioli, a beet and citrus salad, hickory smoked duck, and a house crab cake with mustard vinaigrette. Aside from being a headquarters for drag brunches hosted by Baltimore's own Brooklyn Heights and Evon Michelle, the spot also offers cocktails and evening entertainment. 
In other reopening news, after a yearlong hiatus, Reservoir Hill community favorite Dovecote Cafe recently announced that it will be returning in conjunction with its fifth-annual Juneteenth Festival on Saturday, June 19. At Broadway Market in Fells Point, Fat Tiger is welcoming guests back to the bar this weekend, with plenty of new eats and drinks to go around. After a winter break, Hampden's True Chesapeake Oyster Co. will be back in business at Whitehall Mill beginning April 21. And Topside, Hotel Revival's top-level bar with 360-degree views of Mt. Vernon, is resuming Thursday-Sunday dinner and weekend brunch service beginning tonight. 
COMING SOON
Cōl Bōl Pop-Ups at Larder: Two years ago, Carleen Goodridge—the chef behind local craft beverage company Le Monade—launched this Liberian pop-up as a culinary ode to her heritage. The concept, whose name translates to "cold bowl," is "an opportunity to create and take absolute pleasure in staying accountable to my own legacy, lineage, and pride in a unique culture," Goodridge says. Soon, diners will be able to savor Cōl Bōl's dishes on a weekly basis. Chef Helena del Pesco and the team at Larder in Old Goucher are opening their kitchen to Goodridge, who will host takeovers at the restaurant every Wednesday from 5-9 p.m. beginning on April 21. Look out for Liberian staples such as palm butter and jollof rice, as well as Goodridge's signature takes on West African flavors. Among them are her beloved pepper chicken sliders, cornbread croquettes, and new shortbread biscuit burgers. 
OPEN 
Bonchon: Those who were bummed to see this Korean fried chicken chain shutter in Canton will be happy to hear that a new location opened in Towson last week. The fast-casual spot is now operating in the Goucher Commons shopping center, highlighting its twice-fried wings in soy garlic and spicy varieties. To celebrate, the new shop is offering $1 food specials and free shirts to the first 100 people through the door on April 16. 
The Coop: You might notice a few changes while driving by the former home of Poulet on York Road. Owner Jonathan Soudry recently transformed the cafeteria-style cafe into a brand new concept that focuses on American bistro fare and live music. Now open for lunch and dinner Tuesday through Sunday, the rebranded space features a blue-and-black color scheme, tons of strung lights, and garage-style, roll-up doors perfect for the warmer temperatures. There's also a jam-packed live music lineup throughout April, and new dishes including a pulled pork sandwich, cedar plank salmon, and the "Baltimore Bouillabaisse" with rockfish and blue crab. 
Crazy Puddings: Local pudding purveyor Jamal Wiggins recently moved into a permanent home at 22 W. 25th Street in Charles Village. His shop sells snacks like funnel cakes and wings, but the star of the show is Wiggins' banana pudding recipe that is infused with everything from chocolate chip cookies to Reese's cups. "There's definitely a lot of love and time put into it," Wiggins told us in 2018. "It has to sit for a couple hours to get to where you're either tasting a banana or a cookie in every scoop."
The Food Market Columbia: It's been an exciting couple of weeks for chef Chad Gauss and his crew at The Food Market in Hampden. On the heels of reopening Quality Snowballs—their snowball stand across the Avenue—for the season, they also opened the doors to a second Food Market location in Columbia. The sister-spot off of Little Patuxent Parkway features the same creative plates that regulars have come to know and love in Hampden (think the Amish soft pretzels with beer cheese fondue, Baltimore club sandwich, and half-baked blondie) while also throwing some new options into the mix. 
HalfSmoke: Earlier this month, when this D.C.-based chain unveiled its newest location in Canton, it sparked a bit of a debate. "D.C.'s food scene does not compete with Baltimore," mayor Brandon Scott told The Baltimore Sun while stopping by the grand opening. (He later followed up with a tweet, suggesting a "Taste of the Baltimore-Washington Parkway Battle" to The District's mayor Muriel Bowser.) Despite all of that, locals have flocked to the new eatery in the Canton Can Company to sample the Capitol's classic delicacy—a smoked sausage that is traditionally split down the middle before being thrown on the grill—topped with everything from bacon and beer cheese to Fritos and a fried egg. HalfSmoke also offers a roster of shareable bites (including Charm City-inspired Old Bay crab fries), a full bar, desserts, board games, a photobooth, and an outdoor lounge. 
NEWS 
Lost Ark Dark Distilling Debuts Route One Dark Rum: Nothing says summer like rum cocktails, and Columbia's Lost Ark Distilling is preparing accordingly with the release of its Route One Dark Rum. As its name suggests, the spirit is inspired by Route One, the main path for bootleggers running south from Baltimore through Howard County during Prohibition. Full of "complexity and attitude," according to owner Brad Blackwell, the sip is made with dark brown sugar and rested on charred white oak. Swing by Lost Ark's tasting room to sample a rum cocktail (the "Lost & Stormy" features ginger beer and lime juice) or grab a bottle from select liquor stores throughout the region. 
SHUT 
Ida B's Table: Last week, the board of this downtown soul food spot made the "unpopular decision" to close its doors for good. "Many of you have been with us from day one," reads a message addressed to guests. "You have experienced the peaks and valleys in our pursuit of excellence. Unfortunately…Ida B's has made the tough decision to close our doors." The statement went on to thank the guests and neighbors who have supported the spot since it opened in 2017. Under the longtime stewardship of chefs David and Tonya Thomas—who left the restaurant last year to launch H3irloom Food Group—Ida B's became known for its dishes that sparked conversations about the history and pioneers of modern soul food.