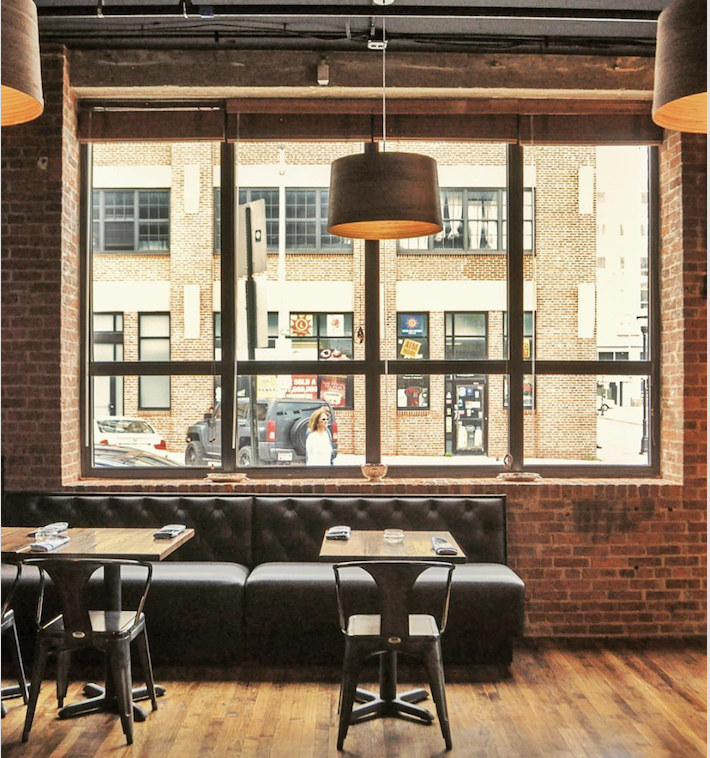 @fleetstreetwriteup via Instagram
Back in 2015, local journalism nonprofit The Real News Network approached chef David Thomas about partnering to open a restaurant inside its downtown building on the corner of Holliday and Saratoga streets.
"The Real News is this no-nonsense organization that is very much trying to be a voice for the voiceless," Thomas says. "And, in most cases, that is those in the African-American community. It really made sense to me that this restaurant paired nicely with their mission."
This weekend, after more than one year of planning, Thomas will officially debut Ida B's Table—his homage to legendary journalist and civil rights activist Ida B. Wells that emphasizes modern soul food.
"The only true American cuisine is Southern cuisine," says Thomas, who previously owned Herb & Soul in Parkville. "When slaves came from Africa, they brought foods like yams, watermelon, and salted fish, and the natives helped us to cultivate the land. I just want people to understand that local sustainability was not cliché for the slaves—it was how they survived."
To properly introduce the community to the new concept, Thomas and his wife, co-partner Tonya Thomas, will be hosting a star-studded lineup of grand opening events running from Saturday, September 23 to Tuesday, September 26.
The celebration kicks off on Saturday, September 23 with a special event featuring activist and Hollywood actor Danny Glover (think Lethal Weapon and Angels in the Outfield.) Glover sits on the board of The Real News Network, and Thomas says that he has been involved in the restaurant since the beginning.
"Most restaurant openings don't have this type of fanfare unless you're a big chain or a big-name chef," Thomas says. "But Ida B. Wells is worthy of that type of spectacle."
Aside from sharing his grandmother's monkey bread recipe with Thomas to feature on the menu at Ida B's, Glover will also be cooking up his family's time-honored gumbo for the event.
"The recipe has been passed down in his family for 100 years," Thomas says. "I'm always excited when I can put my hands on that much history."
Saturday's ribbon-cutting will also feature a talk by Chicago-born author Michelle Duster, a direct descendent of Ida B. Wells who will read passages from her books detailing her great-grandmother's work and legacy.
Emceed by local musician and Real News correspondent Eze Jackson, the evening's program will also highlight live jazz sets by Ama Chandra and Lafayette Gilchrist. And, of course, Thomas will be whipping up a special prix-fixe meal for all attendees featuring Glover's gumbo, fried chicken with pimento cheese, wild game hen, and biscuits with caramelized peaches and cardamom-sorghum whipped cream for dessert.
The grand opening festivities continue with a family-friendly workshop led by local music educators Jamaal "Mr. Root" Collier and Max Bent on September 24, a special industry night on September 25, and a presentation by culinary historian Michael Twitty paired with a meal inspired by his book on September 26.
Though Thomas is no stranger to the local culinary scene, he says that it's refreshing to be able to launch something new.
"Restaurants are like babies," he says. "You conceptualize them, and think and dream about them for so long that, even once you get them up and running, your mind never stops working. I'm always looking forward and thinking ahead."