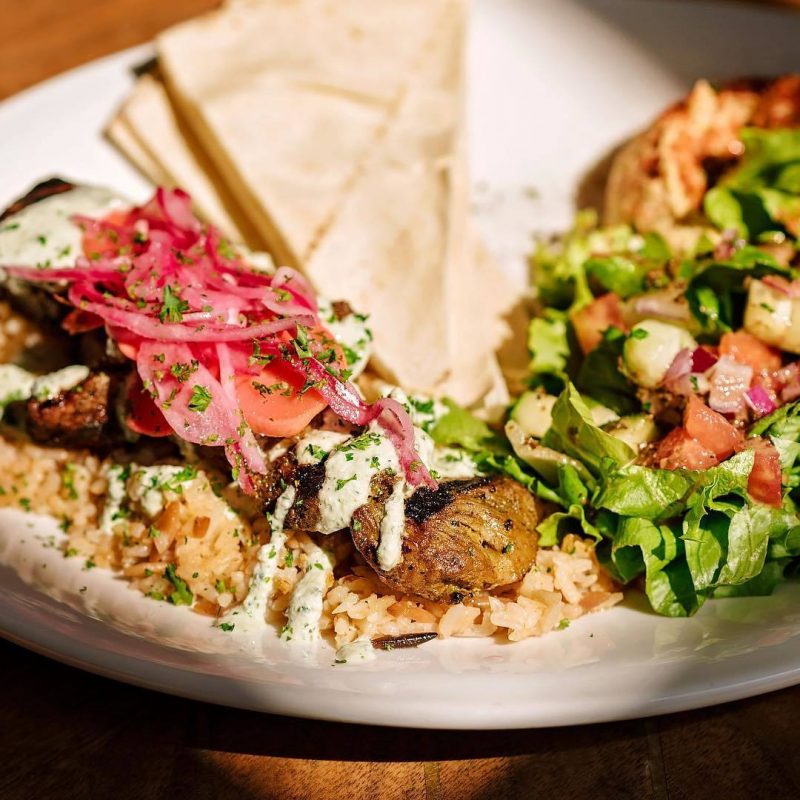 Arba Mediterranean
NEWS
Arba Set to Close Inside R. House: After three years, Arba Mediterranean—one of the original vendors on R. House's opening roster—is set to close for good inside the food hall on November 26. "It was very special to be a part of the opening of this place," chef Farid Salloum said in a statement. Luckily, Salloum's South Baltimore flagship Baba's Mediterranean Kitchen will remain open for diners to get their fix of shawarma, falafel, fresh-baked pita, and delicious dips. Come December, the Arba stall will transform into a yet-to-be-announced concept from a new owner. Stay tuned for more details.
Jason Hisley Returning to Food Network: Baltimore baker Jason Hisley took to social media earlier this week to announce his return to Food Network this holiday season. Loyalists know the owner of Cake by Jason as a previous winner of nationally televised competitions including Cupcake Wars and Cake Hunters. On December 1, he will appear on the network's Holiday Wars, a four-episode competition that pits teams against one another in a series of festive baking challenges. We'll be rooting for Hisley, hoping he brings the $25,000 grand prize—and massive bragging rights—back to Baltimore.
OPEN
Chopt: A number of trendy fast-casual chains have made their way to the area in the past few years, and this DIY salad spot has followed the pack with five locations scattered throughout Maryland. The latest opened in Annapolis earlier this week, offering the brand's massive salads and bowls made with customizable add-ins and scratch-made dressings. (Think "Moroccan Market" or "Kebab Cobb" varieties.) Stationed at the Festival at Riva shopping center, the 66-seat eatery pays homage to its location with maritime-themed decor. Here's hoping the brand continues its expansion—next time a bit further north toward Charm City.
EPICUREAN EVENTS
11/03: TasteBuds: A Snack Food & CBD Festival
Coming to Maryland for the first time ever, the TasteBuds Snack Food & CBD Festival is creating a special day of munchies, music, and CBD education at Power Plant Live. From 1-6 p.m., more than 15 local food trucks will be combining the best snack foods with gourmet dishes—including a dipping fountain station with chocolate, nacho cheese, ranch, and cream cheese frosting. There will also be live music by Badfish with special guest Howi of Ballyhoo, Twinkie and Flaming Hot Cheeto-eating contests, and snacks galore.
11/5: Tacos, Etc.
If you've been meaning to advance your taco-making skills past the boxed hard shell kits you buy from the grocery store, this special Schola cooking class is a great opportunity to delve into the many facets of the savory dish. Guests will discover the vastness of traditional Mexican delicacy by crafting tacos filled with fried fish, beef tongue, a variety of salsas, and other toppings.
SHUT
The Hot Dry: It's only been two months since the team behind La Cuchara transformed their former Riverside restaurant Minnow into this spot honoring the Hubei region of Central China. Just as diners began to see The Hot Dry find its footing—serving up soup dumplings, barbecue buns, and spicy Mala Chicken—it shuttered suddenly earlier this week. Chef/co-owner Ben Lefenfeld confirmed the closure to Baltimore, adding that though the team loved making the food and serving diners who came to enjoy, the concept was not "financially viable." There's no word yet what will take over the spot on the bottom floor of the 2 East Wells apartment complex, which now has two vacant restaurant spaces after the closure of Baltimore Soup Company many months ago.
*Additional reporting by Emily Kunisch.