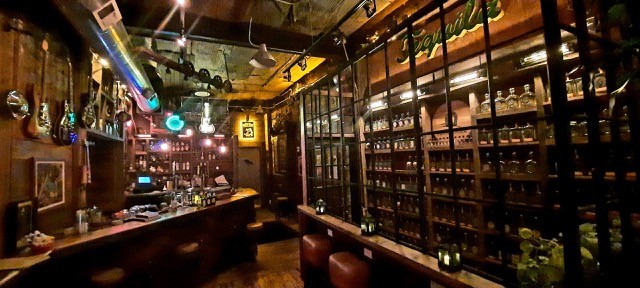 — Courtesy of Clandestino.
OPEN
Clandestino: The secret is out: the furtively named Clandestino, a tequila and mezcal bar, has opened inside Tex-Mex restaurant Zen West on a corner across from Belvedere Square. Clandestino is the latest project from manager and longtime local bartender Charlie Vascellaro, who has been working in bars and breweries around Baltimore for 20 years—12 of them at Grand Cru. "I've had a long-established relationship with this corner and the people in this area," Vascellaro says. "This is a homecoming for me."
Vascellaro was approached by Zen West owner Po Chang to transform the space in the back of the restaurant that was primarily used for private events. "He built this room with his own two hands," Vascellaro says of Chang. Just as its name implies, Clandestino is meant to be dark, tranquil, secret. "It's fun having that element to the place," he adds. "You wouldn't know it was there. You literally have to push on the wall [for] a secret door."
Those who do find their way to the secret bar will see guitars and posters from the SXSW festival adorning the walls, reflecting Chang's passion for music and his years spent in Austin. "The place has a decidedly Southwest feel to it," says Vascellaro, who grew up in Arizona.
The menu features signature tequila and mezcal cocktails, like the popular Matador, made with tequila, jalapeño-infused pineapple juice and lime. Vascellaro serves up classic cocktails as well, like old fashioneds, Manhattans, and martinis. While patrons can order food from Zen West to pair with their cocktails for now, Vascellaro hopes to add his own food menu someday down the line.
For those interested in stopping by (or booking the space for a private function), Vascellaro says to expect something different. "It has a different feel than any bar I've been to in the city here, and they can have fun trying to figure out where we are," Vascellaro says. "Put your hands on the wall, and you'll find the door eventually."
Clandestino is open Wednesday, Thursday, and Sunday from 4-11 p.m. and 4 p.m. to midnight on Fridays and Saturdays.
Sweetgreen: A new Baltimore-area location of this fast-growing salad chain is now open in Towson. The new location, at 1 E. Joppa Rd., is part of mixed-use development at Circle East. Those who download the Sweetgreen app can order delivery or skip the wait by ordering ahead for pickup.
Pure Raw Juice: Pure Raw Juice has opened its seventh location. The new location in Canton—serving signature smoothies, juice blends, and acai bowls—is located near organic grocery store Sprouts Farmers Market at 3810 Boston St. This detox destination joins other locations in Timonium, Towson, Hampden, Locust Point, Federal Hill, and Bel Air.
COMING SOON
Judy's Island Grill: This family-owned and -operated chain—which began in 2004 as a takeout-only operation in Park Heights—will soon welcome its fifth location in Canton in the former Myth & Moonshine space on Boston Street. Along with Park Heights and now Canton, Judy's Island Grill, which serves Jamaican fare, also has locations in Glen Burnie and in Powder Springs, Georgia, and Toronto, Canada.
Co-owner Freka Scott says the opportunity to open in Canton simply presented itself. "I had been looking for a new location for two years prior to COVID," she explains. "COVID put things on pause. Then last year my realtor told me about an auction with the existing restaurant [Myth & Moonshine]. I put a bid in, and it worked out. The stars aligned."
Scott expects the Canton location to have a more extensive bar menu and bar fare (finger foods, small plates). She also plans to offer brunch on Saturdays and Sundays, a first for the chain. The space remains the same as when it was Myth& Moonshine, with added colors for an island feel, as well as colors found on the flags for Jamaica and Africa.
"The plan is to have a soft opening for six months, and then shut down and do a full renovation, with a grand opening in 2023," Scott says.
Canton residents and Baltimore diners alike can stop by during the soft opening—and try Judy's fan-favorites like jerk chicken, oxtail, and chicken curry—which Scott hopes to kick off the first week of May.
"We're excited to be in the neighborhood," she says. "We want to bring a different flavor, something unique to that neighborhood. We want to make it a family-fun atmosphere. It's more than coming in to eat. It's an experience."
Aveley Farms Coffee: On April 5, Aveley Farms unveiled more details about its new location. The local coffee roaster announced late last year that it would move from its Harbor East digs, which are being redeveloped into apartments. Sights are now set on Towson at 42 W. Chesapeake Ave. near Towson Row. Construction began in early April to convert the building into Aveley's new cafe. "Having grown up in Towson, this is extra special to be able to expand Aveley into my hometown and become part of the greater Towson community," owner Corey Voelkel wrote on Instagram, adding that the new space will "honor our roots and keep our industrial, West Coast vibes with an updated and modern twist." Fans can expect a summer 2022 opening.
Taco Mama Cantina: The former Jazz & Soju space didn't stay vacant for long. SouthBmore.com reports that Mexican restaurant Taco Mama Cantina will take over 900 E. Fort Ave. at Anthem House in Locust Point, and says it will be "a spinoff concept from the owners of Taco Daddy Cantina in Frederick and Taco Bravo in Timonium." Expect favorites like tacos, nachos, and quesadillas with margaritas and sangria—and an opening date of late May or early June, according to SouthBmore.com.
NEWS
Two New-to-the-Market, Black-Owned Businesses Join Lexington Market: Slated to open this fall, the new Lexington Market now counts 28 vendors. Blacksmiths, serving Southern-influenced breakfast and brunch, and Platinum Amala, a West Baltimore-based, West African cuisine family operation are the latest to join the lineup at the historic market.
This will be the first brick-and-mortar location for Blacksmiths, run by chef/owner Heather Smith. She'll offer everything from quick omelets and breakfast sandwiches for weekday commuters to slow-cooked meats, greens, grits, homemade brioche French toast, and classic brunch cocktails and a non-alcoholic menu for weekend brunches. Smith fondly remembers visiting Lexington Market with her parents for lunch while growing up in Baltimore. She started Blacksmiths eight years ago and has often done pop-ups across the city at places like R. House and Dovecote Café.
This will be the third location for Platinum Amala, co-owned and operated by mother and son Khadijat Abiola and Basith Salami. The duo also run their original West Baltimore location on Edmondson Avenue and their food truck location on Liberty Road in Randallstown. Lexington Market goers can expect scratch-made West African classics like jollof rice, fufu (a dough-like food made with starches like cassava, yams, or plantains that's typically served with soups, stews, and sauces), suyas (spicy meat skewers), and stews. "We're excited to serve a broader audience at Lexington Market and introduce more people to West African food," Abiola said in a press release.