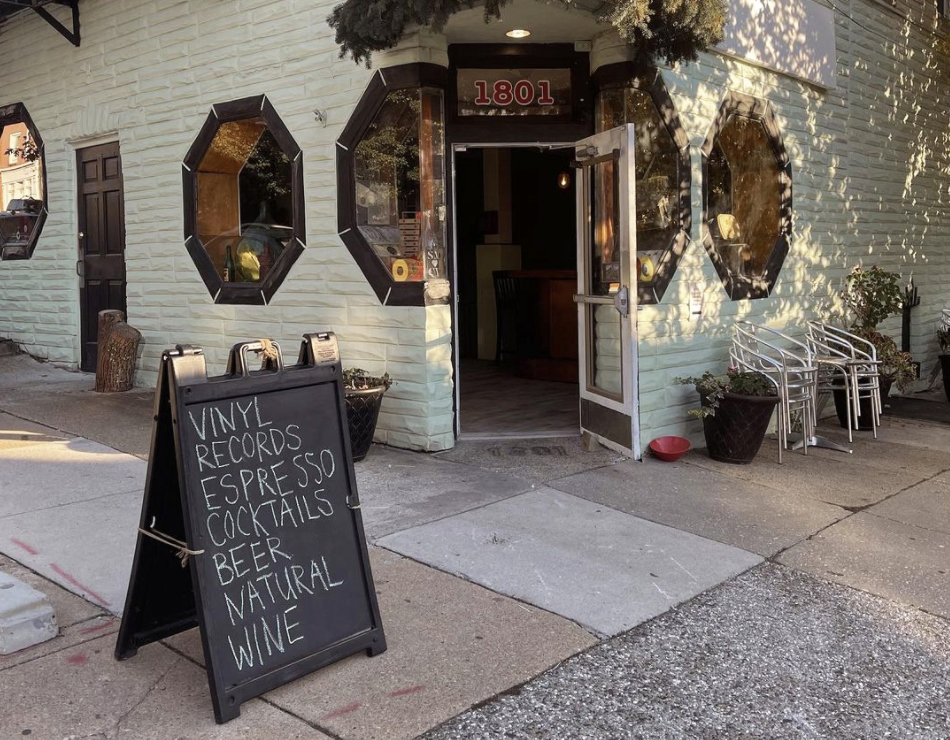 Bar 1801, a pop-up from the team behind Secret Sauce Co., is now open in Upper Fells Point. —@bar.1801 via Instagram
OPEN
Bar 1801: The brains behind condiment company Secret Sauce Co. have opened yet another burger pop-up, this time in Upper Fells Point. Matthew Steinberg and Vaughn Weitzman (the chef behind the Farm to Charm food truck) first formally introduced Secret Sauce—which counts among its offerings a "not-so-classic" version of ketchup and a habanero-carrot hot sauce—at their burger pop-up at the Lost City Diner in Station North in 2018. (They were also part of the opening team at North Ave. Market.) At the new spot, Bar 1801—named for its location at 1801 E. Lombard St.—locals can expect natural wines, a cocktail list, and, of course, burgers that make use of the signature sauces. (Vegan ones, too.) Feeling musical? There's also plenty of vinyl on hand to flip through. Bar 1801 is open Wednesday through Sunday, 4 p.m. to 1 a.m.
London Chippy: Remington's venerable R. House has welcomed a new vendor to its rotating pop-up stall. DMV-area food truck London Chippy will serve its famous fish and chips (with cod or haddock, all freshly hand-cut each morning) inside R. House through November 29. Owner Anthony Robinson, who hails from East London, tells us that the reception so far has been "phenomenal." Along with its two food trucks, London Chippy had most recently set up shop inside Epiq Food Hall in Woodbridge, Virginia, but Robinson said they quickly outgrew that space.
At R. House, Robinson says it hasn't been uncommon to see U.K. natives, through word of mouth, stopping by to get a taste of home. He mentions that some have traveled from Philadelphia and even as far as Boston. And even though London Chippy's R. House spot is only temporary (get those fish and chips, lobster rolls, and crab fries while you can,) Robinson says since the response here has been so great, a Baltimore brick-and-mortar down the road isn't out of the question.
COMING SOON
New Peter Chang Restaurant: After the acclaim that his family has seen with NiHao in Canton, award-winning chef and restaurateur Peter Chang is opening another concept in Maryland—now with his sights set on Columbia. Developer Howard Hughes Corp. recently announced that Chang will debut a new 2,900-square-foot restaurant at 6000 Merriweather Drive in downtown Columbia's burgeoning Merriweather District. Located in front of Color Burst Park, the space will offer both indoor and outdoor seating when it debuts in the fall of 2022. Chang's restaurants have earned praise from The New York Times, Washington Post, and Travel & Leisure. Those who don't want to wait until next year to try his Szechuan delicacies can visit his much-lauded Bethesda spot, Q by Peter Chang.
Stuggy's: Along with M&T Bank Stadium and Oriole Park at Camden Yards, Stuggy's fan-favorite franks will soon be available on Fleet Street in Fells Point. The hot dog spot plans to move from its cozy digs on Broadway to 1928 Fleet Street (which was most recently home to Papi Cuisine, before it moved to South Baltimore.) Owner Ryan Perlberg tells the Baltimore Business Journal that the new space will offer, of course, its famous hot dogs, as well as a variety of sandwiches and even a full bar program. That means patrons can dine in, in addition to ordering carryout. Stay tuned for more updates.
NEWS
Ekiben to Debut Food Truck Next Month: Fans of Ekiben can soon find the restaurant's crispy tofu nuggets and Taiwanese curry fried chicken on wheels. Co-owner Steve Chu says an Ekiben food truck is set to hit the road next month. "We've always wanted to show up as a food truck," he tells us. "We had a good opportunity, and we took it." Chu adds that menu will be similar to the offerings found at Ekiben's locations in Fells Point and Hampden. The truck, which Chu says is available for events or for parking outside offices, is already booked for some dates near the end of 2021 and into 2022. "Get your reservations in as soon as possible," he advises. If you're interested in booking the truck, send an email to [email protected].
Aveley Farms Coffee Moving to Towson: After more than two years in Harbor East, local coffee roaster Aveley Farms announced it's relocating to Towson sometime in 2022. "We chose Baltimore because it's home, because we wanted to be part of the growth and development that's happening here," said owner Corey Voelkel in a video announcing the relocation. "We wanted to bring the world's best coffee back to the people of Baltimore. Unfortunately, it's time for our building to be developed and become part of that growth." Voelkel is referring to the sale of the Harbor East warehouse—which houses Aveley, Su Casa, and other retailers—to a local developer who plans to transform it into apartments. Aveley will close by the end of the year, with expansion plans underway to open a new location in Towson in the spring or summer of 2022.
SHUT
Full Circle Doughnuts: Sweet tooth fiends in Hampden will no longer be able to walk up the pink stairs with hand-painted sprinkles to grab colorful creations from Full Circle Doughnuts. After four years in business, the Hampden shop's last day of service will be November 20, owner Courtney Fix announced on Instagram. "I want to genuinely thank everyone who's taken the time to support not only the doughnuts but me and my dreams," she wrote. "This shop was something I've been creating in my head since I was little girl, and being able to accomplish everything I said I would before I turned 33 is something I will always be proud of." Fix added that Full Circle's final day of service will also be a celebration of the shop's fourth anniversary. She concluded, "Let's leave this town as loud as we came in, shall we?"
Greg's Bagels: Tommy Hearn, who took over this Belvedere Square mainstay from late owner Greg Novik in 2017, announced on Facebook earlier this week that he has closed Greg's at its current location. The cafe is moving to Fells Point in the spring, and Hearn plans to disclose the exact address to customers within the next week. "It's been an amazing 33 years at Belvedere Square," he wrote. "We have plans for a 10-year lease at our new location. We are excited to move forward and create our new space." Hearn went on to assure that, although there will be opportunities to update kitchen equipment and ordering processes, the name will still be Greg's Bagels, and Novik's traditions will live on.