Prodigal Daughter
Lydia Chang, daughter of the famed chef Peter Chang, makes a name for herself with Canton's NiHao.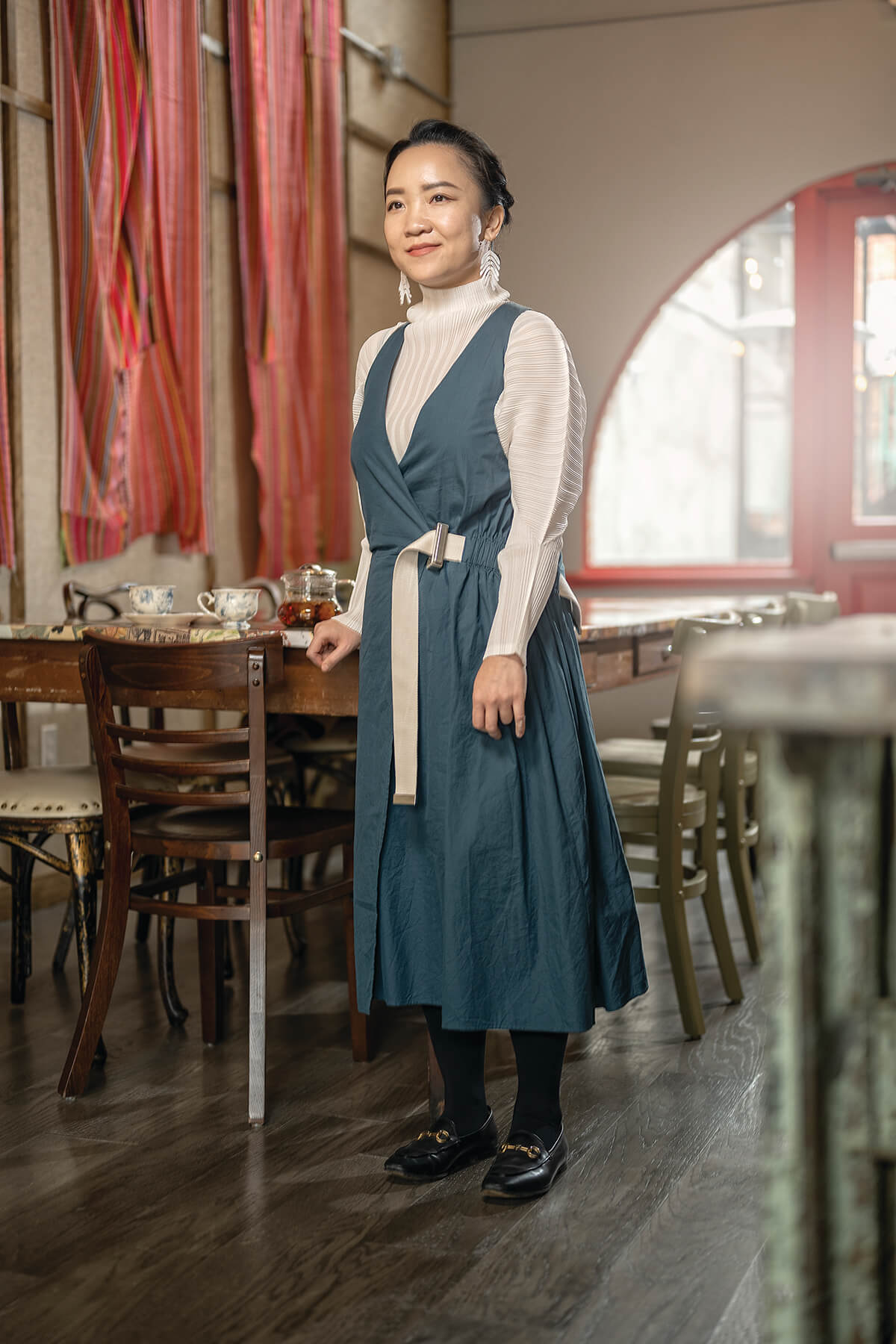 Lydia Chang greets me with an offer of tea. She's seated at table No. 22 in the empty dining room of NiHao, the revolutionary new Chinese restaurant she co-owns in Canton, and even on a cold December morning, her warmth is apparent.
"It's half pu'er, which is a Chinese black tea," she says, as she sips from her own cup. "If it's harvested today, you can drink it, but over time, it can last over 20 years. Something like this could be as valuable as a glass of vintage red wine."
So, is this one worth big bucks?
"No, this one is pretty new," she says, as she lets out a surprisingly substantial belly laugh considering her diminutive size. While the 5-foot-3-inch Chang may be small in stature, her reputation in the culinary world has been growing since she opened NiHao in July, in the middle of the pandemic. In November, Esquire placed it fourth on its list of best new restaurants in America. An impressive achievement, for sure, but even in that brief, 104-word write-up, hers was not the first Chang name mentioned. That was her famous father, chef Peter Chang, described as "the elusive Mid-Atlantic legend of Szechuan cuisine."
His would be rather gargantuan footsteps to follow. Luckily, his only child isn't trying. She's a key part of his empire, and at NiHao, she's leading the charge. Lydia Chang, 33, is a manager, marketer, front-of-the-house designer, menu shaper, and visionary. Basically, she does everything in the restaurant business—except cook. At NiHao, which is a part of her father's company, her business partner, executive chef Pichet Ong, mans the kitchen.
"I like to say I am an excellent eater," she says, letting out another of those laughs. "I spend more time eating out, tasting, doing R and D. Cooking is something I know I would never be able to compete with in my family. I withdraw myself from that competition."
So far, her efforts are paying off. NiHao is wildly popular, and at least one important observer has certainly taken notice. You don't need to read in between the lines to understand that her father had reservations about his daughter's vision, if not her abilities.
"I was prepared and ready for the cleanup and aftermaths of a failure," Peter Chang writes via email, his preferred method of communication. "I thought to myself, there's only a 30 percent chance it could turn out to be a [sound] business. She could come to me one day begging for help or money. However, I still need to give her a chance to prove herself. I was observing from a distance and patiently waiting for the moment to come. Well, now we know, NiHao is on the journey to become its own thing—very different from what I have done. Of course, I'm pleased and admire her courage. Without much of my involvement, she pulled it off."
Born in China, Lydia Chang grew up in the city of Wuhan, capital of Hubei province. Despite the fact that both her parents were chefs, it was her grandmother's cooking that shaped her then admittedly bland palate. Her favorite dish was ground pork—"I liked it very, very dry over rice," she says.
"Mom and dad were like visitors because they were working so much," she says. "Dad has a schedule, he goes away to work for 10 days, comes back for one-and-a-half days. He was a chef working for a cruise company along the Yangtze River. Mom worked as a pastry chef sometimes from 5 a.m. to 6 p.m."
She lived with her grandma until she was 14, when her parents brought her to Washington, D.C., where her father was the chef at the Chinese vice ambassador's residence. She knew little English (she speaks Mandarin and the dialect of Wuhanese) but was excited for the opportunity to experience a new culture. She assimilated to American life easily, helped by watching Disney movies and the fact that she made friends in her English as a Second Language (ESL) class at Woodrow Wilson High School.
The toughest adjustment was one many 14-year-olds struggle with—living with her parents, whom she wasn't used to having around all the time. One perk: They cooked her daily meals. Her father's baked cod with breadcrumbs became a favorite. The butter, soy, and pickled chili flavors in the dish began to awaken her taste buds.
After high school, Chang was on the move again. She attended King's College in London, where she earned a business degree. She relished the art, history, and food in the city, where Cantonese cooking is a staple. During this time, her father's fame began to grow. He worked at restaurants throughout the southeastern United States, displaying such a prowess (and a reputation for restlessness) that national publications like The New Yorker ran fawning pieces headlined "Where's Chang?" and "Chef Peter Chang Disappears Again."
In 2011, he opened his first eponymous restaurant, in Charlottesville, Virginia. It was an instant hit, and he began having conversations with his daughter overseas about the financial side of the business. Her suggestions centered on marketing and providing customers with a reason to come back.
ESQUIRE PLACED NIHAO FOURTH ON ITS LIST OF BEST NEW RESTAURANTS IN AMERICA.
"He liked to keep me updated with everything that was going on," she says. "I don't even know how much of my advice went into the way he's doing things, but he liked for me to be engaged."
After graduating from college in 2013, she went back to China to visit her grandmother and work as an intern in the banking industry, which she quickly realized wasn't for her. So, at the beginning of 2014, she returned to the United States and joined her father's company as a general manager trainee at his poorly performing restaurant in Fredericksburg, Virginia.
"That was like, 'You are new, I can't put you somewhere that is already super busy that's on the right track, you might create more problems,'" she says. "That was a time when I saw we had so many restaurants in different markets, but we were doing the same dishes. I realized that you could have the same brand with a similar menu with equally tasty food, but every market responds differently to who you are."
After stabilizing that restaurant, largely by emphasizing customer service, she left to become GM of the new Peter Chang in Arlington. It was a smashing success on a level the family hadn't previously experienced. Glowing reviews in Washingtonian and The Washington Post led to lines out the door and phones that never stopped ringing. Still, the family didn't think this was the time to slow down.
In 2017, they opened Q in Bethesda. Her father wanted to name it "Qijian," a Chinese word for "flagship." His daughter convinced him otherwise. "I said, 'I don't think people can remember that. Why don't we just take the first letter, Q? It's very easy to remember.'"
Next came Mama Chang, a restaurant that serves the style of Chinese food Lydia remembers from her childhood. At first, her father was not thrilled by the concept.
"I was not on board with the direction of the menu at the beginning—the homestyle cuisine," he writes. "She proved me wrong—it was well-received and accepted by diners and food critics alike. It's quite obvious that she knows what the market wants. She was able to communicate a unified message with the media, diners, and followers to understand what I'm trying to do with Chinese cuisine. Chinese cuisine is diverse and multi-layered in tastes, texture, execution, and flavors—she becomes the voice and the storyteller. We can operate different concepts due to her understanding and knowledge in these markets."
By then, Lydia had met Ong, who worked for the company and had become a friend. The pair started discussing opening a restaurant in Baltimore, a city of which they had grown fond from frequent visits. "As I started to spend my weekends here, I liked the museums, the parks," she says. "I feel like this city has so much artistic and cultural attraction. It's very diverse."
They bought the former Fork & Wrench building in Canton, but transforming it to fit their vision of a sophisticated, yet comfortable restaurant took much longer than they anticipated. Then the pandemic hit. It was a formula for failure, but Chang never allowed herself or her team to feel defeated.
"I think she represents the new generation of restaurant operator. She's very open-minded," Ong says. "A lot of times, you have an emotional response to something, but she doesn't think like that. She thinks more about what's best for the business. That makes a difference."
When COVID-19 began ravaging the restaurant business, Chang knew she had to pivot. She hauled the old Fork & Wrench furniture out of storage and challenged her team to think about how they could refinish it. They painted chairs and tables and created a communal table with advertisements and postcards printed from Google. They were able to project the homey feeling that Chang loves, even though she hasn't been able to share it with guests very often. When it opened, NiHao was strictly takeout and delivery, even at a time when outdoor and some indoor dining was permitted, primarily out of her concern for the safety of her employees.
"NIHAO IS SOMETHING THAT WAS NEEDED ON THE BALTIMORE FOOD SCENE."
"NiHao is something that was definitely needed in the Baltimore food scene," says Steve Chu, owner of Ekiben, which has done pop-ups with NiHao. "They bring something different. The interior of that space is absolutely gorgeous. When people go there and people try the food for themselves, they'll know."
Despite the obstacles, NiHao's food was the talk of the city's culinary scene from the moment its first Peking duck was sliced. (Some people place their duck order online just after midnight to ensure that they'll have one for dinner the next night. NiHao has been known to sell out of the birds.)
Chang bristles, albeit smilingly, when asked to pigeonhole the region of Chinese cuisine her restaurant serves. Rather than describe it as Szechuan or Cantonese, she prefers to label it "contemporary" Chinese.
Here you won't find 10 different kinds of fried rice or every variety of noodle dish known to man.
"We focus a lot on the quality ingredients," she says. "The flavors have the Chinese flavor as the fundamentals, but it's our take on how it works with the modern cooking techniques. Generally, Chinese food is cooked on the wok. The heat is super high, and you would add all the flavors as you cook the dishes. However, here we try to do more of a western way of cooking all the sauces."
Peter Chang says he has had a minimal impact on the menu. He visits the restaurant once a month to conduct cooking demonstrations and taste new menu items. The signature Peking duck recipe is his, but other takes, like the blue-crab steamed buns and Chinese meatballs, made with minced pork, sticky rice, water chestnuts, ginger, and salted egg yolk and served with daikon, are Ong's and Lydia's.
The two have eaten their way around Shanghai and Thailand together. Lydia, who's an American citizen, is truly a citizen of the world, a fact she thinks helps her relate to people from all backgrounds.
"My dad likes to say you grew up in China, you have this Eastern part in you, but you developed most of your adolescence here in the U.S. and you went to school in England. Your value system is essentially formed in the Western culture," she says. "I like to say I am bridging those gaps. I'm able to respect what the Chinese value or tradition says about respecting the elderly and the strong family values, but at the same time, the Western culture has taught me to be independent, to express how you feel."
Her father, sometimes reluctant to offer praise, believes she has what it takes to succeed in a business in which he already thrives.
"She found her passion and interests while working on creating different concepts," he notes. "She has become a restaurateur in her own way. She has the potential to achieve many things."
Clearly, she's off to a hell of a start.