Yes, We're (Really) Open!
Get to know the restaurateurs rolling the dice and opening smack dab in the middle of the pandemic.
FOUR DUCKS HANG IN A ROW in the NiHao kitchen, ready to be sliced for the dinner rush. The birds are at the end of a final stage of a five-day preparation cycle during which they have been dried; marinated with star anise, orange juice, cinnamon, clove, and ginger (among other things); baked; and then roasted. Their next stop is the cutting station before they are plated and served piping hot to salivating guests in the bustling dining room.
At least that was the vision Lydia Chang and chef Pichet Ong had for their Chinese restaurant in Canton when they bought the building that formerly housed Fork and Wrench back in 2018. How long ago that seems now. On this Thursday evening in early September, like every night since the restaurant opened three weeks earlier, the order of Peking duck is plopped into a to-go container with brown rice buns before being placed in a paper bag.
After all, this is 2020, and boxes of supplies—not customers—occupy NiHao's second-floor dining room. One of the city's most eagerly anticipated restaurants in recent memory is, at least for now, a glorified takeout joint.
That COVID-19 has been devastating to restaurants is no secret. The Restaurant Association of Maryland projects that 40 percent of all of the state's restaurants could close permanently unless restrictions are lifted and customers begin supporting them regularly again. But in the summer and early fall, another, far tastier trend began to emerge: restaurateurs rolling the dice and opening smack dab in the middle of the pandemic.
It's a risk for sure, one that some have been forced into taking because plans already were in motion when the world changed in March. But others see the dire situation as an opportunity to try something new.
Adrian Sushko is a Realtor who owns some commercial property in the city. When one of his tenants, a Vietnamese restaurant on Eastern Avenue, closed, he decided to open Avenue Sushi in the space. It served its first piece of yellowtail on September 1.
"I like to foresee trends, and I've always seen Highlandtown as being a little underrated," says Sushko, who has never previously owned a restaurant. "I realized that I would be paying the price early on. I did have a hesitation, but I realized that with anything worthwhile, part of the investment is simply absorbing some losses until things get back to normal. I decided to take the plunge and see what happens."
ONE OF THE CITY'S MOST EAGERLY ANTICIPATED RESTAURANTS IS NOW A GLORIFIED TAKE-OUT JOINT.
NiHao, which originally was scheduled to open in late 2019, operates loosely under the culinary umbrella of Peter Chang, Lydia's father, who was once the chef at the Chinese embassy in Washington. He has achieved acclaim through his eponymous restaurants in Virginia and Montgomery County.
"We're hopeful for the long term," Chang says of her new restaurant, which specializes in Szechuan-style cooking. "During the short term we're just going to have to survive."
For now, that attitude seems to be working. A printer spits out a steady number of takeout and Uber Eats orders at NiHao each night. When they arrive, customers who have ordered online or over the phone encounter a table just inside the front door that essentially blocks access to the barren dining rooms and empty main bar, atop which sits not cocktails, but a rice cooker. Ong tapes each ticket to another table near the host stand, while, in the kitchen upstairs, chef de cuisine Antoni Szachowicz assembles the orders.
"We were planning on sending everything out as it was made, but now we can't do that," he says, as he uses a knife to cut a slit in the lid of a Peking duck order. He discovered quickly that unless the plastic cover is pierced, the bird's skin can become soggy rather than remain crispy. "You can't fudge it. It has to all be ready to go at the same time."
Chang and Ong planned for takeout to comprise 10 to 15 percent of the restaurant's business, not 100. It's a completely different operational model, but NiHao seems to be mastering it. Tonight, there are a few hiccups—the kitchen runs out of shrimp and pork wonton soup, but Ong can't figure out how to remove it from the Uber Eats menu platform, so people keep ordering it—but, overall, things run smoothly. It's not what he envisioned NiHao would be, but these days, it's what NiHao is.
"Life still has to function," he says, "and then you adapt to it."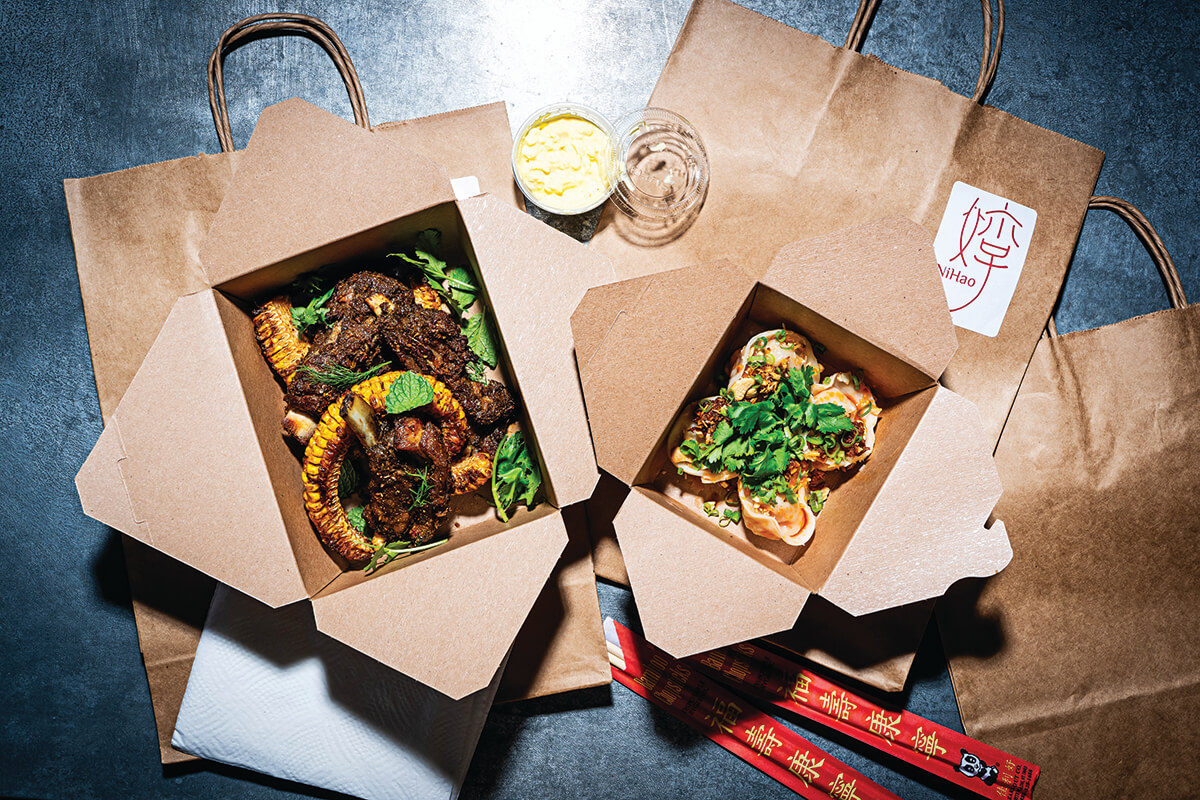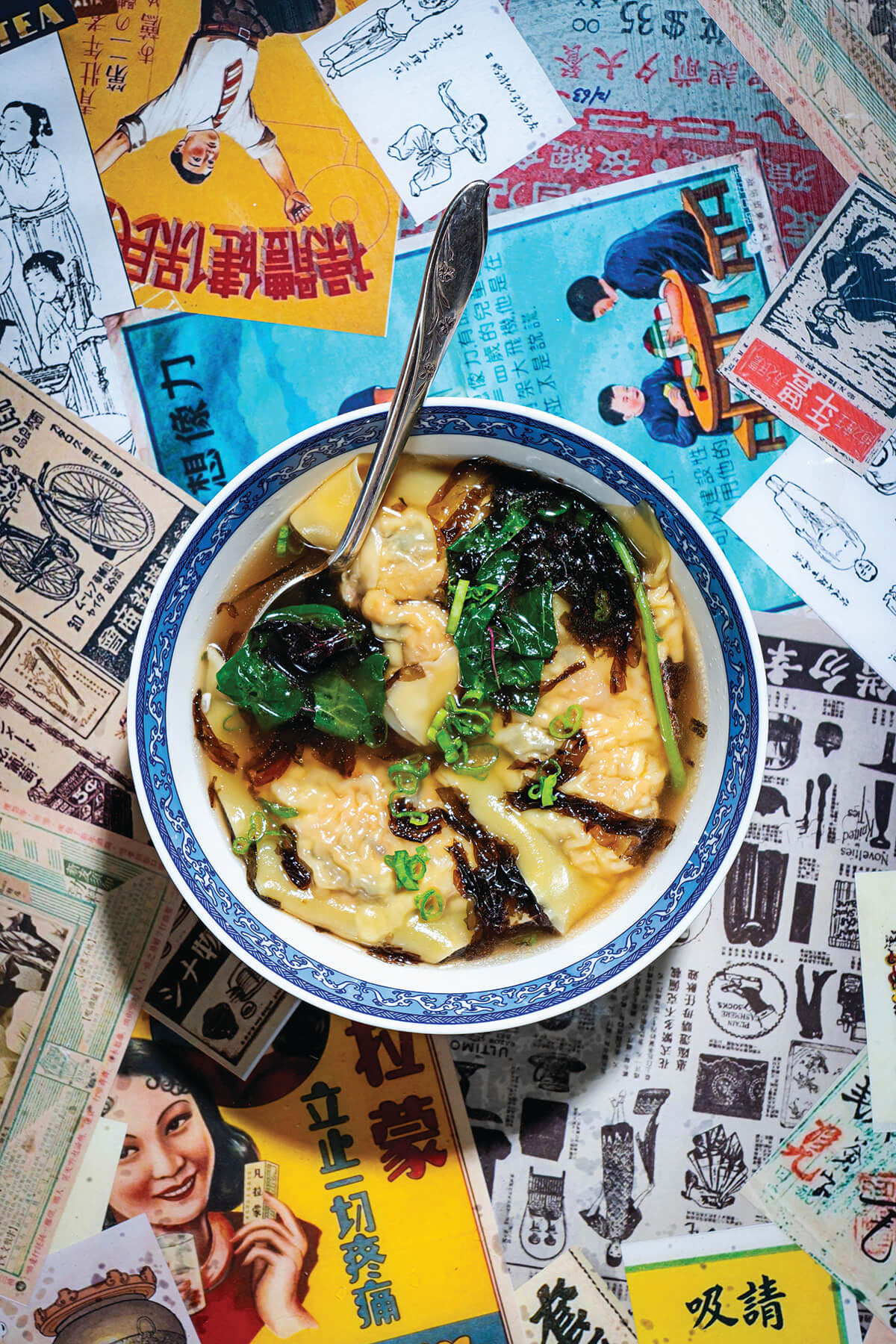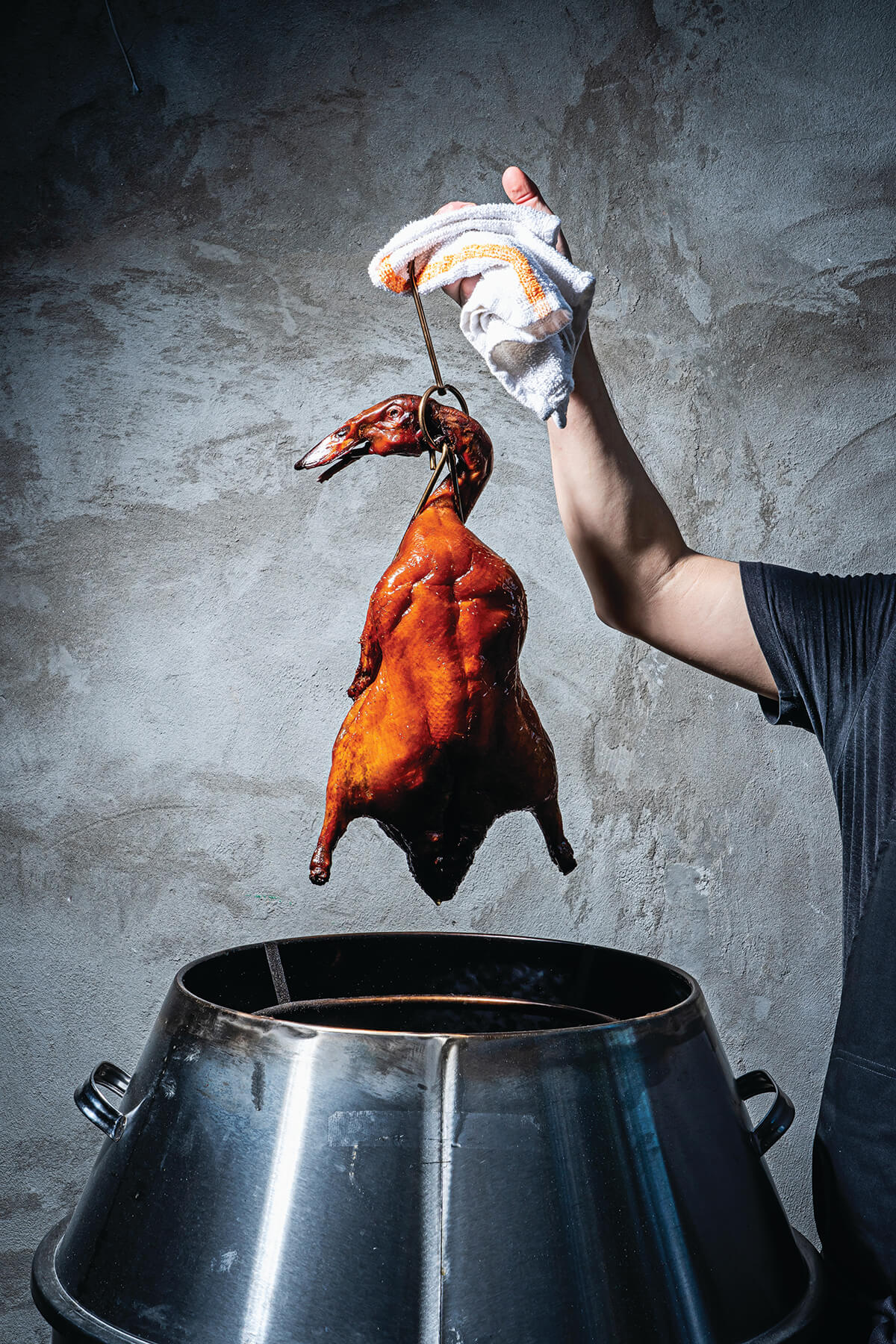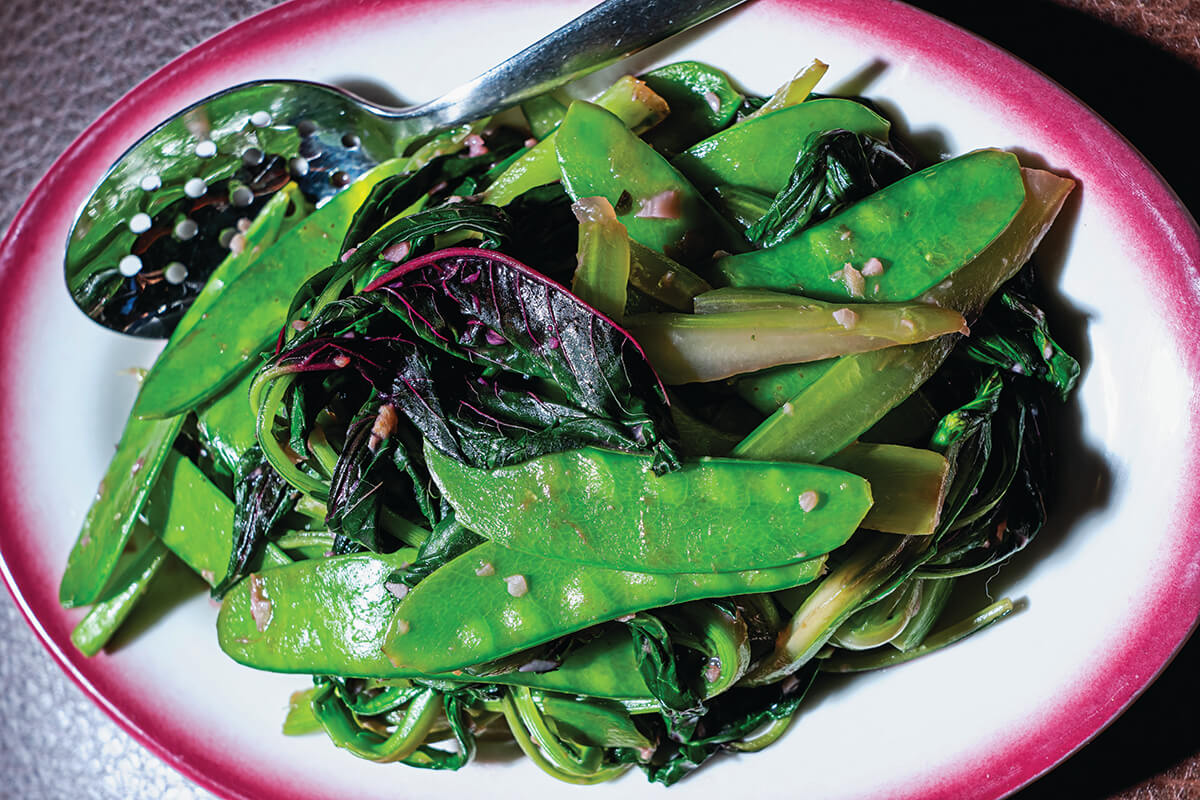 WHEN MARYLAND GOVERNOR Larry Hogan issued an executive order banning indoor dining beginning on March 16, he allowed establishments to sell alcoholic beverages to-go. That piqued the interest of Anthony Nastasi Jr., who was kicking around concepts for a new restaurant and bar.
"It was an opportunity to do takeout cocktails," he says. "As a bartender, I always wondered why that wasn't a thing. You could do takeout growlers of beer and wine, why couldn't you do cocktails?"
Nastasi sprung into action. On Monday, March 23, he sealed a deal with the former owner of Gitan in Canton, who had an existing liquor license, to take over the business. The next day, he ordered plastic bottles for the carryout drinks. By Thursday, the liquor had arrived, and on Friday, March 27, Mr. Nice Guy opened and began serving its versions of daiquiris, sangria, and Mai Thais.
The pop-up was a hit, and, two months into his experiment, Nastasi began planning to make it permanent. Because he knew he wasn't going to open the inside to customers for the rest of the year (he hopes to do that in March), he was able to hire a smaller staff and set up a contactless ordering and delivery system. Guests order through their phones and are served by a masked and gloved employee who places a tray on the table. Customers take it from there.
He also spent about $3,000 on wooden booths and $400 on plants to spruce up his outdoor seating, which has a capacity of 24 people.
"It seems like a small expense, but it's a third of our monthly budget at this point," he says. "It's definitely a big expense. I was fortunate that my dad and my brother are both union carpenters, so they helped me build out those benches."
Nastasi has helped open more than a dozen restaurants in three states during his career, but this experience has been unlike any other.
"You have to make sure you're making a profit and keeping the lights on, but now you're worrying about your staff, how they're feeling, and, on top of that, the guests' health, while also trying to put out a quality product," he says. He chuckles wryly: "I think that is the new definition of fun."
Nastasi employs six people, but for every few jobs that are added in the restaurant industry, many more have been lost. Since the start of the pandemic, Maryland's restaurant and food-service industry has lost approximately $1.4 billion in sales and has seen as many as 150,000 employees laid off or furloughed, according to the Restaurant Association of Maryland.
ATLAS RESTAURANT GROUP IS PUSHING AHEAD WITH THREE OPENINGS IN THE COMING MONTHS, INCLUDING A FRENCH STEAK HOUSE.
Alex Smith owns the Atlas Restaurant Group, which has 11 restaurants in Baltimore (plus three in Texas and Florida). Before the pandemic, it employed about 1,100 people; today that number is about 750 (650 in Baltimore). In late August, Smith said business at Atlas' city restaurants was down 30 to 40 percent from the same time a year ago. It certainly didn't help matters that the restaurant group was embroiled in controversy in June after an Ouzo Bay host refused service to a Black woman and her son. (The incident was captured on video and went viral; later, Atlas dismissed the host and issued a public apology.)
Still, the company is pushing ahead with three more openings in the coming months. Construction on Monarque, a French steak house in Harbor East, is completed. It was scheduled to open in May, but as of September, it remained shuttered.
"I could open it next week, but we're waiting to make sure that the COVID numbers go down, the indoor occupancy goes up, and that things are trending in the right direction," Smith said in August. "Our sales are predicated on what the local government is doing and what's going on with COVID. I understand [Mayor Jack Young's] reasons for wanting to shut down, but I can tell you that if we were allowed to open, we would have done the business. The demand is there."
Two other pending properties, Atlas Fish Market and Watershed, both located in Federal Hill's Cross Street Market, were slated to undergo construction earlier this year, but work was halted when the pandemic struck. Although they were originally scheduled to open this fall, Smith is now targeting a March opening date for the two ventures.
"Unfortunately, with Monarque, I signed a lease and started construction last November," he says. "I was already five months into construction when COVID hit. Same with Cross Street. I signed my lease last October. These are projects that were designed before COVID even hit. Had I known about COVID, I never would have built either of them. But now we are where we are. We've committed financially and legally, so now our goal is to see them through in a way where we can open up safely."
Smith says his company currently is not pursuing any new deals. Despite the harsh financial realities, he remains bullish on the future of restaurants.
"I do believe that people pay for atmosphere and entertainment and service," he says. "I think when people feel secure again and this thing starts to recede—and it will recede—our restaurants and others like it will come back. People want to have a conversation with a wine sommelier or have their favorite cocktail and hear about how it's made. These are all experiences human beings crave, and you can't get that with takeout in a plastic box."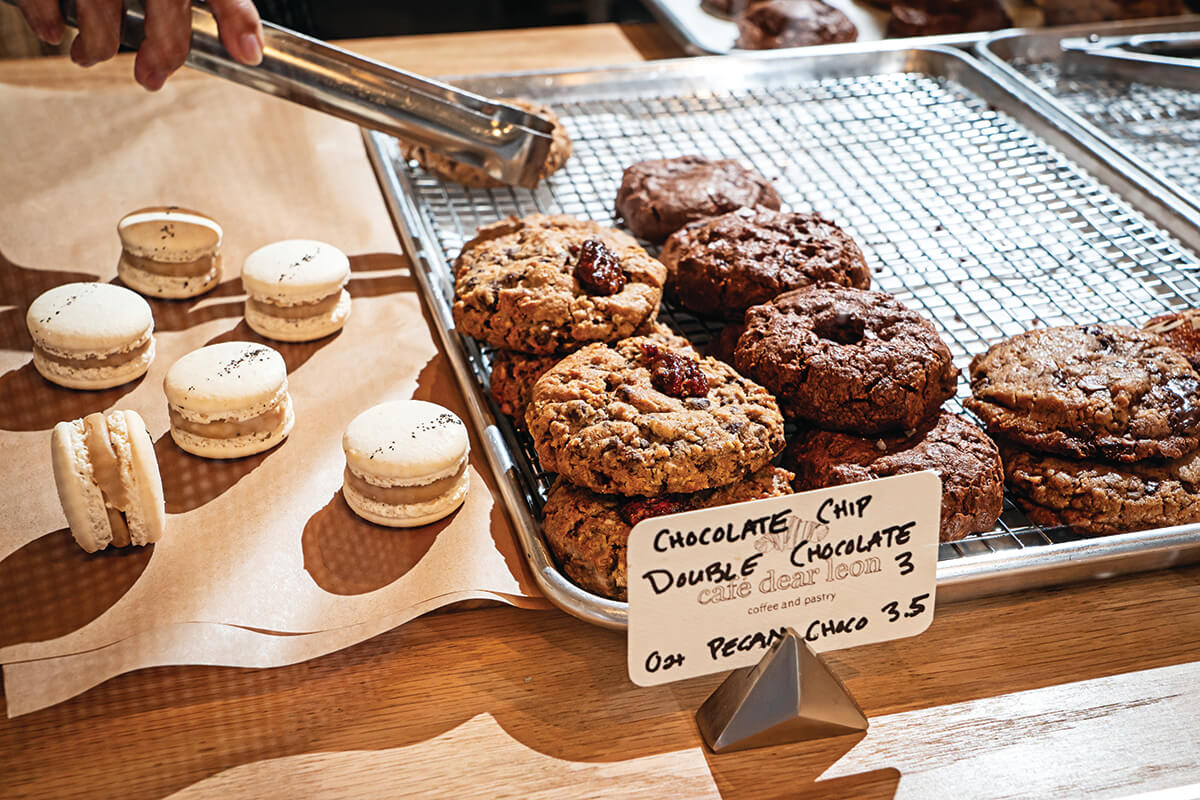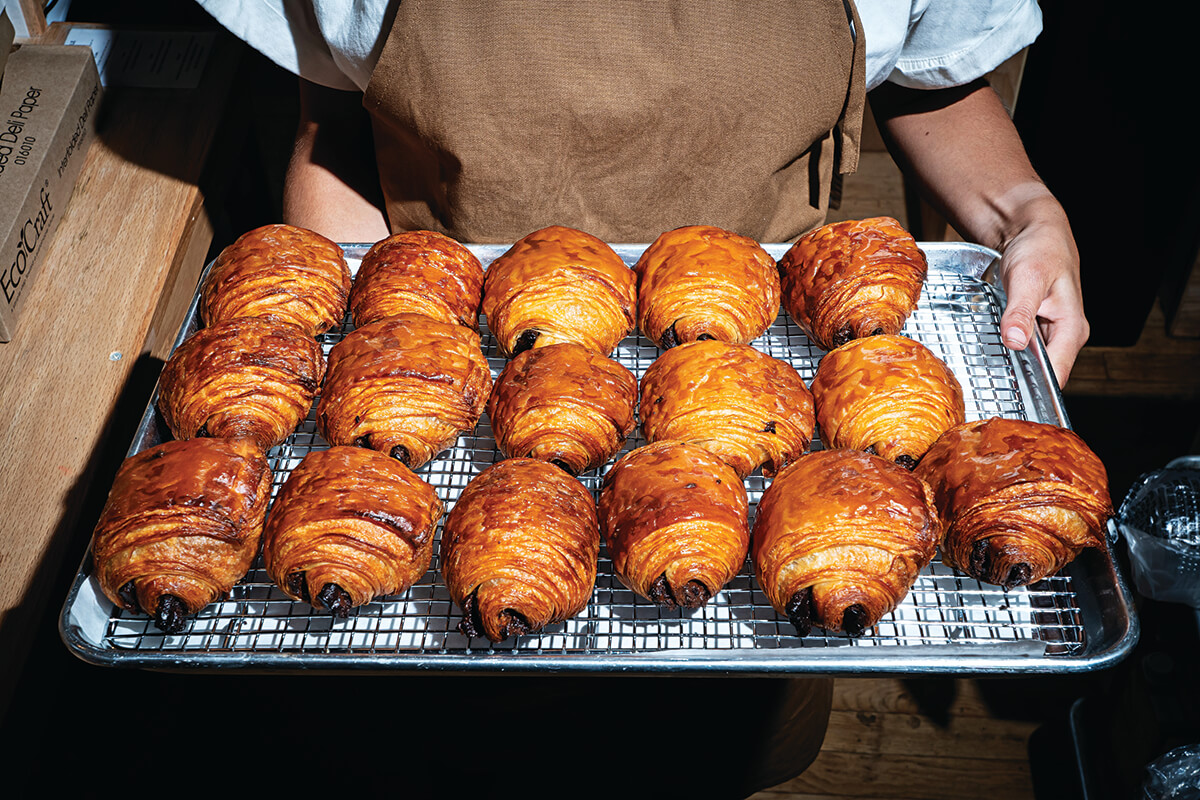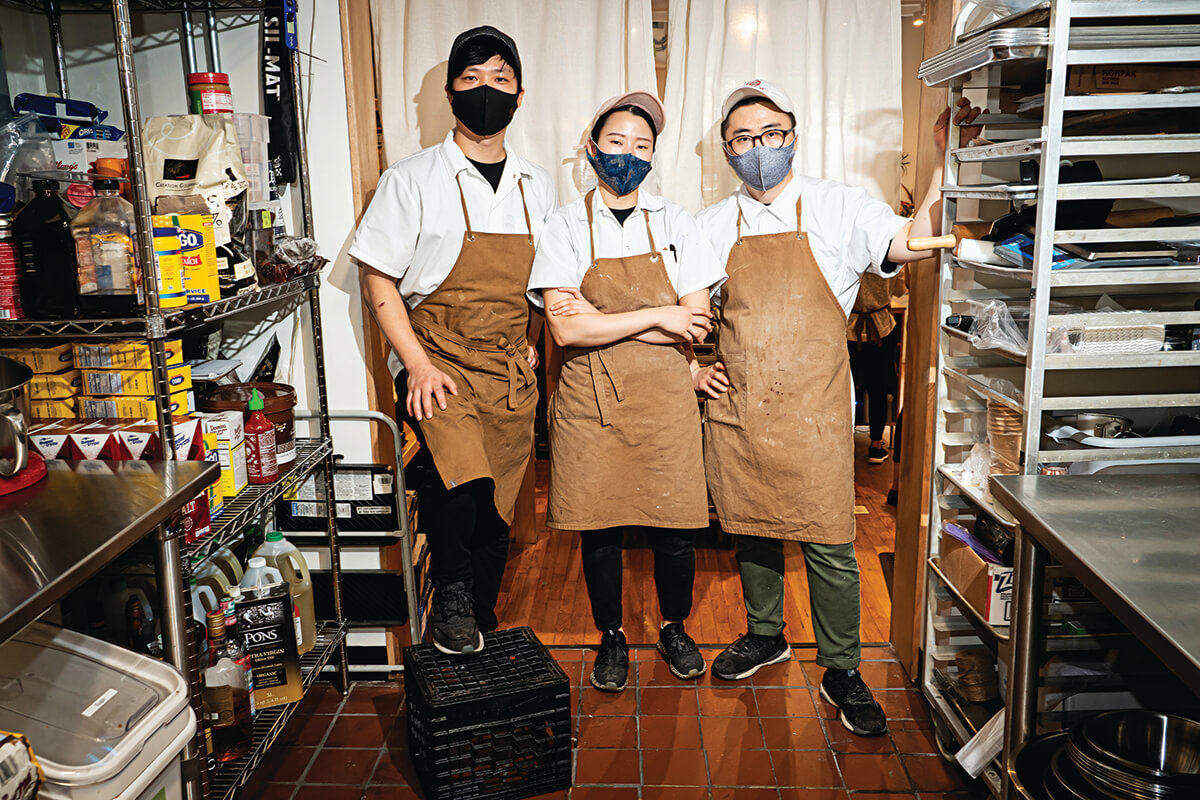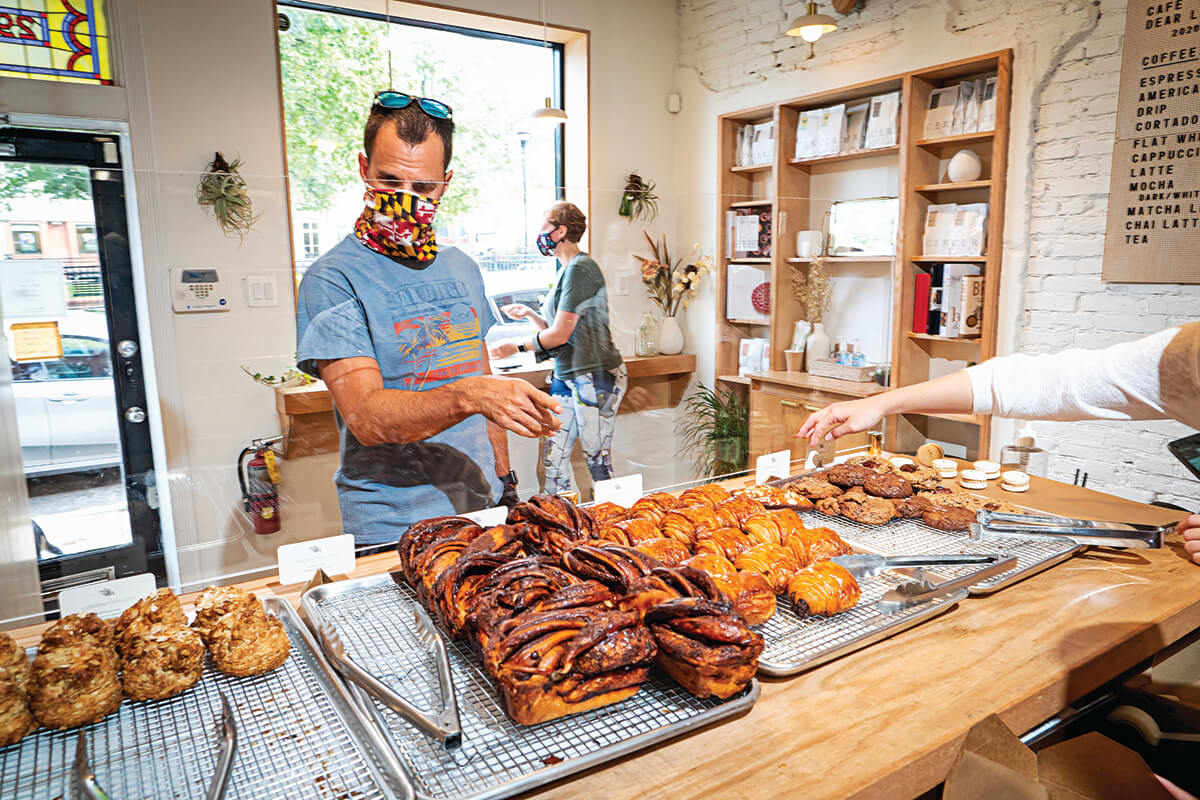 Optimism seems to be a trait inherent in many restaurateurs. Even when Lydia Chang began noticing the impact of COVID in January—when many Chinese families canceled New Year's celebrations at banquet rooms in her father's restaurants—she never considered pulling the plug on NiHao.
"We said, 'Let's focus on carryout and delivery for the next two years,'" she says. "We also want to ensure safety to our team, so we wanted a minimal crew."
They had initially planned to employ 30 people, a number that was reduced to 10.
Another challenge was securing packaging worthy of the dishes produced by the kitchen. The aluminum container that houses the Perking duck costs a whopping $5 per unit (and is reusable). Even the standard brown paper containers are $1 a pop. Only the white rice comes in those iconic, less expensive white box containers with thin metal handles.
Originally, she hoped to turn a profit in six to eight months. Now, Chang guesses it will take at least twice that long. Still, she has no regrets about opening.
"NiHao isn't about making a lot of money. That's a byproduct," she says. "We actually believe in what we're doing, contributing to Chinese [food] in Baltimore, growing with the neighbors, with the community. When it comes to food, everyone still looks for something they can enjoy. It's not at a restaurant, per se, but if we can bring that restaurant experience to their home, why not?"
ON WEEKEND MORNINGS beginning in August, mysterious long lines began to stretch around Canton Square. Those at the front entered a store with no sign above it. When they left, whether they were carrying chocolate babka, a Tamago Sando (a Japanese egg sandwich), or a simple cup of coffee, they seemed blissfully unbothered by the wait.
When Café Dear Leon opened, co-owner Min Kim had no idea what to expect. He and two partners had been discussing the concept since September 2019, and they took over the building in February. Then…well, you know what happened next.
"Initially, we were going to open sometime in May," Kim says. "We figured since things were not going to be opening at the regular time, we were going to do some of the work on the building ourselves, which saved us money.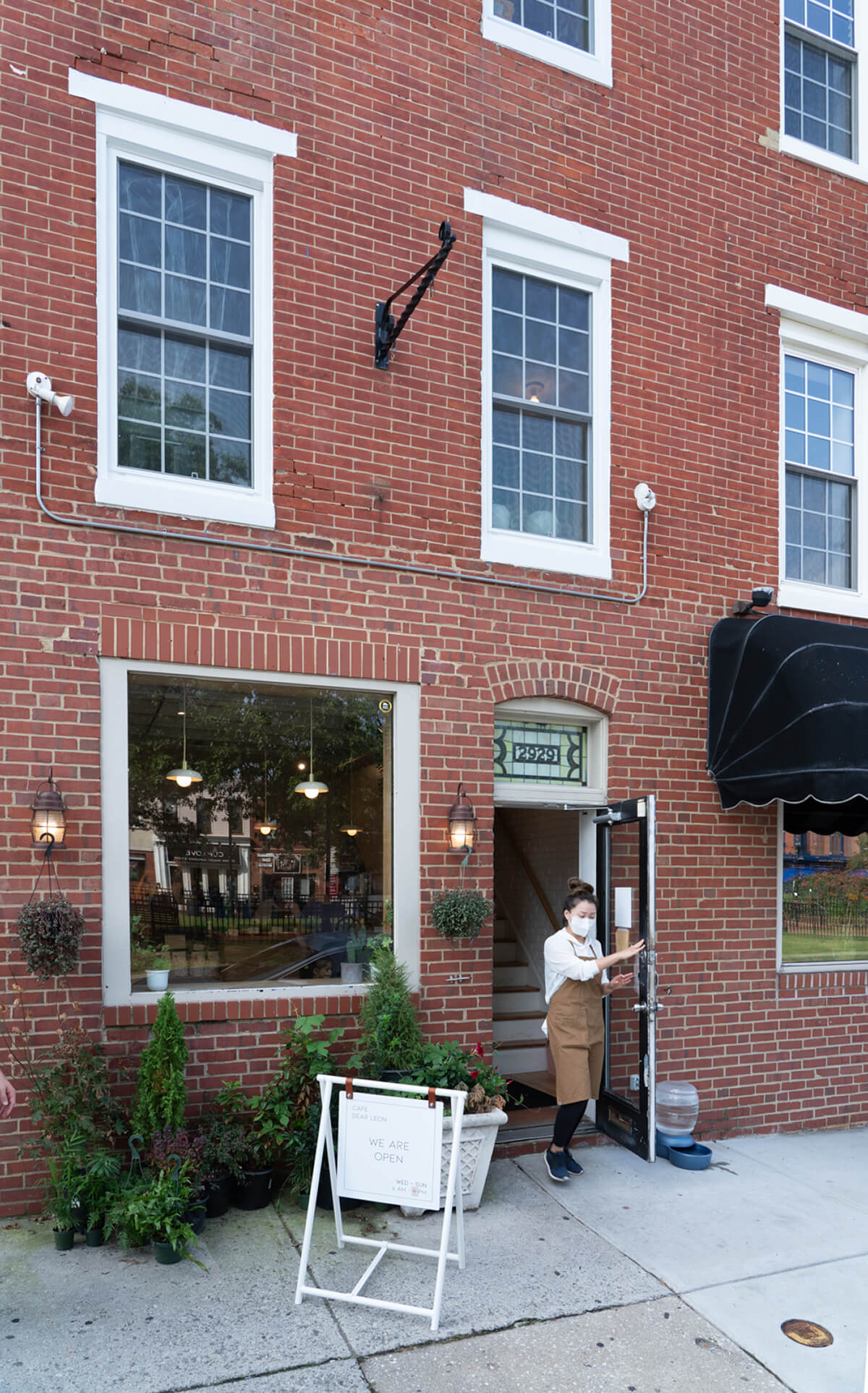 Our initial idea was definitely different. We had prepared seating on the second floor, but now everything is takeout only."
In those first weeks, the three owners were the only staffers. They tempered their financial expectations and braced for months of losses. Because of delays due to the pandemic, they didn't even receive their sign in time for the grand opening.
"When we opened, we were much busier than we expected. We were overwhelmed," Kim says. "We told ourselves maybe we don't need to have a sign. Right now, nothing's normal, so not having a sign is not the biggest deal."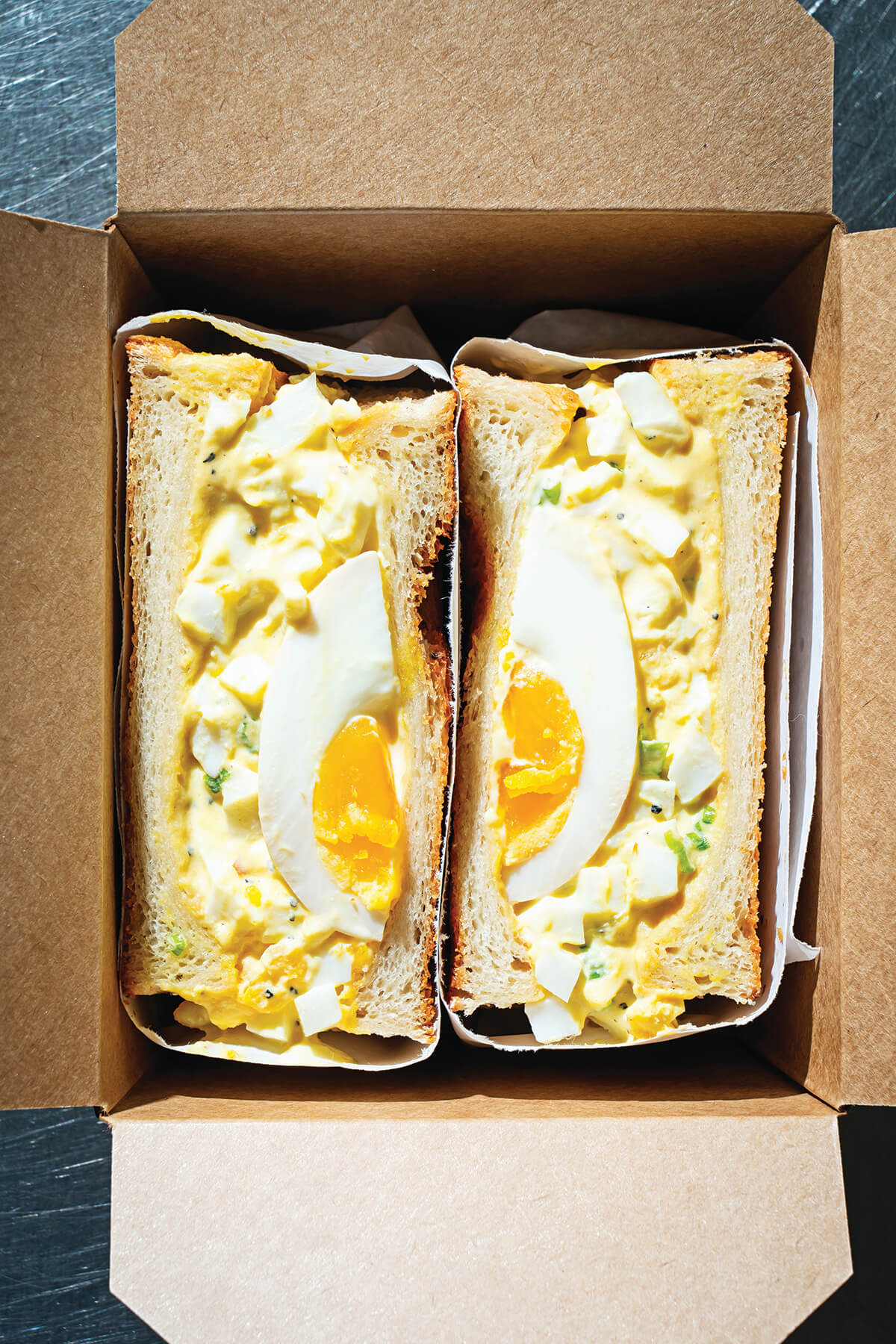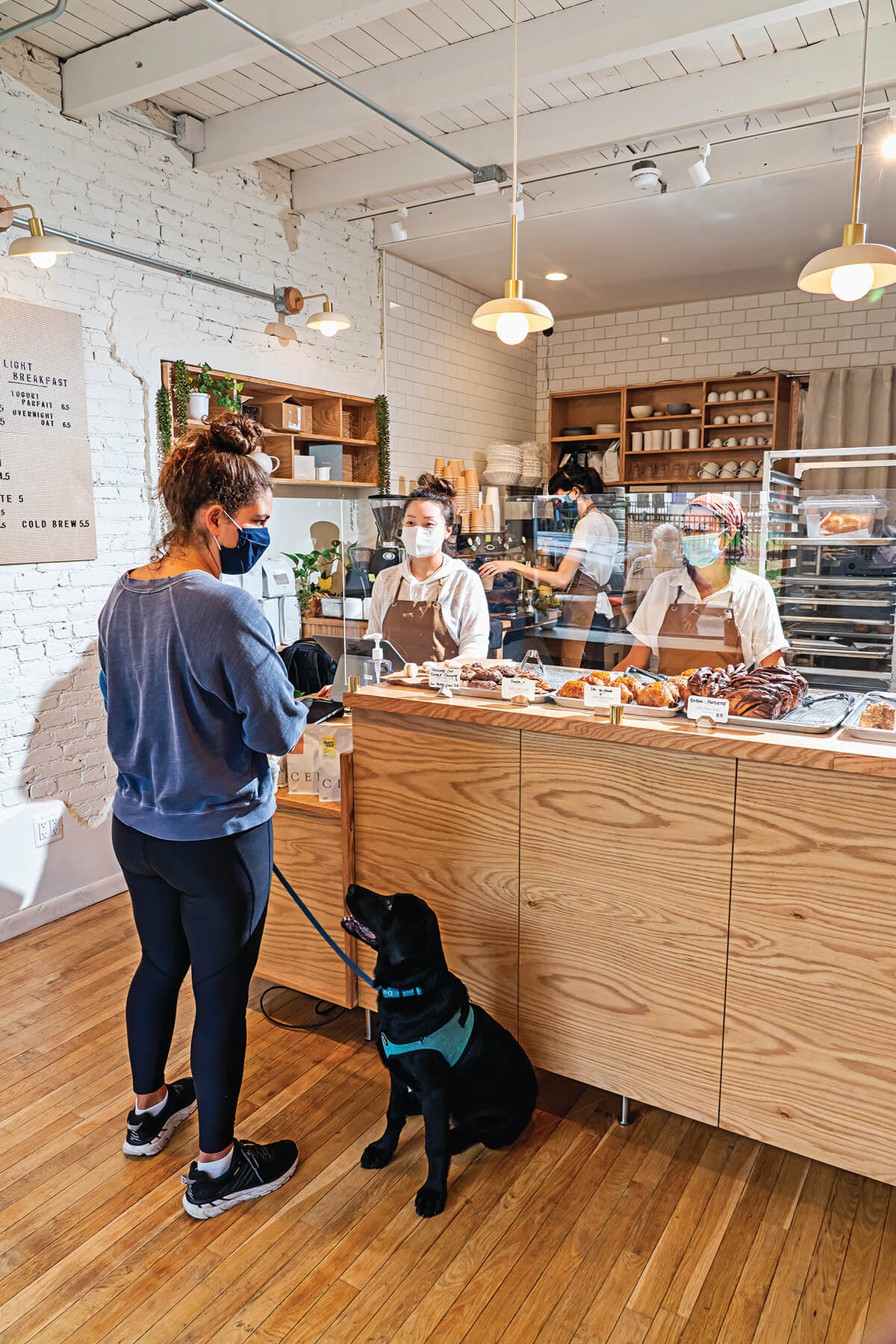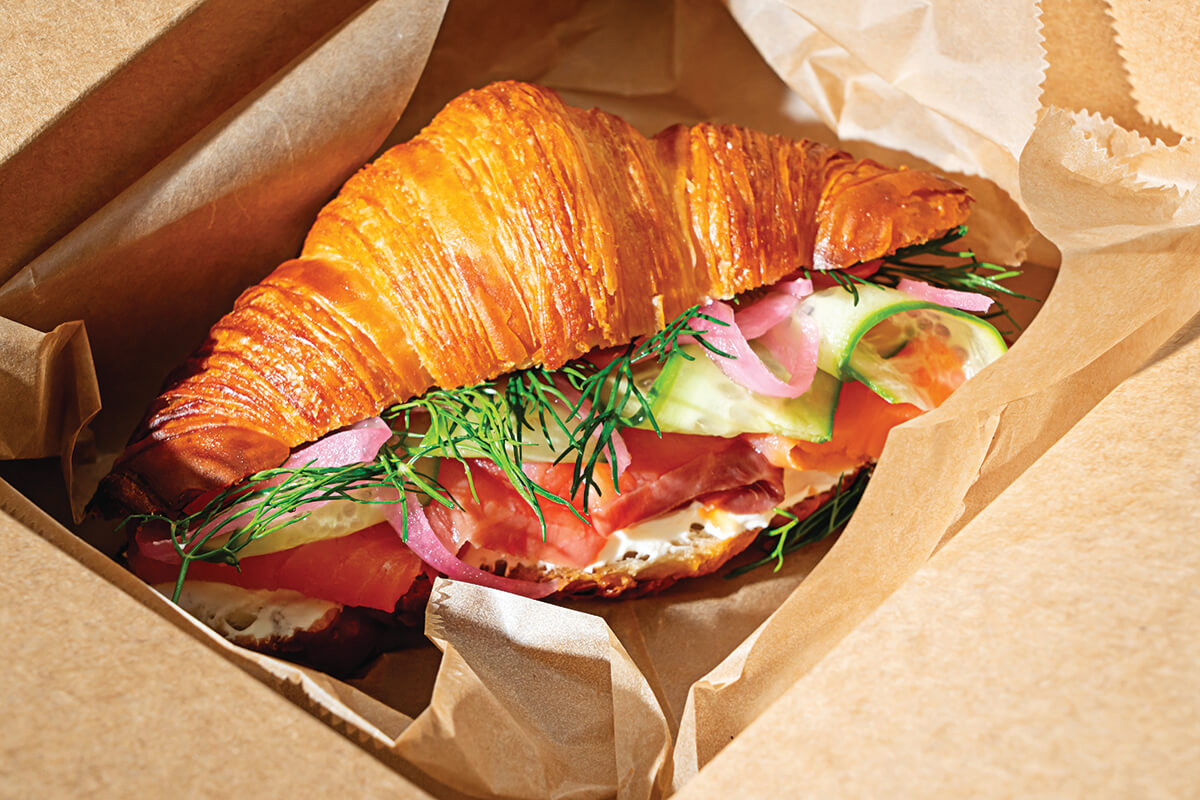 A few miles away in Highlandtown, Jesse Sandlin opened Sally O's in the former Laughing Pint space around the same time Café Dear Leon poured its first cappuccino. The first restaurant that the former Top Chef contestant has owned and operated by herself, it had been in the planning stages since January.
"Not opening was not an option," she says. "There's no way I could have done that monetarily. I never considered not opening. Inspections and permitting dragged on. Having people come out to do work once we were in the crux of the pandemic was really difficult."
"I CONSIDER MYSELF A SURVIVOR, SO I'M GOING TO DO WHATEVER I HAVE TO DO TO MAKE IT THROUGH AND KEEP MY STAFF HEALTHY."
She started with outdoor dining and takeout only, a model she's continuing today. It caused her to revamp her menu, which includes some in-house options that are not available for carryout.
"There are things that are going to travel really well and things that are not," she says. "I love fried oysters, but if you get them to-go, they're mushy and gross. Things that I don't think will carry well, like the roasted bone marrow we have on the menu right now, we don't offer for carryout. I did a snapper ceviche thing and we didn't offer that to-go either."
She planned for 10 to 12 employees, but now has only six. Still, she says she has a distinct advantage over established restaurants that have had to pivot during the pandemic.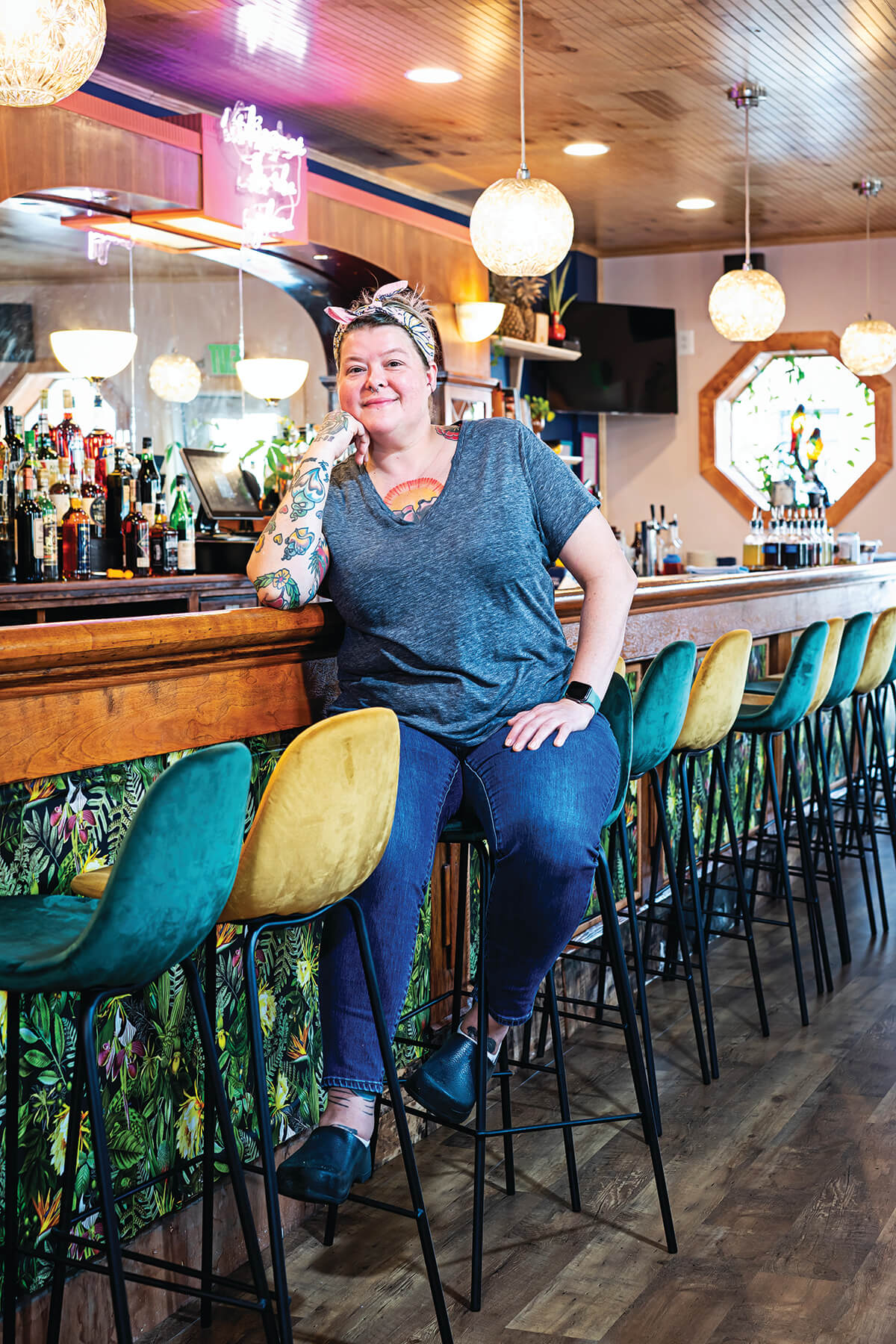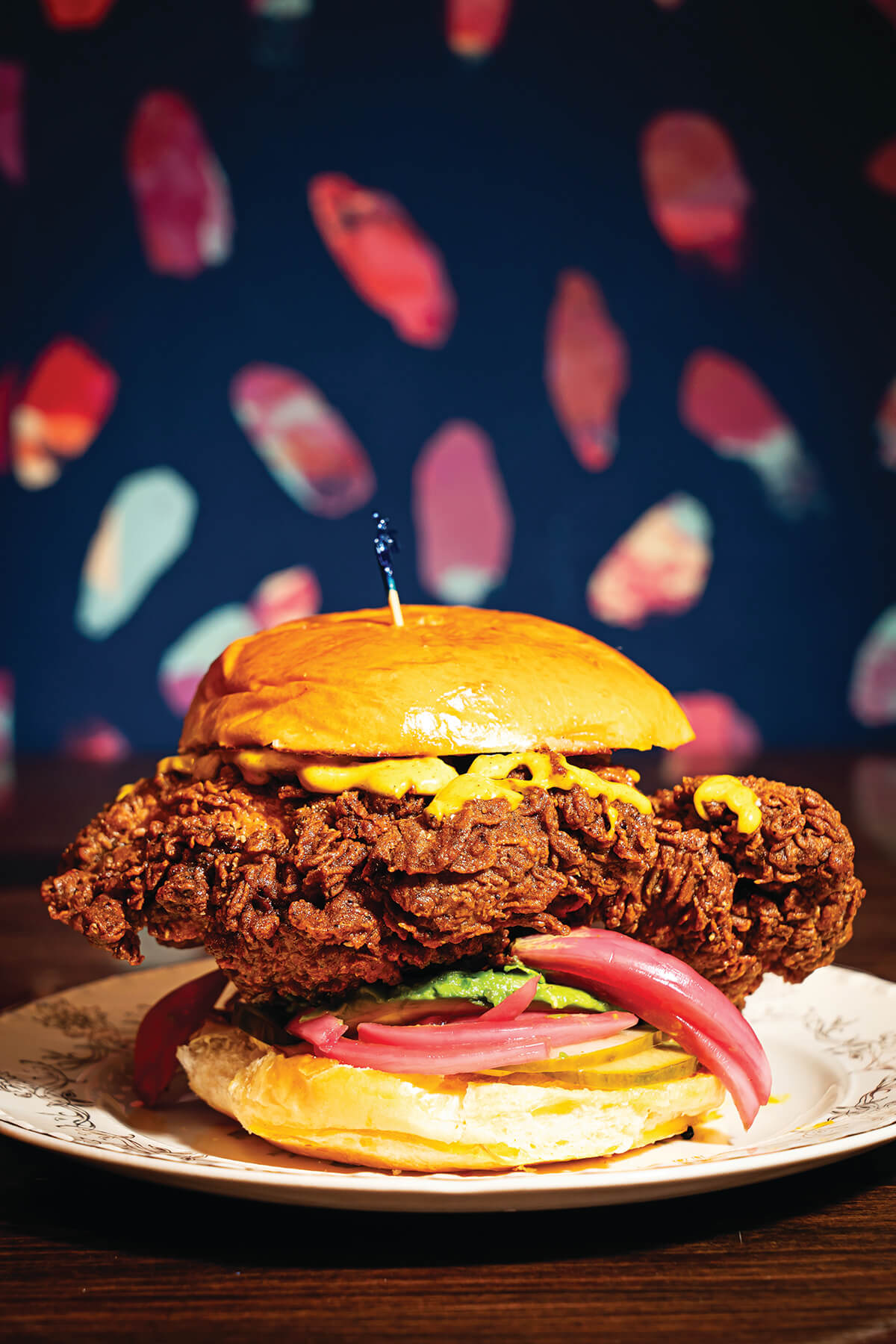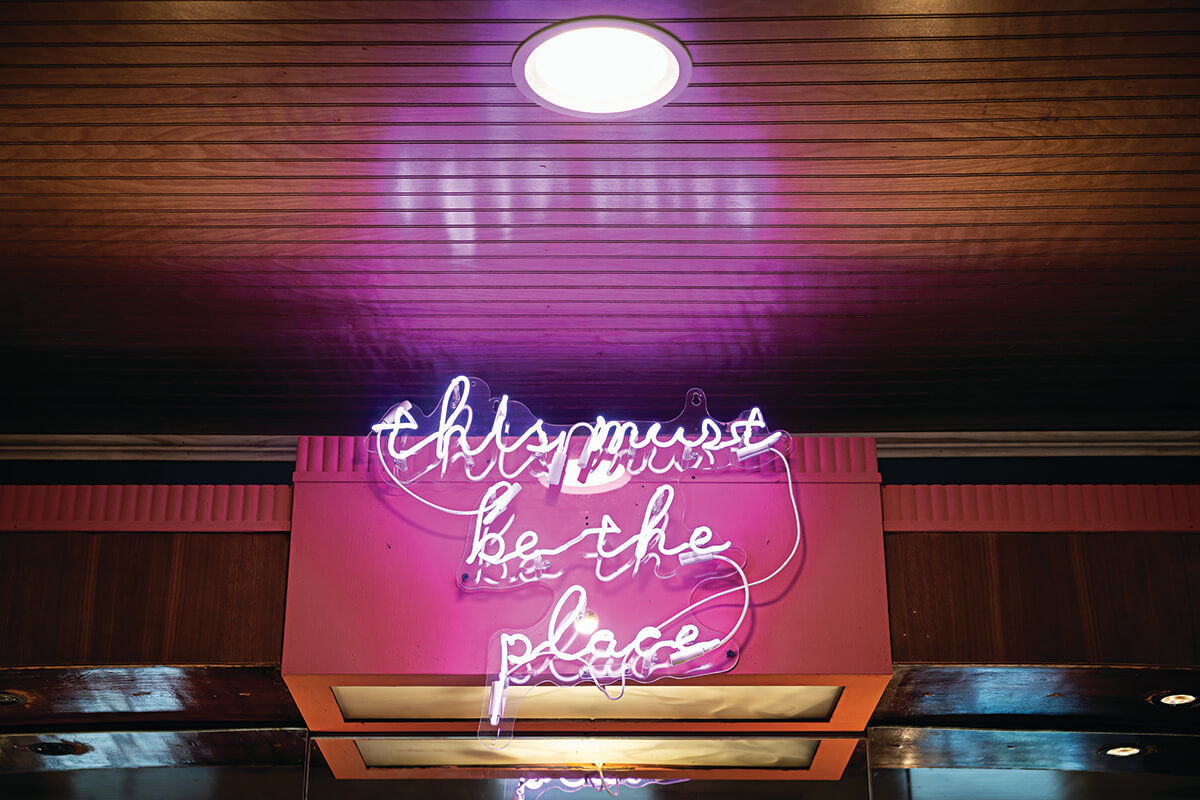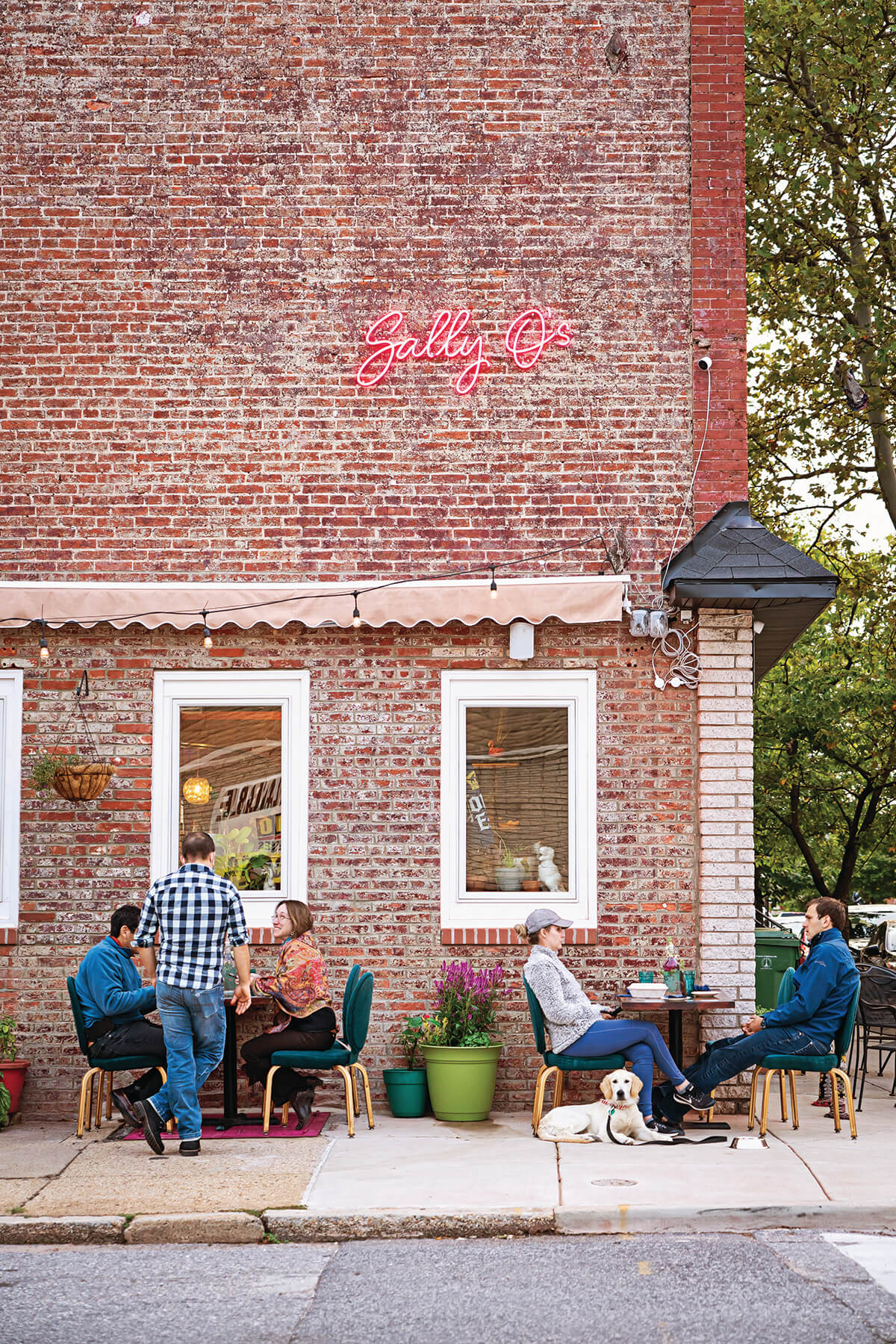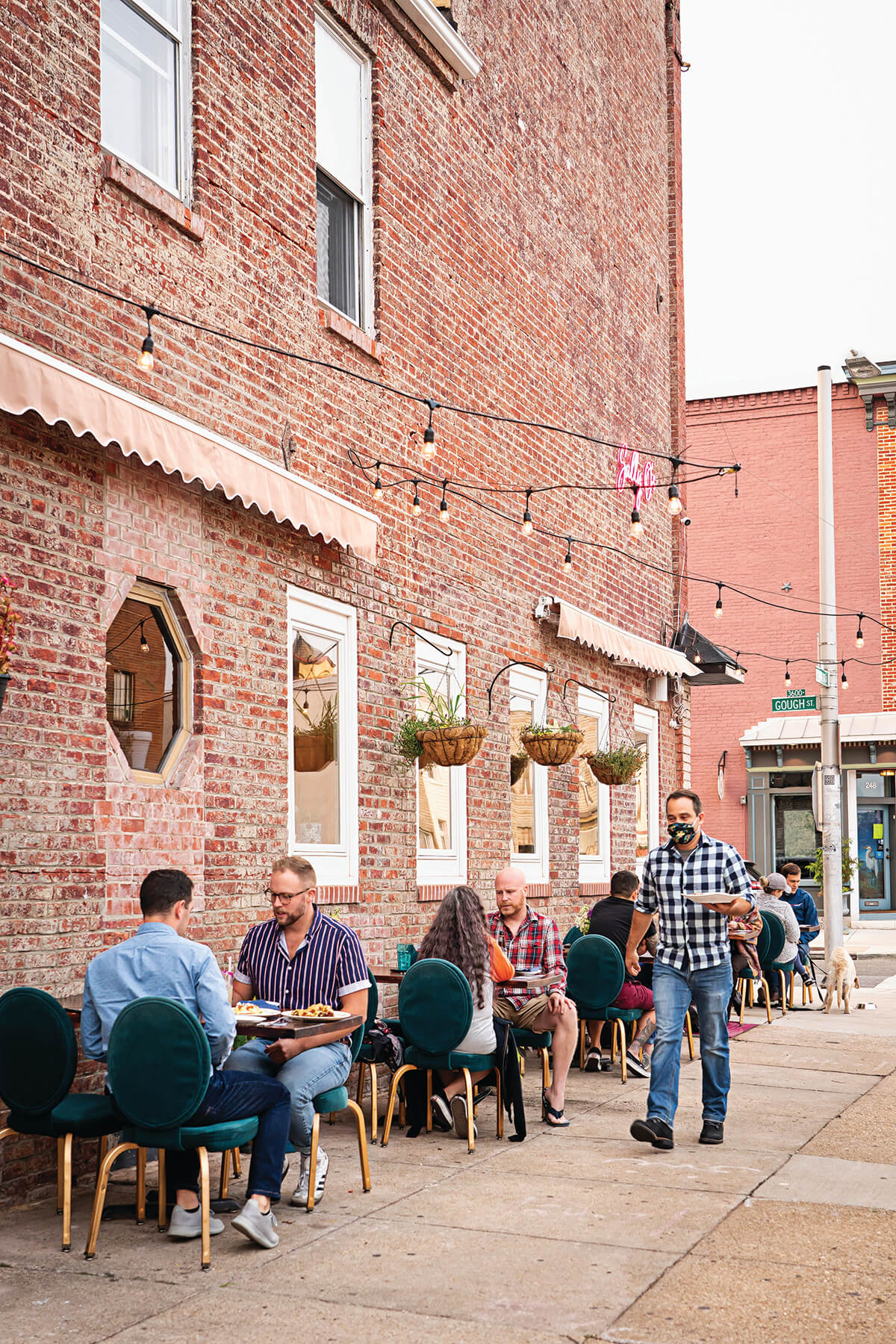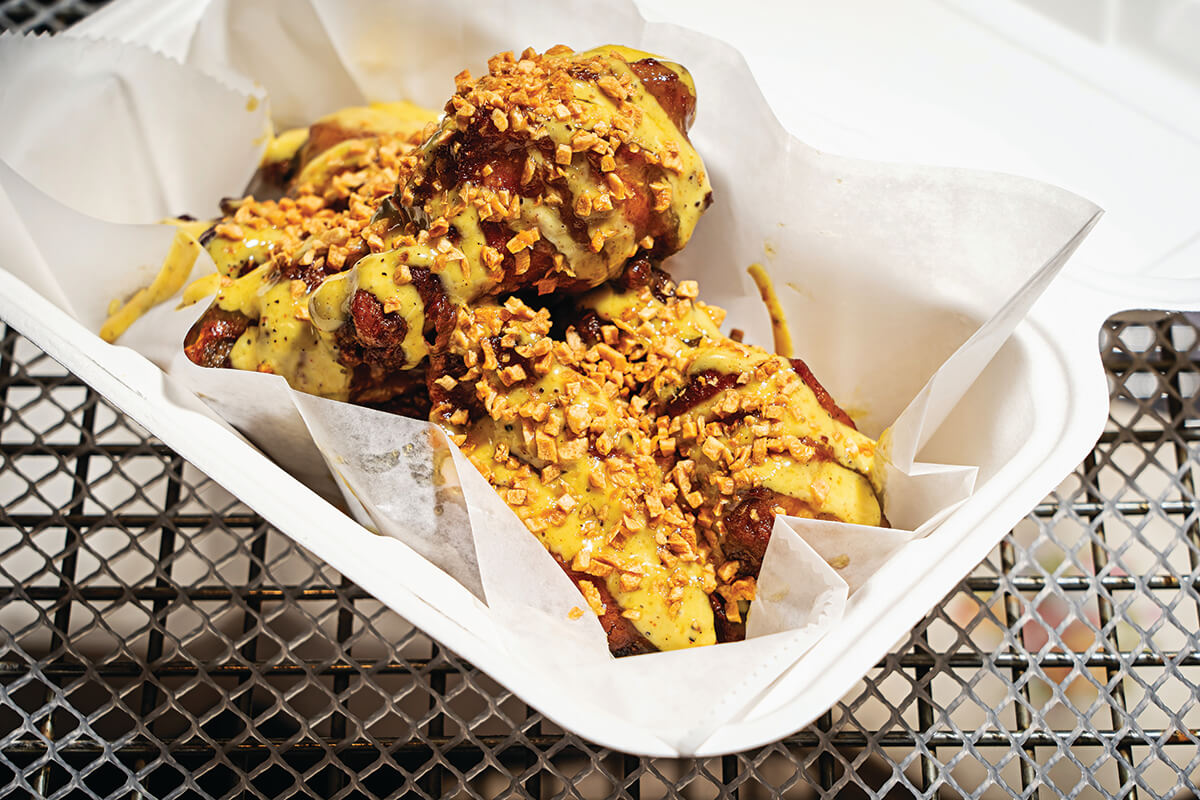 "You have no history to look back on to say, 'We're only doing half of the business we did last year,' because last year we did no business," she says. "So anything is better than nothing. We're a small place and I'm working in the kitchen, so it's easy to keep the payroll down and it's easy to keep costs down because there aren't a lot of extraneous expenditures. We haven't had to spend a lot of money on advertising and things like that, so for me it is maintainable, but I think the only reason is because we opened in this world."
Sandlin has no answer to the million-dollar question all restaurateurs are considering now as the weather starts to chill: How to sustain the newfound business model that relies on outdoor seating? She calls the prospect of a second wave of coronavirus "scary," but for now, she's content to make do in this reality and to try to enjoy the ride.
"I consider myself a survivor, so I'm going to do whatever I have to do to make it through and keep my staff paid and healthy. That's my mentality right now. It's maybe not as fun as it would have been; you're not standing at the bar taking shots with your friends. But as long as you can get through the day and keep carrying on, that's a win."
We can all raise our glasses to that.